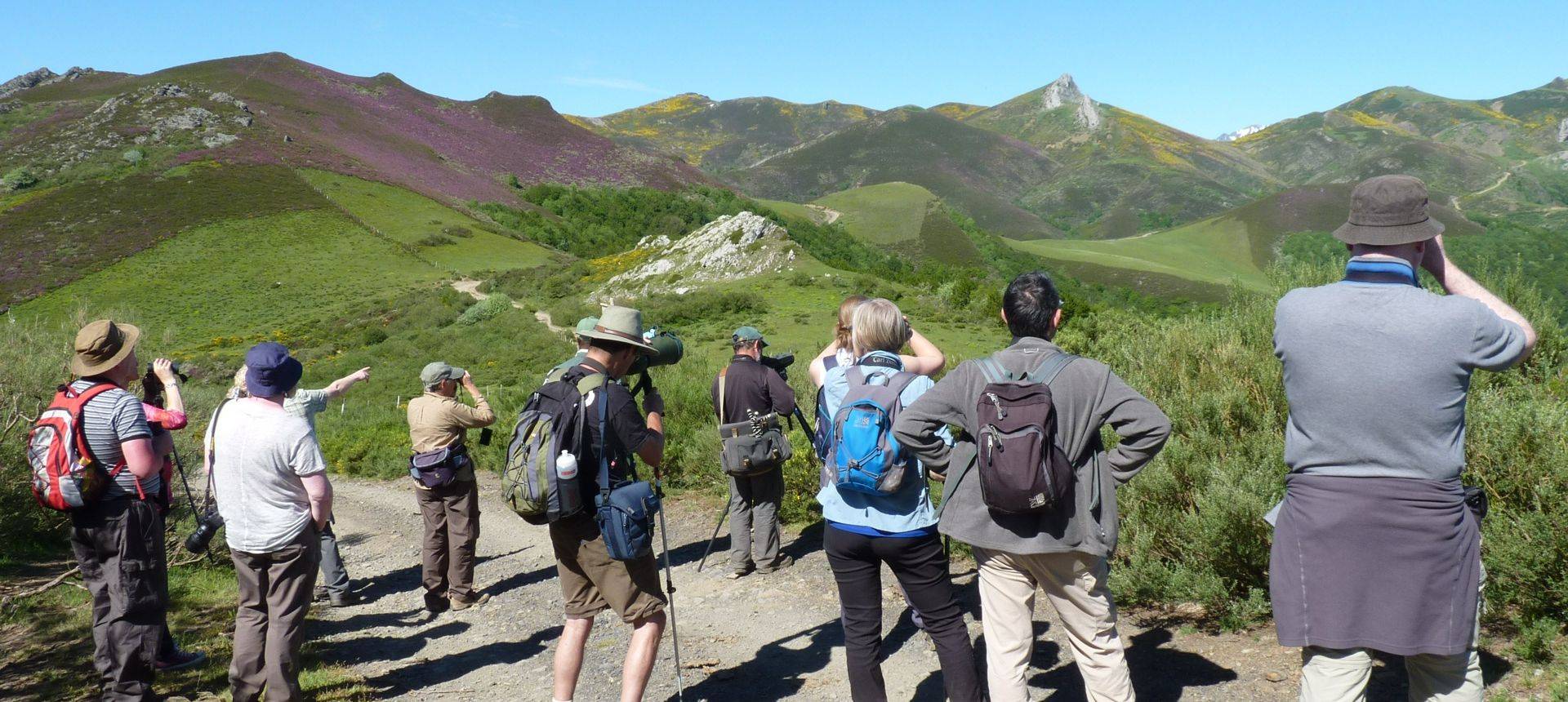 Wolf-watching in Spain
Tour Code: ESP19
A 5-day holiday to a little-known and very rural corner of northern Spain in search of Wolves! This is our most popular wolf departure, based in three delightful 'casas rurales' with wonderful hospitality.
The area in which we search for Wolves during this tour lies in northern Spain, deep within the mountains of northern Palencia, where a landscape of sweeping ridges and broad valleys, together with an open habitat of extensive heathland and mixed forest, permit us to patiently scan wide areas for our quarry. The ancient villages in the rugged Palentian Mountains are today largely deserted, left for reclamation by Wolves, Brown Bears, Wild Boar, and numerous Chamois, Red Deer and Roe Deer, not to mention a host of smaller mammals. Our base for our exploration of this wildlife haven is in one such village, where our guide Tino and his wife Rosa have sympathetically restored three terraced farm cottages. From these, we will explore the mountains with Tino, spending the majority of each day on foot, either walking from our base or accessing remote valleys by 4WD, before returning each evening to a hearty meal, freshly prepared by Rosa. Over many years, we have built up a detailed knowledge of Wolf-watching in the area, and we offer you the best chance of sighting wild Wolves in Europe!
80%+ chance of views of wild Iberian Wolf – one of Europe's most exciting mammals
Wild Boar, Red Deer & Roe Deer regularly seen
Outside chance of Wildcat and Cantabrian Brown Bear
Great birdwatching, especially birds of prey (up to 12 species seen on most tours)
Tasty regional cuisine, with wine included
Can I help you?


X
Andy Tucker
Andy is an Aquatic Biology graduate (Aberystwyth) and worked in fisheries consultancy for a year after graduation before travelling to south-east Peru to work as a guide in the Amazon rainforest. During his year there he balanced guiding with his fisheries research and, after a brief spell back in England, returned to a full-time guiding post at Sacha Lodge in the Ecuadorian Amazon. Andy has travelled widely in Central and South America and his fluent Spanish is a huge advantage during our tours both across the Atlantic and in Spain. Andy has birdwatched for as long as he can remember and counts himself lucky to have seen so many fantastic bird and wildlife spectacles around the globe. He joined the Naturetrek team in 1998 and, while now kept busy as General Manager, is involved in the operations of a wide variety of tours in Latin America, Western Europe and North Africa.
Outline Itinerary
Day 1
Fly Santander; transfer to the hills
Day 2/4
Daily programme of Wolf-tracking and/or birdwatching excursions
I just wanted to drop a line with regard to the tour report I received for my Wolves and Bustards trip last October - it was excellent. Our leader had clearly put a lot of effort into making it detailed and indeed personal to group members. I would be grateful if you could let Dave Pierce know that his work on it was much appreciated and it will serve as a valuable memento of a super trip.

D.S. Highland
Food & Accommodation
Food and wine all included in the price.
Three old terraced farm cottages, beautifully restored. A mixture of private and shared facilities.
'It is very difficult to see the Wolf', said Señor Mozo. Then, indicating numerous points all over a large map of the area, he added 'he can be anywhere'! Our chances of a Wolf sighting looked slim, yet, by the time of our first tours in March 2006, Naturetrek staff had paid 14 visits to the region and had successfully encountered Wolves on all but one of those visits. We have been delighted that this success rate has proved sustainable whilst visiting in groups, with 90% of our tours to date having seen Wolf. We have also seen Wild Boar and 16 species of birds of prey. Wolfwatching can, indeed, seem very difficult during the long hours that need to be put in to track down such a notoriously elusive animal, but we believe that on this tour you have as good a chance as any of actually seeing a Wolf in Europe!
The Cordillera Cantábrica and its outlying ranges hold the vast majority of Spain's 2,500 to 3,000 Wolves and are the stronghold of the species in Europe. This is a population that has increased markedly since an estimated all-time low of just 500 individuals in 1970. The depopulation of Spain's rural regions, as Spaniards have increasingly migrated into the cities, has benefitted the Wolf, as has a changing attitude towards an animal that was once viciously persecuted. The ancient villages of this particular region in Spain are largely deserted, with hardly an occupied house in each. For this reason, so too are the mountains … left for reclamation by Wolves, Brown Bears, Wild Boar, and numerous Chamois, Red Deer and Roe Deer, not to mention a host of smaller mammals such as Iberian and Brown Hare, Beech Marten, Pine Marten and Wildcat.
Our base for this week-long exploration of this little-known mountain wildlife haven is in one such village. Here, our guide Tino and his wife Rosa have sympathetically restored three terraced farm cottages in a remote and tumbledown hamlet. The cottages lie on the doorstep of a truly wild landscape, comprising high mountain ridges rich in alpine flora, jagged crags and cliffs, and vast oak and Beech forests which support three packs of Wolves and a high percentage of the endangered eastern population of the European Brown Bear. Looking for Wolves requires a great deal of persistence, patience and stealth. It also requires a lot of luck, not least with the weather! During the early and late hours of each day, our local Spanish naturalist guide, Tino, will use his 4-wheel drive vehicles to take us to remote viewpoints for opportunities to scan from high ridges for Bears, Wolves, Wild Boar and other mammals. He will make us feel very much at home, sharing a rich passion for, and knowledge of, these mountains … and regaling us with tales of close encounters with both Bears and Wolves. Tino is an expert in finding and interpreting animal tracks and signs left by Wolf, Brown Bear, Fox, Beech Marten, Badger, Wild Boar and deer, and will give us a masterclass in tree identification. We will also learn about the medicinal, culinary and other uses which the various plants and fungi that we shall see are put to.
The cottages are very much central to our daily outings, with the majority of each day spent on foot, either walking from our base, or in quiet locations accessed by vehicle. A range of habitats can be found in close proximity, with a full suite of raptors present, including resident Golden Eagles and Peregrines, and both Griffon and Egyptian Vultures. Black and Middle Spotted Woodpeckers both breed here, the latter possibly being easier to see here than throughout much of the rest of its range.
Completing the picture in these wonderful mountains are the stone carvings of ancient Romanesque churches, the old rock hermitage of San Vicente, interesting old dovecotes and dwellings at Guaza de Campos and the historical centre of Aguilar de Campoo. There really is something here for everyone.
Flexibility will be the key to this tour and, whatever time we arrive back at our cottages, we can be sure that a hearty meal, freshly prepared by Rosa, will be waiting for us on our return each day from the wilds of this forgotten corner of Europe. It will be hard to leave!
Please contact us on 01962 733051 for details on what extensions either pre or post tour are available for this Tour.
I just wanted to drop a line with regard to the tour report I received for my Wolves and Bustards trip last October - it was excellent. Our leader had clearly put a lot of effort into making it detailed and indeed personal to group members. I would be grateful if you could let Dave Pierce know that his work on it was much appreciated and it will serve as a valuable memento of a super trip.

D.S. Highland

A most enjoyable trip. A couple of wonderful views of wolves. Weather fabulous. Guides couldn't have given us a better trip, they were first class. Thank you Naturetrek. You have come up trumps once more.

M.J. Monmouthshire

We had a brilliant time. Our guides were excellent - they couldn't do enough for us. The rest of the group was good fun to be with. A really good trip! Thank you!

A.B. Essex

This was a really excellent trip. Byron was a charming, helpful and knowledgeable leader and guide and ably assisted by Ed. Our wolf sightings exceeded all expectations.

R.G. Hampshire

Brilliant holiday! I thoroughly enjoyed every day. Brilliant leaders, accommodation, sites and lunches; everything was excellent. The leaders were very friendly. I had a holiday I will never forget. I saw everything the itinerary promised and more.

J.P. Norfolk

A short four night trip with 'Naturetrek' in northern Spain with the hope of seeing at least one wolf...........and we saw three on day one, cubs playing 'King of the castle' on day two and four brown bears on day three. And along with that we were shown tracking signs of wild cats,snakes, etc... and we got three close sightings of wild cats. The birds were amazing - golden eagles, booted eagles, short toed snake eagles and enough vultures to throw a stick at. The guides were excellent, the food wonderful and the cottages we stayed in a delight.

J.H. Lancashire

I travelled with Naturetrek to a sparsely populated and remote area of Northern Spain in the hope that we might see wild wolves. The accommodation comprised three beautifully restored old rural cottages; warm and comfortable to return to after a tiring day in the mountains. Rising before dawn when it was very cold and travelling in 4wd vehicles into the Palencian mountains we had to sit in silence as the sun came up and scan the mountainsides looking for wildlife. Not only did we see wolves but also a family of wild bears which was a magical experience. Overhead we saw griffon vultures, buzzards, snake eagles and golden eagles. On our travels back to base we also saw wildcats sitting in the fields. The whole trip was extremely well organised with three experienced and knowledgeable guides whose expertise and good humour added to the enjoyment.

B.L. Berkshire

Day 1: BAM!!! 'That's an actual, real life, wolf. Like, actually' Day 2: BOOYAH!!! 'Another real life wolf, like in the flesh' DAY 3: BOOM!!! 'Come on, what member of the pack are you bribing here?' Wolves in the Spanish wilderness. The title sells itself.

K.W. Cambridgeshire

Fabulous 5 days with expert guides, looking for wolves, wild cats & beats. We stayed in a quaint old farmhouse that was cozy & comfy. All food was included, and was local traditional Spanish food. Vegetarians were well catered for. We had 2 off road vehicles and went off the beaten track and beyond, searching & finding the wildlife we were looking for.

K.C. Hampshire

Fantastic, entertaining and informative Guides. Wonderful scenery. Saw wolves in a telescope, wild cat through binoculars and Griffon Vultures circled overhead. Saw bear prints. Watched bats foraging along a river. Locals were very friendly as well. Excellent picnic lunches. Learnt some Spanish as well. Not bad for 4 days!

C.S. East Sussex

My main memory is of how good both tour guides were - efficient yet relaxed, friendly but not over-friendly, always approachable and knowledgeable... Naturetrek's efficiency in arranging train travel to Spain and vegan food was very good.

J.B. Devon

Our trip leader was outstanding. We greatly appreciated his skill and remarkable range of his knowledge. He was unfailingly courteous to all, helpful and good company.

Mr & Mrs F.W. Northumberland

Overall the whole experience was fantastic. This was my first trip alone and also with Naturetrek. I did not feel left out at any point and would certainly book another trip with Naturetrek.

L.B. West Yorkshire

Lee and James were brilliant - they organised the days well, depending on the weather. Both are very knowledgeable about the birds and mammals. They were particularly helpful with making sure the photographers in the group got the best photo opportunities.

L.F. Berkshire

The accommodation was nice and warm, food very good and local wine excellent. Lee and James were excellent, professional, expert and caring.

Mr & Mrs R.S. Kent

Our trip was wonderful. Our guide, Byron was so knowledgeable and helpful and made our trip so enjoyable. We are very amateur (but keen) birdwatchers but we were not made to feel so.

J.P. Essex

Excellent trip and Byron tried really hard to find a Great Bustard, and to find Wolves! The whole trip was brilliant. Thank you.

J.R. Leicestershire

Our tour leader and guides were absolutely excellent. Not only were they friendly and helpful but Tino and Tono's knowledge of the area is outstanding and their dedication to conservation of this beautiful environment deserves commendation. In fact the natural beauty of the area and freedom from traffic and people was a definite plus. Tino and Rosa were excellent hosts: the accommodation was warm, comfortable and spotlessly clean and the food delicious. Mid-day picnics were amazing feasts! Yes, of course the fact that we were able to watch a wolf in its natural habitat was the highlight, but this was achieved by our guides' in-depth knowledge and I'd like to extend thanks to everyone involved in the organisation of this tour for making it such a memorable event.

H.W. Derbyshire

I liked the fact that we were watching the animals but weren't close enough to disturb them. The guides Eva, Tino, Tonio and Javier were excellent. They were enthusiastic and very knowledgeable. The itinerary was packed and we saw wolves, eagles, vultures, foxes and a wildcat to name just some of the wildlife... I enjoyed watching the animals and I also enjoyed looking for signs of animal activity in the forest - looking at animal tracks and poo; rare fungus and animals' homes. The food was great too and it was lovely to come back to a tasty meal after our day's nature spotting. We enjoyed every aspect of our holiday.

F.F. Aberdeenshire

A superb short break. Breathtaking views of wolves - prolonged, pretty close, and in very good light! Lovely to see them doing their thing in such an unspoiled habitat. Plenty of time to relax in between the wolf-spotting sessions, too, which made the pace of the trip just right. The guides were brilliant - both Paul and Byron worked really hard to show us the wildlife and look after all our needs. They were very good at getting wolves and birds in the scopes for us so we didn't miss anything. Both very nice people too! The wolves were the obvious highlight, but I was also delighted to see some new species for me, including Iberian Hare and Black-bellied Sandgrouse, and by far my best views of Short-toed Eagle, Lesser Kestrel and Black-shouldered Kite too. The Red Foxes were also wonderful. Overall, hugely enjoyable, so a big thank you to the leaders, and to the hotel owner for keeping us all so amused and entertained, and well fed, at meal times!

S.W. Nottinghamshire