Read about highlights from recent tours to Ethiopia, India, Sri Lanka, Morocco, Spain, Cyprus and Poland …
'Ethiopia is a dramatic and historic country, and our trip managed to encompass the huge diversity and charm of the people, places and wildlife of this varied land', writes tour leader, Martin Pitt.
'From the 4,000m heights of the mountains to the dusty acacia savannah, we were treated daily to a plethora of sights and sounds that showed the country at its best. We saw some of the rarest mammals on the planet, enjoying stunning views of hunting Ethiopian Wolves, a family of Walia Ibex and a magical afternoon spent in the company of 400 or so Gelada Baboons. At times the birds were bewildering and the highlights were many, including magnificent Ostriches, four species of bustards on the plains, and the shining brilliance of the bee-eaters and sunbirds. Three species of eagle helpfully lined up for us in an identification masterclass, but perhaps the stars of the tour were the owls, which ranged from the tiny Pearl-spotted Owlet to the enormous Verreaux's Eagle Owl, and included a delightful gingery chick which was cuddling up close to its mother African Wood Owl. So much of what we saw is unique to Ethiopia, and this sense of individuality was helped by the people who were unceasingly welcoming and delighted to show us their home.'
Our next 'The Best of Ethiopia' tour departs on 11th October 2019 and costs £5,295. For more information, please email This email address is being protected from spambots. You need JavaScript enabled to view it. or call Kerrie Porteous on 01962 733051.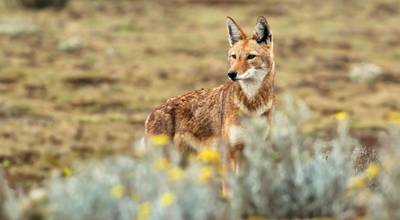 Ethiopian Wolf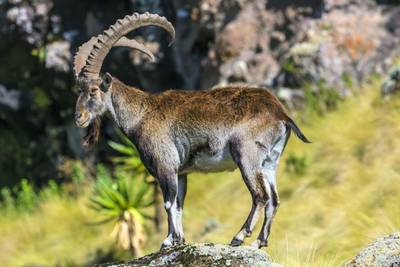 Walia Ibex
'We saw a Snow Leopard on the very first day in the Hemis National Park! Amazingly, it was within 600 metres of us, and we were able to watch it for an hour and a half', writes tour leader, Durgesh Singh.
'As well as the Snow Leopard, we also got to see two pairs of Tibetan Wolves, Red Fox, numerous Bharals (Himalayan Blue Sheep) and Woolly Hares.
We had a bird's eye view of Leh from Shanti Stupa and met the people involved in Snow Leopard conservation on our first acclimatisation day. Our visit to Thiksey Monastery and Shey Palace, where we got to know more about Tibetan Buddhism, was an enlightening experience. We also saw a good number of Ibisbill, Guldenstadt's Redstart and a single Solitary Snipe on the Indus River.
Our visit to Ulley yielded Asiatic Ibex and Ladakh Urials, together with birds like Robin Accentor, Brandt's Mountain Finch and Chukar. We also got to photograph some stunning landscapes en route. Such birds as Lammergeier, Golden Eagle, Upland Buzzard, White browed Tit-Warbler, Tibetan Partridge, Red-billed Chough, Horned Lark and Himalayan Snowcock were the highlights of our stay.'
Our next 'Ladakh – A Snow Leopard Quest' tour departs on 13th February 2020 and costs £3,495. For more information, please email This email address is being protected from spambots. You need JavaScript enabled to view it. or call Rajan Jolly on 01962 733051.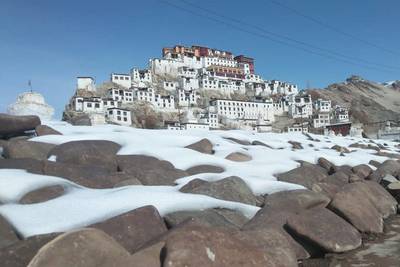 Thiksey Monastery (Durgesh Singh)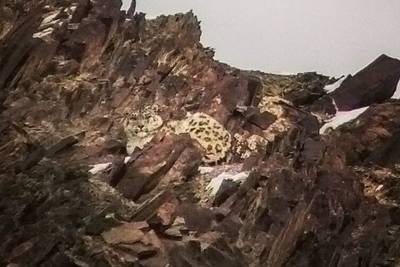 Snow Leopard (Durgesh Singh)
'The main highlight of this amazing tour has to be the three sightings of a female Snow Leopard with two cubs! Our longest sighting lasted for two and a half hours, when we observed good interaction between them; a wonderful insight into Snow Leopard family life', writes tour leader, Durgesh Singh.
'Our day trip to the villages of Gya, Meru and Sasoma yielded Bharals (Himalayan Blue Sheep), Brandt's Mountain Finch, Guldenstadt's Redstart, Lammergeier, Golden Eagle and Tibetan Partridge, as well as Common Kestrel and Red Fox. En route to Ulley we saw a good number of Ladakh Urials and Chukar.
We stayed in the Snow Leopard Trails Lodge and, from here, we spotted a female Snow Leopard with two eight-month-old cubs very close to the lodge, on the second day! We also saw Asiatic Ibex, Tibetan Wolves and more Red Foxes quite near to Hemis Sukpachan and in the Ulley area on multiple occasions.
As a total contrast in habitat, when we came back to Delhi, our trip to Sultanpur National Park, with its wetland areas, was really relaxing. We saw good number of birds which included migratory Northern Pintail, Shoveler, Gadwall and Garganey.'
Our next 'Ladakh's Snow Leopards (lodge-based)' tour departs on 24th February 2020 and costs £3,995. For more information, please email This email address is being protected from spambots. You need JavaScript enabled to view it. or call Rajan Jolly on 01962 733051.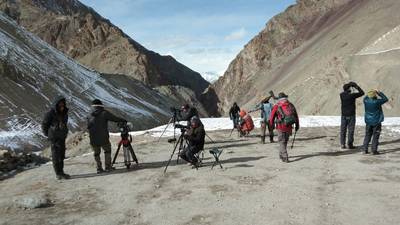 Scanning for Snow Leopards (Durgesh Singh)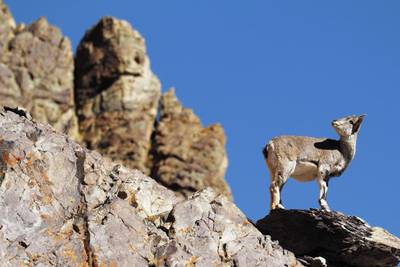 Bharal
'It was one of those lucky days which happen once in a while', writes tour leader, Yusuf Rizvi. 'During our night drive we had already had sightings of Sambar, Nilgai, Wild Boar and Muntjac, and we were on our way uphill to look for Indian Eagle-Owls. However, just as we reached our destination I spotted a male Leopard, so we quickly positioned our vehicle to enable viewing of this elusive cat. We watched him for a few minutes, before he vanished quickly into the undergrowth. We drove further to look for other nocturnal creatures and decided to check a waterhole near one of the camps. En route I spotted a few pairs of shining eyes but they disappeared within a fraction of seconds; I thought they could have been Leopards.
We then drove towards the waterhole where we met our other jeep, enjoying sightings of a few Wild Boar and Sambar. Suddenly, Cathy realised she had dropped her lens cap where we spotted the shiny pairs of eyes, so we turned around and drove quite a distance to look for it. On the way back we saw a female Leopard with two cubs, sitting on the road near the waterhole we had been to earlier. It was an awesome sight to see the mother Leopardess and the cubs together; the cubs were in a playful mood! As we reached the spot, the Leopards started walking on the road before slowly moving off into the grassland.
We decided to reverse and wait at the waterhole. Suddenly we heard a distress call at some distance. We drove quickly towards the meadow and saw Sambar giving distress calls. As we moved further on, we caught sight of the Leopards again. They were walking on the road once more, and the cubs were jumping on each other! It was an amazing, exclusive sighting for us and one we will never forget.'
Our next 'Unknown India – Tadoba & Satpura' tour departs on 12th November 2019 and costs £3,395. For more information, please email This email address is being protected from spambots. You need JavaScript enabled to view it. or call Rajan Jolly on 01962 733051.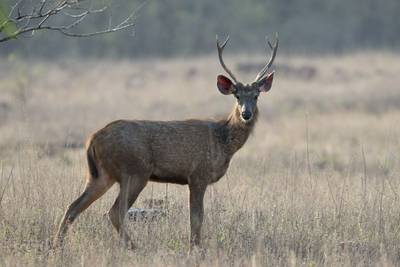 Sambar Deer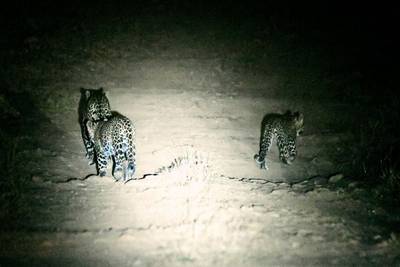 Leopardess with cubs (Yusuf Rizvi)
'Over the whole trip, 212 species of birds, 20 species of mammals and seven species of reptiles were seen, and most of them were photographed by both tour participants and leaders', write tour leaders Manisha Rajput and Dhaval Vargiya.
'In the Little Rann of Kutch, we saw many Egyptian Vultures and Steppe Eagles close to the highway. During our afternoon safari, we were lucky enough to photograph a pair of Striped Hyena in search of food. The following day, on the morning safari, we enjoyed our packed breakfasts while watching a flock of thousands of Greater and Lesser Flamingoes; we also saw a rare Black-necked Stork.
The Great Rann of Kutch was full of birds too. We found rare Crab-plovers at Modhva Beach, the rarity Grey Hypocolius at Palanpur village, White-naped Tit at Fot Mahadev, and White-browed Bush Chat (also known as Stolizcka's Bushchat) in the Naliya grassland, whilst the failed hunting attempt by a Eurasian Sparrowhawk on a Painted Sandgrouse was thrilling to witness. We saw hundreds of raptors in the Banni grassland; a record-breaking number compared to all previous tours. From a single location, more than 65 raptors were counted at one time! We enjoyed evening tea with Indian Eagle-Owl and also saw some Kutch textile works and crossed the Tropic of Cancer!
During various safaris around Sasan Gir we saw and photographed a male Asiatic Lion, a mating pair, a lioness feeding on Chital kill, and two lionesses with three playful cubs. We also had a glimpse of a Leopard. Rare birds like Indian Vulture, Red-headed Vulture, Indian Spotted Eagle, Richard's Pipit, Black Stork, Mottled Wood Owl and Crested Hawk-Eagle were all seen.
As usual, thousands of Blackbucks were observed in Velavadar, as well as a pack of Indian Wolves, comprising four pups and three adults. Three adult Striped Hyena with two pups were a treat to watch, and a rare Laggar Falcon was also seen.'
Our next 'India – Rare Birds & Mammals of Gujarat' tour departs on 10th November 2019 and costs £3,595. For more information, please email This email address is being protected from spambots. You need JavaScript enabled to view it. or call Rajan Jolly on 01962 733051.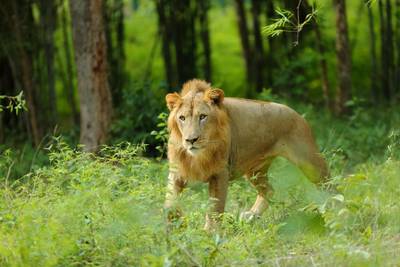 Asiatic Lion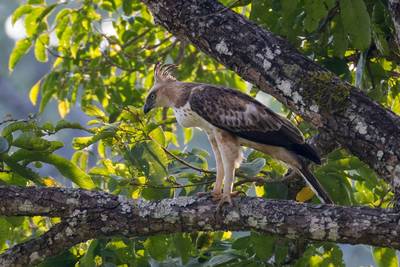 Crested Hawk-eagle
'During this tour, including the extension to Sinharaja, we saw 19 species of mammals, 151 bird species and nine species of reptiles', writes tour leader, Saman Kumara. 'We had good sightings of Blue Whales and were able to enjoy watching several Spinner Dolphin pods that swam alongside our boat and occasionally spun out of the water, leaving everyone speechless and in awe of this glorious sight.
At Yala we encountered the elusive Leopards, along with many other mammals, including Asian Elephant, Sambar, Spotted Deer, Wild Boar, Water Buffalo, Ruddy Mongoose, Grey Langurs and Toque Macaque. We were particularly thrilled by our third sighting of a Leopard, which was resting on a tree only a few feet away from our jeep. We were fortunate to observe this majestic cat for about 45 minutes until it decided to come down from the tree. We were able to take many photographs with the evening sun setting in the background, which is every wildlife photographer's and enthusiast's dream shot!
Also in Yala, we witnessed the behaviour of an adult male Asian Elephant with a young calf: the calf kept trying to get the attention of the grown male elephant by attempting to play a game of sorts, going back and forth; it was an incredible sight to witness.'
Our next 'Sri Lanka – Blue Whales & Leopards' tour departs on 16th November 2019 and costs £2,595. For more information, please email This email address is being protected from spambots. You need JavaScript enabled to view it. or call Rajan Jolly on 01962 733051.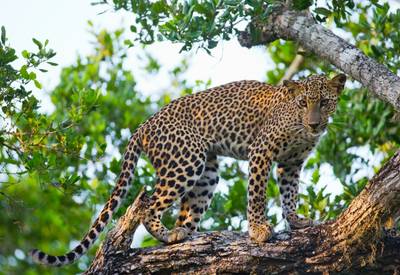 Leopard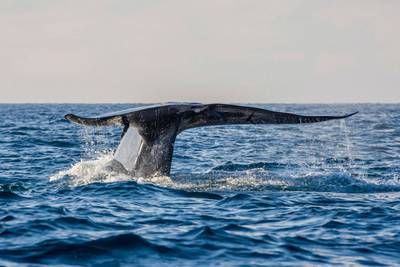 Blue Whale
'Tours to Sri Lanka never fail to delight, and this one proved no exception', writes tour leader, Suminda Dodangoda. 'Our two-day safari in Yala yielded some good sightings of Leopards. Many Elephants were counted at Udawalawe National Park, whilst we were simply dazzled by our encounters with Blue Whales! We were able to observe this magnificent mammal at close hand and enjoy their many fluke dives; Spinner Dolphins also obliged by giving us good views.
The historic ruins of the Anuradhapura and Pollonaruwa kingdoms with their skilful city planning and workmanship perplexed the minds of tour participants. The beautiful damsels adorning the Sigiriya Rock face frescoes were enjoyed by everyone during their ascent to the Sigiriya Rock summit. On the birding front, we had good views of two very rare birds, the Black-capped Kingfisher and the Streak-throated Woodpecker. A total of 240 bird species, 23 species of mammals and 16 species of reptiles and amphibians were seen throughout the tour and extension, making this an all-round successful trip.'
Our next 'Sri Lanka – Wildlife & History' tour departs on 2nd November 2019 and costs £3,195. For more information, please email This email address is being protected from spambots. You need JavaScript enabled to view it. or call Rajan Jolly on 01962 733051.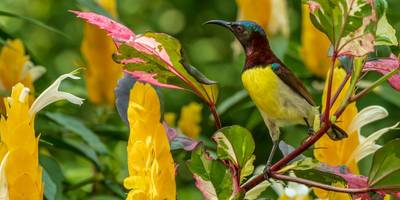 Purple-rumped Sunbird (John Archer-Thomson)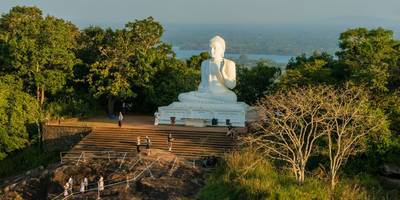 Mihintale (John Archer-Thomson)
'Our first full day in the Strait of Gibraltar demonstrated the struggle of migrating soaring birds crossing the Strait', writes tour leader, Simon Tonkin. 'As we watched from our strategic point on the Spanish coast, we marvelled at the streams of Black Kites, Short-toed Eagles, Booted Eagles and intermingling Black Storks, together with squadrons of European Bee-eaters.
As we journeyed down the Atlantic coast of Morocco, we boarded a small boat to discover the fabled Merga Zerja intertidal lagoon, once the spot to go and see the now presumed extinct Slender-billed Curlew. Here, Sandwich, Little, Caspian, Whiskered and Gull-billed Terns flew alongside Slender-billed, Mediterranean and Audouin's Gulls. In the Rif Mountains the upper reaches yielded superb views of no fewer than six Moussier's Redstarts.
Back in Spain whilst Black-eared Wheatears and Woodchat Shrikes adorned the Mediterranean forest and scrub, we found Sombre Bee Orchid and the quasi-endemic Portuguese Sundew. A settling mass of over 100 Black Kites making landfall provided a fitting end to an amazing trip of culture and nature.'
Our next 'Spain & Morocco: Birding on Two Continents' tour departs on 1st October 2020 and costs £1,595. For more information, please email This email address is being protected from spambots. You need JavaScript enabled to view it. or call Andy Tucker on 01962 733051.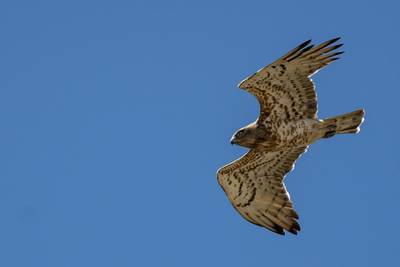 Short-toed Eagle (Simon Tonkin)
'The breathtaking spectacle of migration ran through these two back-to-back trips, filling our days with views of many hundreds of raptors arriving on the shores of Europe', writes tour leader, Niki Williamson.
'Short-toed and Booted Eagles, Black Kites, Sparrowhawks and Egyptian Vultures came in droves, often exhausted, always spectacular. On one day we experienced over three hundred Black Kites arriving in just a few minutes, and raptors continued to stream overhead in almost inconceivable numbers!
As well as the huge wonder of it all, we experienced solitary struggles, like the lone Goldfinch cheeping many miles from land as it sped towards Spain, or the lone Sparrowhawk fighting off seven Yellow-legged Gulls as it struggled to reach land.
Black Storks, Western Ospreys, Yellow-browed Warbler, Rüppell´s Vulture, Collared Pratincole, Black-winged Kite and the wonderfully quirky Northern Bald Ibis colony provided further avian highlights, while our butterfly list included Monarch, Painted Lady, Spanish Festoon, Cleopatra and Geranium Bronze. We also enjoyed examining local populations of Sombre Bee Orchid and Iberian endemic Portuguese Sundew.
As well as seabirds like Sandwich and Black Terns and Cory´s Shearwaters, a boat trip aboard the plucky Pirata brought us Long-finned Pilot Whales and exuberant pods of Bottlenose and Striped Dolphins, which swam right under the boat and surfed the waves around us.
And all of this fitted into relaxing days with plenty of time for coffee and ice cream stops, free time to enjoy a prolonged tapas lunch and browsing in the historic town of Tarifa, and to mooch around the peaceful streams and woodlands of our rural eco-lodge base – a 'Go Slow' experience with something for everyone!'
Our next 'Go Slow in Andalucia in Spring' tour departs on 15th March 2020 and costs £1,395. For more information, please email This email address is being protected from spambots. You need JavaScript enabled to view it. or call Andy Tucker on 01962 733051.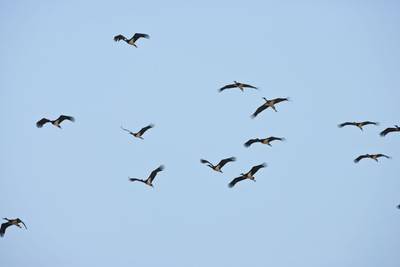 Black Storks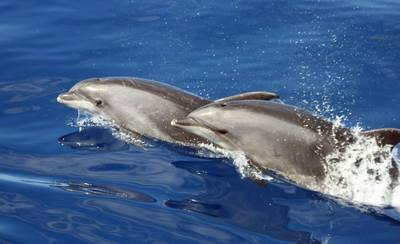 Bottlenose Dolphins
'It´s fair to say this band of bird-lovers got what they came for! Geared towards beginners but packed with the best birding Extremadura has to offer, this adventure through the area´s plains, mountains and wetlands gave us splendid views of displaying Great Bustards, calling Little Bustards, large flocks of Pin-tailed Sandgrouse, Cinereous and Griffon Vultures, an intimidating Bonelli´s Eagle and two Spanish Imperial Eagles, white forewings glinting in the sun', writes tour leader, Niki Williamson.
'Thekla, Crested, Greater Short-toed and Calandra Larks provided a constant soundtrack to our days and made lark connoisseurs of the group! Further avian highlights included a roosting Long-eared Owl, Rock Buntings, Blue Rock Thrush, Black Storks, Black-necked Grebes, an unexpected Pallid Harrier, and our daily Mallard! At a time when anything could turn up, we were thrilled to catch the first Egyptian Vultures, Savi´s Warblers, Purple Herons, Black-eared Wheatears and Collared Pratincoles arriving at their breeding sites.
Occasionally distracted from our birds, we notched up some wonderful views of the area´s other natural riches – lepidoptera included Spanish Festoon, Swallowtail (both regular and Scarce), Painted Lady, Bath White, and an enormous Giant Peacock moth. We also got to enjoy the Iberian Pond Frog chorus, European Otter, Champagne and Sawfly Orchid and an adorable Wild Boar family.
Great Spotted Cuckoos, Woodchat Shrikes, Iberian Magpies and Eurasian Hoopoes were regular companions outside our wonderful rural accommodation at Viña las Torres, where the attentive team brought us the best of Extremadureñan hospitality and plenty of recipes from grandma's cookbook!'
Our next 'Extremadura in Spring – A Beginner Birdwatching Tour' departs on 29th March 2020 and costs £1,695. For more information, please email This email address is being protected from spambots. You need JavaScript enabled to view it. or call Andy Tucker on 01962 733051.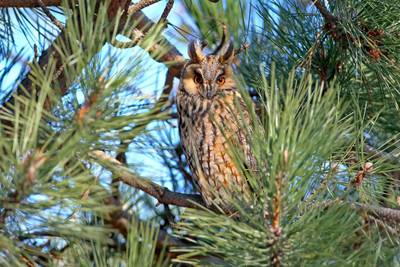 Long-eared Owl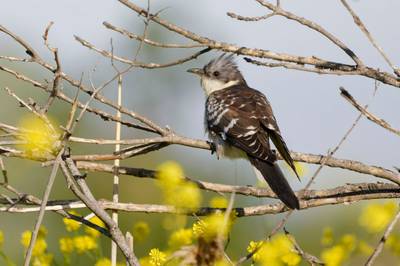 Great-spotted Cuckoo
'We had a wonderful few days on this lovely island', writes tour leader, Andy Bunten. 'A very wet winter had caused the orchids to bloom a little later than normal, so we were treated to some brilliant shows of a very large number of different species including Himantoglossom robertiana, Ophrys italica, levantina and mammosa and three species of Serapias. The birds were also very obliging, and we enjoyed close views of the (now) endemic Cyprus Scops Owl, Cyprus Wheatears almost in abundance, a very obliging Cyprus Warbler (for some of the group), a very obliging Black Francolin (for all of the group) and a host of other nice species including Black-eared and Isabelline Wheatear, Black and Common Redstart, Wryneck, Long-legged Buzzards, Spur-winged Plovers and Alpine Swifts.
We were lucky in other ways too, and one real highlight was an unforgettable migration of Painted Ladies, with literally thousands flying past us by the hour. We also had a very rare encounter with a chameleon, slowly crossing the track in front of us and rapidly changing its colour as it reached sanctuary in a bush. All this and some lovely warm spring weather, delicious wine and wonderful Cypriot food… what a great way to kick off the spring!'
Our next 'Go Slow ... in Southern Cyprus' tour departs on 18th March 2020 and costs £1,595. For more information, please email This email address is being protected from spambots. You need JavaScript enabled to view it. or call Kerrie Porteous on 01962 733051.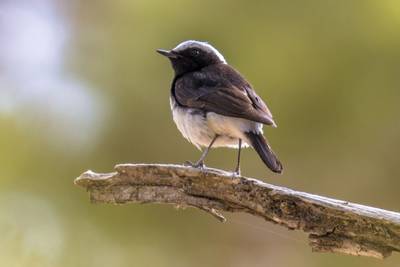 Cyprus Wheatear
'Sunny days and cold nights were the general conditions for our recent "Poland's Mammals – in search of the Eurasian Lynx" tour', writes tour leader, Neil McMahon.
'Mostly dry conditions underfoot provided ideal hiking opportunities, as the small group explored the forests and meadows of Bieszczady. Everywhere we went there were recent tracks of wolf, lynx and bear and we tried very hard to find the animals that had produced them! Sadly we didn't see the lynx or bear but managed views of wolf at two locations, including one animal than trotted straight past the minibus during a spotlighting session!
The scanning sessions picked up on Brown Hare, Red Fox and Roe and Red Deer almost daily and sometimes in good numbers. A Wildcat wowed us and we managed sightings of four different Pine Martens. We also encountered Eurasian Beaver and Badger and several sightings of the famous Eurasian Bison.
Both sets of our accommodation were very much right in the middle of the action and when the mammals couldn't be found we turned our attention to the birds, early spring flowers, butterflies and plentiful amphibians. Our last full day saw rain in the afternoon which brought forth hundreds of toads and frogs and also the fabulous Fire Salamanders! Bird highlights included some night time views of Ural and Tawny Owls, woodpeckers, Hoopoe, Lesser Spotted Eagle, Goshawk, White and Black Storks, Dipper and lots of Crossbills and Hawfinches.'
Our next 'Poland's Mammals – in search of the Eurasian Lynx' tour departs on 29th March 2020 and costs £1,895. For more information, please email This email address is being protected from spambots. You need JavaScript enabled to view it. or call Tom Mabbett on 01962 733051.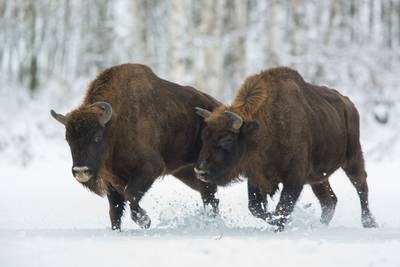 Eurasian Bison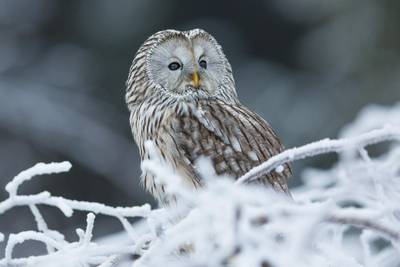 Ural Owl