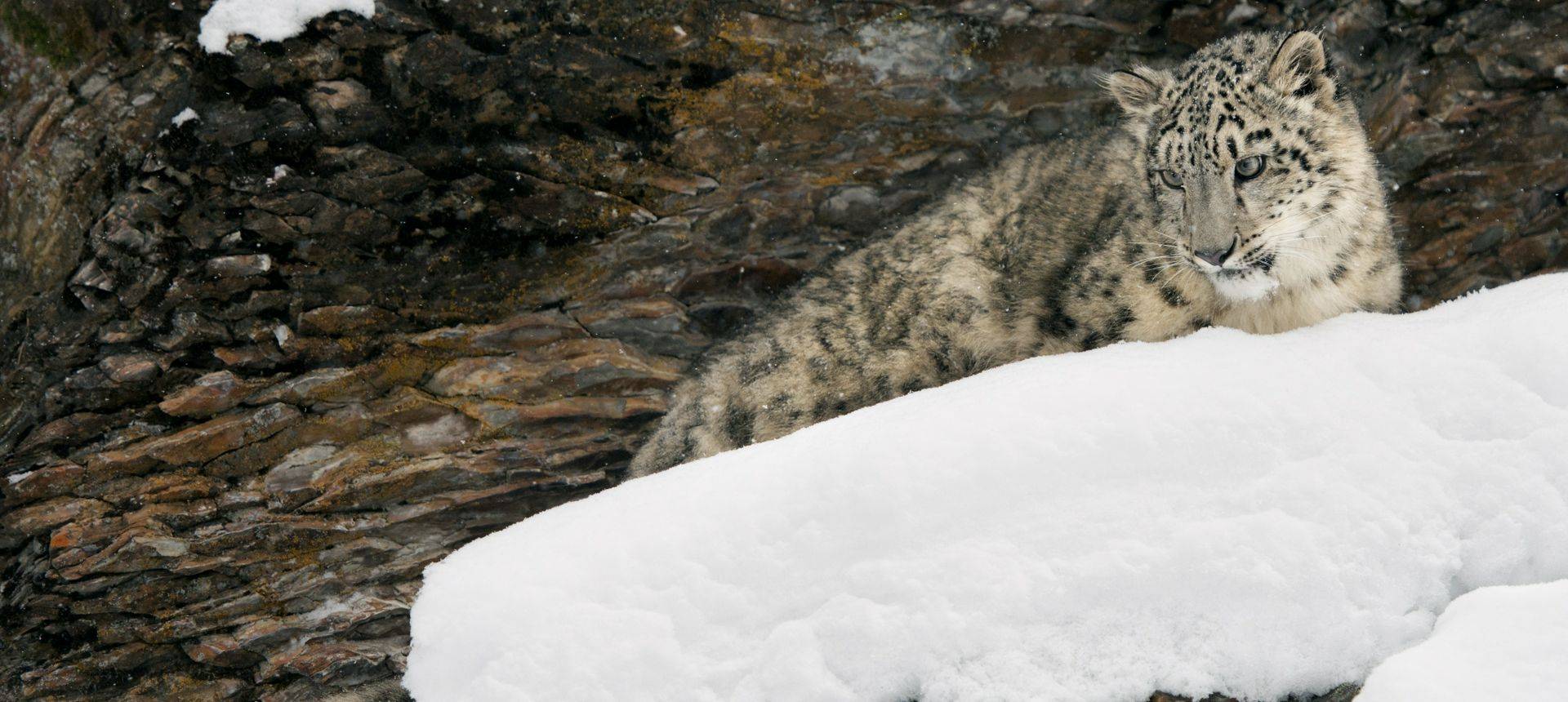 Ladakh's Snow Leopards (lodge-based)
Tour Code: IND58
A 14-day Snow Leopard quest based in a warm and comfortable mountain guesthouse. An optional 4-day extension to Ranthambore National Park, one of India's best-known Tiger Reserves, is available.
For generations of naturalists, the awesome Snow Leopard was an almost mythical creature, stalking the remote high mountains of Asia which were accessible only to expeditions. Whilst a spirit of adventure is still required to enter the domain of the Snow Leopard, modern communications have made it feasible to finally observe this specialised predator in the wild and in recent years Naturetrek is proud to have organised a number of successful tours in Ladakh achieving this objective. Previous holidays have included an element of camping but this year we are glad to introduce a revised Snow Leopard tour which utilizes a comfortable new guest house in the heart of the animal's winter territory and thus ensures that participants will no longer have to spend any nights under canvas. Sightings of the charismatic Snow Leopard will be the main focus of the tour but in addition we will hope to see other inhabitants of the high mountains such as Blue Sheep and Asiatic Ibex together with a small but interesting selection of birdlife. Quite apart from the wildlife, Ladakh is a fascinating and unusual destination steeped in Buddhist history and the itinerary permits time to admire some of the ancient architecture in and around the capital Leh.
Excellent opportunities to observe Snow Leopards
Other Himalayan mammals such as Blue Sheep, Asiatic Ibex and Ladakh Urial
Birds including Tibetan Partridge, Himalayan Snowcock, Golden Eagle, Lammergeier and Red-billed Chough
Hotel accommodation in Leh and comfortable guest house in the Ulley Valley.
Spectacular scenery during flight from Delhi to one of the world's highest airports at Leh
Fascinating Buddhist monasteries and other examples of ancient Ladakhi architecture.
Superb mountain scenery
Two night stay in Delhi at conclusion of tour
Optional post-tour extension easily arranged to Ranthambhore Reserve in India frequented by Tigers along with wide variety of mammals and birds
Can I help you?

Until now, on our annual 'Ladakh — A Snow Leopard Quest', we have had to use tents on some nights during our search for Snow Leopards in the chilly winter of this mountainous Himalayan kingdom — the season in which these elusive cats and their prey descend to accessible altitudes. Now, by basing our search in a new area, the Ulley Valley, we are able to stay throughout our quest in a comfortable mountain guesthouse. This new accommodation offers five twin rooms and two shared bathrooms. Hot water bottles are provided each night to ensure a cosy night's sleep, and the main living area is heated by a warm central stove. It is a comfortable alternative to camping!
To reach Ladakh, in the far north-west of India, we must first fly to Delhi. From there we fly to Leh, Ladakh's capital, which boasts one of the highest airports in the world, at 3,256 metres. Our first three days will be spent in Leh, as we acclimatise to the altitude while enjoying a little local wildlife and culture. Then we will drive west to Ulley, our base for six nights as we search for Snow Leopards in an area that is relatively free of other visiting tourists.
The village lies at the centre of three interlocking valleys that support a population of about 10 Snow Leopards. These three valleys can be accessed by road, enabling us to explore the region by vehicle, but we will also search on foot. The effort should be worth it, for with the sharp eyes and expertise of our local guides on which to rely, there is an excellent chance of a memorable Snow Leopard sighting — whether at a kill or making its solitary way up a remote mountain pass, blending into the wilderness in which it is totally at home. We will also be on the lookout for Blue Sheep, the main prey species of the Snow Leopard, plus Asiatic Ibex, Ladakh Urial and cute Large-eared and Royle's Pikas. As for the birdlife, few species spend the winter here, but those that do – the Lammergeiers, Himalayan Griffons, Himalayan Snowcock, redstarts, finches and accentors – make splendid mountain companions!
Please contact us on 01962 733051 for details on what extensions either pre or post tour are available for this Tour.
2020
Departures
Availability
Cost
Mon 24th Feb - Sun 8th Mar
5
£3,995
Flights:
Most Naturetrek tours include flight costs ex-UK. If flights are not included, we indicate that here.
Flights are included in the tour cost
Regional Departures:

On certain tours it is possible to depart from a regional airport (rather than London). If a regional departure is possible, we indicate that here.
Regional Departures are available. Call 01962733051
Land only cost:

The "Land Only" cost is the tour price you will pay if you choose to arrange your own flights/transport.
£3,495
Room sharing options:
If a customer on this departure has already expressed an interest in sharing a room it will be flagged here. We will identify if there are sharing options for male, female or both.
Female sharing available
Single Room Supplement:
£1,495