Leaf-nosed Lizard (Ceratophora tennentii), Sri Lankan Green Pitviper (Trimeresurus trigonocephalus), Linda's Treefrog (Hyloscirtus lindae)
Herping Tours for 2022 & 2023

This email address is being protected from spambots. You need JavaScript enabled to view it.
Naturetrek have been crafting expertly-guided group and tailormade wildlife holidays and cruises to all seven continents since 1986. On all of our holidays, you can be assured that our expert team will enable you to experience and enjoy the best of the world's wildlife and natural spectacles in as comfortable and rewarding a manner as possible. Drawing on decades of knowledge built up from operating bird, mammal, botany, butterfly and other wildlife tours, and combining this with in-house herpetology expertise, we are delighted to be able to offer the opportunity to join expert field herpetologists in search of some of the world's finest reptile and amphibian experiences, on a range of herping tours across the planet.
Group flights for our herping tours typically depart from London, but we are very pleased to help make arrangements for you to join our holidays from any location worldwide. Additionally, should you be interested in taking a herping holiday to a destination which is not listed in our current portfolio, please do get in touch and we'll be very pleased to discuss options with you.

The reptile-and-amphibian-life in Colombia is astounding. Colombia has the second largest richness of amphibians in the world, hosting a mind-blowing 820 species, of which over 390 species are endemic. A 'mega-biodiverse country', Colombia also has one of the richest diversities of reptile-life on earth too, with over 600 species found here, of which 174 species are endemic.
On this exciting itinerary we'll discover some of the most attractive frogs and toads on the planet, species such as the variable but ever-spectacular Harlequin Poison Frog, the highly sought-after Lehmann's Poison Frog and the beautiful Condoto Stubfoot Toad. Many of the commonly found Treefrogs and Glassfrogs are also exquisite jewels.

There are some fantastic reptiles to be discovered in Colombia too: Eyelash Viper, Common Monkey Lizard, Cope's Parrot Snake, Redtail Coral Snake, and a multitude of spectacular Anolis and Teiid lizards.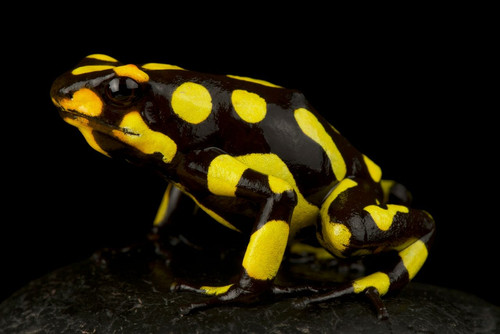 Harlequin Poison Frog (Oophaga histrionica)
In the world's highest coastal mountain range, Sierra Nevada de Santa Marta, we'll enjoy sensational panoramic views between our searches for Lansberg's Hognose Viper, Ikakogi tayrona, Savage's Mushroomtongue Salamander, two critically endangered San Lorenzo Harlequin Toads, Spectacled Caiman, American Crocodile and many more exciting species.
Herping the lush tropical habitats in the famous Anchicayá Valley we'll aim to find Gliding Leaf Frog, White-lipped Mud Turtle, Chocóan Toadheaded Pitviper, Two-lined Mushroomtongue Salamander and the stunning endemic Anchicayá Poison Frog.
An exciting guided extension is also available to a fantastic lodge located on the Gulf of Tribugá, on the Pacific coast of the Chocó region of western Colombia. Surrounded by pristine forest, this little piece of paradise is home to the amazing Condoto Stubfoot Toad, Kokoe Poison Frog, Chocóan Bushmaster, Helmeted Iguana and many others. The incredible Yellow-bellied Sea Snake is seen on the beach here with relative frequency.
Utilising in-country knowledge from Naturetrek partner, Robin Smith, and his Colombian partner, Claudia, this 13-day holiday will delight us at every turn. Superb cuisine, world-class coffee, stunning views and exciting night-searches form the basis of a sensational herping tour to this diverse and breathtaking country.
View Tour Page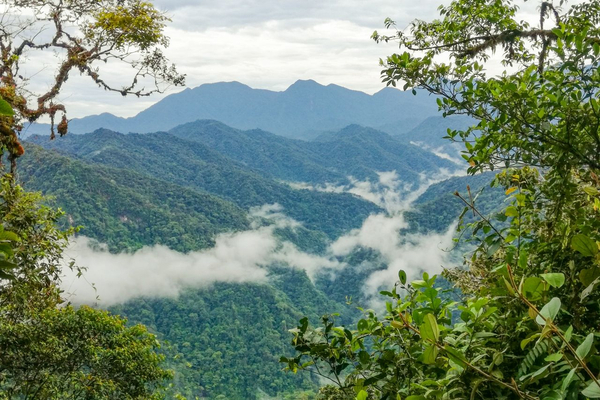 Anchicayá Valley © Robin Smith
Bordering Colombia to the south, Ecuador also has spectacular biodiversity within three diverse ecosystems — the Amazon rainforest, the coastal west, and the mountainous Andes — which give the region mouth-watering levels of biodiversity across the taxa.
An incredible 630 amphibian species are found in Ecuador's habitats, almost half of which are endemic to the country. Treefrogs, Glassfrogs, Poison Frogs, Monkey Frogs and Mushroomtongue Salamanders make up just a selection of the exciting families of amphibians we'll have the opportunity to find as we explore the cloud and rainforests. Similarly impressive are the numbers of reptile species — over 490 species, of which more than 160 are found only in Ecuador. Anoles, Tegus, Woodlizards, Boas, Vipers, Turtles and Crocodilians are among a huge range of reptiles we'll be searching for during both diurnal and nocturnal excursions.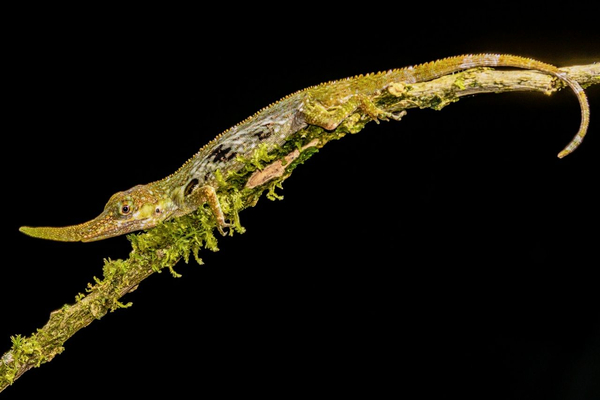 Pinocchio Lizard (Anolis proboscis) © Xavier Muñoz
On this exclusive 17-day itinerary we'll visit the Naturetrek Reserve! For over a decade Naturetrek have been working to protect threatened cloudforest in the Ecuadorian Andes, with direct purchase of the forest as a nature reserve. Here in the reserve, with the guidance of our herpetologist tour leader, one of our targets will be to see the Naturetrek Leaf Frog! Our time here is certain to be exhilarating, and we can expect to be serenaded by an assemblage of birds by day and a chorus of frogs by night.
Anole lizards are one of Ecuador's specialities and perhaps the most iconic of them all is endemic here: the Pinocchio Lizard. We'll search for this marvellous lizard, along with its amphibian counterpart, the Pinocchio Rainfrog. The highlight for many participants will be the search in Mindo cloudforest for the diminutive and wonderful Little Devil 'Diablito' Poison Frog. Our final day is taken at the famous birding location of Guango where we search for the beautiful Linda's Treefrog and Riobamba Marsupial Frog.
This exciting holiday will be remembered not only for its wildlife, but for its staggering diversity of landscapes, from snow-capped volcanoes to rainforests embellished with tropical flora. Ecuador's capital, Quito, is the gateway to a dream destination for many visiting herpetologists – the Galápagos Islands – and we'd be delighted to make arrangements for an extension to these islands for participants who wished.
View Tour Page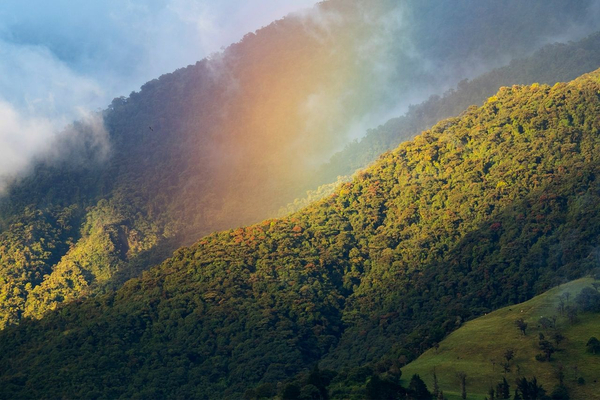 Naturetrek Reserve © Lou Jost
Sri Lanka is a naturalist's paradise and is penned on the bucket-list of just about every herpetologist. Known as the 'Pearl of the Indian Ocean', the island's isolation from the mainland has given Sri Lanka excitingly high levels of endemism, particularly in its rich saurofauna. In addition to this, the country's wide range of altitudes has given Sri Lanka a variation in climate and biodiversity normally found across an entire continent. These varying climates and altitudes are synonymous with a wonderful diversity of habitats and a hugely exciting range of reptile and amphibian species.
Sri Lanka is home to some of the most morphologically spectacular reptiles on earth. Endemic species such as the Rhino-horned Lizard, Hump Snout Lizard, Sri Lankan Flapshell Turtle and near-endemic families such as the Kangaroo Lizards and the Humpnose Vipers. A mega-hotspot of reptile diversity, Sri Lanka is also home to some non-endemic icons: Indian Star Tortoise, Indian Chameleon, Mugger Crocodile and Russel's Viper. On this carefully planned itinerary, we'll make an exciting search for the endemics and non-endemics with equal delight.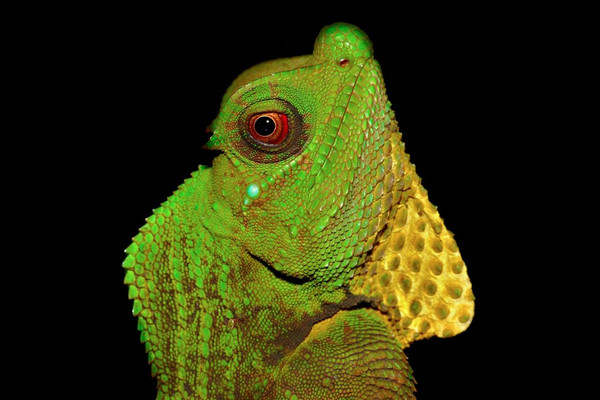 Hump Snout Lizard (Lyriocephalus scutatus)
We'll visit the Sinharaja biosphere's stunning primary tropical rainforest where habitats are packed full of insects, butterflies and birds alongside the reptiles and amphibians. A highlight at Sinharaja will be searching for the perched, fluorescing, vipers: White-lipped Pitviper or the stunning Sri Lankan Green Pitviper. The lovely amphibians may include Schneider's Shrub Frog, Sri Lankan Golden-backed Frog and Sri Lanka Whipping Frog.
In the highlands, we'll explore Horton Plains National Park where we'll search montane grassland and cloudforest, rich in biodiversity. In this area the amphibians include the endangered Half-webbed Pug-snouted Frog, Small-eared Shrub Frog and Montane Hour-glass Treefrog. This is where we'll also enjoy searching for Black-cheek Lizard and the fantastic Pygmy Lizard. We'll be spoilt for Agamids, the 'Dragon Lizards', during our time in Sri Lanka, with 16 endemic species in this family alone, and this itinerary takes in an exploration of a little-visited area in eastern Sinharaja, in search of some rarely observed 'dragons'.
Not only does the 16-day itinerary go in search of Sri Lanka's most wonderful wildlife, but it has been prepared to also take in some of Sri Lanka's cultural locations too: Pidurangala Rock temple, Temple of the Sacred Tooth, Dambulla cave temples and Sigiriya Lion Rock.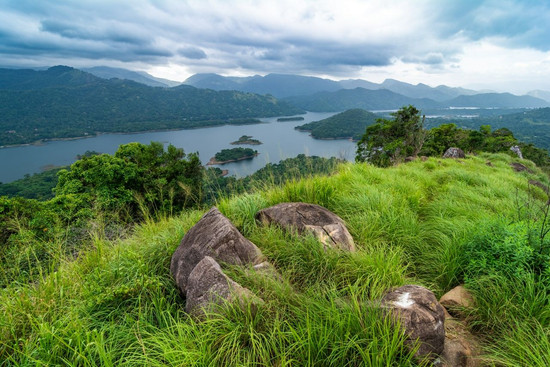 Knuckles Mountain Range
When you add to this itinerary comfortable accommodation, delightful cuisine, Sri Lanka's fascinating history and the chance to see such mammal and bird species as Leopard, Indian Elephant, Sloth Bear, Indian Pitta, Pied Thrush, Malabar Trogon, Indian Blue Robin, Painted Snipe and Indian Paradise Flycatcher, it is easy to see why this is simply an unmissable tour for any keen naturalists.
View Tour Page
Namibia is an exceptional destination for a herping tour, with superb endemic species found in some of the planet's most stunning desert scenery. In total Namibia has over 200 species of reptile and more than 50 species of amphibians. On this exciting itinerary, planned at all stages with in-depth local knowledge, we'll travel the near-length of this picturesque country in search of the biodiversity of reptile- & amphibian-life which abounds in breathtaking scenery in Namibia.
Namibia is home to some of the world's most photogenic reptiles, inhabited by such species as Web-footed Gecko, Leopard Tortoise, Namaqua and Flap-necked Chameleons and the stunning adders in the genus Bitis, which are numerous in Namibia.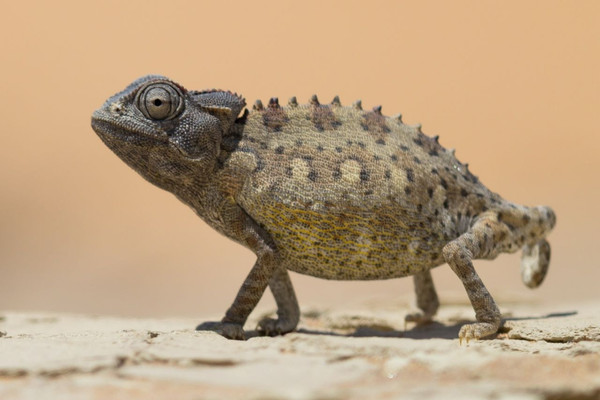 Namaqua Chameleon (Chamaeleo namaquensis)
The group size for this holiday is limited to just six participants as we seek to find and photograph some of the most photogenic reptiles on earth. We shall stay in comfortable en-suite accommodation throughout, the vast majority with swimming pools and air-conditioning. Additionally, we shall use state-of-the-art customized cruisers throughout, with air-conditioning, wi-fi and purified water inside the vehicle, as we travel between sites hand-chosen by local herpetology experts… it will be very hard to leave at the end of this special herping holiday!
View Tour Page