Dan Lay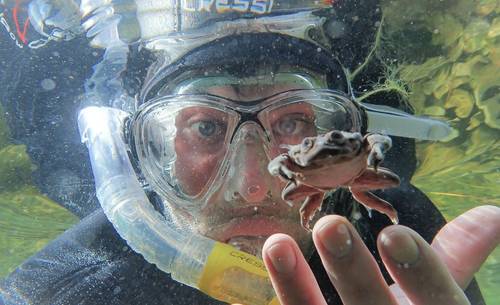 Dan is an experienced herpetologist and has been passionate about all things reptilian and amphibian since childhood, having been brought up on pond dipping and, since he was a one year old, searching for frogs and other wildlife with his Grandad.
Before joining the busy operations team at Naturetrek in 2019, most of Dan's career was spent working as a herpetologist for the Durrell Wildlife Conservation Trust on the British Channel Island of Jersey. While working for Durrell, Dan studied the breeding behaviour of many endangered reptiles and amphibians, including endemic Mauritian lizards, Madagascan tortoises, Caribbean amphibians and Lesser Antilles iguanas and snakes. Dan spent time working in the field with many of these species.
As well as supporting reptile and amphibian conservation around the world, Dan is equally enthused about the conservation of native species and has worked on a highly successful headstarting programme for the Agile Frog (Rana dalmatina) in Jersey and, prior to that, with reintroductions of Natterjack Toad (Epidalea calamita) and Sand Lizard (Lacerta agilis) on the British mainland.
Dan has enjoyed sharing his love for reptiles and amphibians with many, which has included introducing HRH Princess Anne to a Ploughshare Tortoise (Astrochelys yniphora) from Madagascar, showing Anguillan Racer Snakes (Alsophis rijgersmaei) to 'Superman' Henry Cavill and discussing amphibian conservation with Sir David Attenborough, at a symposium held by the Zoological Society of London.
Dan's personal travels also often revolve around reptiles and amphibians and this has taken him to such places as the caves of Slovenia in search of Olm (Proteus anguinus), the world's highest navigable lake in Bolivia where he snorkelled in search of Lake Titicaca Frog (Telmatobius culeus), and Australia, which he visited at the age of 17 to search for endemic geckos in Kakadu National Park.
His fascination with herpetofauna and passion for travel tie in well with his interest in macro photography and his photography has been published in books and magazines, including National Geographic.
Aside from herpetology, Dan maintains a wide scope of natural history interests and has been known to search for everything from small mammals to carnivorous plants to snow fleas! Dan began birding at a young age, inspired by his Grandad who was a keen amateur ornithologist, and Dan continues to visit his local patch on the edge of the New Forest each morning. Dan recently co-led Naturetrek tours to Dorset and the Somerset Levels and cites the gathering of the Starlings as one his favourite ever natural history moments. Searching for small, camouflaged and elusive animals has fine-tuned his eyesight – a quality that clients regularly highlight when providing feedback after travelling with Dan.
In the Naturetrek office, Dan looks after our herping tours.
Upcoming tours with Dan Lay...
Date
Tour
Availability
Sharing
Price
Sharing:

F

Sharing is designed to help those who wish to pair up in order to avoid single occupancy surcharges. M = Male / F = Female / B = Both