By

This email address is being protected from spambots. You need JavaScript enabled to view it.



Operations Manager
17th February 2019
Following the great success of our 'Panama – Harpy Eagle Special' tours in 2017 and 2018, we are again providing a wonderful opportunity to see this magnificent raptor in 2019. This year there is a bonus, as we are also able to visit an active Crested Eagle nest! This rare species is even harder to observe than Harpy Eagle, so we are delighted to be able to offer this special opportunity. Both nest sites will be visited in a way that will not disturb the birds. Indeed those visiting will in fact be contributing to the conservation of these magnificent eagles.
With five nights at the wonderful Canopy Camp in the famous Darién Gap, a host of other species are possible in this famously endemic-rich region. Gray-cheeked Nunlet, White-headed Wren and Pale-bellied Hermit are among the specialities just around the camp grounds, along with an excellent variety of tanagers, woodpeckers, puffbirds, manakins, kingfishers, flycatchers and of course raptors. The Canopy Camp lodge offers large, comfortable, safari-style tented accommodation with private bathroom facilities.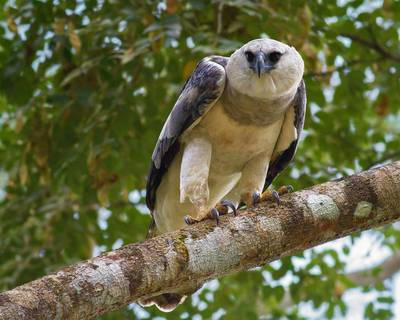 Harpy Eagle (Tom Ambrose)
At both the Harpy Eagle nests and the Crested Eagle nest the chicks are currently about four to five months old. The adult female birds are often seen bringing in prey, and the males are seen occasionally too. Both the Harpy Eagle nests take around two hours to reach on foot, walking slowly with breaks on clear trails with some short hilly sections (porters are available to carry any bags and equipment). The Crested Eagle nest is a short 15-minute walk.
Our next available 'Panama – Harpy Eagle Special' tour departs on 20th April 2019 and costs £2,795. For more information, please email This email address is being protected from spambots. You need JavaScript enabled to view it. or call Tom Mabbett on 01962 733051.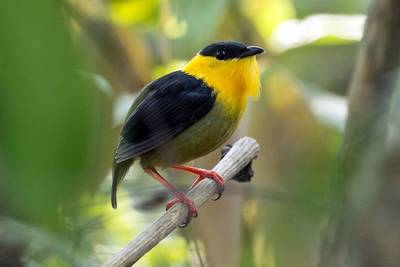 Golden-collared Manakin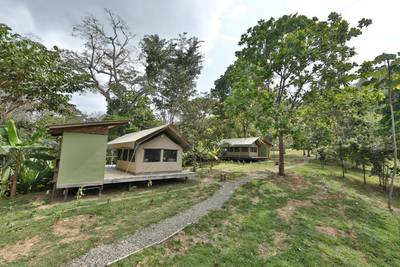 Canopy Camp (Canopy Camp Family)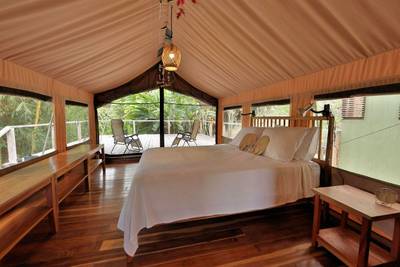 Canopy Camp (Canopy Camp Family)
Alternative locations for Harpy Eagle viewing
Brazil also provides excellent opportunities to see Harpy Eagles. In just one conservation area in the southern Amazon rainforest of Mato Grosso, an amazing 23 nests have been located! With the aid of viewing towers, nests can be viewed at eye level, allowing for an intimate perspective of family interactions. This works as an exciting extension option to any of our fantastic range of group tours to Brazil, such as 'Just Jaguars', 'The Pantanal and Iguazu Falls', and 'The Best of Brazil's Atlantic Forest'.
Guyana is another option for those looking for more exclusivity in this country of remote, untouched wilderness. During our wonderful 'Guyana – A Timeless Paradise' tour we visit a long-standing Harpy Eagle nest site and have an excellent success rate.
For information on Harpy Eagles, please email This email address is being protected from spambots. You need JavaScript enabled to view it. or call Tom Mabbett on 01962 733051.
---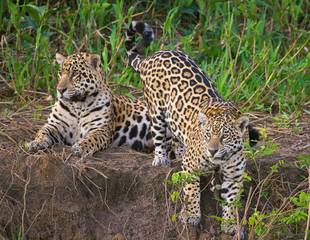 A 12-day holiday in search of the largest of South America's cats and the abunda...
12 days
£4,495 inc. flights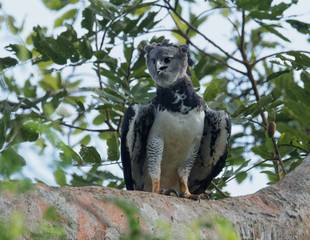 An 8 day bird filled holiday providing a wonderful opportunity to see one of wor...
8 days
£2,795 inc. flights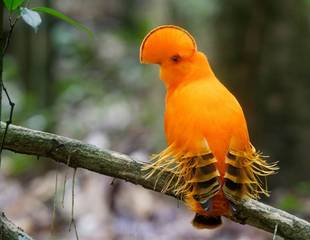 A 15-day holiday in search of the birds, mammals and other natural history among...
15 days
£5,995 inc. flights