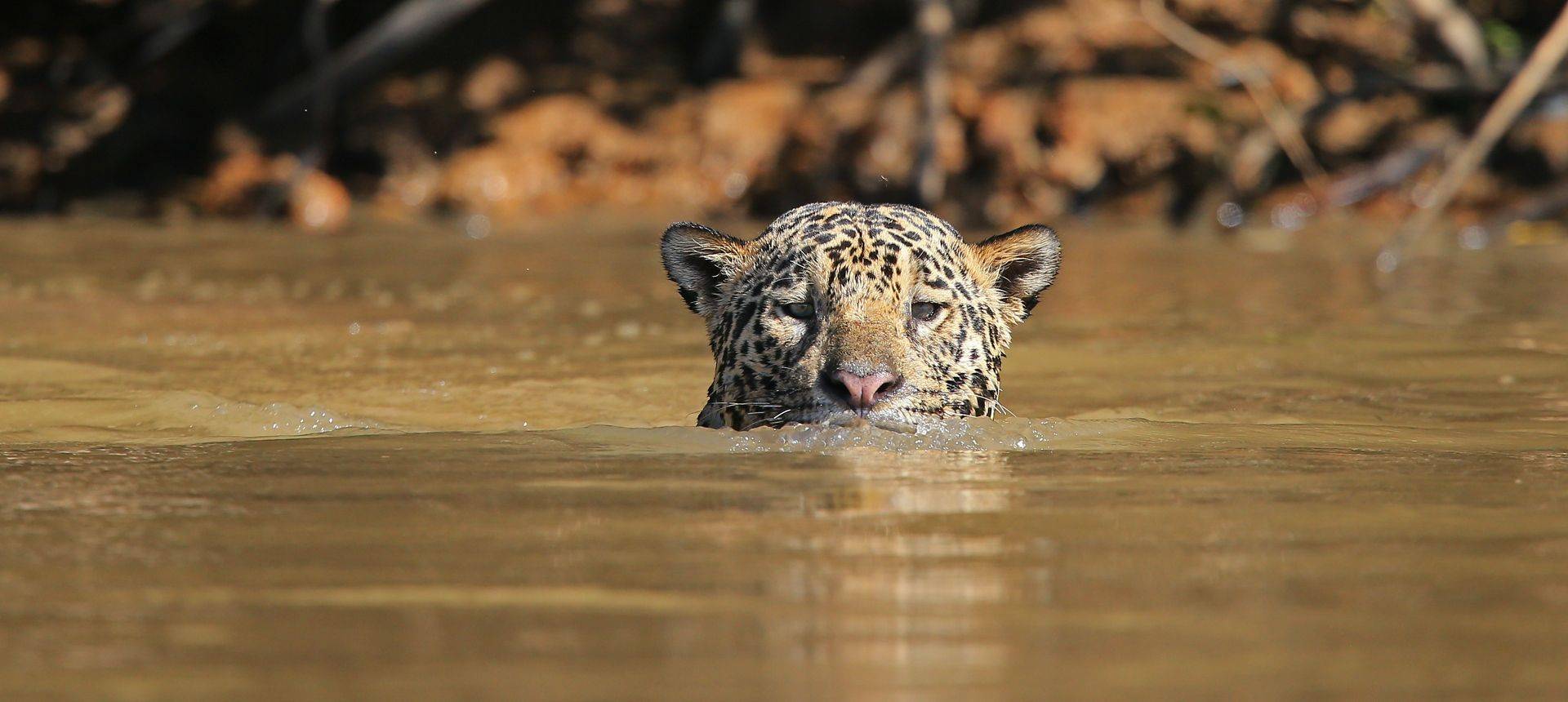 Brazil - Just Jaguars!
Tour Code: BRA02
A 12-day holiday in search of the largest of South America's cats and the abundant wildlife of Brazil's Pantanal.
The Jaguar is one of the most elusive and difficult of South American mammals to find, but on these highly successful tours we narrow the odds by taking boat excursions deep into their riverbank forest territories in this unique section of the Brazilian Pantanal that boasts habituated Jaguars and Giant Otters.  Our rewards have included close-ups of these "top cats", both in repose on the riverbank and carefully stalking caimans.  Other Pantanal wildlife includes the world's most visible Giant River Otters, Paraguayan Caimans, Giant Anteaters, photogenic families of Capybaras, abundant waterbirds, and the spectacular Hyacinth Macaw, but naturally it is the mighty cat that is our principal focus on a Jaguar safari!
Jaguar safari sightings: 100% success rate to date!
Giant River Otters (also 100% to date) and other Pantanal mammals
Giant Anteater and Ocelot regularly seen by our groups
Hyacinth Macaws and a wealth of other colourful birds
Caimans by the thousands
Can I help you?


X
Tom Mabbett
Tom
Tom has been fascinated by wildlife and the natural world since childhood. At primary school he learnt all the British bird species, and he's been watching and enjoying them ever since! Trips to the Wildfowl and Wetlands Trust (WWT) Slimbridge further fuelled his passion for birds and, when Tom's family bought 10 acres of land, he created his very own nature reserve on it! After gaining a degree in Biology from Exeter University, Tom set off in search of some of the planet's incredible wildlife, first travelling slowly around the world, and then returning to Australia. As well as seeing a wonderful variety of the world's birds on his travels, he also spent a lot of time beneath the surface of the ocean, scuba diving in Thailand, Australia and Fiji. Two of Tom's many highlights were diving with mighty Bull Sharks and swimming alongside gigantic Whale Sharks. Since returning to the UK Tom has worked in school wildlife clubs and also worked at WWT Slimbridge. Having grown up in the Cotswolds, a lot of Tom's spare time has been spent recording the birds and reptiles of this area's commons and wetlands. He also travels in search of overseas wildlife as often as he can, and amongst the European destinations that Tom and his brother have explored have been Hungary, France, Spain, Holland and, most recently, snow-clad Poland in the depths of winter to focus on mammal-tracking. Tom has now lead and co-led over 20 Naturetrek tours in France, Spain, Italy, Portugal, Finland, Belgium, Greenland, Guyana, La Palma and Scotland as well as short UK breaks including the Somerset Levels and Forest of Dean. Tom remains a very popular leader with our groups and when not out in the field works within our busy operations team at our new office in Chawton. Please feel free to contact Tom on 01962 733051 or email tom@naturetrek.co.uk with any questions or to discuss a future tour.
Outline Itinerary
Day 2
Fly Cuiaba & drive to Pouso Alegre
Day 8/10
SouthWild Pantanal Lodge
Day 11
Fly Sao Paulo and onward to London
We went on Naturetrek's Just Jaguars tour hoping to see ........ jaguars! Never in our wildest dreams did we imagine that we would see so many, so close and for so long! and that's not to mention the giant otters, tapirs, anteaters, ocelots, caimans and thousands of birds including the beautiful hyacinth macaws. The flotel was fabulous too. Wow just wow!!

L.H. Kent
Food & Accommodation
All included in the price.
Comfortable ecotour lodges on the Transpantaneira Road (Pouso Alegre, SouthWild Pantanal) and floating in the middle of the 'Jaguar Zone' (SouthWild Jaguar Flotel) on the 100-km-long network of uniquely Jaguar-rich river channels that lie 10-50 km upstream from Porto Jofre. All have private facilities.
There is no doubt that the cat family occupies a special place in human affections. Whether it is a domestic tabby purring contentedly on its favourite choice of bed or a magnificent Tiger 'burning bright' as it pads through the forest undergrowth, there is a unique charisma about these creatures which instils both primitive fear and intense admiration. Naturetrek clients have always enjoyed a wide choice of tours offering the opportunity to observe 'big cats', including our unrivalled 'Just Tigers!' tour, but until now the beautiful Jaguar has remained just an enigmatic possibility on a few of our South American tours. Notoriously shy and elusive, this supreme predator is adept at concealment but, in the Pantanal region of Brazil, where numbers are probably higher than anywhere else on the continent, the chances of encountering one greatly increase on a Jaguar safari during the dry period between June and November, making it the perfect period for a successful jaguar safari tour. This is the season when the Pantanal waters are in recession, concentrating both prey and predator into the disappearing wet areas, and it is the time when Jaguars are most easily located. 
Consolidating the experience gained from our previous Pantanal holidays, this exciting Jaguar safari makes the search for the elusive big cat its principal focus. Even at this most favourable season, it cannot be guaranteed that we will find our quarry. However, great effort will be made to maximise our chances of achieving our objective, with evening spotlighting and boat trips adding extra frisson to our searches. Even if the Jaguars fail to oblige there is a wealth of wildlife to enjoy in the Pantanal. Resident mammals include the bizarre Giant Anteater, Brazilian Tapir, Tayra, Marsh Deer, Crab-eating Fox and Giant River Otters whilst the exotic avifauna features a fine selection of waterbirds and the gorgeous Hyacinth Macaw. 
We begin the holiday by flying, via São Paulo, to Cuiabá in southern Brazil. From here we follow the Transpantaneira road to Pouso Alegre where we stay for two nights. We would have to be very lucky to find a Jaguar in this part of the Pantanal but we will use our time to simply enjoy the abundance of wildlife frequenting this magical place, particularly the great concentrations of herons, storks, ibises and wildfowl which feed under the baleful surveillance of Paraguayan Caiman that lie, scattered like logs, across the marshes. This is the haunt of snakes, countless amphibians and a myriad of insects, including colourful butterflies and gaudy dragonflies. During the heat of the day we will seek the comfort of our lodge and focus our field activities on the cooler early morning and afternoon periods when rewards may include such elusive creatures as a shy Brazilian Tapir or maybe a Jaguaroundi or Ocelot, two smaller cats to whet the appetite. 
From Pouso Alegre we journey south along the Transpantaneira Road to the locality of Porto Jofre. Travelling in our custom-built safari truck, the 120-kilometre journey is both a wildlife and Jaguar safari and we have the chance of encountering a wide range of wildlife, from troops of Black Howler Monkey to parties of grazing Capybara, the world's largest rodent. Upon reaching Porto Jofre, we take to the water and cruise for 15 kilometres upriver to the Jaguar Flotel (a floating hotel) where we will be based for four nights. Located in the heart of what is widely regarded as the best area in the world for viewing Jaguars, we follow a routine of morning and afternoon boat safaris to explore the Cuiabá, Three Brothers and Piquiri Rivers, carefully scanning the dense riverine forest edge and rush-beds for a glimpse of South America's apex predator. Our exact itinerary will be dictated by the latest sightings from local guides and, as on previous days, the search for our objective will be far from a single-species quest, for we will encounter a tremendous plethora of birds and wildlife frequenting this unspoilt wilderness.
Returning to Porto Jofre we board our safari vehicle and retrace our steps along the Transpantaneira Road to our final destination, the intimate SouthWild Pantanal Lodge, where we spend three nights. Filling our days with a mix of slow boat rides, leisurely forest walks and safari drives, we are able to expand our Jaguar safari to explore the rich gallery forests of the area, seeking terrestrial species that will have proved difficult from the flotel such as Azara's Agouti, Brown Capuchin and even Southern Tamandua.
All too soon we will have to return to Cuiabá and begin the long journey back to Europe but, as we take our leave, the mighty Jaguar and all the many other fascinating creatures of the Pantanal will be facing yet more challenges as the waters continue to retreat, although the older animals will be instinctively aware that eventually the onset of rains will once again replenish the marshes to continue the cycle of life into another year.
Please contact us on 01962 733051 for details on what extensions either pre or post tour are available for this Tour.
We went on Naturetrek's Just Jaguars tour hoping to see ........ jaguars! Never in our wildest dreams did we imagine that we would see so many, so close and for so long! and that's not to mention the giant otters, tapirs, anteaters, ocelots, caimans and thousands of birds including the beautiful hyacinth macaws. The flotel was fabulous too. Wow just wow!!

L.H. Kent

[The] Just Jaguars tour to the Pantanal was just excellent. Jaguar encounters on every boat safari looking for them. 8 different cats. Fantastic views and lots of activity - more than ever expected. Not just Jaguars on the river though; plenty of Giant Otter encounters. Lots of bird species including all 5 kingfisher species. Even the nighttime Ocelot showed up. Accommodation was excellent - particularly the Flotel. Food was really Good. Our tour guide, Marco Felix was absolutely outstanding.

D.B. Cheshire

Really pleased with the variety of wildlife viewing/photographing opportunities. Group size was excellent. Dan got the number of nights at each place spot on. Boat trips at SouthWild Pantanal Lodge particularly enjoyable and the two boat skippers were excellent at getting boats in the right place for photos. The new experience involving ocelot was unexpected and exciting. All the staff at the 3 lodges were pleasant and helpful. Would single out the Flotel staff as being excellent and a good united team. Suzie was really helpful at identifying the jaguar and their database for ID needs flagging up as I don't think all clients were initially aware it existed. I loved working on it!

J.I. Hampshire

Paulo worked very hard to give us all the best time. He was great company and so enthusiastic. The hard work and dedication of the guide in allowing us to see so many amazing animals and birds. I thought Paulo worked very hard to accommodate the different elements in the group, while maintaining the focus on mammals. It was an action-packed holiday - but it was nice to get to Southwild and have a little down time over the middle of the day.

A.J. Shropshire

Everything was perfect. Fiorella our Peruvian guide was superb. As far as Jaguars are concerned, two in two days then three on the last day - making a total of five. How some of them were spotted is bewildering as I am sure nobody could have spotted at least three without some sort of infrared binoculars. Pouso Alegre was also excellent with lots of birds (Blue Hyacinth Macaws), Deer, Caiman, Tapir etc. Bonus of two Ocelots along with Marmosets, Capybaras etc. Giant River Otters spotted at Flotel. Overall a great experience.

B.D. Lanarkshire

Fiorella was lovely. Nothing was too much trouble for her and like Paulo her knowledge was brilliant. I loved every second of this trip. Still can't quite believe that I have been to this place and seen what I have seen and experienced everything that was there. I could write pages on the subject. We encountered 5 Jaguars, really didn't realise how big they were. I don't think you can improve on perfection.

K.D. Lanarkshire

Paulo Ribiero was the hardest working guide I have ever known. His attention to the needs of the group, his skill and dedication to ensuring that we got the max from this tour was superb. He seemed to be working tirelessly all the time and the group seemed to respond positively and consequently worked well together. The travelling was a major part of the trip. The airlines were perfect. The road transportation with the open air seated 'lorry' was an unforgettable experience and brought us directly into the Pantanal experience. We took to the rivers and creeks in our high powered boat looking for jaguars and otters - again a fantastic and successful experience driven by Manuel. Five jaguar is a good haul. The Ocelot hide was a great success, esp when a Giant Anteater appeared on 'stage' for a cameo appearance!! The trip surpassed our expectations and was perhaps the most memorable holiday we have had given the transportation, variety, spirit of adventure and overall success, thanks in no small part to the work of the guides.

R.S. Rhondda Cynon Taff

Paulo was an excellent guide. He was extremely knowledgeable, entertaining and helpful. He put in hours of extra work which I am sure was above the call of duty. Lived up to its title in full but also managed to show us an amazing variety of other wildlife. The perseverance of Paulo the guide not only showed us Jaguars, but all sorts of Jaguar behaviour - including swimming, stalking, a kill and a mating. A friend was on a similar tour with another company a few weeks previously which came nowhere near this.

A.M. Nottinghamshire

I thought the flotel was an excellent location. Great views and Jaguars on the doorstep and I thought the service from all the staff, drivers etc was great. Above all, a special word for Paulo who was excellent as a tour leader and extremely patient with quite a lot of things. I thought we got exactly what was advertised and given the constraints of where we were and what communications there are, I thought the food and accommodation was of a high standard.

H.P. Cambridgeshire

Paulo Ribeiro made the trip the success it was. He really went that extra mile to make sure everyone was comfortable and happy. Excellent 'spotter' who clearly loves his job and the nature around him. Good knowledge and a great sense of humour. My last holiday to Tanzania was spoilt by the attitude and disinterest of the tour guide which is why I chose to travel with Naturetrek this time in the hope that the guide would be better. I was not disappointed, Paulo was brilliant and worked non-stop to satisfy the group. Hang on to him! The Jaguars were my main attraction to this particular tour and to see so many and at times, to stay with them for some time, was an incredible experience. The River Otters and the variety of birdlife were a bonus.

C.M. Somerset

The fact that I have rated this holiday so highly is principally due to our guide Marcos Felix. He worked tirelessly and with good humour to ensure that we saw the best of the wildlife and to look after us during our drives, walks and boat trips. He was extremely knowledgeable, enthusiastic and passionate about his subjects and nothing was too much trouble for him. It was a bonus to fit in two unexpected Jaguar viewings (one before we made the long, upriver boat trip to walk in the gardens and one on our way back to Porto Jofre when we left the flotel). What I enjoyed most were the sightings - lots of different Jaguars (including one killing a Caiman), watching an Ocelot for almost 15 minutes on one of or night drives, a Caiman eating an Anaconda and another eating a Caiman! Seeing Tapirs and Crab-eating Foxes, the huge variety of birds.....my list goes on and on!

S.T. Bristol

Staying on the Flotel giving ready access to Jaguar sightings was definitely the highlight. Talks given by the researcher on the Flotel were excellent. I liked the open safari vehicles and the boats used from both the Flotel and Southwild. Jaguar sightings were so far over and above my expectations!!! Having attempted to see them in Guyana few years ago and failed, I was anxious beforehand that we wouldn't see them but I needn't have worried! Great to see the Giant Anteater and Giant River Otters as well.

L.N. Bristol

Our view is that the balance of the itinerary is just about right. Pousso is fairly basic but gives a good starter for this sort of trip and the length of time there is enough. The Flotel is very good and probably better all round than we expected, particularly the accommodation and food. The sightings of birds and mammals probably could not have been bettered...particularly the Ocelot. Marcos Felix was excellent in all respects. The most important aspect of this type of holiday is having a tour leader/guide in whom you have complete trust in all respects. Marcos Felix satisfies that criteria very well. Marcos had an incredible knowledge and insight on all birds and mammals which he shared with us. It would have been much less of an experience without him.

G.B. Essex

A relatively small group of like-minded travellers and nature enthusiasts, who all got on well with each other, led by two excellent tour managers who ensured that we saw as much as possible of the incredible wildlife the Pantanal has to offer. Many thanks to Fiorella and Nick. Not as big a list of fauna as say the Amazon, but the sheer numbers of birds and commoner mammals/reptiles was staggering at times.

Mr & Mrs A. West Yorkshire

Our guide was Paulo Cezar Ribeiro, he was great. His bird knowledge was brilliant and he definitely knew how to anticipate the Jaguars's next move. He also ensured that everyone saw what we were looking at before moving on. I had been to the Pantanal 10 years ago and missed out on Jaguar so when I found your trip, Just Jaguars with 100% success for each trip, I had to choose Naturetrek and I wasn't disappointed. I went just for the Jaguars and everything else was a bonus. Tapir in daylight, Lesser Anteater and Brazilian Porcupine plus 2 yellow Anaconda. Six different Jaguars on 6 of the 8 boat trips. The first sightings were in deep cover but nevertheless, I managed to get photographs. The best was saved until the last boat trip when our guide Paulo found us a pair, male and female. These two were out in the open, they then began moving down the river bank where our guide anticipated they would re-appear. They mated in the open in full view - so yes, it was exactly what I was looking for and more.

R.H. Hertfordshire

It was very well scheduled with no wasted time staying in places you didn't want to be. The tour leader was especially excellent and sharing the experience with like-minded people in the group added to the enjoyment. The trip had a sense of adventure and discovery. Seeing the jaguars and River Otters was amazing.

H.K. Berkshire

Birds and Cats! Great. Nick and Fiorella were excellent. We went looking for Jaguars and we certainly found them! The trip was well paced and organised. Everyone involved seemed to care about what they were doing. Nick was an exceptional leader and most entertaining but managed to educate us as well. He may have upstaged Fiorella somewhat but she was more than capable of holding her own and was a more quiet and reserved character. Overall, the combinations worked very well.

M.W. Kent

Absolutely fantastic! The wildlife was so abundant. There was a wide range of wildlife and not just Jaguars. We were spotting new species right from the moment we arrived in the Pantanal to the minute we left! It has been an amazing experience and we loved every minute of it. Everything was perfect, the wildlife, the accommodation and the guide (Paulo Ribeiro).

Mr & Mrs H. Warwickshire

This trip did not live up to expectations...it far exceeded them! The flotel is a fantastic location and the Pantanal ecosystem beyond belief in richness and abundance. Despite the plane being struck by lightning on descent into Sao Paulo; the truck getting stuck in mud following monsoon tropical storms and a couple of freezing cold days, this was by far the best holiday I've ever had! Two magical close and extended encounters with Jaguars will stay with me forever.

L.B. Hampshire

Excellent leader and good group size. Holiday did exactly what it said on the tin and delivered everything that I hoped it would. Seeing Jaguars/Giant River Otters and all the other fabulous wildlife of the Pantanal and sharing time with them was amazing and a true privilege. I just wish the holiday could have been longer.

J.A. Buckinghamshire

Jaguars were of course the highlight, but the variety of other wildlife seen was outstanding. The use of the two lodges and the Jaguar Flotel works well to provide a variety of wildlife experiences. We were fortunate enough to see Jaguars on five of eight boat trips from the Flotel, which were obviously the highlight of the trip, but there was a wide variety of other wildlife, so never a lack of interest.

G.H. Cambridgeshire

Kike was an excellent guide and full of knowledge on a diverse amount of species and topics - a pleasure to have as tour leader. The excursions and transfers were seamless as always, there was a great variety of terrain covered and the morning outings weren't too early. Nothing seemed set in stone and if we discovered something exciting, we weren't rushed away from it due to closing times and were allowed to take most sights in at leisure.

D.S. South Yorkshire

Firstly I have to say that although I have enjoyed all of the tours that I have taken with Naturetrek, the 'Just Jaguars' tour exceeded all my expectations due to the excellent sightings, the variety of accommodation, my fellow travellers, but mainly because of the enthusiasm and determination of our guide Paulo to find us all we had hoped to see and much, much more, he really did give us 110%, willingly and happily. I know that myself and the rest of the group really appreciated his efforts and I hope many more of your clients will have the benefit of his guiding. All in all a very fulfilling, interesting and delightful trip, many thanks.

J.M. Surrey

Overall an excellent trip. So far, the best area visited for wildlife, with excellent viewing from the open-sided trucks and especially the boats in the 'Jaguar Zone'. Marcos was one of the best local guides we have had. Excellent in the field and a clear communicator - good at sharing his knowledge with his group, and full of enthusiasm. The Pantanal is superb for getting involved in the day to day lives of the animals and birds and Naturetrek's itinerary and guides ensured we saw just about everything on offer.

A.L. Kent

Marcos was brilliant - a lovely, friendly person who could spot wildlife anywhere. He worked so, so hard to give us all an experience of a lifetime and certainly succeeded plus he was super organised and made sure everything ran smoothly for us. A true asset to the Just Jaguars tour which far exceeded our expectations with magical viewings of six Jaguars over extended periods of time and also families of Giant River Otters. The Pantanal is outstanding for wildlife viewing and the tour made the very most of it all.

Mr & Mrs W. West Midlands

It was wonderful to see so many iconic wild animals. During our visit to the flotel we saw five beautiful Jaguars whose names I remember, and two more on about twelve occasions. We watched them swimming, and (abortively) hunting Capybara. We saw a pair walking together and watched a Giant River Otter family interacting, fishing and calling, each day that we were staying at the flotel. For my husband, who is a keen birder, there were many beautiful birds. Our guide, Enrique Lucas, always endeavoured to ensure any needs we had were met. He was good at spotting wildlife both during the day and on night drives, and adjusted activities to suit the group and the heat. I would highly commend him for his consistent hard work and especially for his depth of knowledge.

J.D. Somerset

The holiday delivered a truly wonderful wildlife experience from start to finish. The sightings of the Jaguars, Giant River Otters, Tapirs, Giant Anteaters and Hyacinth Macaws will be etched in my memory forever! Marcos is an excellent guide, taking care of his clients throughout the trip. His knowledge of the flora and fauna of the Pantanal are exceptional. His amazing ability to spot and name the animals meant we saw so much. His organisation and management of the tour was faultless!

K.M. Norfolk

The whole holiday was just a great experience. We had great sightings of Jaguar, Giant River Otter very close to the boat, and an incredible amount of birds, and we even saw a Tapir swimming! The wildlife experience could not have been bettered. Our guide, Paulo, was fantastic. It was also good to be with like-minded people and we all got on well. We really enjoyed the boat rides which at times were really exhilarating and great fun! We feel the whole holiday needs no improvement. It was just an absolutely fantastic experience.

Mr & Mrs E. Suffolk

The tour was fantastic way beyond my wildest expectations, the encounters with the Jaguars simply stunning. Marcos was a superb guide, his knowledge of the birds and mammals excellent. Also a great group of clients - we all got on so well, this was important to me since I was travelling alone.

P.R. Worcestershire

The organisation worked perfectly, the accommodation was absolutely fine (basic at the lodges, really great in the suite on the flotel) and our guide Paulo worked tirelessly to ensure we had a wonderful time. His enthusiasm and helpfulness know no bounds and he made the whole experience incredible. He also ensured we got as many sighting opportunities as possible whilst adopting a very responsible attitude to protect the animals we saw. In fact all the people involved that we met were friendly, professional and helpful, from boat and truck drivers to lodge staff. This was our first trip with Naturetrek and we have been so impressed that we have just booked another trip.

Mr & Mrs E. Kent

Kike was an excellent guide being extremely knowledgeable about all flora and fauna and also very calm when managing issues within the group. He really went beyond the call of duty to ensure everything ran well and we all had a marvellous time. The time spent at the flotel (the Jaguar suites are a real luxury) and out on the river searching for wildlife was fantastic. We had 10 Jaguar spots of 6 different cats with some quality viewings including a female hunting Caiman and a confrontation between a male and female and another male - amazing.

J.W. Worcestershire

Great trip - 7 individual Jaguars, 13 sightings with fantastic views. One highlight, Jaguar with Caiman kill. Great close-up view of an otter enjoying his fish breakfast. Not forgetting good sightings of birds and mammals. The flotel was the ideal base, right in the centre of the wildlife and my favourite area. Marcos worked hard to make sure everyone saw everything they wanted to see. Great leader, enthusiastic and knowledgeable about all wildlife. The trip was well organised from the time we were picked up at the airport, to the time we were dropped off.

E.L. Merseyside

The tour was of the right duration for me and the choice of hotels were excellent. The best thing about the tour was the excellent opportunity it provided to see one of the most enigmatic big cats. I also have to make a special mention of the tour leader Kike, who was a real star. He was very knowledgeable, enthusiastic and extremely helpful. No request was too much for him and he constantly tried to make the trip an enjoyable one for everyone.

A.N. Derbyshire

It was amazing - you really do put together a 5 star viewing. Paulo's enthusiasm was overwhelming, having a new idea at every turn. We had close-up meetings with amazing creatures beyond our expectations.

Mr & Mrs B. Cheshire

The guide, organisation, itinerary, boatmen and wildlife spectacle really lived up to expectations. Very good indeed. It was good value compared to other companies. Still very expensive but the rewards are worth it.

M.S. London

Having filled in the questionnaire relating to the Just Jaguars trip, I would like to add my own personal thoughts on the trip. Having travelled with a number of companies over the years, Naturetrek stands well above all others. Its success is brought about by a number of factors, past and present research into status of the group of mammals, birds or other animals that are being quested. This is coupled with a great depth of knowledge of the countries being visited. Above all is the dedication of the staff employed to engage with the clients to bring about the fulfillment of the purpose of the trip. Naturetrek takes all of the above criteria and comes up with the results. Accommodation was good and in the right areas, local staff were fully versed with the wildlife of their areas and made a large contribution to the success of the trip. One cannot speak too highly of the naturalist tour leader, Marcos Felix. His knowledge of the whole area, its birds, mammals, trees, plants etc. ensured a continuous flow of information over a wide range of subjects.

R.W. Tyne & Wear

Overall an excellent trip. So far, the best area visited for wildlife, with excellent viewing from the open-sided trucks and especially the boats in the 'Jaguar Zone'. Marcos was one of the best local guides we have had. Excellent in the field and a clear communicator - good at sharing his knowledge with his group, and full of enthusiasm. The Pantanal is superb for getting involved in the day to day lives of the animals and birds and Naturetrek's itinerary and guides ensured we saw just about everything on offer.

A.L. Cornwall

Marcos was brilliant, a lovely, friendly person who could spot wildlife anywhere. He worked so, so hard to give us all an experience of a lifetime and certainly succeeded plus he was super organised and made sure everything ran smoothly for us. A true asset to the Just Jaguars tour which far exceeded our expectations with magical viewings of six Jaguars over extended periods of time and also families of Giant River Otters. The Pantanal is outstanding for wildlife viewing and the tour made the very most of it all.

Mr & Mrs M. Cornwall

Our guide, Marcos Felix, was outstanding. His passion for the animals was obvious and he appeared to take just as much pleasure in watching the Jaguars, Tapirs, Giant Otters and all the birds as we did. I was amazed, not only at seeing nine different Jaguars, but at seeing six Tapirs, four of which were in the daytime. This really is an amazing trip that I would highly recommend to anyone who wants to see the amazing animals of South America.

S.W. Gwent

This was a very successful trip with great sightings of Jaguars and other iconic mammal species. Certainly the presence of the Jaguar researchers added an element of interest, as we were able to identify some of the Jaguars by comparing photos with their database.

A.H. USA

Great view of Jaguars and Otters which the location of the Flotel and use of trackers facilitated. Right at the beginning of the trip we chanced on a Giant Anteater crossing the road with a young one on its back. Birdlife was equally stunning and some of local guides/boat drivers were excellent. We found five Agami Herons at SouthWild Lodge. Food on the Flotel was excellent and the pool at SouthWild was a relief.

P.H. London

I would like to commend our guide, Marcos Felix. We have had many guides over the years and this man rates in the top three. Diligent and hard-working, he never stopped pointing out birds and mammals, although we had seen them before, which was good for getting another photo shot. His knowledge of all things natural is excellent. And yet he is always expanding his knowledge. His PowerPoint presentations were very interesting and variable. His command of English is very good but he is still wanting to improve by asking us different ways of expressing things. Look after this man - he is a credit to Naturetrek. All in all, a fantastic holiday which far exceeded my expectations with nine sightings of five different jaguars plus 160+ bird species and numerous mammals, reptile and butterfly sightings.

K.C. Essex

Marcos proved to be an excellent leader, combining friendliness with efficiency from the initial meet at Cuiaba airport. He gave everything possible to make the trip thoroughly informative about the natural history of the Pantanal - the plants, butterflies, amphibians, reptiles, birds and mammals, supported by short talks (around lunch) with overheads. He kept us busy with the night-spotting, daytime walks, drives and boat trips. In essence he could have not done more. We were all offered adaptors to help solve certain problems some had charging batteries etc! He was energetic and tireless in pursuit of our wildlife objectives. He was a real asset to Naturetrek. The wildlife species seen, that were depicted in the Naturetrek documents, fully met expectations. Five different Jaguars (all male) were seen. Brief views also included Giant Anteater and Tapir with many smaller mammals, with longer views of nine Banded Armadillo, Capuchin and Giant Otters. No other cat species were seen but for me good views of lizards and a yellow anaconda made up for this. My photo of a Mole Cricket did, however, leave most (not our leader) unphased! The birds were spectacular. The tour was a photographer's dream.

A.M. Dorset

Driving into the Pantanal is like entering a different world. Three things in particular account for the outstanding success of this tour. The location of the eco-lodges which meant we were immersed in the wildlife from the first night to the last morning. Our guide, Marcos Felix, whose enthusiasm, knowledge and sharp eye enabled us to see so many unusual mammals and dazzling birds. And thirdly, luck. The Flotel brought us close to the main object of our trip, the Jaguar. Seven different Jaguar - was that awesome? We watched them walk, hunt, swim, play (mother with two cubs) or just return our stare. We even heard the mating roar! The giant otters did their best to compete, chomping on their catch, socialising, in family groups, on river and bank and swimming in formation on the 'war path' at full throttle. Naturetrek could not have improved the quality of this holiday.

S.E. London

We have just returned from this tour with Naturetrek. It was quite simply one of the best wildlife experiences imaginable. We saw 7 individual Jaguars in a total of about 14 sightings. Our guide was Marcos Felix who could not have been better. He worked incredibly hard to ensure we saw the maximum amount of wildlife - and it is not always easy in the thick undergrowth. His spotting of animals and birds at long range was exceptional. He had an uncanny ability to anticipate where Jaguars in particular were going to turn up and even managed to produce a small video of the tour by working late at night. In some 10 years of wildlife photography trips this has to rank as one of the best ever and this was in many ways because of Marcos's hard work and expertise.

Mr & Mrs G. Leicestershire

Mario is a superb guide - fully knowledgeable but a real people person - look after him! Seeing one jaguar was special but to see two was incredible, we were blessed. It was just us in the middle of nowhere drifting up the river when they appeared, swimming in front of us - an unsurpassable wildlife experience. Thanks to Naturetrek, Mario and our lucky stars.

P.R. & C.M. Warwickshire

We travelled to the Pantanal in Brazil in search of Jaguars and this trip not only delivered but exceeded my expectations. We spent three days at the Jaguar Flotel and on our journey back to Porto Jofre our guide Paulo spotted movement in the dense undergrowth on the river bank. It turned out to be a female jaguar with a young cub. The cub had not previously been seen and as the guide is not allowed to choose a name our group had the immense privelege of naming the cub. We stayed in three lodges, all very good and the food was lovely and plentiful. We had wonderful sightings of Jaguars and other wildlife that inhabit this area, along with amazing bird life. I would be very happy to recommend this trip to anyone with an interest in wildlife.

S.D. Bristol

A wildlife dream tour to a remarkable area of the World. Not only did we see eight different Jaguars on fourteen different occasions, we saw three different families of Giant Otters, four Brazilian Tapirs, a Giant Anteater and literally hundreds of bird species. Marsh Deer, Coatis, various monkey species dozens of Capybaras, hundreds of Caiman; all were seen and photographed with amazing regularity throughout the tour. I can't speak too highly of the entire Naturetrek experience, from the initial booking to meeting up with our tour leader Nick, who, literally must be the very best anywhere, and that is not any exaggeration. All in all: perfect.

H.M. Norfolk

The particular holiday was Just Jaguars.... and when you go on a true safari type holiday where the animals are really wild, there is some inevitable scepticism about what is advertised and what you actually see. But that is the nature of wildlife holidays in general. Naturetrek had obviously done their research and found just about the best place in the world to view these stunning big cats and we were not disappointed. In the four days we were at the Jaguar Flotel we had 12 sightings and probably 8 different jaguars. This place was a Garden of Eden; the variety of birds was amazing, with caiman, giant river otters and many other mammal and reptilian species to fill up the day. We stayed at 3 centres overall, all having their own specialities, such as hyancinth macaws, the rare ocelot and even a tapir or two. Our full time guide, Marcos Felix, was simply outstanding in all respects. His knowledge of wildlife in general is vast, and his natural charm and good humour was evident the entire holiday, and even when he had to deal with unplanned events he was very professional.

C.B. Essex

It was called Just Jaguars and it certainly lived up to it's name with these big cats seen on seven boat journeys from our base, the Jaguar Flotel. Sightings of one Jaguar were long and sustained as it walked in full view along the river bank before swimming across to continue hunting on the opposite bank. Exotic bird species were plentiful with about 170 species seen, most of which were new to me with many photographic opportunities.

F.Y. Lancashire

We were not disappointed. Our bases were in three ecologically different areas: Savannah, river system and tropical forest. All had comfortable accommodation and were in the heart of the areas of interest. Our guide, driver and boatmen were fully competent and led us to the very best wildlife rich areas. We had close viewings of Jaguar (the prime reason for the trip), giant river otter, Ocelot and Giant Anteater. Their bird knowledge was exceptional with more tan 150 species identified in nine days. Altogether a trip that fully fulfilled our expectations and was of the quality that Naturetrek has always given us.

G.T. Glamorgan

For me the holiday ranks as one of the best we have ever had, and surpasses all others in terms of the variety and numbers of birds and other animals that we saw.  It will be hard to beat. Without doubt a wonderful holiday - highly recommended

A.S

A super Naturetrek holiday seeking out the rare and charismatic Jaguar. We were 100% successful in locating and watching these brilliant big cats, with 10 sightings of 6 individuals during our stay at the Jaguar Flotel. We enjoyed myriad of other wildlife from Anaconda to Ocelot and there was a supporting cast of beautiful birds. Our intrepid and eagle-eyed guide Paulo was superb and catered for our every need and the accommodation was comfortable throughout the holiday. Do yourself a favour and enjoy the bountiful biodiversity of the Pantanal!

D.B. Bristol

I loved this holiday from start to finish. The wildlife of Brazil is wonderful, my main aim was to see the Jaguars in their natural habitat, I was not disappointed to view these magnificent beasts like this was a true privilege, spellbinding & breathtaking. We sat & watched them move, sleep, hunt & swim at close quarters. Something I will never forget, & I am very fortunate to be widely travelled. The lodges were friendly & surrounded by wild life. I have not even mentioned the giant river otters, tapier, & giant anteater & beautiful ocelot, not to mention the comical capybara, we were so lucky. It was worth every penny & I would pay it all again & go back in a shot. Well organised well run tour. Very happy, I do have to mention the guide they provided, his knowledge, was excellent, he had a sense of humour & catered for everyone's needs.

C.T. West Sussex

With no guarantees to see either big cat, we were totally overwhelmed with the opportunities to view these magnificent creatures. Sixteen sightings of Jaguar including one three hour session where we followed one jaguar down river as it hunted for prey. Plenty of other wildlife to see in the Pantanal including, unexpectedly, the beautiful ocelot. We had fourteen sightings of Puma in Torres del Paine where the scenery is breathtaking. Being a tailormade holiday for the extension to Chile, at little extra cost, we were able to discuss areas of interest with our guides and help with the daily planning, days out and excursions. A long way to go but a holiday filled with terrific memories that will last a lifetime.

J.L. Northumberland

Our guide Paulo Ribeiro was excellent; amiable, knowledgeable, resourceful and tireless. Our accommodation I would classify as adequate to very good (we stayed in the 3 different places). On the Flotel I enjoyed the interaction with and informative talks about the main animals we saw from an expert of the jaguar team conservation based on the boat. I loved going out on the boats looking for the jaguars and seeing the giant river otters I had on my 'hope list' to see. I'm not a very keen bird watcher; however the variety of birds we saw was stunning. I am a lover of wetlands and generally loved visiting the Pantanal.

T.J. London

An adventure in the Brazilian Pantanal with the primary aim of seeing Jaguars in their natural surroundings. Stayed in 3 different centres to give the widest range of wildlife sightings. Led by a brilliant naturalist who was extremely knowledgeable, spoke excellent English and had eyes like a hawk! Our accommodation was very good, and all the Brazilian staff were friendly and helpful. Highlights for me would be the many sightings of jaguars, the gorgeous birds especially the fabulous coloured ones like toucans and hyacinth macaws and the distinctly South American animals like giant otters, capybara and ocelots.

M.G. Bedfordshire

16 sightings of 9 magnificent cats. We had 5 days at 2 lodges and 4 on a beautiful flotel which had sumptuous bedrooms. At this place one night we went to a hide and saw ocelots which are quite small cats, the size of a springer spaniel. For the bird watchers there were dozens to see. My favourite being the quite rare hyacinth macaw. The holiday was made so much better by travelling with such good company.

M.T. Cumbria

18 jaguar sightings in 3 days!! What could be better than that. Our guide - Marcos - was superb. Accommodation was fantastic - especially the Flotel. Giant river otters, tapir, armadillos, giant anteaters, ocelots, iguanas, caiman, capybara and countless spectacular bird species every day made or an unforgettable 10 days in the Pantanal. We were impressed to see that the boatmen on our river safaris did their utmost to ensure that the wildlife was not disturbed by our presence. Our final morning on the river where we paddled quietly along provided the highlight of our trip - an hour following a jaguar and her cub hunting along the river bank when the only sounds were alarm calls of chackalackas or kingfishers, the plop of rising fish and the distant haunting sound of howler monkeys in the treetops. Words cannot describe the amazing experience.

M. & M.O. Leicestershire

The itinerary was excellent, making the most of daylight hours to view wildlife. The tour more than lived up to our expectations. We were amazed to see a jaguar within five minutes of leaving the Flotel for our first boat ride and when she called to her cubs we were speechless!

L.T. West Midlands

The sheer number of animals seen and photo opportunities were excellent. A full itinerary and our guide worked hard to make sure we saw everything on the schedule.

K.R. Hertfordshire

I enjoyed the enormous number of animals and birds. Our leader Paulo was very knowledgeable and enthusiastic. We were lucky to see jaguars on all four days of our stay at the Flotel. I enjoyed rooting for the capybara as they escaped yet again the clutches of a jaguar. I liked the small lodges, and our bedroom in the Flotel was wonderful. A wonderful ten days packed with different birds and animals.

C.J. Norfolk

The whole holiday was marvellous. Our guide Paulo was enthusiastic, well informed, and continually searching out new things for us to look at. The Flotel was brilliant. We saw jaguars every day we were there, watching them hunt and on one occasion seeing a kill. On another day we saw a failed hunt with capybaras plunging in the river, followed a couple of minutes later by a baby escaping into the water! Giant river otters were near the Flotel fishing and colourful birdlife everywhere! There was so much wildlife that at times we were surrounded by it! A wonderful wildlife experience!

H.J. Norfolk

Paulo Ribeiro was an excellent, charming guide with very good 'people skills' as well as being excellent at spotting birds and wildlife. He wouldn't rest until we all had good views of the giant anteater! Whilst the accommodation at Pouso Allegre was basic, it was perfectly adequate and Louis, the owner, was helpful and brought in frogs and snakes for us to see, and reported seeing tapir on his land so we went out and saw them for ourselves. The Flotel was a much higher standard than we expected. The boat used for jaguar spotting was ideal for the size of group. All in all, we had a great holiday with around 17 sightings of jaguar which was way and above what we expected. We would not hesitate to recommend this trip to friends with similar interests and expectations.

L.K. Surrey

It would be difficult to improve this tour as it was as close to a perfect holiday that I have ever had. The amount of time we spent at each lodge was perfect as it afforded us enough time to get great sightings of the wildlife around each lodge, and then just as we started to see the same animals over again we moved onto the next lodge. The wildlife sightings on this trip were phenomenal and the definite highlight. You could literally not go 30 seconds without seeing something interesting and it was often hard to know where to point your camera as the water was teeming with herons, spoonbills, and ibis, while there seemed to be a kingfisher or bird of prey perched in every tree. Then of course there were the jaguars and they didn't disappoint as we managed fifteen sightings in the four days at the flotel. The guide on this tour (Naun) was also excellent and his command of English was better than any other local guide that I have experienced on other tours. He was also good at providing tips on getting better photographs of the wildlife.

J.S. Leicestershire

Paulo was an excellent tour leader and a very knowledgeable wildlife guide. I am sure we wouldn't have made half the sightings without him. He was also very well organised, proactive and helpful. Thoroughly likeable - he played a big part in making our trip such a success. We were exceptionally lucky in our sightings- 10 jaguar sightings, with 6 different jaguars (and on some occasions these were for longer than an hour at a time), multiple rare birds, tapirs, river otters, ocelots etc. More than this, though, I thought the trip was well balanced - there was plenty for the birders but not at the expense of those of us who were there for the mammals, photography etc. Again, I cannot speak highly enough of Paulo and the contribution he made to ensuring every member of the group had a good holiday - he was very sensitive to individuals without sacrificing the overall goals of the group. The whole trip was one big highlight.

S.H. New Zealand

Naturetrek's organisation was excellent, the viewings of jaguar ocelot, giant anteater and giant river otter exceeded our expectations - we were VERY fortunate!

Mr & Mrs M Suffolk

I wanted to see jaguars and any other mammals and was not disappointed. To sit on a boat and watch these marvellous big cats was the highlight of my holiday. The river otters were such fun and the icing on the cake was seeing ocelots. I also enjoyed being in such a small group of seven other travellers and we all got on together very well which assisted in making the holiday so much fun.

U.S.D. Kent

A very full itinerary led by an extremely competent and knowledgeable guide (Paulo Ribeiro). We managed to see a whole range of Brazil's wonderful wildlife in addition to the fantastic jaguar sightings. I was particularly keen to see the giant otters and was not disappointed. Paulo finding a great potoo on our last morning was incredible and an unexpected treat.

L.R. Lincolnshire

The trip was amazing and extremely well organised. Our guide Paulo Barreiros was very knowledgeable and worked hard throughout the trip.

V.T. Somerset

We had an excellent tour guide, Paulo Ribeiro, who did everything possible to make this trip a success. Thanks to him we had 12 Jaguar sightings and great photo opportunities. Staying at the Jaguar Flotel and SouthWild lodges was very nice and the food was great.

M.D.K. Netherlands

Paulo Ribeiro was excellent - informative, fun and looked after everyone's needs. I am a wild animal nut! I have travelled widely, but to see jaguars in their natural habitat was spell binding and breathtaking, something I will never forget - they stole a part of my heart. I still marvel at seeing these magnificent beasts and feel so privileged to have seen them.

C.T. West Sussex

The tour schedule was well balanced between the three different lodges in the Pantanal. The use of the Jaguar Flotel was excellent and the boat tours from that location were superb.

M.U. Isles of Scilly

The opportunity to see so many jaguars and lots of other wildlife. The naturalist guide Paulo in the Pantanal could not be faulted; his English was excellent and his knowledge amazing. He spared no effort in seeking out the best possible sightings and looking for elusive animals.

E.F. Hertfordshire