India's Cultural Treasures

By

This email address is being protected from spambots. You need JavaScript enabled to view it.



Operations Manager
17th May 2019

and Tom Ambrose

Website & Media assistant
Civilisation in India began almost 4,500 years ago, making it one of the oldest extant cultures in the world! 'Indian culture' is really a collection of thousands of distinct cultures, which cover a multitude of languages, religions, architectural styles, cuisines and customs.
Many of our wildlife holidays to India feature a strong cultural emphasis, producing an itinerary that is perfect for people with a broad set of interests. This emphasis varies across our portfolio, ranging from 'Rajasthan – Wildlife & History' which has a strong cultural focus, to 'India – Kerala's National Parks & Backwaters', which has just one cultural offering in a semi-natural setting. Here are our most popular mixed-focus holidays and their cultural highlights:
This comprehensive 18-day holiday of northern India has been carefully planned to the finest detail to provide an exciting, immersive wildlife and cultural experience; we even sojourn in two palaces, which have now been converted into hotels! Cultural highlights include:
Junagarh Fort: Made up of stunning red sandstone and marble palaces.
Jaisalmer: A legendary desert city, bringing life to the Arabian Nights Fable. Here we visit Jaisalmer Fort, an imposing 12th century edifice, which encompasses beautiful 'havelis', which once served as private residences for wealthy merchants.
Jodhpur: Founded in 1459, this city offers palaces, forts and temples to explore, plus stunning views of the city's famous blue houses from the Mehrangarh Fort.
Jaipur: The capital of Rajasthan and home of the Amber Fort, which contains the 'Hall of Mirrors', which becomes a dazzling spectacle with the lighting of a single match!
Taj Mahal: One of the new wonders of the world and often dubbed as the world's most beautiful building, for many a tour to India wouldn't be complete without it!
Tour info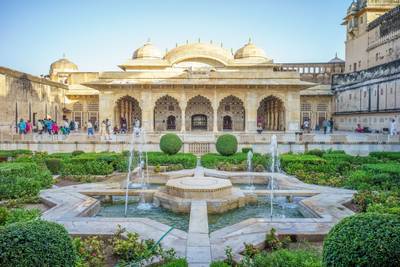 Amber Fort gardens, Jaipur
This 13-day itinerary covers a smaller area than 'Rajasthan – Wildlife & History', but with the aim to maximise variety and minimise travel time! Cultural highlights include:
Optional visit to Old Delhi: See famous sights such as the Red Fort (built by the same Emperor as the Taj Mahal), Jama Masjid mosque with its tapering minarets and marble domes, and Chandni Chowk (Old Delhi's centre of commerce).
Khajuraho: A historic city with magnificent temples, with their rather erotic carvings! There are excellent examples of early Indian art, and pleasant green spaces that provide a diversion for birdwatchers.
Orchha: Founded in the 16th century, the main attraction is the Orchha Fort complex, a sprawling fort which houses numerous ancient monuments, including palaces, temples and other edifices.
Taj Mahal
Fatehpur Sikri: Once the capital of the Moghul empire, this splendid city was abandoned when the water supply ran out, so now it remains a beautifully preserved example of a 16th century Moghul city!
Tour info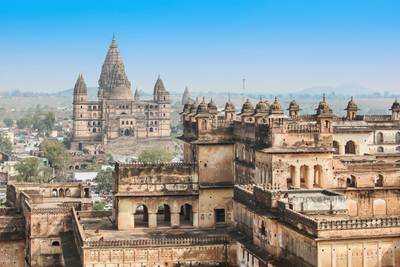 Chaturbhuj Temple In Orchha
This 19-day holiday is a client favourite, featuring spectacular wildlife and markedly exotic and fascinating cultures. Cultural highlights include:
In Bhutan
Taktsang, or 'Tiger's Nest' Monastery: This iconic monastery clings to a sheer rock face 915m above the valley. Surrounding forests mean we can enjoy some birdwatching at our leisure on the way up.
Bhutan National Museum: A magnificent collection of Bhutanese artefacts, such as costumes, ceremonial banners, weapons, textiles and stamps, housed in a watchtower that once guarded the valley.
Paro Dzong: A 'dzong' is a type of fortress, and this one is situated on a knoll that rises from the river below, commanding excellent views of the valley.
Punakha Dzong: A combination of fortress and monastery which was built by the founder of Bhutan. This wonderfully photogenic dzong sits between two rivers and houses many interesting temples.
Thimpu: Bhutan's capital has many interesting museums and cultural sites, including a textile museum, heritage museum, handicrafts emporium, memorials, the Zilukha Nunnery and a painting school.
In India
Darjeeling: A historically important hill-station with a backdrop of mighty snow-clad peaks. We explore the city on foot, enjoying the colonial style buildings of the British Raj and various attractive locations, hoping to glimpse Mount Everest if the weather allows!
Darjeeling Himalayan Railway: Perhaps better known as the 'Toy Train', this rail journey provides spectacular views of the Himalayas, as well as access to Tiger Hill (a World Heritage Site), a Gurkha war memorial and the Himalayan Mountaineering institute.
Tour info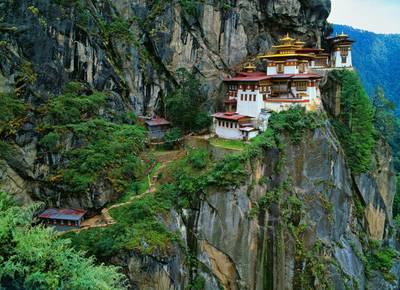 Tiger's Nest monastery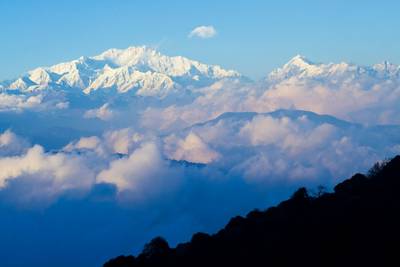 View of Kanchenjunga from Darjeeling
The focus of this tour is predominately wildlife, but it also features important cultural sites that many won't want to miss (such as the Taj Mahal), especially on their first, or only, trip to India. Highlights include:
New Delhi: India's capital can be split into two distinct areas, Old Delhi and New Delhi, each retaining their own charms as they grow side by side. We visit the famous Qutb Minar, a minaret built by one of the first Muslim rulers of Delhi, and Humayuns Tomb which likely provided inspiration for the Taj Mahal. This is then contrasted with the Presidential Palace, the government buildings and the tree-lined avenues of New Delhi, which we drive past later in the day.
Agra: Here we visit the Taj Mahal and its splendid gardens, the Tomb of I'timād-ud-Daulah (or the 'baby Taj', which is also set in idyllic riverside gardens), and Agra Fort.
Tour info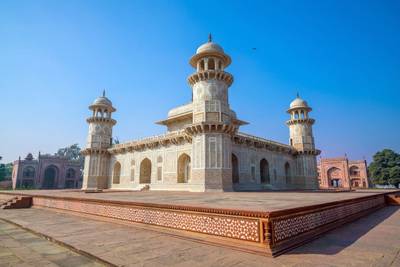 The tomb of I'timād-ud-Daulah, or 'baby Taj'
This 9-day tour primarily focuses on the state's diverse wildlife, but also features an overnight cruise on Kerala's backwaters, providing an interesting overview of this semi-aquatic culture! Starting in the pleasant market town of Alleppey, nicknamed 'Venice of the East', the cruise tours various canals, passing paddy fields and water-bound villages. Tour members wishing to sample local culture will not want to miss a Kathakali dance performance in the evening. The Kathakali dance is over 400 years old and requires lengthy and rigorous training. Masters must attain complete control of their body and emotions, to be able to render this nuanced dance through facial expressions and hand gestures.
Tour info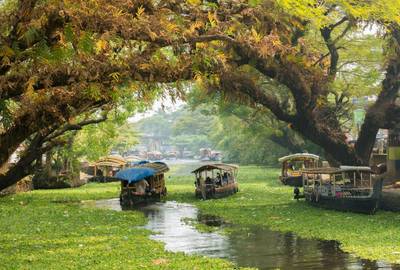 The backwaters near Alleppey
Any combination of wildlife and culture is possible with a Tailormade holiday, allowing you to build a holiday around your own interests; the possibilities are endless!
For more information on any of our tours to India, call Rajan on 01962 733051, or email This email address is being protected from spambots. You need JavaScript enabled to view it..