Paul on Männlichen, Switzerland
An Interview with Tour Leader Paul Harmes

This email address is being protected from spambots. You need JavaScript enabled to view it.
Paul Harmes has been involved at Naturetrek for about as long as I have. Over the past two decades or so, he has become one of a small band of Naturetrek tour leaders to have led over 200 tours. I got to know Paul properly when we co-led Naturetrek's inaugural trip to the Vercors, France, back in 2003. Flying out a few days ahead of our group, Paul and I shot around in a hire car, sniffing out Wallcreeper sites and with me guiding Paul in the direction of flower-rich meadows that I'd seen on an inspection trip the year before, receiving a masterclass in Ophrys identification in the process. The tour was a huge success, and Paul evidently fell in love with the area as he's been back to the Vercors every year since with Naturetrek groups! I found him to be the ideal tour leading companion; a consummately knowledgeable botanist and all-round naturalist, level-headed and unflappable, very happy to share his expertise, and keen on some light-hearted banter, chatting about football, cricket and all kinds of other subjects well on into the evening. It was good to catch up with him again…

When and how did your interest in wildlife begin?
I was born in Sussex, in early April, so my birthday usually fell during the Easter school holidays. As a treat, my mother would take me and my cousin for a walk across the Downs, via the Devil's Dyke, towards the village of Poynings to Newtimber Woods. Here she would pick Primroses, Bluebells and Violets. This was the late 1950s/early 1960s, long before it was deemed inappropriate to pick wildflowers.
Although not massively knowledgeable, my mother did not lack enthusiasm, and drew our attention to anything of interest, be it Privet Hawk-moth or Garden Tiger caterpillars, Red Admirals and Peacocks nectaring on Sedums in late summer, or the arrival of Swallows and House Martins. I am pleased to say that, following my father's death in 1987, my mother returned to wildflowers, and I was able to repay her teaching me to appreciate the natural world, by helping her to develop her knowledge and interest in botany.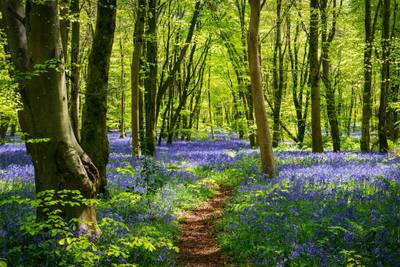 Bluebells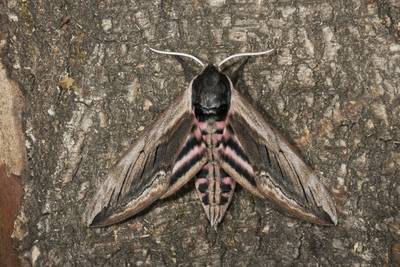 Privet Hawk-moth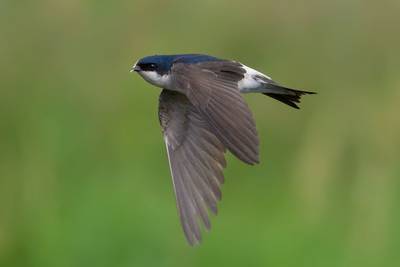 House Martin
When and where was your first tour leading assignment for Naturetrek?
This was a happy accident.
In the late 1990s, my job meant that I had to work in the Midlands, near Birmingham. One evening my wife rang me to say my friend, Trevor James, had called to ask what I knew about the Dolomites. When I rang him to say I would furnish him with all the information I had when I returned south the next weekend, he advised me that it was not him going to Italy but that he knew a travel company who wanted someone to help lead a botanical trip to the area, and would I like to do it. I did not hesitate to say yes. That was 20 years ago!
What is, or was, your 'day job'?
When I left school, I wanted to be a cartographic draughtsman. I applied to the Ordnance Survey and was offered a post. However, I was unable to take it up as I could not afford to live in Southampton. So, I went into the electricity industry, in a similar role. I worked in various drawing offices for Seeboard from 1970 to 1986, when I moved to the Central Electricity Generating Board, as an engineer. I stayed through privatisation and up to 2003, when I was offered severance and redundancy, which I accepted.
On leaving the electricity industry, I set up my own botanical consultancy. At this point David Mills asked me If I would like to do more leading, and recceing new tours, for Naturetrek.
What other interests do you have outside of wildlife?
My daughter attended ballet and tap classes from a young age, and my wife and I encouraged this pursuit, and attended shows that she often performed in.
Ever since I was about seven years old, I have had an interest in cricket and coin collecting. My cricketing days were cut short by an achilles tendon injury, but as my son also had an interest in the game, I coached boys from the age of seven to sixteen. When my son went to university, his interest waned, so I then concentrated on my other interest, pre-decimal British coins.
What current conservation projects or issues most interest or concern you?
I do strongly believe that the human race needs to massively reduce its reliance on plastic, especially packaging and bottles. I understand this may take time, but it will take even longer if we do not begin to address the matter now. Our reliance on fossil fuels is also a concern, and every effort must be made to reduce the emissions of 'greenhouse gases', and our personal vehicles are a good place to start.
Do you have a favourite bird, mammal or plant?
Well, where do I begin? In Europe, the Collared Pratincole has always been a favourite. When in flight they always remind me of giant Swallows having enormous fun. I never tire of watching them.
My favourite plant to date is Primula scotica (Scottish Primrose). However, I have always been interested in the Poaceae (Grass family) and the Cyperaceae (Sedge family), so there are many within these two that I have an affection for. The Madagascan Comet Moth (Argema mittrei) is also a favourite.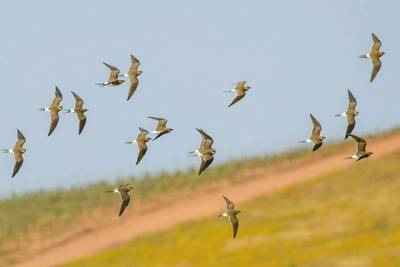 Collared Pratincoles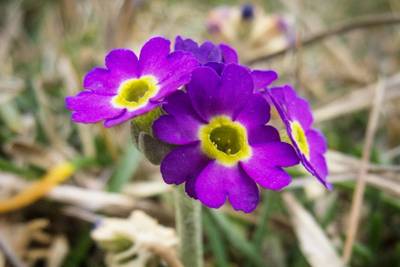 Scottish Primrose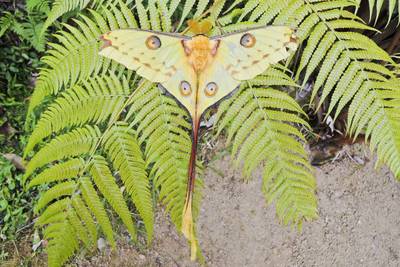 Madagascan Comet Moth
What is your most memorable wildlife encounter to date?
I have been fortunate to have visited Madagascar many times in the last 15 years, on behalf of Naturetrek. The forests of Andasibe, in particular Perinet, is home to the largest of the lemurs, the Indri (Indri indri). Their mournful, penetrating calls are often heard but they can sometimes be difficult to see. However, I remember a particular occasion when we were in the forest watching two adults feeding in the trees about 10 feet above us. Without any warning, they suddenly began to call to other groups This is one of the most amazing experiences I can recall, being in the presence of these critically endangered primates. I have seen them many times before and since, but this one occasion stands out the most.
What do you enjoy most about leading wildlife tours?
I enjoy sharing knowledge. It does not matter how much we know as tour leaders, there are often clients, on the tours we lead, with extraordinary knowledge. I have been interested in the natural world for nearly 60 years and I am still learning, and hope I continue to do so.
What new destination would you most like to travel to next?
This is a difficult one, as there are so many. However, I can get it down to any of these three: Alaska, the Pantanal and the South Atlantic, including the Falkland Islands, South Georgia and the Antarctic Peninsula.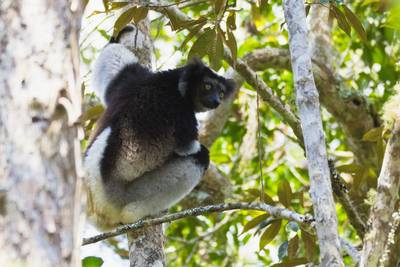 Indri, Madagascar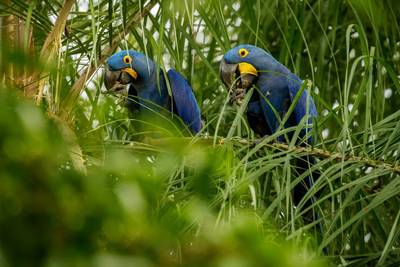 Hyacinth Macaws, Brazilian Pantanal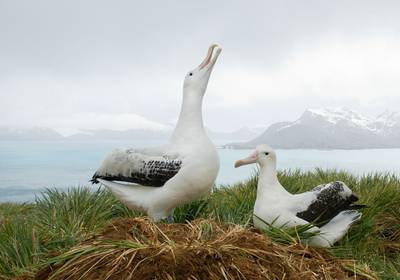 Wandering Albatrosses, South Georgia
What are you reading at the moment?
I am reading a National Geographic Magazine Special Edition on the mapping of the American Civil War called The Atlas of the Civil War – America's Greatest Conflict. In addition, I am half-way through Todd McLeish's Arctic Whales in a Melting World – Narwhals.
Which three people would you invite to dinner?
Given that this is a hypothetical question, my selection crosses the centuries. Firstly, James Edward Smith MD, FRS (1759 – 1828), a British botanist and founder of the Linnean Society of London, and sometimes referred to as the Lord Treasurer of Botany. Number two would be James Patrick Page OBE (1944-), an English musician, songwriter and record producer who achieved international success as the guitarist and founder of the rock band Led Zeppelin. My final choice would be Giacomo Antonio Domenico Michele Secondo Maria Puccini (1858 – 1924), the Belgian/Italian opera composer. These selections are based on my own interests and tastes. Smith founded the society I was fortunate enough to be invited to join. In the mid-sixties I began to listen to the Yardbirds, which morphed into Led Zeppelin, whose albums I still play constantly, and finally, Puccini the composer of two of my favourite operas, Tosca and Turandot.
What tours are you due to lead in the future?
I am scheduled to lead 'The Canary Islands' (FULL) in February, 'Spring Flowers of Western Andalucía' in March, 'Puglia in Spring' in April, 'France – The Vercors' in May and 'Armenia – Spring Birds & Flowers' and 'Romania's Butterflies & Moths' in June.