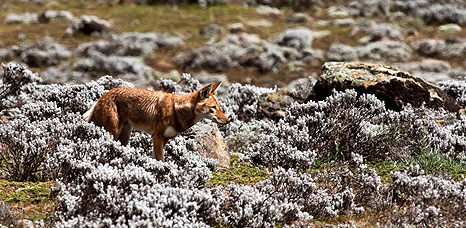 Ethiopian Wolf (Dani Free)
Watching Ethiopian Wolves in the Bale Mountains
Day 5 – 28 March, Sanetti Plateau, Bale Mountains and Guasay Grasslands
Breakfast at 6; warm clothing for an early start up into the mountains, looking for Ethiopian Wolf, Giant Mole Rate and, time permitting, Bale Monkey. Leaving Goba, we quickly ran out of road, heading upward on a dirt track, through a close-set plantation that permitted little light to the ground. This gave way to a more natural open woodland and then, above the tree-line, to giant Euphorbia (with Malachite Sunbird) and various heathers. As we climbed, the lower the heathers, and our vehicle struggled in the thinning air.
As the morning air warmed up, Grass Rats became busier and Giant Mole Rats dared to venture out of their burrows, before reversing comically to safety in the frost-covered ground. We discussed the day ahead; our guide, Merid, commented that there was little chance of seeing Spot-breasted Plover as it was too dry, but we took hope from small pools of water that suggested rain (up at 13,000ft).
Stopping to look for wolves, we scanned small herds of cattle, which the wolves use as cover for hunting. Two were seen briefly, albeit distantly and not by all. Continuing up, we saw Steppe Eagle harassed by the first of many Augur Buzzards. The highlands are specialised, appearing barren to a superficial glance but Moorland Chats and Black-headed Siskins were frequent and multi-coloured lichens covered the rocks.
A shout of 'Fox! Fox! Fox!' brought the bus to a sharp halt and the whole party enjoyed a great view of an Ethiopian Wolf, watching for several minutes. Buoyed with success, we decided to try for the Bale Monkey, which would take us over the escarpment and down into the valley below. Descending through a village, we were greeted, as almost everywhere, by children, waving and shouting. The plan was to stay for about 5 minutes, scanning a likely spot for the monkey, although success seemed unlikely. On the point of leaving, two of the party took 'comfort breaks' in the forest. They reappeared very quickly with reports of sightings among the bamboo and we returned to our search, but it was fruitless. Another 5 minutes became 20, then 30, with only a Tawny-flanked Prinia to note. Some were back at the bus when a shout caused a stampede down the hill and those that arrived quickly enough saw a male Bale Monkey (with bright blue testicles). The late arrivals were not disappointed for long as a movement higher up revealed a female with an infant. Sadly, time demanded that we leave and we set off back up through the village, seeing Mountain Buzzard and Ayres' Hawk-eagle on the way.
Back on the plateau, Merid commented that there had been rain. We mused that this would bring plovers back the next day, instantly to be proved wrong by a day. Four Spot-breasted Plovers chose that moment to land on the road in front of us. Wattled Crane was also hoped for but, sadly, the rain worked its magic just once. We returned to the hotel for lunch (the ingredients of 'special omelette' remain a mystery) and time to ourselves. The three keen birders in the party wandered the hotel grounds, photographing Wattled Ibis and Greater Blue-Eared Starlings.
We re-grouped for 4pm to head back to the grasslands, with a plan to look for Serval, spotlighting after dark. At 4.30pm a brief rainfall released a rich earthy perfume to the air. Stopping by roadside pools we saw Rouget's Rail, Yellow-billed Duck, Yellow Bishop and a stunning Abyssinian Longclaw. On open land from the road to woodland we could see Warthog, Nyala and Bushbuck.
Whilst Merid scanned for Serval in the late afternoon light most of the party, dedicated mammal enthusiasts all, decided to take a walk, apparently not rating our chances, leaving the three birders behind on this rather special mammal watch. As Merid scanned, we saw Pallid Harrier and many African Stonechats, until a shout of 'I have Serval!' brought us running to the scope. We took turns to find the animal through the scope and then binoculars. Once clued in, it could be found quite readily with the naked eye, despite the distance. Merid set off to fetch the rest of the group.  As he vanished, a second Serval appeared and both cats could be seen through the scope. We followed their hunt, wondering if they would remain for the whole party to see. Gradually the others returned at a run/brisk walk/breathless stumble, hurrying despite the altitude and Merid's warnings, and all in plenty of time to see the cats before night fell rapidly and we returned to our hotel, satisfied with our day.
For further information about our 10-day 'Ethiopia' Bargain Mammals holiday please visit the tour webpage.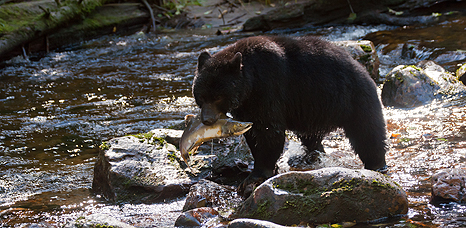 Black Bear (Paul Stanbury)
The Perfect Storm
We were heading in the wrong direction – according to the itinerary, that is. But a storm almost as big as British Columbia itself had battered the west coast of Vancouver Island and blown our programme way off course. Throw in a planned power cut, flooded roads, beaches off limits, everywhere and everything closed, and we had all the ingredients for a perfect storm. We were yet to discover precisely how perfect that storm had been.
Our Grey Whale watching trip was rescheduled for a later sailing. Perfect for us as it meant great sightings of these vast creatures as they surfaced and fluked in the swell. And perfect again because it was on that rescheduled trip that we heard the hot tip on Black Bears congregating to fish for salmon at Thornton Creek. The directions to the creek sounded rather more uncertain than accurate, but we hoped we were on the right track when the thick curtain of trees parted to give a rewarding glimpse of a Black Bear padding across a clearing – just long enough to leave us eager for more.
When we did eventually tumble out of our minibus there was nothing much to see at first. A few other vehicles were clustered haphazardly around an unlovely concrete cube which housed a salmon fishery, and a short sweep of rough, unmade track disappearing around a bend. But it was a chance to stretch our legs after several miles of crunching along the gravel of the old logging road. With no idea what to expect – this was an adventure for our seasoned Naturetrek leaders too – we headed towards the river, rounded the bend and stepped straight into our very own wildlife film. The sun was breaking through the clouds and a rainbow arced over a waterfall as the fast-flowing river roared its way around the rocks and boulders to widen out in a shallow estuary away to our left. A low bridge spanning the river made a great viewing platform – and what a view. Several Black Bears, stars of the show and unconcerned by the small audience of admiring onlookers just metres away, were paddling in the estuary, noses down, snuffling out salmon. They aren't the most efficient of anglers and often a salmon managed to leap and twist away, delaying its inevitable demise for just a little longer. But those unlucky enough to be speared on the murderous claws were quickly and carelessly filleted, as the bears feasted on the best bits – the brain and eggs – before discarding the remains of the hapless fish, still flapping helplessly, back into the water.
A female Black Bear, cub trotting hard on her heels, waded into the river and began her hunt for salmon. When a large male started taking an unwelcome interest she stood her ground, protesting loudly, warning him to back off. The cub, sensing danger, scuttled for the safety of the forest, and seconds later emerged by the bridge where we watching the drama unfold. He hurtled across – just inches away from us – and headed straight for an unsuspecting photographer who was crouched on the far side, eyes and lens focused on the stand-off out on the estuary. Human was certainly more startled than bear. The photographer, struggling to stand and step away at the same time, fell backwards, heels over head. Lee, our Naturetrek leader, more alert to the sound of optics in distress than any female bear to her cub, made an impressive diving catch for the camera as it crashed towards the ground, leaving the photographer to fend for himself and the cub to disappear into the trees, entirely unaware of the commotion.
But there was more to come. Even as we wiped away tears of laughter, the mother, with an impressive turn of speed, left the water in hot pursuit of her cub. She powered across the bridge, close enough to touch for anyone crazy enough to try – though no one was. Instead, we all stepped swiftly back as she raced past and headed off into the forest. In a moment the mood of the crowd had changed. Our laughter melted into a murmur of hushed reverence for the scene we had been so lucky to witness – without the aid of telescope, binoculars or from the safe obscurity of a hide.
So that storm really was perfect, for without it we wouldn't have discovered Thornton Creek and the very best of bear watching.
For further information about our 14-day 'Canada - The West' holiday please visit the tour webpage.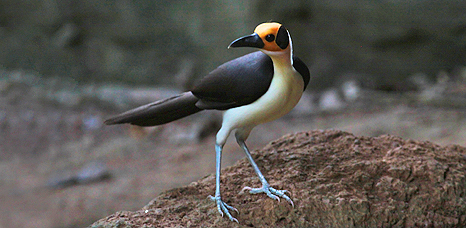 Picathartes (Chris Farman)
Our tenth Naturetrek destination is the West African Republic of Ghana. Bordering Togo, Burkina Faso and the Ivory Coast it is a land of fascinating contrasts, from the southern coastal strip of lush equatorial rainforest to the vast savannah and dry forests of the north.
At Accra International Airport we are welcomed by Francis Ntakor, our guide for our journey. We are driven first to the Shai Hills Reserve and take a gentle walk to a peaceful lagoon to commence our bird list. 
Day 2 we head for the Kakum National Park where we are to spend two nights at the Rainbow Lodge. En route for the Kakum we come to the Port of Tema with its massive oil containers. Wedged in by countless lorries we hit a traffic jam and crawl through the bustling streets. People are everywhere. The roads are flanked by shops - just everything you can buy from coffins to cookers, refrigerators, clothes, 3-piece suites, food - all out in the open. 'What happens when there is a downpour?' I ask Francis. 'You just wait for the sun to come out,' he explains. Finally we are out of the turmoil and on our way. 
Next morning, before sunrise, Francis leads us to a track leading into Kalzun. It is so amazingly peaceful. We are remote and away from it all. The tranquillity is almost overwhelming. Then we become aware of sounds around us: shuffling, movement in the dense vegetation, twigs snapping. Then from the bushes or overhead, here and there, a twitter or two. Surprisingly and rapidly, as the sun starts to rise, more and more bird song like an orchestra tuning and warming up for a grand overture. It is wonderful and extraordinarily liberating. Francis' eyes are everywhere - from the bushes just metres away right up to the tall branches reaching high up into the blue, blue sky.
In Ghana there are some 750 species of birds. Francis has one to go. When it stays long enough Francis will focus that bird in his scope for us to get a better look. We pass a smiling girl carrying a huge basket of cocoa beans on her head. Then a very young woman grappling with a small boy spread-eagled on the ground and kicking out. 'He doesn't want to go to school,' Francis tells us. Little boys are the same the world over! 
Over the next seven days or so we work our way down through the forests, staying at remote lodges each day, continuing to rise with the sun and be with nature. It is enchanting. The bird list of my husband, Bill, is growing spectacularly. We head for Cape Coast and on the road. We give a lift to (as it turns out) a mother and daughter who are walking between villages, selling shoes. The mother climbs into the vehicle and sits beside me. When our eyes meet she gives me a huge, dazzling, toothless smile. 'What are those letters written on her arm?' I ask Francis. 'They spell the name of her village in case she gets lost,' he says. 
At Cape Coast we eat an enjoyable lunch at a raised restaurant with the waters of the Gulf of Guinea lapping at our feet. Then we tour the historic fort where we see the notorious Gate of No Return through which in the 17/1800's slaves passed to their cruel and awful fate. 
We are now heading north towards the Mole National Park and possibly, as far as bird life is concerned, the ultimate highlight - the nesting ground of the rare and secretive Yellow-headed Picathartes. We stop at a scenic village. As the walk to this very special bird is to be rugged ground and lengthy, I decide to stay in our vehicle and catch up with my book. Bill and Francis set off. Within minutes I am surrounded by the entire village - most of whom are fascinated by my handbag and its contents.  Suddenly there is a tropical downpour and my newfound friends vanish completely only to re-appear when the rain stops. It is growing dark just as a triumphant Bill and Francis return. After waiting in silence for some three hours under a rock, just as darkness was falling, the wondrous Picathartes finally appeared. 
Staying overnight in Kumasi we were watching the European Champions League final football match on television. Just as the game was getting exciting there was a sudden power cut. All round us in total darkness came loud and thunderous groans of despair. When, some minutes later, power was restored - great shouts of joy and happiness. Africans love football. Even in the most remote of villages, small boys will come up and tell you that David Beckham and Wayne Rooney are their idols! 
In Mole National Park, Bill's bird list continues to grow. We also see elephant and antelope. 
Day 14: Return to Accra to take our return flight to London. We are sad to leave Ghana and its warm and friendly people. We are also sad to say farewell to Francis Ntakor. Like most of Naturetrek's guides he has been an attentive, thoughtful, kind and unobtrusive companion on our memorable journey. He is certainly also an exceptional birdman. We shall think often of him and wish him well in the future. We also hope he gets to see his remaining target bird.
For further information about our 9-day 'Ghana - Picathartes' holiday please visit the tour webpage.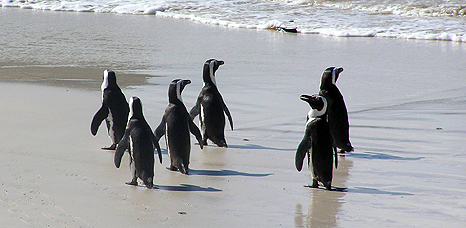 African Penguin (Sarah Barnes)
South Africa's Western Cape - The Unplanned Wild Experience!
Driving in to the resort and harbour town of Hermanus after a most satisfying day's birdwatching, I reflected on my decision to include an overnight stay in the town. My purpose in staying here was to provide an opportunity for my happy throng of travelling birders to enjoy 'the best land-based whale watching experience in the world', which my research had eagerly promised. When organising the private trip many months earlier with Paul at Naturetrek, I had expressed my desire to include the overnight stay at Hermanus, even if this meant some birding time might be curtailed.
When planning this trip I had wanted to include some variety to the itinerary in an effort to heighten the possibility of close encounters with whales. Hermanus is one of the most famous whale watching localities on Earth and home to the world's only 'whale crier' who blows his kelp horn to inform people when whales put in appearances, which they frequently do. Southern Right Whales calve in the bay in impressive numbers and can be easily seen, even from one's bedroom window. (On one occasion I did actually lie in the bath in my room watching whales with my binoculars - thankfully there is no photographic evidence of this available!) Taking in the unique experience of being in such close proximity of these gentle leviathans was the intended bonus to our birding itinerary. And we were not to be disappointed. 
The day had started extremely well. A rocky outcrop at the nearby small holiday village of Rooi Els provided one of the most sought-after Cape endemics on every birder's 'must see' list - a thrush-sized bird with black and white plumage and a bright reddish orange breast and belly, known as a Cape Rockjumper. It is best found by looking for movement on rocks as it does exactly what its name suggests - it jumps from rock to rock. Everyone in our group enjoyed excellent views of a pair of Rockjumpers along with such special birds as a Ground Woodpecker (on the roof of a house) and the colourful Cape Rock Thrush. A leisurely lunch had followed at the Harold Porter Botanical Gardens in the company of such wonderful birds as Malachite Sunbird, Cape Batis, Speckled Mousebird and the elusive Victorin's Warbler. 
Our hotel was located on the seafront opposite a natural jetty of rocks jutting out to sea some 20 metres or so. As light was fading, I suggested we all meet the following morning before breakfast on these rocks to see if we could view any whales. At first light, I strolled from the front door of the hotel the 30 or so paces to the rocks and sat on a rock at the far end, immediately noticing 2 whales, a mother and calf, on the sea surface less than 200 metres away. 
After they had submerged, I was aware of another whale gently rising to the surface less than 10 metres from where I was sitting. With no need for my binoculars, I was transfixed and the following 10 seconds will remain with me for the rest of my life. I looked directly into the eyeball of this gentle leviathan and it looked directly at me. A mixture of reverence, awe and mutual respect overcame me as I connected in such a gentle and calm manner with another species. The moment was totally unexpected, could never have been planned and was all the more memorable for that. I simply sat and took in the entire experience. 
As I alighted to return for breakfast, I was aware of other members of the group around me. One asked if I had seen the close whale and I replied that I had. He said it had been a very moving experience and I replied that I knew precisely what he had meant.  It transpired that several members of the group had witnessed and shared their own emotional moment with this whale. 
After breakfast we set off on our journey around the farmland loop area of the Overberg peninsula taking in many Blue Cranes with their elegant plumes, Jackal Buzzards on telegraph poles proudly displaying their smart red tails, and majestic African Fish Eagles soaring and gliding over us. Our bird list was increasing dramatically. 
However, the overriding memory was that moment when my eye connected with the eye of a magnificent wild creature - that moment of oneness and understanding, even empathy, with a wild and beautiful animal. This is the moment which will live with me forever.
We raised our glasses that evening to a never-to-be-forgotten shared magical moment. I was so pleased that I had included the overnight stay in Hermanus. I, and many other members of our group, had benefited beyond words. 
For further information about our 10-day 'South Africa - Best of the Cape' holiday please visit the tour webpage.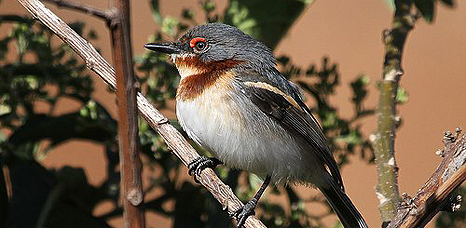 Brown-throated Wattle-eye (Ingeborg van Leeuwen)
I arrived at Addis Ababa as someone new to wildlife holidays, third world travel and relatively new to birdwatching. I have the cheap binoculars and no idea what to expect. Everyone else seemed to be adorned in expensive gear and be identifying species flying over the sprawling city beyond, all before we were out of the airport building. I tried to recall at what point this had seemed like a good idea.
We boarded our minibus and found room between us for luggage, telescopes, bottles of water and hefty matching guidebooks. The engine started and after the first of many head counts, we were off. We bounced our way along dusty tracks and carefully weaved through Ethiopian traffic of HGVs, vivid blue tuk-tuks, heavily-laden donkeys and wandering cattle. Inside the bus was an equally varied mix of dedicated birdwatchers, keen amateurs and wildlife enthusiasts, each with a bus window view of Africa. I began to pick up snippets of information and before we'd even left Addis I could recognise a Dusky Turtle Dove, knew what a Yellow-billed Kite should look like and discovered that birds have 'supercilia' and not 'eyebrows'.
The city's myriad of tin huts and fruit stalls gave way to acres of corn, millet and teff (a native grass species), which in turn gave way to a vast open landscape of dry soil, withered grasses and acacia scrub. Despite the seemingly arid environment, Ethiopia appeared to abound with bird species: eagles and vultures circled high overhead, every suitably high perch was topped with a bird of prey, and flocks of 'little brown jobs' flitted through the bushes. Hour by hour (and with more than a little help) my 'bird list' grew, each stop bringing new and unexpected species.
The diversity of bird species was phenomenal; whilst I am used to one starling, shrike and cuckoo species here, in Ethiopia there are 24 starlings, 21 shrikes and 12 cuckoos and that's without mentioning the cuckoo-shrikes or the bizarre coucals. Species like the rollers and bee-eaters seem unnecessarily colourful - as if designed by a child with a new pack of colouring pens. Others like the nightjars and the bustards blend effortlessly into their habitat like a magic-eye puzzle.
Our Ethiopian and English guides were second-to-none - they made finding scarce, cryptic or rapidly disappearing birds in this vast country seem effortless - spotting birds where even the keenest birders might otherwise miss them. They were also quick to set up scopes so we could all get close-up views of faraway birds and had a wealth of knowledge of the subject matter to share with the group. This meant a novice like me was not only able to see an enormous number of species but also obtain brilliant views and learn a great deal about them. Those of us less adept at identifying species helped the group out by 'spotting' and I for one became skilled at trying to explain where in the vast thorny thicket the small brown unidentified warbler was sitting.
The guides' ability to find birds was unfaltering in a vast array of habitats. Among the arid acacia scrub of the Awash National Park we found Abyssinian Ground Hornbills and Kori Bustard as well as Oryx, gazelles and hyenas. On the shores of Lake Awassa just a short walk from the chaos of the fish market there were African Black Crakes, Goliath Herons and African Pygmy Geese among the dense vegetation.
It's fair to say that whatever my preconceptions of Ethiopia there were surprises to be had; even the most uninviting of habitats can play host to a surprising number of resilient and hardy species. Even among the scorched black volcanic rocks hopped Blackstarts and a Blue Rock Thrush, and Eygptian Vultures circled overhead.
One of the greatest surprises came after a trek along the saltpans of Langano. The soil was bone-dry, cracked and barren. The horizon shimmered with heat haze and the wind whipped up dust twisters that reached up to the vast cloudless sky. It was so devoid of life it could have been mistaken for another planet. Yet at its end, as the soil turned to mud we witnessed a congregation of hundreds of flamingoes, cranes, ducks and plovers gorging themselves in the fertile shallows of Lake Langano.
And if I thought Ethiopia and the Great Rift Valley are just about the arid plains and the great lakes there was Wondo Genet. A fertile hilly landscape carpeted in verdant forests. Though encroached on by human settlement, where the pristine forest remains it is dense and impassable. The branches overhead are shaken by leaping Colobus Monkeys and Sun Squirrels and by the movement of White-cheeked Turacos and hornbills hopping among the canopy. Other species such as the Bruce's Green Pigeon can be more difficult to spot as they sit motionless and some, such as the mythical-sounding Narina Trogon, are notoriously tricky to find, but worth an afternoon in the forest when one is eventually spotted.
As my time in Ethiopia came to a close my knowledge of birds and birdwatching had improved immeasurably. I remain by no means an expert and am still very much a novice, but I've seen a Grey-backed Camaroptera and I can tell an Eremomela from a Cisticola (even if I still struggle to pronounce them). I know the difference between boubous, brubrus, bulbuls, barbets and babblers and, whilst I may struggle to name all 24 species of starling, I could tell you a little bit about some of them. To boot, I've learned an awful lot about a country of which I knew nothing. I also managed to tot up an impressive list of well over 300 birds, many of them endemics - more than enough to make the birders at home jealous.
As I left Addis Ababa I realised I was hooked on birdwatching abroad and the flight home was spent planning my next escape. I have met a minibus full of experienced and well-travelled friends who provided advice and encouragement on the trip and beyond. Ethiopia may seem a long way away when you're back in Blighty but I have only happy memories. There is a lot of great wildlife out there just waiting to be found on my next adventure!
For further details about this tour please visit the webpage.