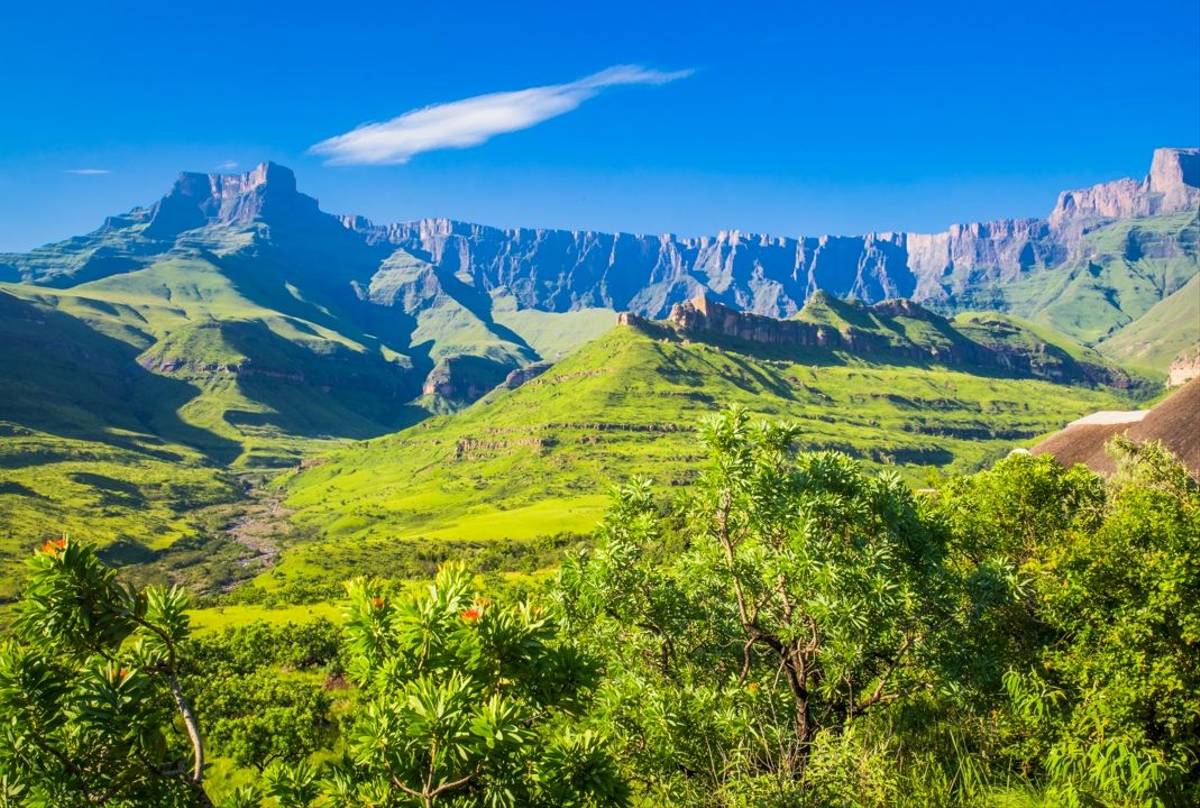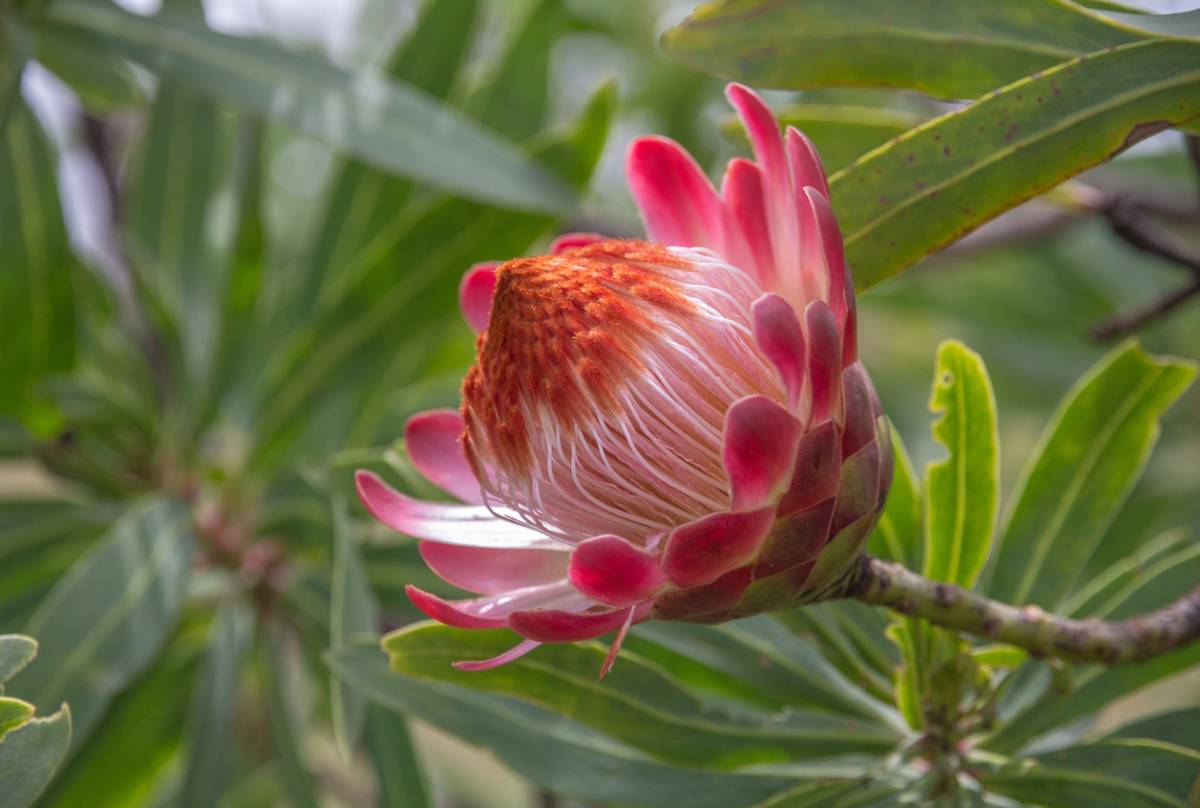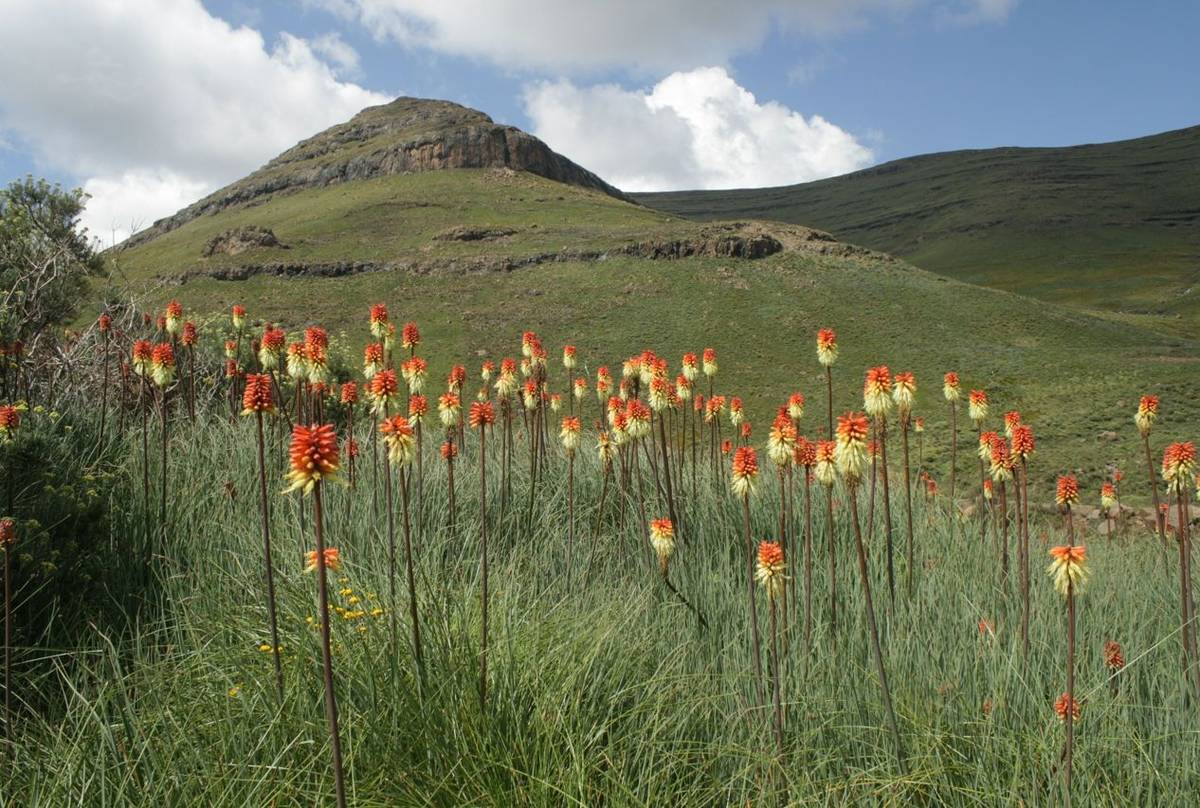 Tour Itinerary and Reports
The Flowers of South Africa's Drakensberg Mountains
Tour Code: ZAF02
A 14-day botany and wildlife journey through South Africa's spectacular Drakensberg Mountains.
14 days from
£4,995 (Inc flights)
Land only price from
£4,295
Add this tour to your saved toursRemove from saved toursstar_border star

Add to Saved Tours
Highlights
Tour Itinerary and Reports
Summary
Every southern spring, botanists from around the globe are drawn to the carpets of flowers that light up South Africa's Western Cape, but few realise that in January, 1,600 kilometres further east, another floral show bursts into bloom. It may be less showy than Namaqualand, but the alpine flowers that carpet the spectacular Drakensberg escarpment and high moorland of Lesotho are every bit as fascinating. It is not just the flowers that draw naturalists to this dramatic region, however, for KwaZulu-Natal's varied landscapes and habitats – from mist-shrouded mountains to lush coastal wetlands – are home to an equally exciting array of birds, mammals and reptiles too. 
Spectacular scenery of the Drakensberg Mountains
Explore the Royal Natal National Park
Botanise along the world-famous Sani Pass
Flowers including Agapanthus campanulatus, Heperantha coccinea & Watsonia confusa
Visit the Umgeni Valley Nature Reserve & Howick Falls
Birds including Gurney's Sugarbird, Malachite Sunbird & Lammergeier
Mammals such as Blesbok, Eland & Mountain Reedbuck
Led by a Naturetrek botanist & local naturalist guide.
Grading
Grade A/B. Easy to moderate walks.
The arrival of spring in South Africa is marked by a carpet of wild flowers which blanket the western part of the country from the Cape to the mountains and plains of Namaqualand to the north. This spectacular show attracts botanists from far and wide but few realise that, a few months later, 1,600 kilometres further to the east, another remarkable floral display erupts which, although lacking Namaqualand's feast of colour, contains a wealth of beautiful flowering plants set amongst some of the continent's most spectacular scenery. It is not just the flowers that draw naturalists to this dramatic region, however, for KwaZulu-Natal's varied landscapes and habitats — from mist-shrouded mountains to lush coastal wetlands — are home to a varied array of birds, mammals and reptiles too. Although this exciting tour will focus primarily on the summer flowers of the Drakensberg escarpment, it will also introduce you to some of the other varied wildlife that lives here and take you through some of the most dramatic scenery in southern Africa.
Our holiday begins with an overnight flight from London to Johannesburg, where we will meet our local guide and drive south towards the Drakensberg Mountains. The Golden Gate Highlands National Park, a beautiful 340-square kilometre reserve, will be our first venue and here we will explore the highveld and montane grasslands in search of our first flowers and a variety of birds and mammals. We next move to the Royal Natal National Park for a 4-night stay, split between two nights in Witsieshoek on its western side and then two nights at Thendele Camp on the eastern side of the reserve. The Royal Natal National Park protects the Drakensberg's most famous vista, the magnificent 'Drakensberg Amphitheatre'. These 1,000-metre high basalt cliffs stretch for over five kilometres and create a wonderful backdrop as we explore the reserve's upland grassland and forest patches in search of the blues of Agapanthus campanulatus, the whites and greens of Zantedeschia albomaculata and the striking pink flowers of Hesperanthus grandiflora. Gurney's Sugarbird is frequently seen feeding within the Protea patches, whilst other species to look out for include Cape Vulture, Long-crested Eagle and the beautiful Malachite Sunbird.
Moving on, we will make our way down to the central Drakensberg Mountains, where we use Giant's Castle Game Reserve as our base for the next two nights. Our camp is situated next to the Bushman's River, backed by the dramatic central range of the Drakensberg Mountains, whose rocky peaks and high escarpments create the outline of a sleeping giant. Here we will explore the extensive grasslands and forested gullies in search of an exciting variety of flowers including Crocosmia paniculata and Crocosmia aurea, Hesperantha coccinea (Crimson Flag) and perhaps some specimens of the spectacular Brunsvigia natalensis. We must also keep our eyes up, as well as down, however, to be sure not to miss birds such as Cape Vulture, Lammergeier and Cape Rockthrush, plus mammals including Eland, the largest of Africa's antelope, Klipspringer, Mountain Reedbuck and troops of inquisitive Chacma Baboons.
Next, we will skirt around the base of the main Drakensberg range to the small town of Underberg near the foot of the spectacular Sani Pass. Here we will be based for two nights and, during our full day, we will swap our minibus for 4-wheel drive vehicles for the ascent up the spectacular Sani Pass, one of Africa's most exciting and dramatic botanical drives. Highlights will be many and varied, but may include pincushion plants such as Helichrysum marginatum, plus Cyrtanthus stenanthus, Kniphofia laxiflora and the pink orchid Watsonia confusa. The higher slopes of the pass are also home to Ground Woodpecker and the endemic Drakensberg Rockjumper.
We now leave the mountains behind and begin our descent to the lowlands of KwaZulu-Natal, stopping en route at the midlands town of Howick for two nights. Our main focus here will be the Umgeni Valley Nature Reserve, which lies in a valley created by the Umgeni River, after it cascades over the majestic Howick Falls. The greater part of the reserve sits within the spectacular gorge below the falls, while the upper part is the fringe of a rolling upland plateau. The Umgeni Valley Reserve is home to a fascinating and rich flora which includes an interesting variety of cycads and dracaenas and the spectacular Natal Candelabra Flower (Brunsvigia natalensis).
Finally, we must complete our journey to KwaZulu-Natal's beautiful coastline from where we head a short distance north to Durban airport to catch our flight to Johannesburg and ultimately home.
DETAILED INFORMATION
Outline Itinerary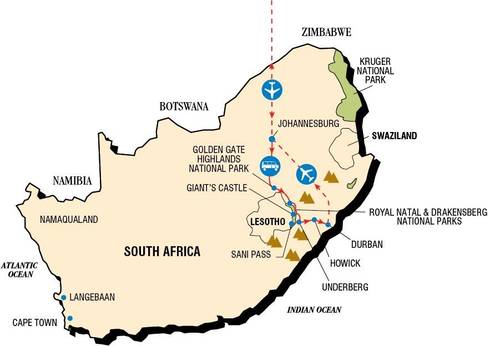 Day 3/6
Royal Natal National Park
Day 7/8
Giant's Castle Game Reserve
Day 9/10
Underberg and Sani Pass
cloud_downloadDownload Full Itinerary
What's Included?
Flights
Accommodation:

We stay in comfortable guesthouses, mountain chalets and hotels; all rooms have private facilities.

Food:

All meals are included in the price, except lunches. Allow around £150.
Reviews
A very pleasant trip, with a good combination of flowers, birds, wildlife and scenery.

G. & M.S. Devon

Good group camaraderie. Leaders were interested and helpful – nothing was too much trouble. Overall a fabulous cross section of South African landscapes!

S.D. Cheshire
Dates & Prices
2021
Departures
Availability
Cost
Tue 12th Jan - Mon 25th Jan
SPACES
£4,995
Flights:
Most Naturetrek tours include flight costs ex-UK. If flights are not included, we indicate that here.
Flights are included in the tour cost
Regional Departures:
On certain tours it is possible to depart from a regional airport (rather than London). If a regional departure is possible, we indicate that here.
Regional Departures are available. Call 01962733051
Land only cost:
The "Land Only" cost is the tour price you will pay if you choose to arrange your own flights/transport.
£4,295
Single Room Supplement:
£495
Why Naturetrek?
At Naturetrek we craft expertly-guided group and tailor-made wildlife holidays and cruises to all seven continents. On one of our holidays, you can be assured that our passionate team will enable you to experience and enjoy the best of the world's wildlife and natural spectacles in as comfortable and rewarding a manner as possible, caring as best we can for the environment in the process. We are proud to provide:
The widest choice of wildlife holidays worldwide
Tours managed and led by naturalists, for naturalists
Outstanding value and exceptional customer service
Furthermore, as a Naturetrek client, our office team are always to on hand to help you – so if you have any queries about your holiday, whether before or after you have booked, we will be delighted to answer them on the phone. Please just give our team a call!