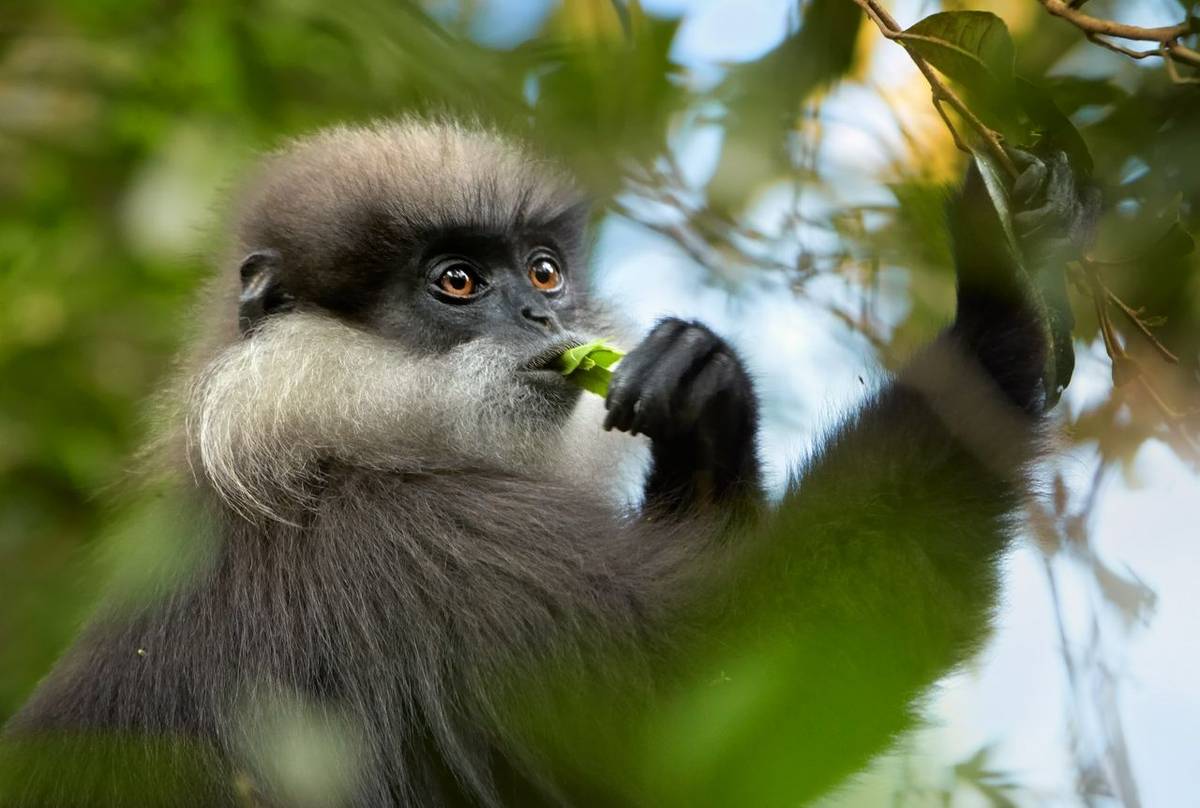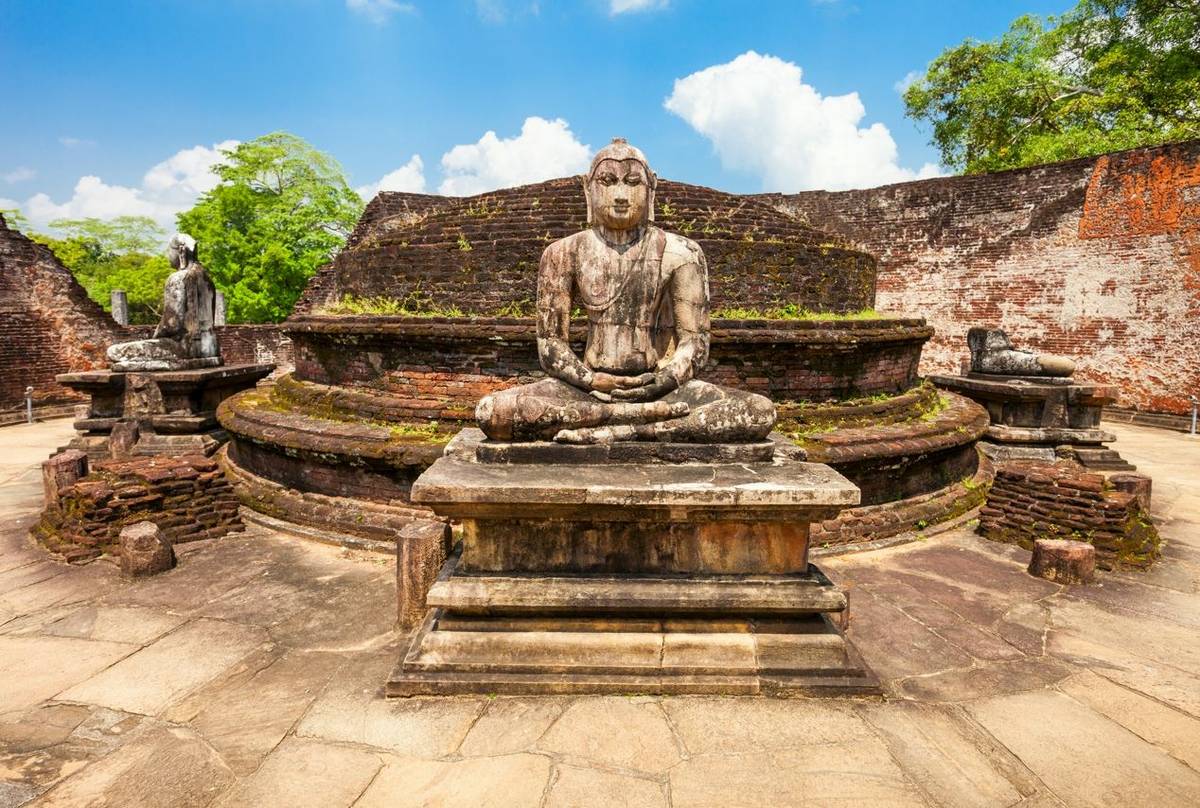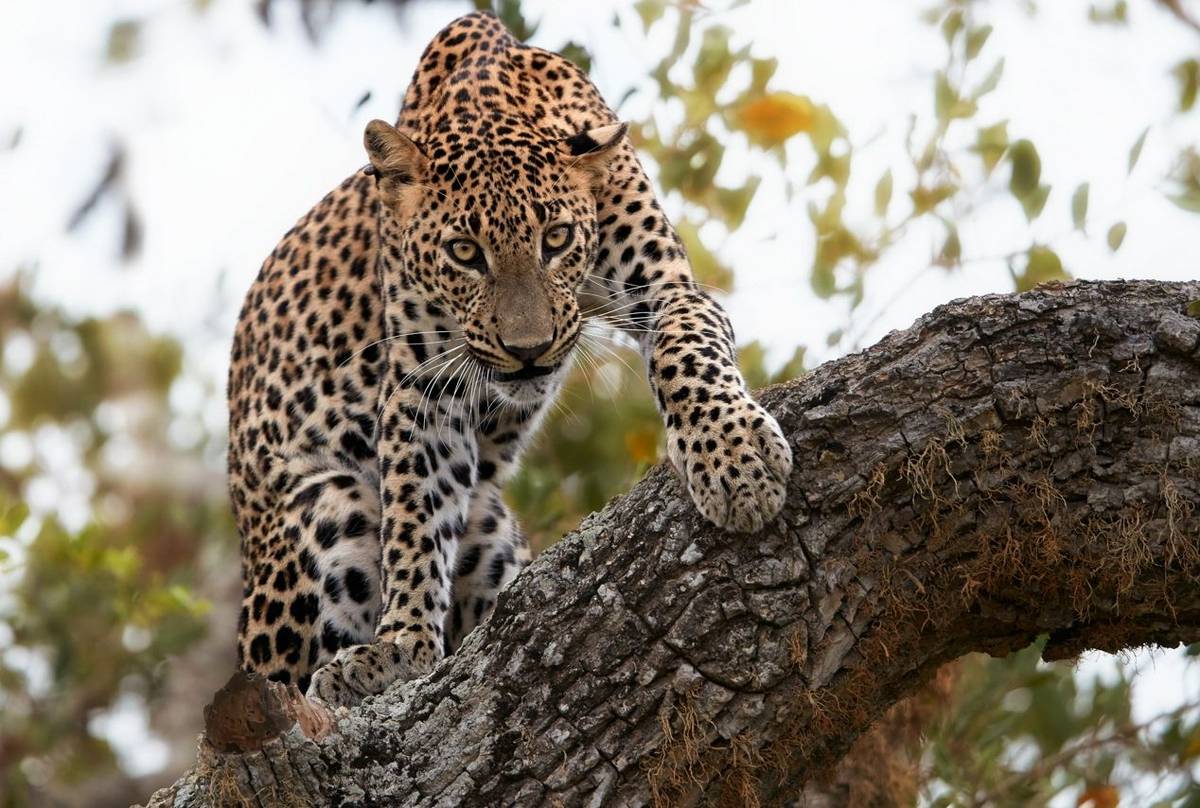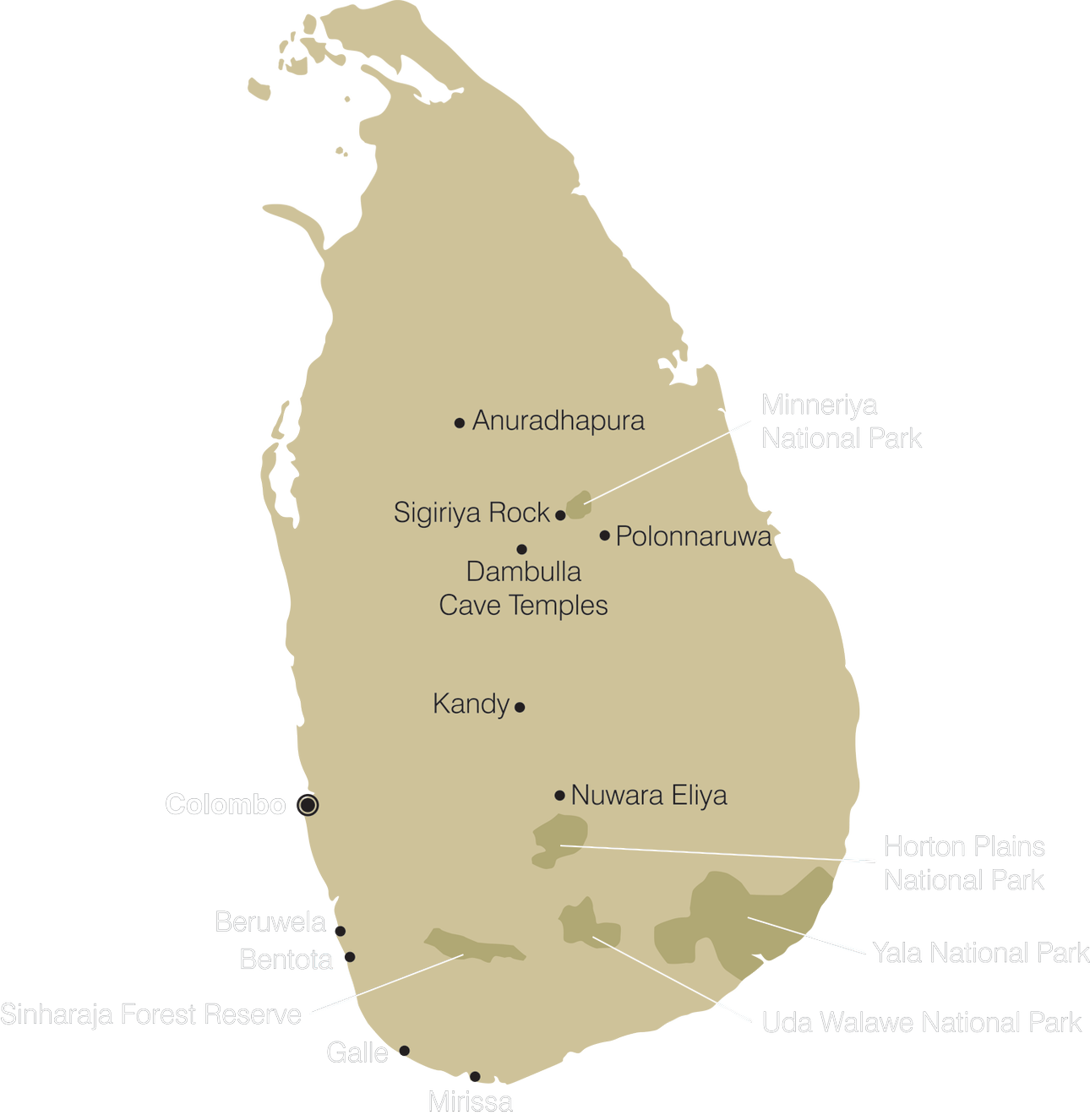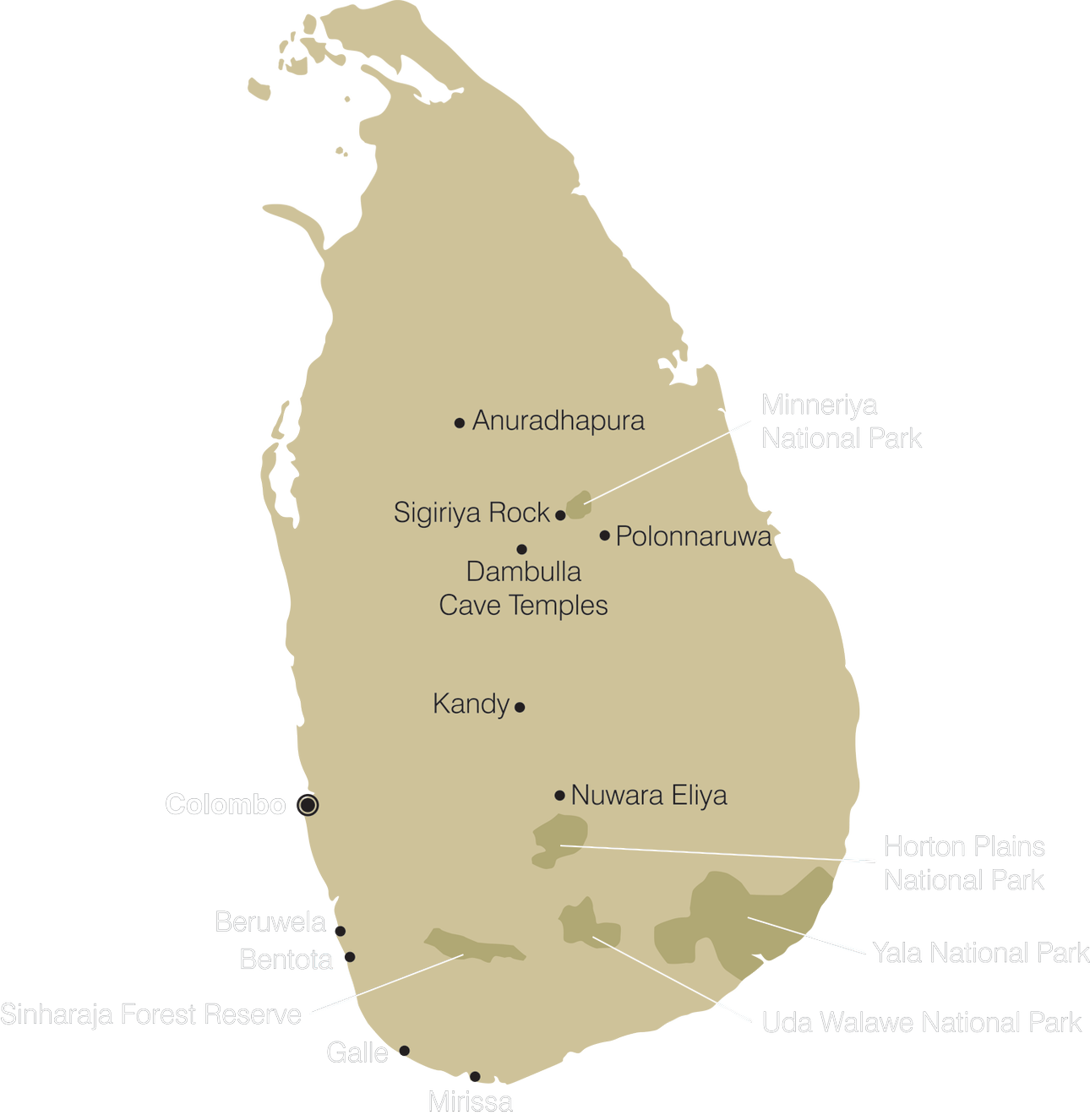 Tailormade Sri Lanka
Tailormade
|
Tour Code: TLKA
Create your own Tailormade holiday to Sri Lanka with dates and an itinerary to suit you.
When to Visit
| | | | | | | | | | | | |
| --- | --- | --- | --- | --- | --- | --- | --- | --- | --- | --- | --- |
| J | F | M | A | M | J | J | A | S | O | N | D |
| YY | YY | YY | YY | Y | Y | Y | Y | Y | Y | YY | YY |
SAMPLE HOLIDAY: Sri Lanka's Wildlife & Culture
17 days from £3,795 (Flight Inclusive)
A 17-day wildlife and birdwatching holiday which also includes visits to Sri Lanka's most iconic cultural destinations and a couple of nights at a tea plantation.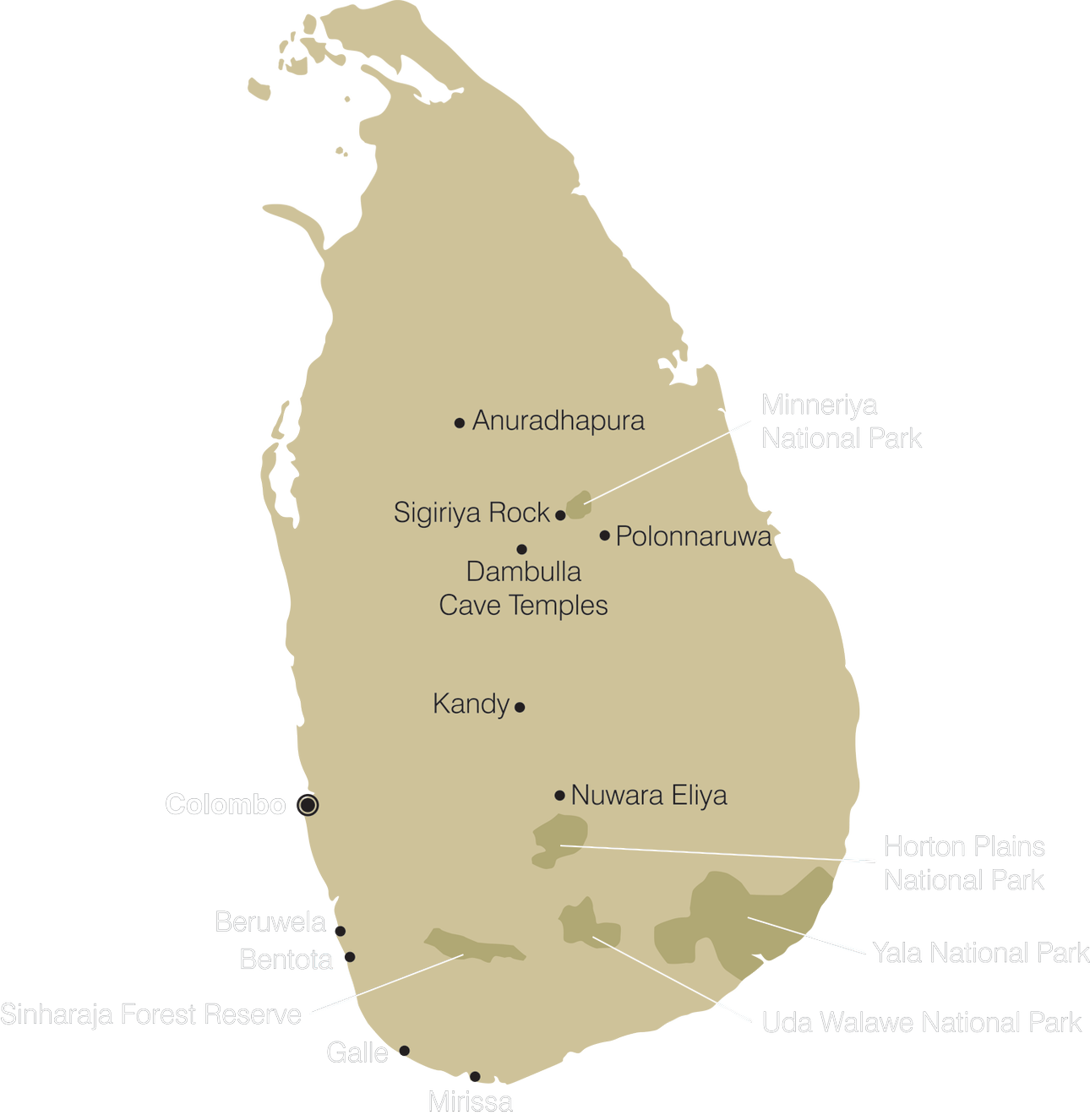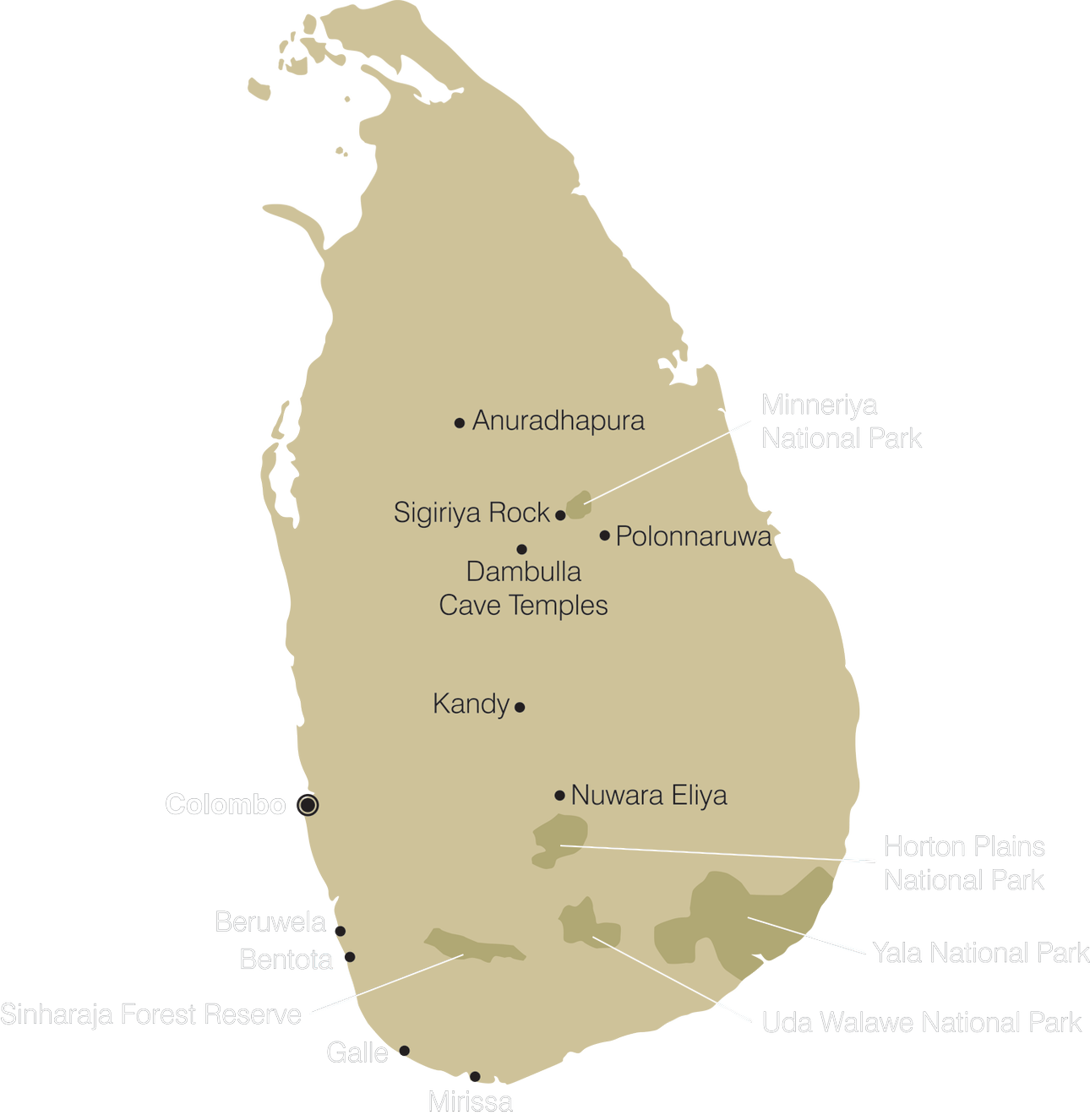 Summary
Sri Lanka is a naturalist's paradise: a small yet verdant tropical island with a hilly central region, extensive tracts of forest, lowland plains and abundant freshwater lakes, all populated by a great diversity of mammals, birds, insects and plants, many of which are endemic to the island. 
Yala is Sri Lanka's foremost national park and one of the best places in the world to see Leopards, Asian Elephants and wild Water Buffaloes. However, this tropical haven also has 33 endemic birds and a wealth of wintering visitors from India and the Himalaya amongst its 435 bird species. It is an ideal destination for a winter birdwatching or wildlife break. The variety of habitats and scenery further enhances the wildlife holiday experience here, with the tea gardens and uplands of Nuwara Eliya and the Horton Plains, the mammal-filled lowland parks of Uda Walawe and Yala, and the magnificent Biosphere Reserve of Sinharaja Forest, being foremost amongst the essential destinations. The island's historical and religious sites also double as interesting birding and mammal spots. Another major draw is the Blue Whale which can be observed with relative ease between late November and early April off Mirissa. Another large mammal, the Asian Elephant, is also part of Sri Lanka's great wildlife heritage and in August it is possible to witness 'the gathering', a remarkable coming together of various herds at a lake in Minneriya National Park.
Our Destinations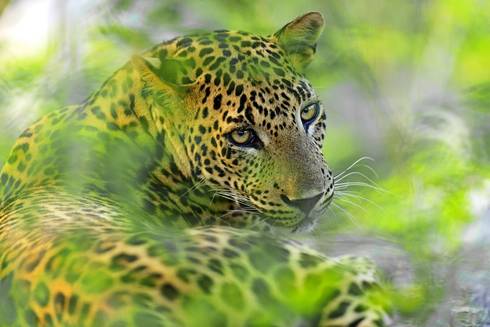 Located in the south-eastern corner of Sri Lanka and covering almost 1,000 square kilometres, Yala is best known for its healthy population of Leopards. Sloth Bears are another of Yala's larger mammals, though they are often elusive. Game drives in the park are likely to produce sightings of Asian Elephant, Wild Boar, wild Water Buffalo, Sambar and Spotted Deer, Ruddy and Indian Grey Mongoose, Marsh Mugger Crocodile and a selection of lizards, as well as a stunning profusion of colourful birdlife. Black-necked and Lesser Adjutant Storks are among the many waterbirds inhabiting the reserve along with Painted and Openbill Storks, Spot-billed Pelicans and such waders as Greater Thick-knee and Yellow-wattled Lapwing. In the drier areas it's possible to see such species as Blue-tailed and Little Green Bee-eaters, Blue-faced Malkoha, Malabar Pied Hornbill, Black-headed Cuckoo-shrike and the endemic Sri Lanka Wood-shrike. Early mornings are certainly the most rewarding time to be out looking for wildlife, although it's worthwhile spending the entire day in Yala, taking a picnic lunch along from your lodge. A visit to the beautifully scenic coast at the park's southeastern edge is a must.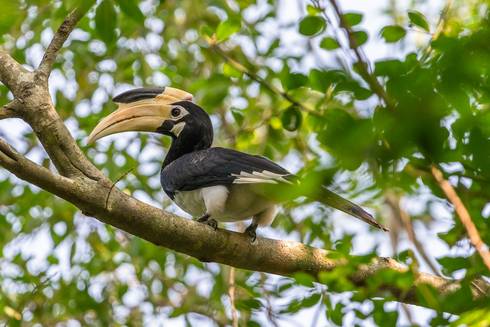 Uda Walawe National Park in southern Sri Lanka is an open area of mixed habitats, from extensive grasslands and forests to wetlands and old teak woodlands, all within the catchment of a large reservoir. Accordingly it offers a mouth-watering range of birds and mammals, and is an especially good place for Asian Elephants. In some respects it is a smaller version of Yala, but one key difference is that, unlike in Yala where open-topped safari vehicles are not permitted to enter the park, at Uda Walawe there is no such prohibition which makes photography much easier. Over 100 bird species may be seen on a single game drive here, amongst them such species as Sri Lanka Junglefowl, Barred Button-quail, Malabar Pied Hornbill, White-bellied Fish Eagle, Changeable Hawk-eagle, both Sirkeer and Blue-faced Malkohas, and a variety of grassland birds. The nearby Uda Walawe Elephant orphanage is worth a visit.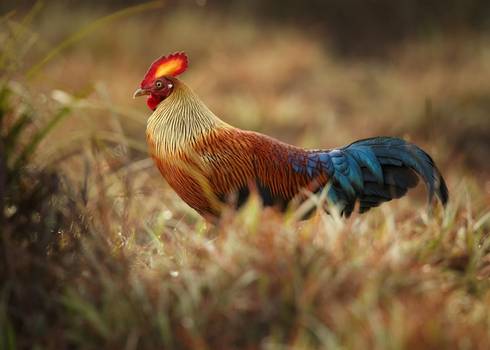 Designated a UNESCO Biosphere Reserve and World Heritage Site, Sinharaja Forest is the largest and most important lowland rainforest in Sri Lanka and, with an extremely high number of endemic birds, plants, mammals, insects, reptiles and so on, this is Sri Lanka's most rewarding reserve for the visiting naturalist. Excursions into the reserve are made on foot using old logging trails that facilitate access into the primary forest and from them it's possible to see species such as Sri Lanka Spurfowl, Sri Lanka Junglefowl, Layard's Parakeet, Sri Lanka Hanging Parrot, Red-faced Malkoha, Green-billed Coucal, Malabar Trogon, Sri Lanka Frogmouth, Brown-backed Needletail, Chestnut-backed Owlet, Yellow-fronted Barbet, Black-headed and Yellow-browed Bulbuls, Spot-winged Thrush, Orange-billed Babbler, Ashy-headed Laughing-thrush, Sri Lanka Blue Magpie, White-faced Starling and White-throated Flowerpecker. Sinharaja is one of those magical places that can suddenly come alive with birds, following periods of relative quiet, as a huge mixed-species 'bird flock' passes through. The floral variety, too, is extremely special; pretty Bamboo Orchids grow commonly beside the trails and many of the trees are adorned with epiphytes. Mammal sightings are more a matter of chance, although males of the endemic Purple-faced Leaf Monkey often betray their troop's whereabouts with their fearsome roaring.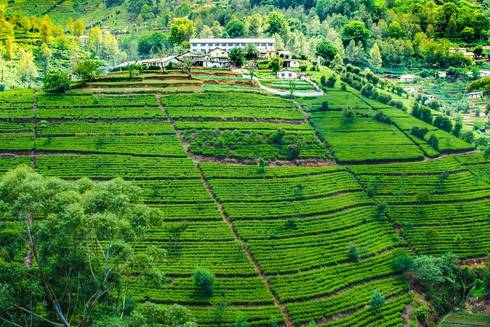 The British first established a 'hill station' at Nuwara Eliya to escape the heat of the plains and subsequently developed extensive tea plantations throughout the region, which is blessed with the ideal blend of altitude, precipitation levels and soil-type for the production of fine quality tea. A few nights spent in one of the delightful colonial plantation properties is a lovely way to cool off and enjoy scenic walks in the mist-covered hills or take in the wistful mock-Tudor surroundings that the British were so careful to recreate. Victoria Park will be of interest to birdwatchers as it offers the chance to see Pied Ground Thrush and a couple more of Sri Lanka's endemics, namely Yellow-eared Bulbul and Sri Lanka White-eye.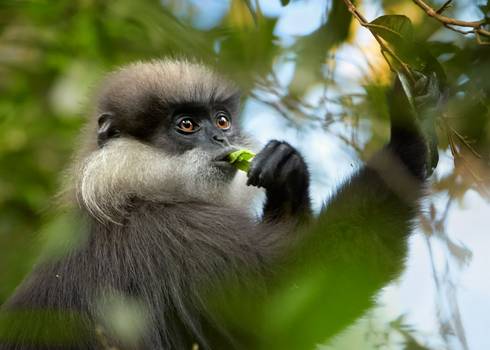 The Horton Plains is a high grassland plateau area that forms the southern edge of Sri Lanka's central hills and rises to 2,160 metres above sea level. Its windswept grassy expanses and misty, epiphyte-covered forests are in stark contrast to the steamy grasslands below, and it's not uncommon to find frost clinging to the grass early in the morning. The scenery is spectacular, with the most dramatic views enjoyed from 'World's End', where the plateau drops abruptly to the plains over 1,000 metres below. Key species to look out for in the forests include Purple-faced Leaf Monkey (here the highland subspecies), Tennant's Giant Squirrel and Dusky Squirrel, whilst Sambar can be seen in the open grasslands. Interesting bird species include Mountain Hawk-eagle, Black Eagle, Sri Lanka Blue Magpie, Orange-billed Babbler and Dull-blue Flycatcher. The rare Sri Lanka Whistling Thrush is another endemic found here but is extremely hard to find; however, guided by one of our expert naturalists, you'll visit locations that, with luck, might reveal a resident male.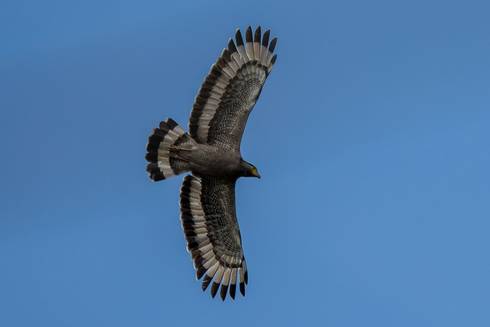 King Kasyapa was responsible for the building of a citadel atop Sigiriya Rock in 477 AD and it is a hugely impressive site. Most visitors come here to scale the rock and admire its beautiful frescoes and, if you have a head for heights and are happy to climb up the rock-hewn steps, then it's a most worthwhile excursion. However, it is the forests that surround the site that birders will find most productive, with Woolly-necked Stork, Crested Serpent Eagle, Emerald Dove, Alexandrine Parakeet, Racket-tailed Drongo, Paradise Flycatcher, Indian Pitta, White-rumped Shama, Forest Wagtail and Pale-billed Flowerpecker among a wealth of species. Mammals that may be encountered include several species of mongoose and palm squirrel, Toque Macaque, Grey Langur, Grizzled Giant Squirrel and Indian Flying Fox, with rarer local inhabitants such as Purple-faced Leaf Monkey and the nocturnal Slender Loris being harder to see.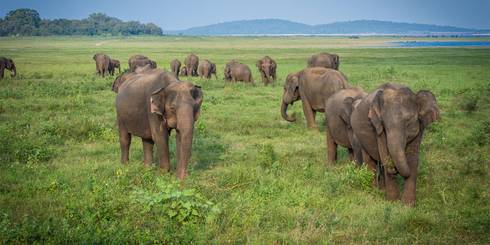 King Mahasena built a 300-square hectare 'water tank' in the 4th century AD at the location now known as Minneriya, and this site, located within the 'Cultural Triangle' in the northern central region of the country, has subsequently become an extremely important water source for the region's wild Asian Elephant population. In particular, the dry month of August sees an annual gathering of extremely large elephant herds as they come in search of water, creating an almost Eden-like spectacle. Perhaps unsurprisingly the area is also prime birdwatching country, as well as being home to a number of interesting reptiles and amphibians, including the endemic Red-lipped Lizard and the splendidly named, but endangered, Sri Lanka Greater Hourglass Tree Frog. The park is situated only a short drive from Sigiriya Rock, the Dambulla cave complex and the extraordinary ancient city of Polonnaruwa, all of which are UNESCO World Heritage Sites and form mainstay destinations on the Sri Lankan cultural circuit.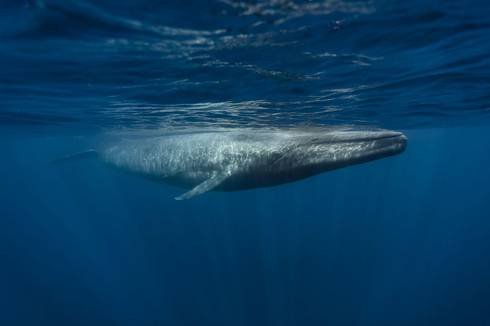 Mirissa lies at the very southern tip of Sri Lanka and it is from this small fishing port that you can venture by boat in search of the largest ever species to inhabit Earth, the Blue Whale. These enigmatic ocean wanderers are drawn to these warm southern waters between late November and early April by the presence of krill; tiny crustaceans that aggregate in their millions providing a rich food source for the whales. Blue Whale sightings are by no means guaranteed, but the chances are good and in recent years other cetaceans have also been spotted including Bryde's, Sperm and Short-finned Pilot Whales, Indo-Pacific Bottlenose, Pan-tropical Spotted and Spinner Dolphins, the latter sometimes in pods numbering several hundred individuals.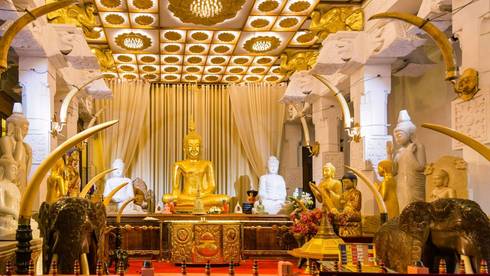 The delightful town of Kandy is steeped in history and was the capital for a succession of Kandyan kings until it was captured by the British in 1815. The settlement nestles around Kandy Lake, and the famous lakeside 'Temple of the Tooth', which houses a tooth of the Buddha and is consequently one of the most venerated Buddhist temples in the country. Kandy is traditionally a centre of music and dance and on most nights it's possible to witness demonstrations of both these art forms at special performances. The lovely forested hills around Kandy are home to a number of endemic birds, including the Yellow-fronted Barbet; and the Peradeniya Royal Botanical Gardens, with interesting trees, plants and an orchid house, are also certainly well worth a visit. Kandy is within easy reach of Colombo, the 'Cultural Triangle', Sri Lanka's 'Tea Country' and the southern wildlife sites of Yala, Sinharaja and the Horton Plains.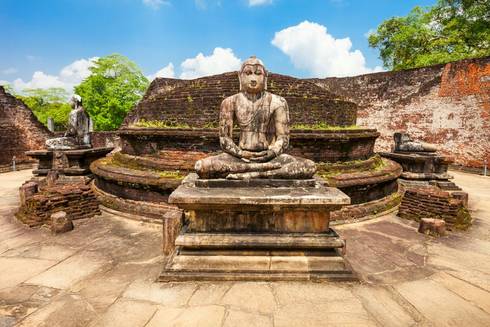 The ancient city of Polonnaruwa was the island's Buddhist capital between the 11th and 13th century and is today in an excellent state of preservation with a wonderful collection of well-preserved palaces, bathing pools, stupas and exquisite rock sculptures of the Buddha. There is an interesting archaeological museum with a fine collection of bronzes and sculptures, many of which reflect the Indian and Hindu influence during the city's brief but magnificent tenure as a capital.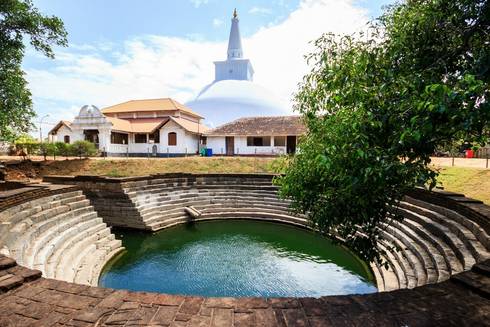 Anuradhapura was Sri Lanka's first Buddhist capital and was established around a cutting taken from the original 'Bodhi tree', under which the Buddha achieved enlightenment in Bodhgaya, north India. Founded in the 3rd century, it remained the capital for over 600 years and the sprawling remains of bell-shaped stupas (or dagobas), stepped pools and Buddha statues are testament to this long period of prominence.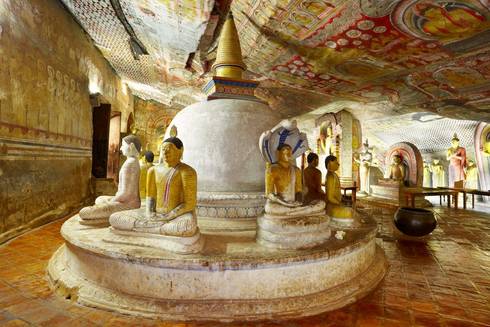 The Dambulla Cave Temples have sheltered pilgrims and travellers from the elements for millennia. The temples themselves are thought to date back as early as the 1st century BC and have subsequently been added to by successive kings forming the five distinct complexes we see today. Like many sites in Sri Lanka the caves are still an important 'living' pilgrimage site, with the numerous Buddha statues and images forming the focal point of offerings and prayers.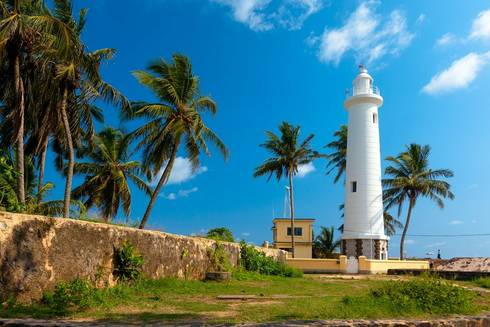 The port of Galle has attracted traders for centuries and the Arabs, Persians, Romans and Greeks all made their way here across the Indian Ocean. Both the Portuguese and Dutch later made their marks; the latter built Galle Fort for which the town is now famous. The British then seized power in 1796 and used the fort as their headquarters. Today it's the best preserved colonial sea fortress in Asia and a UNESCO World Heritage Site with narrow streets, cloistered courtyards and colonial mansions.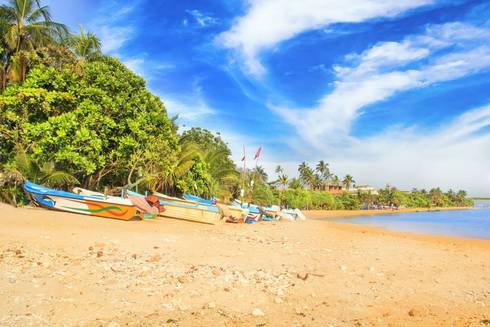 Sri Lanka is encircled by mile upon mile of beautiful white sandy beaches giving you the option of a relaxed start or finish (or both!) to your holiday. The south-western beaches around Bentota and Beruwela are among the best and are a short drive from Colombo, which will inevitably be your entry/exit point to the country. There are several good hotels to choose from, with Club Villa, Serene Pavilions and Saman Villas being amongst our favorites. However, should you want to experience beach-side luxury at its most iconic, a stay at Amanwella in Tangalle on Sri Lanka's southern tip is the perfect place.
Sample Itineraries
A 17-day wildlife and birdwatching holiday which also includes visits to Sri Lanka's most iconic cultural destinations and a couple of nights at a tea plantation.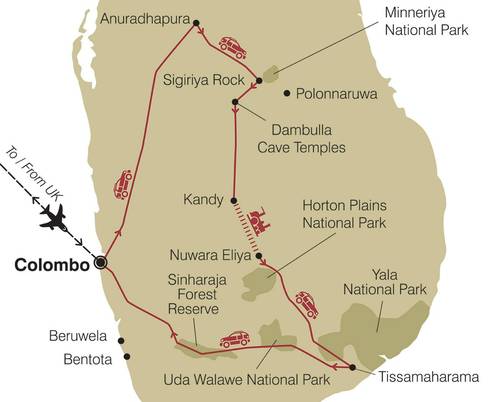 Day 8/9
(Train to) Nuwara Eliya
Day 10
Tissamaharama - an excellent birding location en route to Yala
Day 11/12
Yala National Park
Day 13/15
Uda Walawe and Sinharaja Forest
Day 17
Depart Colombo; arrive UK
SAMPLE ITINERARY
COST (PER ADULT)
Sri Lanka's Wildlife & Culture
from £3,795 (Flight Inclusive)
Enquire Now
Extend your holiday:
Option 1 – go in search of Blue Whales
Day 16/18 – Mirissa
Day 19 – Colombo
Day 20 – Depart Colombo; arrive UK
Option 2 – spend a few nights on one of Sri Lanka's excellent beaches. The duration of your stay is entirely up to you!
The Essentials
Wildlife Guides: A good quality local naturalist guide will accompany you throughout your Sri Lanka holiday. However, should you require a dedicated expert naturalist or birding guide we will be happy to arrange this for you.
When to Visit: Sri Lanka can be visited throughout the year, although the 'high season' is naturally our northern winter, when a visit to this tropical gem becomes most appealing. Two monsoonal weather patterns bring rain to the island. The heavier of these hits the south-western lowlands and central hills between May and September, whilst a weaker monsoon generally brings rain to the north-east between November and February. So, whenever you choose to visit, half of the country should always be relatively dry.

| | | | | | | | | | | | |
| --- | --- | --- | --- | --- | --- | --- | --- | --- | --- | --- | --- |
| J | F | M | A | M | J | J | A | S | O | N | D |
| YY | YY | YY | YY | Y | Y | Y | Y | Y | Y | YY | YY |

Getting Around: Sri Lanka is a relatively small country and so road travel is the norm and we generally suggest a private saloon car or minibus, depending on your numbers. You will have a private driver for the duration of your holiday.
Why Naturetrek Tailormade?
'A Naturetrek Tailormade holiday allows you, with the benefit of our wildlife travel expertise and destination experience, to enjoy the perfect private wildlife holiday – one that truly matches your requirements, expectations and ambitions. We will ensure the most competitive prices, superb naturalist guides and seamless ground services.
Some of the benefits of Naturetrek Tailormade travel include:
• A bespoke itinerary which is crafted by experts and designed specifically for you
• Private guiding by the very best local naturalists 
• Travel with people you know, at your own pace
• Incorporate as much culture, history or relaxation time as you wish
• Choose dates to suit you
• Select your preferred style of accommodation
• Travel with families and children of any age
Furthermore, our Tailormade team are always on hand to help and guide you along the way, with friendly advice, first-hand knowledge and inside information specific to your destination of choice. So if you have any queries about your holiday, we will be delighted to answer them. Please just give us a call!'
Similar Trips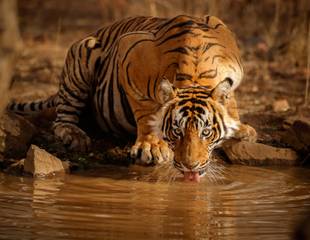 Add this tour to your favouritesRemove from Favouritesstar_border star
Create your own Tailormade holiday to India with dates and an itinerary to suit you.
9 days
£3,495 (inc flights)
Jan

Feb

Mar

Apr

May

Jun

Jul

Aug

Sep

Oct

Nov

Dec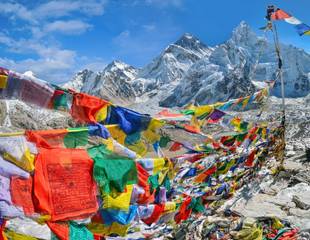 Add this tour to your favouritesRemove from Favouritesstar_border star
Create your own Tailormade holiday to Nepal with dates and an itinerary to suit you.
12 days
£4,595 (inc flights)
Jan

Feb

Mar

Apr

May

Jun

Jul

Aug

Sep

Oct

Nov

Dec