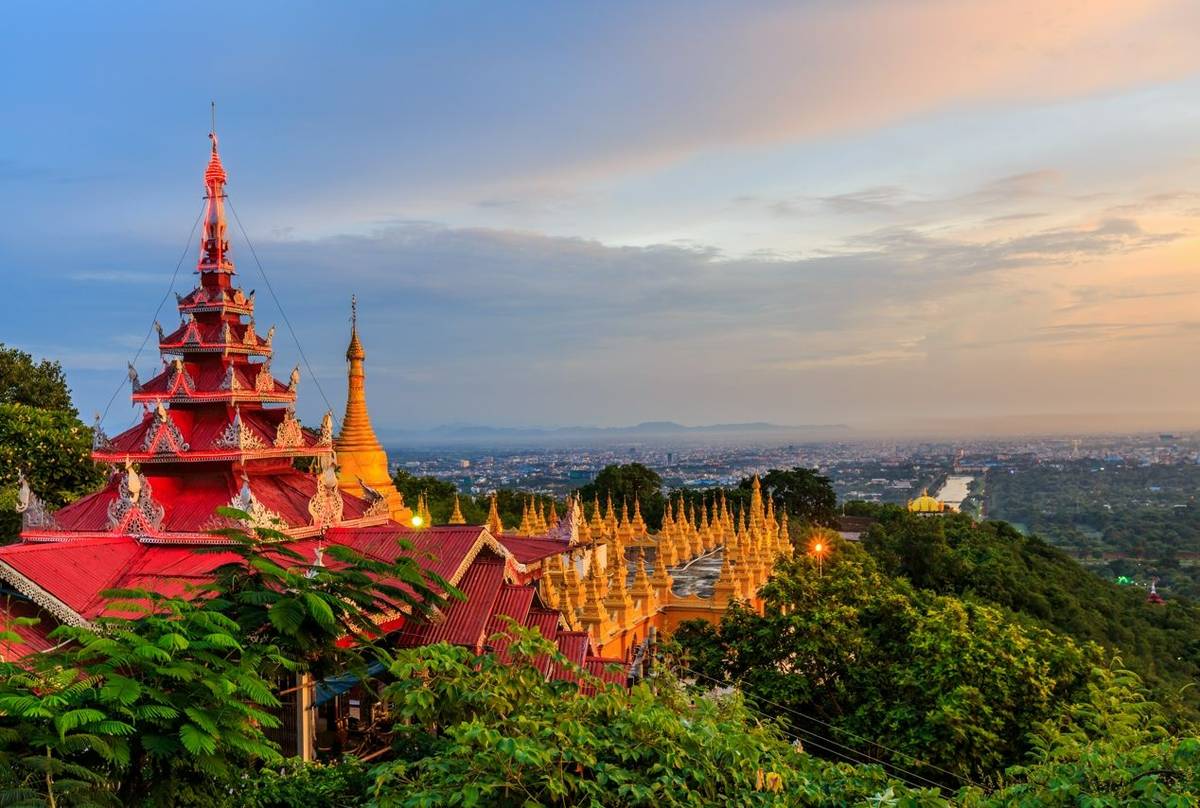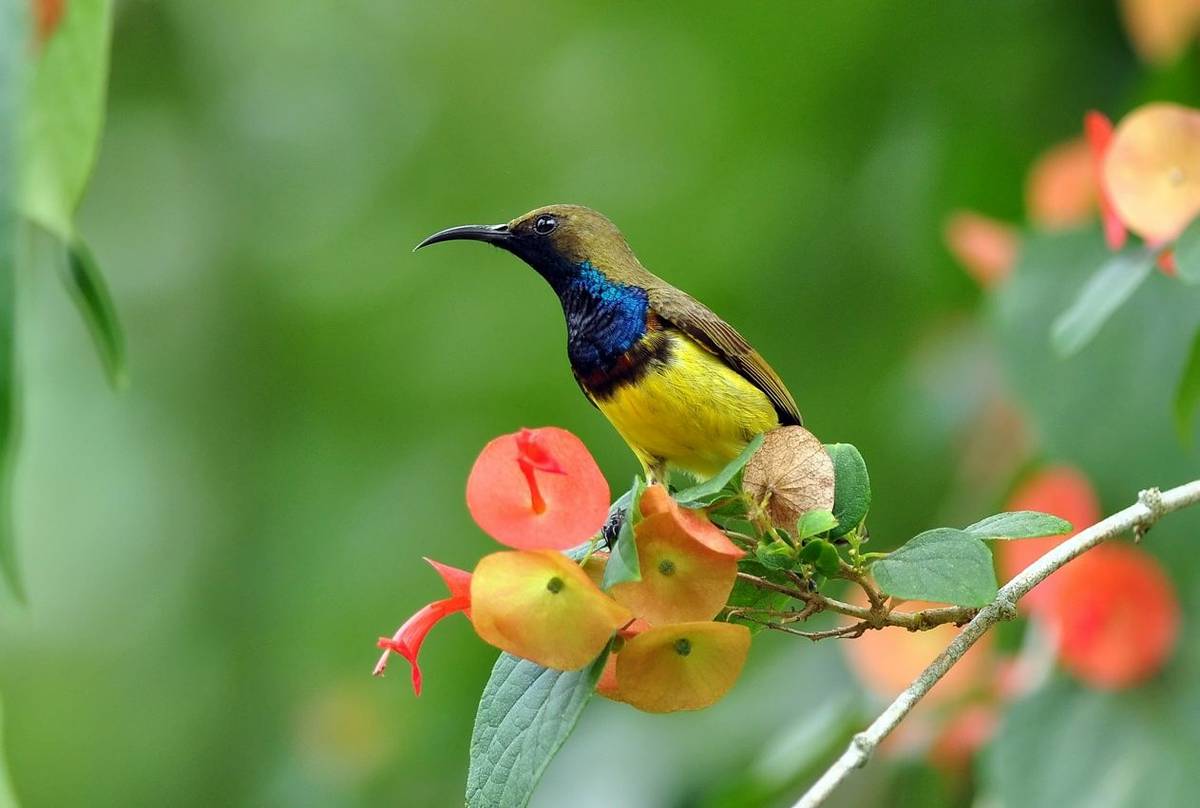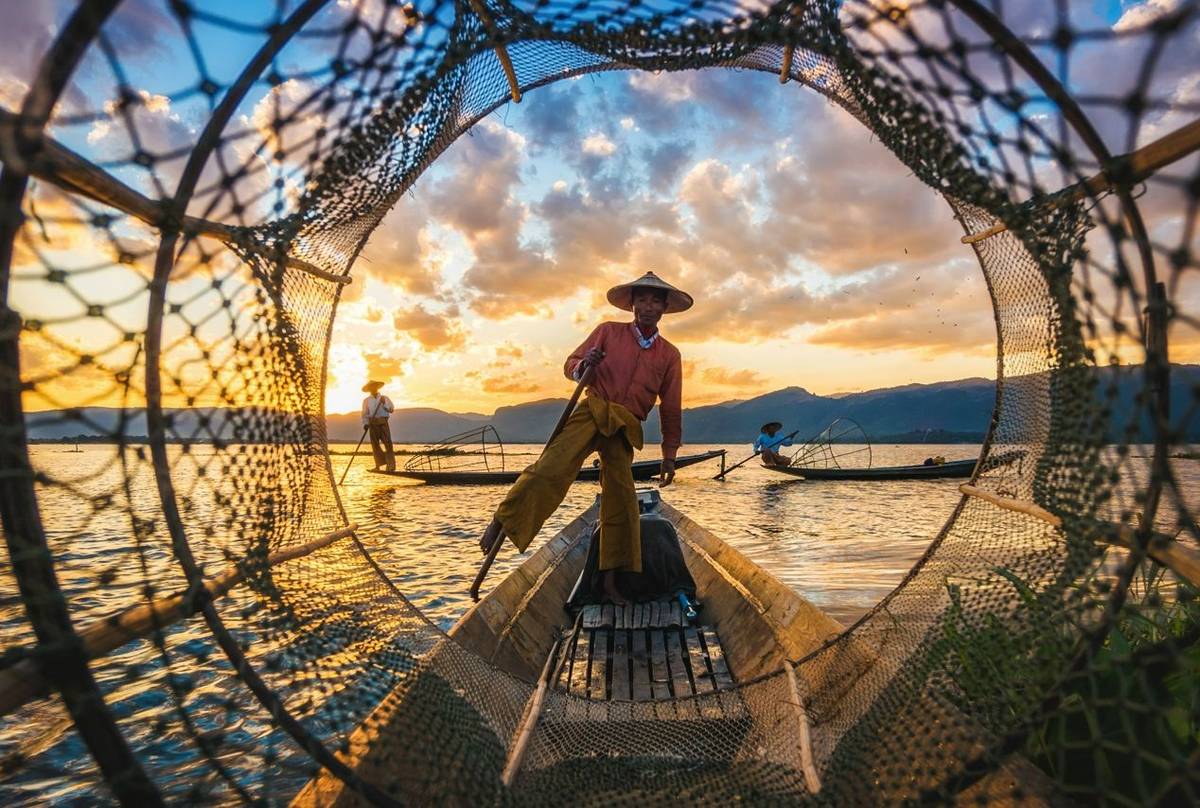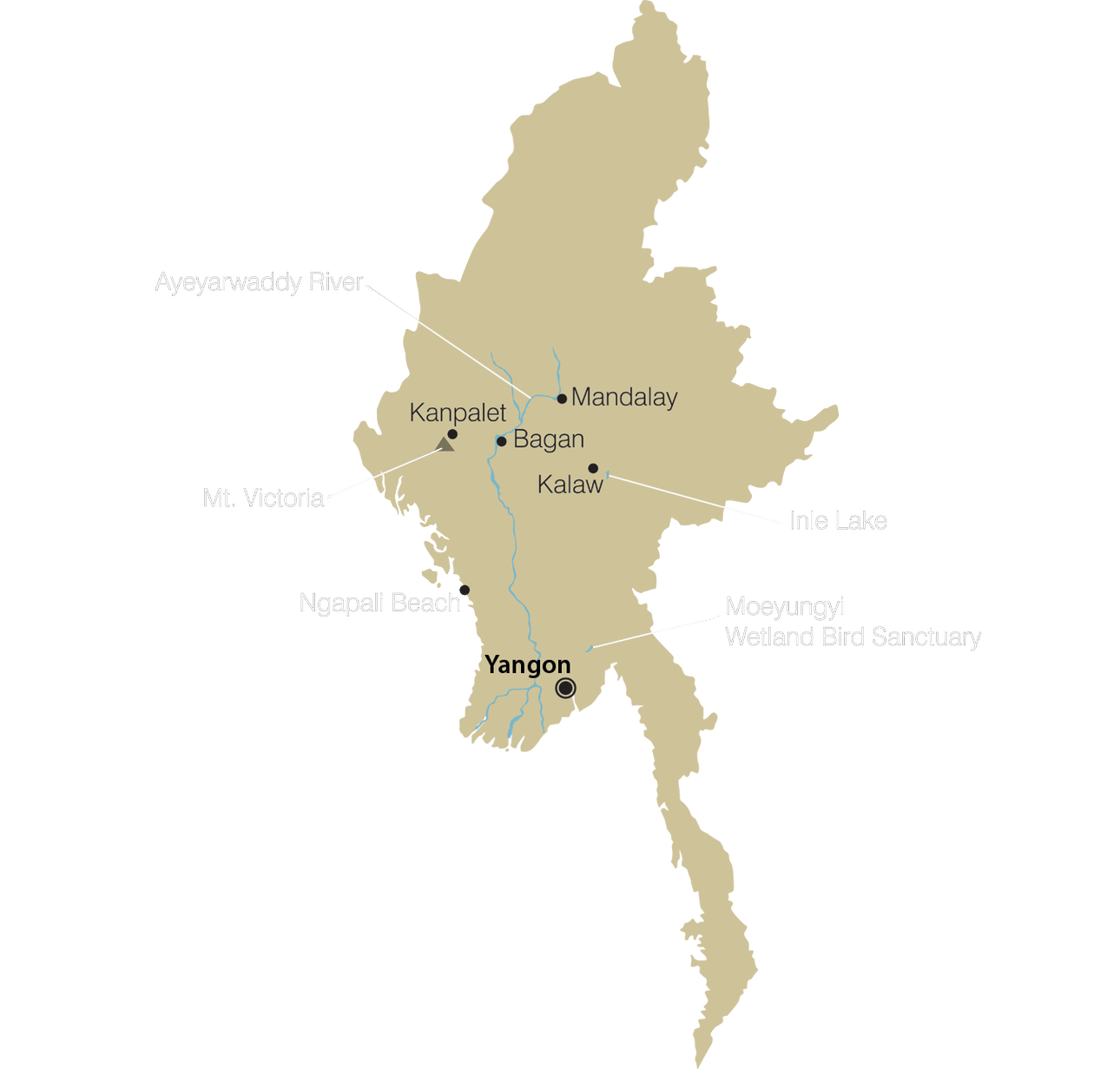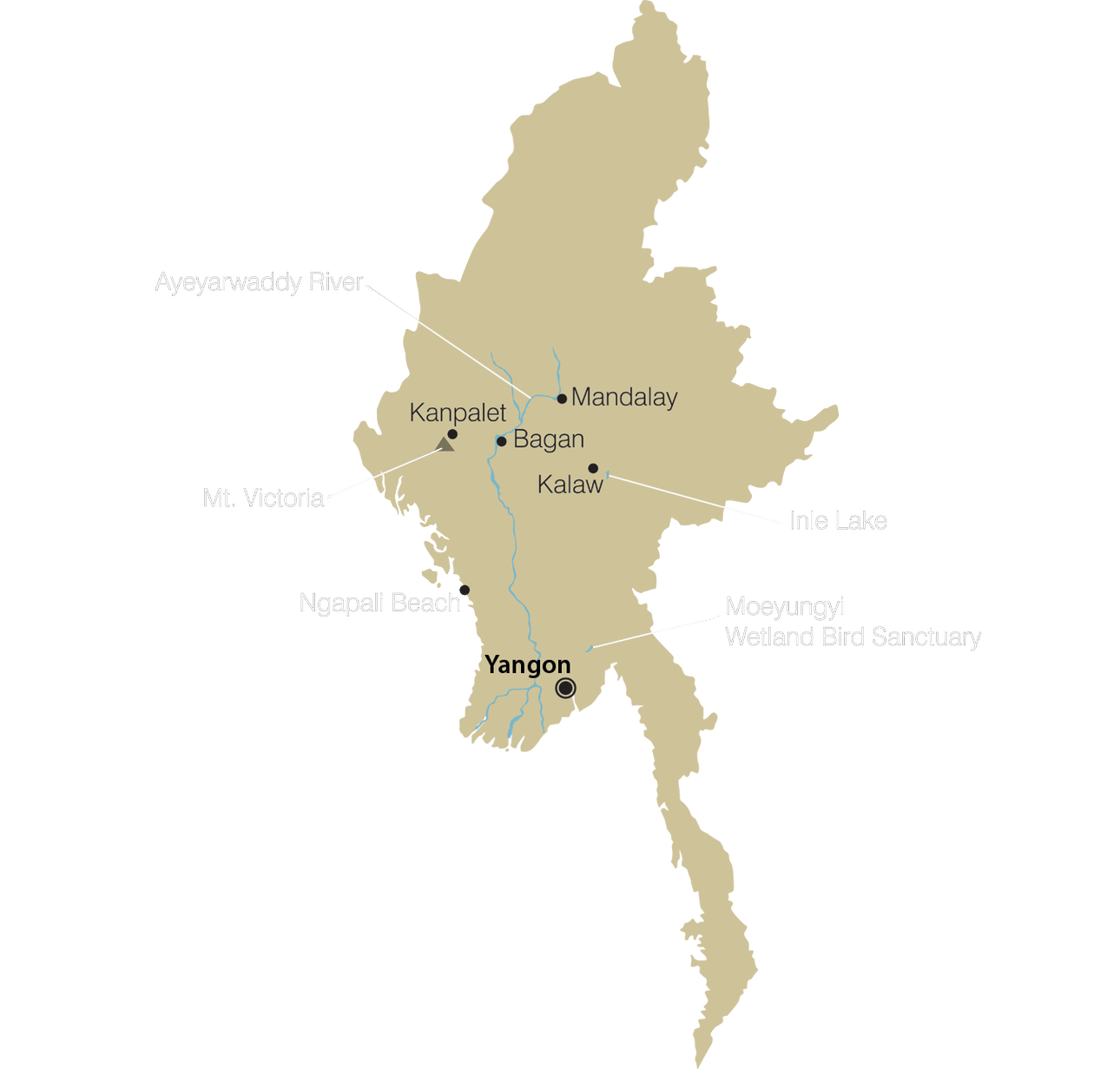 Tailormade Burma
Tailormade
|
Tour Code: TBUR
Create your own Tailormade holiday to Burma with dates and an itinerary to suit you.
When to Visit
| | | | | | | | | | | | |
| --- | --- | --- | --- | --- | --- | --- | --- | --- | --- | --- | --- |
| J | F | M | A | M | J | J | A | S | O | N | D |
| YY | YY | YY | YY | YY | YY | Y | Y | Y | YY | YY | YY |
SAMPLE HOLIDAY: Burma's Birds & Culture
14 days from £4,995 (Flight Inclusive)
This itinerary combines the best of Burma's culture with the superb birding on offer.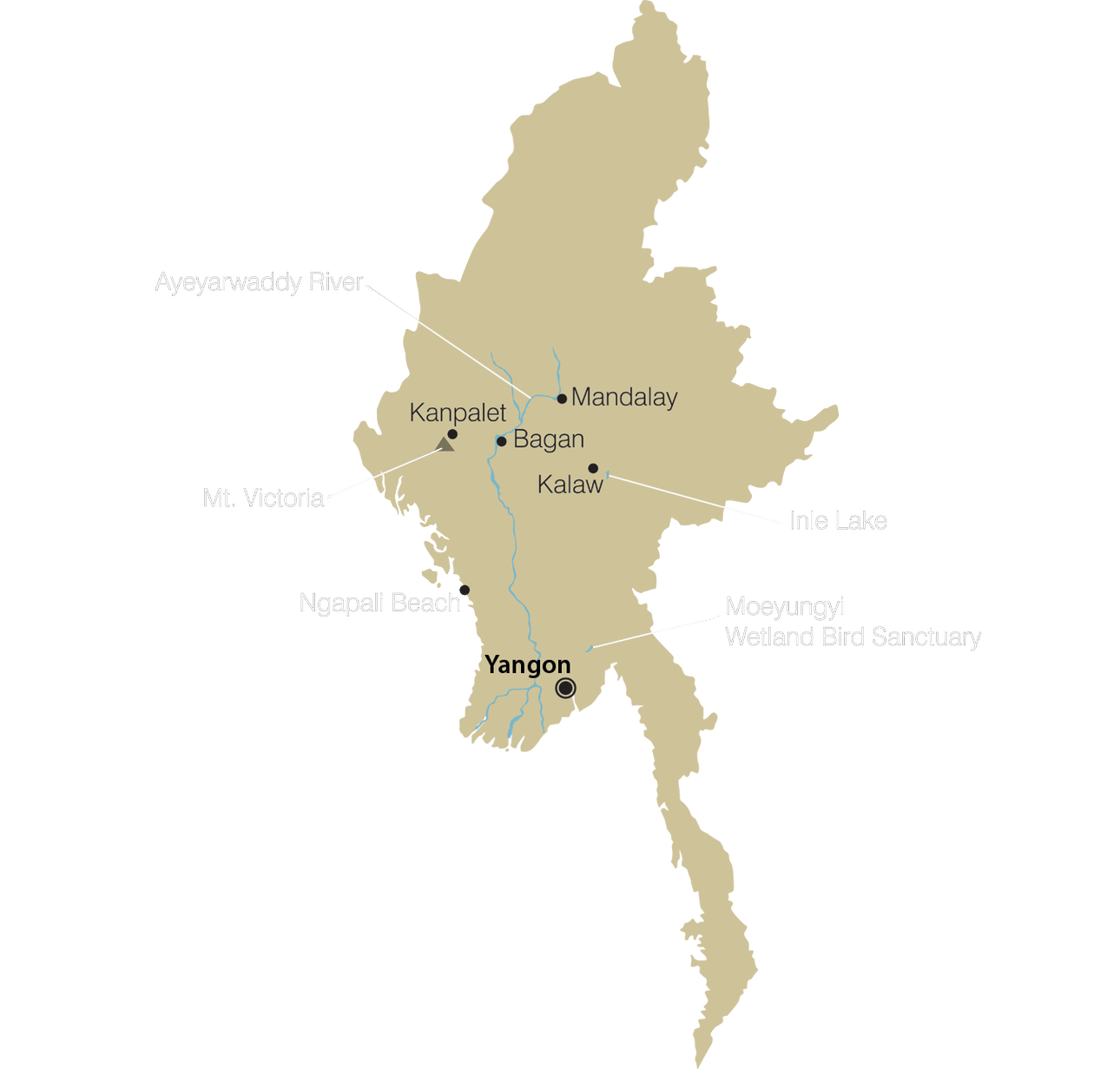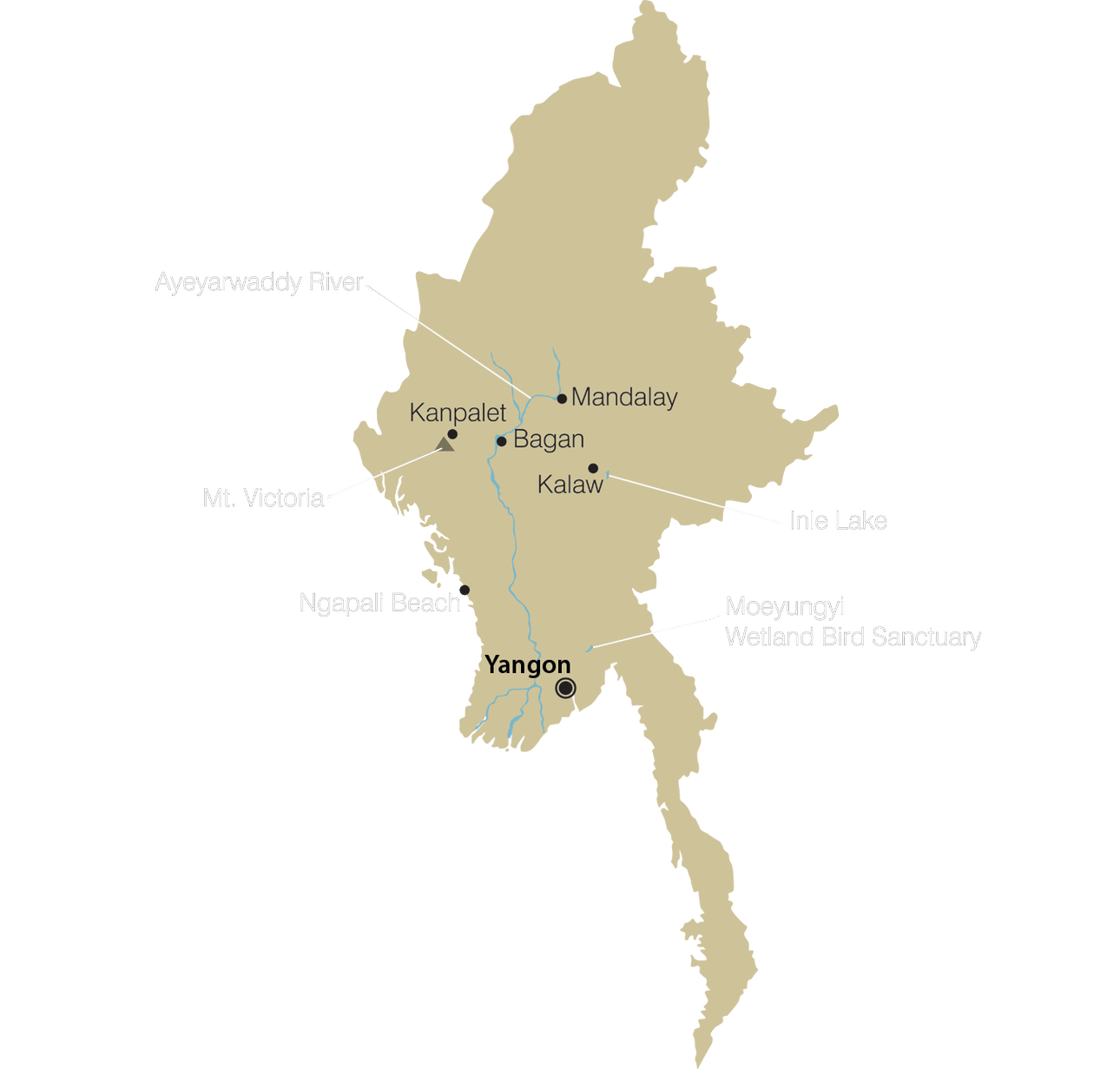 Summary
'This is Burma and it is quite unlike any land you know about', wrote Rudyard Kipling in his 'Letters from the East' which paint a brief yet enticing picture of this fabled and intriguing land. 
Glistening pagodas are found around every corner and lines of saffron-clad monks amble peacefully along tree-fringed lanes. Burma's wildlife mirrors the richness and diversity of its superb cultural heritage and a holiday here is unlike any other destination.
Thankfully Burma (or Myanmar as the country is also known) is opening her doors after a long period of instability and isolation; this is due largely to the efforts of pro-democracy figurehead Aung San Suu Kyi, who welcomes responsible tourists who are willing to integrate with Burmese people, support local economies and, for Naturetrek clients, enjoy the country's rich natural heritage!
Burma has some of the most exciting birding in Asia and Naturetrek is one of the very few travel companies in the world to have successfully led clients here and seamlessly combined the stunning cultural sites with the country's fascinating avifauna. Best of all, its birdlife is ever-present, so birding can be enjoyed 'part-and-parcel' with cultural visits to Burma's golden pagodas, ancient ruins, markets and lakes – a most rewarding experience. A Naturetrek Tailormade journey here will give you the time and freedom to breathe in and explore the many riches that Burma has to offer.
Our Destinations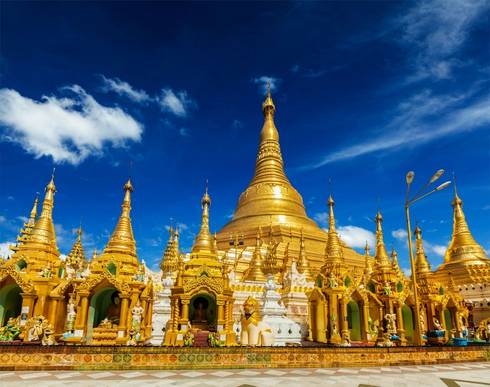 Burma's capital city is a heady mix of ancient Buddhist pagodas and temples, faded colonial grandeur and, a short drive outside the city, a bird-rich wildlife park. The Shwedagon is a stunning 2,500-year-old golden pagoda that towers to a height of over 100 metres and can be seen from almost anywhere in the city. Peregrines are often present and a sunset visit reveals the emergence of Wrinkle-lipped Bats. The city is a veritable treasure trove of colonial architecture best explored on foot, and there are several other places worthy of a visit including Kandawgyi Lake, the colossal reclining Buddha at Chaukhtatgyi Pagoda and the famous Bogyoke (Scott's) Market, noted for its variety of handicrafts. On the outskirts of Yangon is the Hlawga Wildlife Park, a small educational and recreational park that offers an introduction to the country's wildlife, with bird species such as Chestnut-headed Bee-eater, Racket-tailed Treepie, Black-naped Oriole, Striped-throated Bulbul, White-crested Laughing-thrush, Olive-backed Sunbird and Scarlet-backed Flowerpecker to be seen here. The wetlands nearby are also worth a visit, offering a wealth of waterbirds.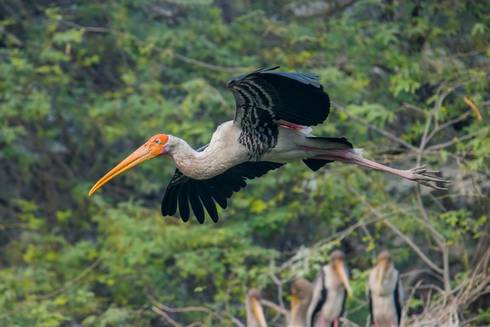 The little-visited wetland site of Moeyungyi, a couple of hours' drive north of Yangon, can be visited on a day excursion or as an overnight visit. Moeyungyi is an important wetland habitat for both resident and migratory birds, the latter passing through between the months of October and April, coinciding well with the country's best weather. Accommodation here is simple, but adequate for a night.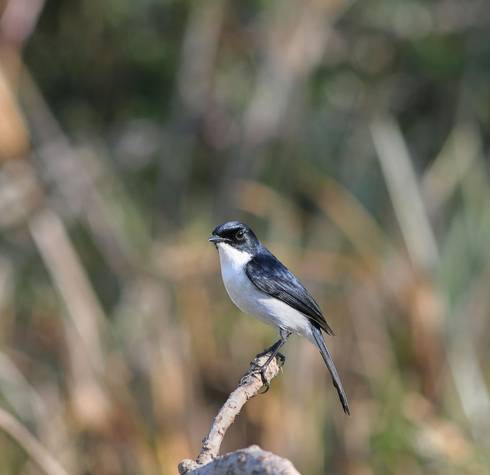 Inle Lake is the second largest freshwater lake in Burma and, situated at an altitude of 880 metres, is often pleasantly cooler than the lowland plains. Both birding and sightseeing activities are predominantly undertaken by boat and, while cruising the lake, you will see fisherman propelling themselves using a bizarre 'leg rowing' technique. Common Asian wetland species to look out for here include Grey-headed Lapwing, Chinese Pond-heron and Pheasant-tailed Jacana plus such local specialities as Jerdon's Bushchat and Collared Myna. The peaceful village of Indein has a large number of small stupas which lie concealed amongst scrubland, and other highlights include the floating vegetable gardens and a visit to one of the markets.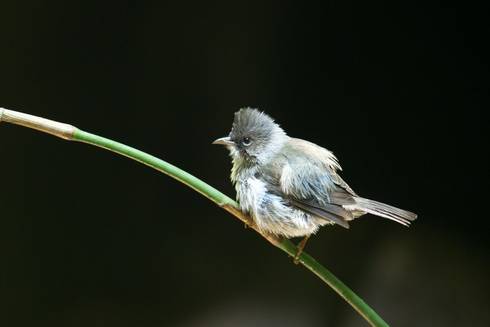 A few hours' drive from Inle Lake is the former British colonial 'hill station' of Kalaw. The journey winds through hills, past monasteries and local markets. Kalaw is a sleepy town that's best explored on foot and there are some lovely restaurants where it is possible to sample local culinary delicacies. There are good walking trails in the surrounding hills and several ethnic tribal villages. Of course there is some cracking birding here too, with several hill specialities present such as Black-headed Greenfinch and Burmese Yuhina. The Amara, a quaint colonial 10-room cottage, is the best place to stay.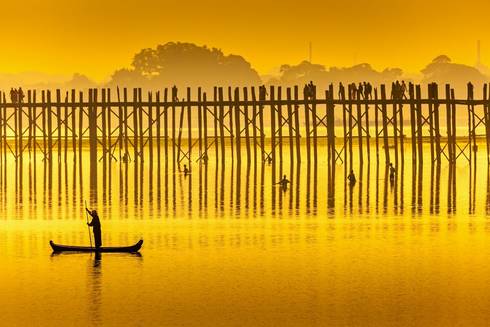 No holiday to Burma would be complete without a visit to Mandalay. Sitting on the banks of the Ayeyarwaddy (formerly called the Irrawaddy), Mandalay is dubbed Burma's 'cultural capital' and for good reason. The ancient royal capitals of Inwa (Ava) and Amarapura lie on the outskirts of modern day Mandalay and are well worth exploring. The iconic teak bridge of U Bein sees a near constant stream of saffron-robed monks and locals crossing, whilst in the heart of modern day Mandalay you will find the Mahamuni Pagoda which houses one of the most venerated Buddha statues in Burma. A river trip to the unfinished pagoda of Mingun is another pleasant excursion that also often turns up some interesting bird species. However, the best birding is to be found at the nearby Paleik wetlands, a fabulous marshland habitat just a 30-minute drive from the city and one of our latest finds!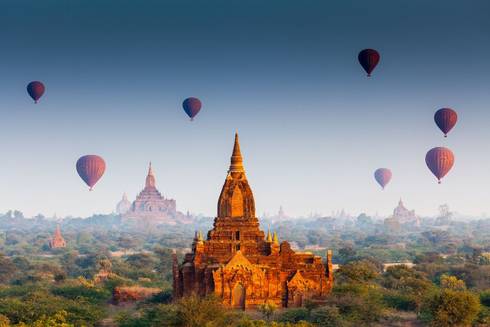 The temples of Bagan constitute one of the most significant archaeological sites anywhere in the world. There are thousands of structures, ranging from very small shrines to the largest temples. No two are the same but as a whole they represent many centuries of Burmese Buddhist history and are one of the most magical cultural spectacles in Asia. The Bagan temples also hold hidden delights – a number of endemic bird species inhabit this special eco-region, known as the 'dry zone', including White-throated Babbler, Burmese Bushlark and the exquisite Jerdon's Minivet. A relaxed afternoon on a local boat on the Ayeyarwaddy River might reveal White-tailed Stonechat, Great Thick-knee, Indian Skimmer, Greater Spotted Eagle and Laggar Falcon.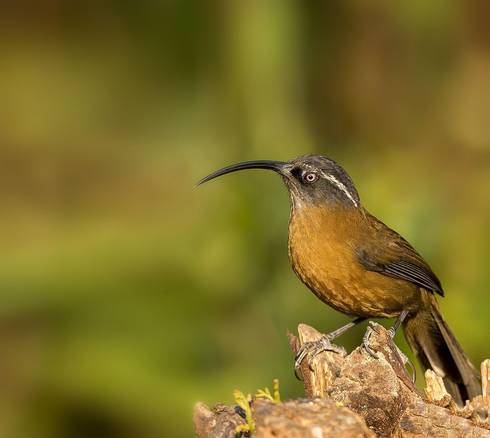 Mount Victoria in Burma's Chin state takes some getting to, but for serious birders it's 'a must' and, whilst exploring its slopes, you will also have the chance to meet villagers from various ethnic groups such as the Dai and the Muun. On the drive from Bagan it's worth stopping to explore the rustic wayside villages and local markets whilst keeping your eyes peeled for such endemic bird species as the beautiful Hooded Treepie. Once on the montane slopes of Mount Victoria, highlights may include bamboo specialists such as the delightful Buff-breasted Parrotbill, White-browed Fulvetta and the bizarre Slender-billed Scimitar-babbler, plus a wealth of other specialities. Amongst these are White-browed Nuthatch, Burmese Tit, Mount Victoria Babax, Chin Hills Wren-babbler, Assam Laughing-thrush, Striped and Brown-capped Laughing-thrushes, Green Shrike-babbler, Bar-tailed and Hume's Treecreepers, Black-throated Prinia, Whistler's Warbler and the rare and shy Blyth's Tragopan!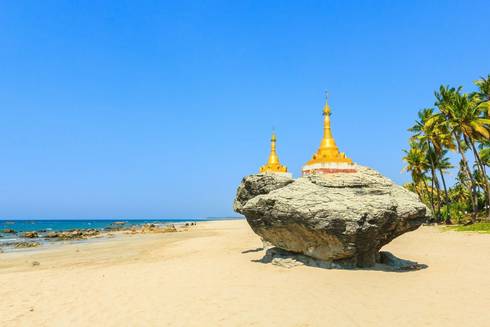 Ngapali is a 2-mile stretch of white sandy beach fringed with palm trees – a great place to relax and cool off after enjoying the magnificent cultural and birding sites found throughout Burma. The clear waters and coral reefs allow for excellent snorkelling, diving and fishing trips. However, Ngapali is equally a place in which to relax with a good book, enjoy delicious seafood in excellent local restaurants and take things nice and slowly. Accommodation options range from luxurious boutique hotels to simple properties.
Sample Itineraries
This itinerary combines the best of Burma's culture with the superb birding on offer.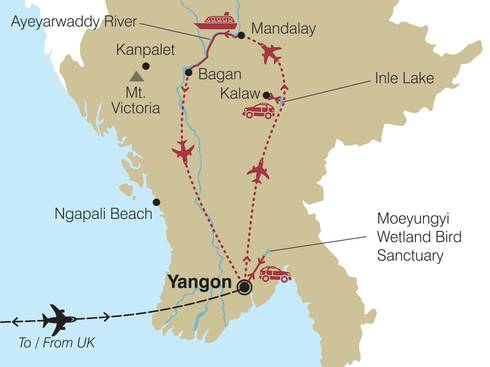 Day 10/12
Daytime Ayeyarwaddy river cruise to Bagan (option to extend the holiday with extra nights on a colonial-style cruise vessel)
SAMPLE ITINERARY
COST (PER ADULT)
Burma's Birds & Culture
from £4,995 (Flight Inclusive)
Enquire Now
Extend your holiday:
Option 1 – enjoy classic Burmese birding
Day 13/15 – Mount Victoria
Day 16 – Bagan for one night
Day 17 – Depart Yangon
Day 18 – Arrive UK
Option 2 – spend a few nights relaxing on Burma's beautiful Ngapali Beach
Day 13/15 – Ngapali Beach
Day 16 – Depart Yangon
Day 17 – Arrive UK
The Essentials
Wildlife Guides: One of our excellent local naturalist guides will accompany you throughout your Burma holiday, should you wish. They also know the cultural sites intimately, ensuring informative and engaging sightseeing excursions.
When to Visit: Burma is a year-round destination, although the driest and coolest period is from November to March, which also happens to be the visiting season for large numbers of wintering birds from the north. The period between April and June is also dry, but temperatures then are starting to rise steadily before the breaking of the monsoon rains between July and September. During the monsoon period, travel is possible and you'll be rewarded with far fewer tourist crowds.

| | | | | | | | | | | | |
| --- | --- | --- | --- | --- | --- | --- | --- | --- | --- | --- | --- |
| J | F | M | A | M | J | J | A | S | O | N | D |
| YY | YY | YY | YY | YY | YY | Y | Y | Y | YY | YY | YY |

Getting Around: Burma's roads are poor, making it difficult to drive between all destinations; therefore, we recommend the use of some short flights to make your itinerary as streamlined as possible. In each city, town or wildlife location you will have the use of a private car (or minibus if travelling with a group of friends or family) and driver. Spending time on the Ayeyarwaddy River is certainly recommended, whether on a local day cruise or on one of the overnight river cruises available such as on the RV Paukan.
Why Naturetrek Tailormade?
'A Naturetrek Tailormade holiday allows you, with the benefit of our wildlife travel expertise and destination experience, to enjoy the perfect private wildlife holiday – one that truly matches your requirements, expectations and ambitions. We will ensure the most competitive prices, superb naturalist guides and seamless ground services.
Some of the benefits of Naturetrek Tailormade travel include:
• A bespoke itinerary which is crafted by experts and designed specifically for you
• Private guiding by the very best local naturalists 
• Travel with people you know, at your own pace
• Incorporate as much culture, history or relaxation time as you wish
• Choose dates to suit you
• Select your preferred style of accommodation
• Travel with families and children of any age
Furthermore, our Tailormade team are always on hand to help and guide you along the way, with friendly advice, first-hand knowledge and inside information specific to your destination of choice. So if you have any queries about your holiday, we will be delighted to answer them. Please just give us a call!'
Similar Trips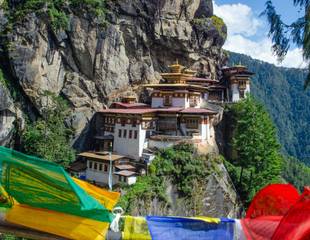 Add this tour to your favouritesRemove from Favouritesstar_border star
Create your own Tailormade holiday to Bhutan with dates and an itinerary to suit you.
19 days
£5,995 (inc flights)
Jan

Feb

Mar

Apr

May

Jun

Jul

Aug

Sep

Oct

Nov

Dec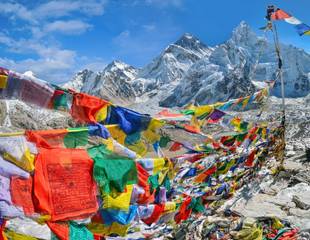 Add this tour to your favouritesRemove from Favouritesstar_border star
Create your own Tailormade holiday to Nepal with dates and an itinerary to suit you.
12 days
£4,595 (inc flights)
Jan

Feb

Mar

Apr

May

Jun

Jul

Aug

Sep

Oct

Nov

Dec