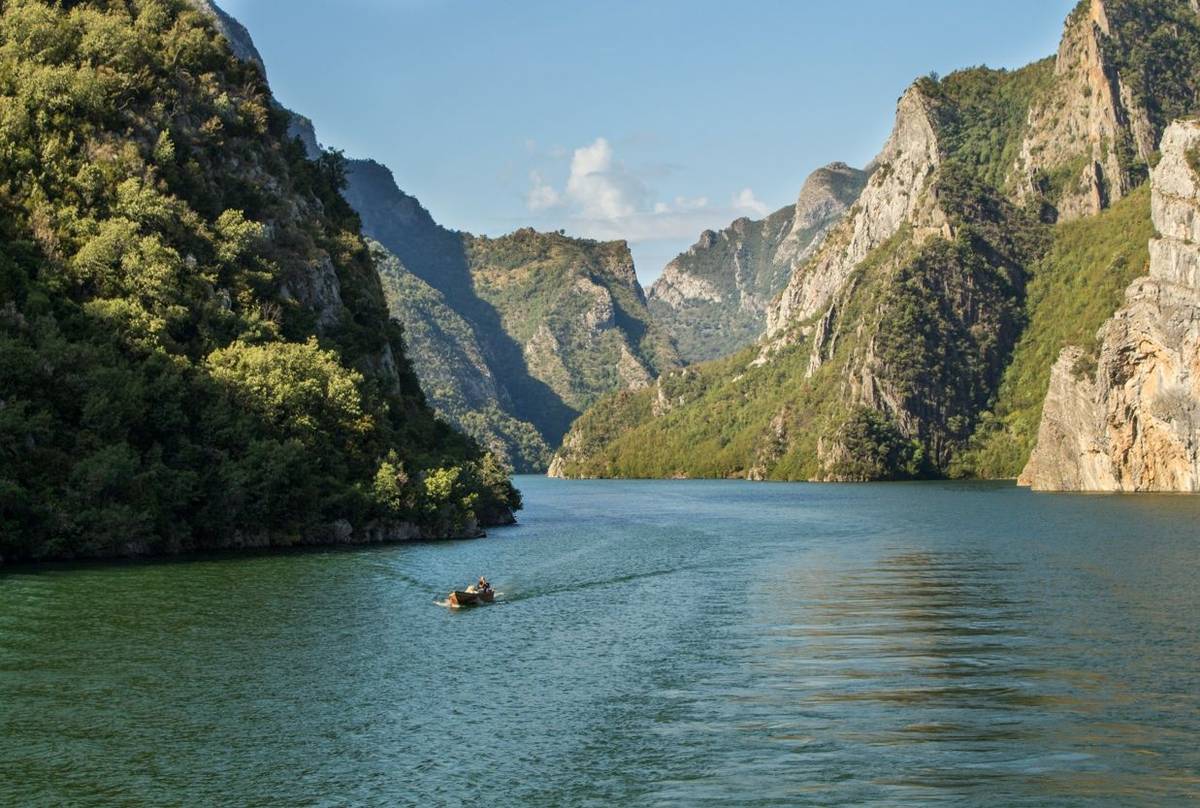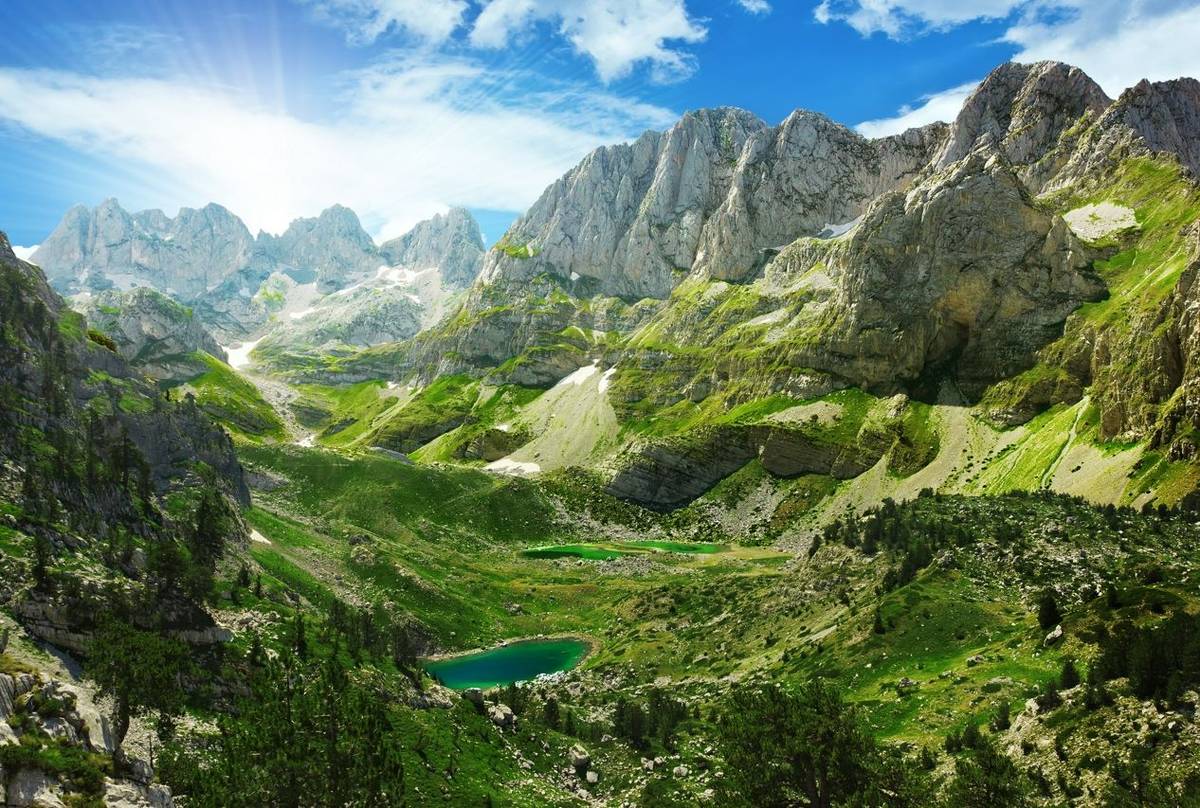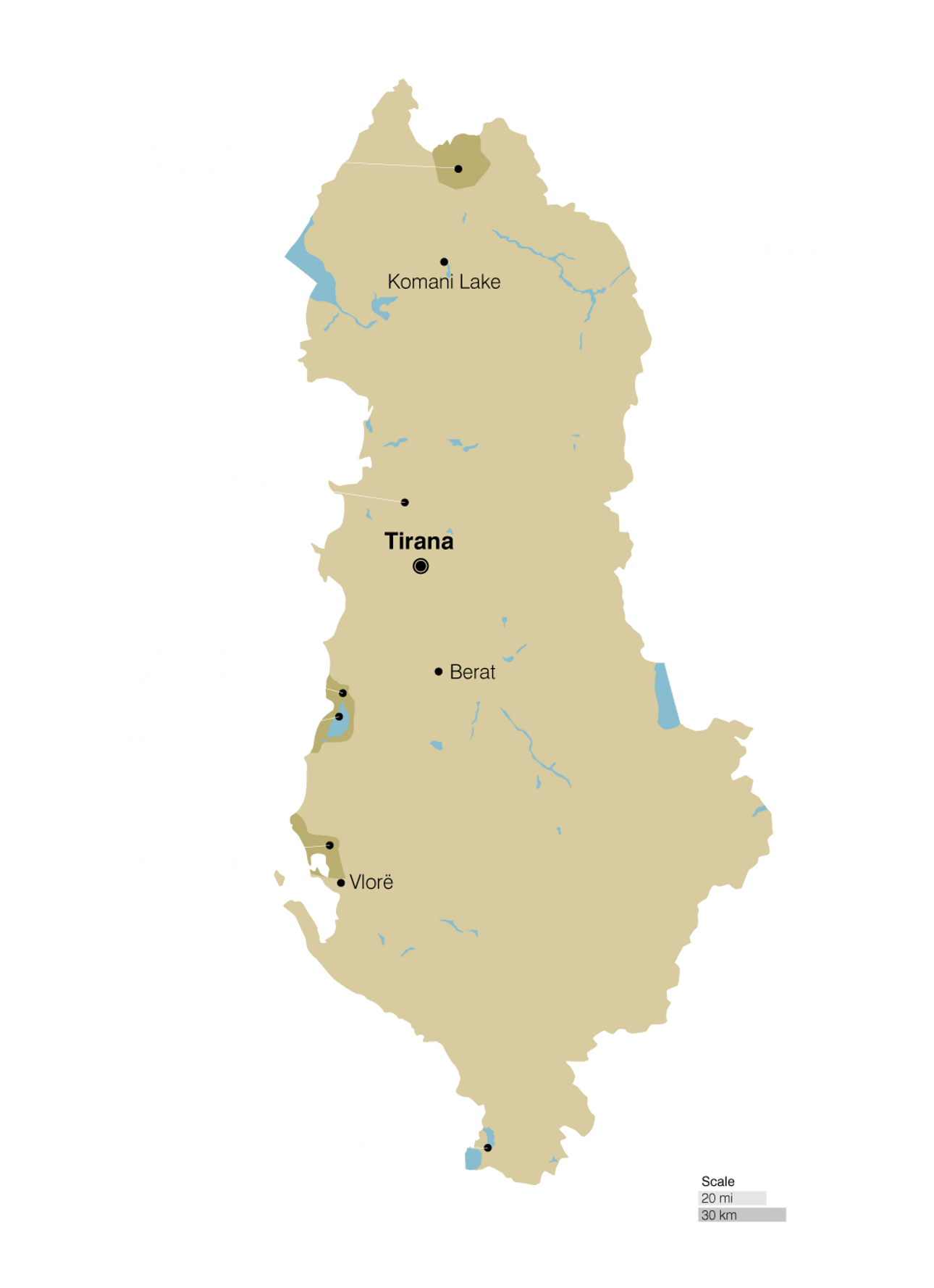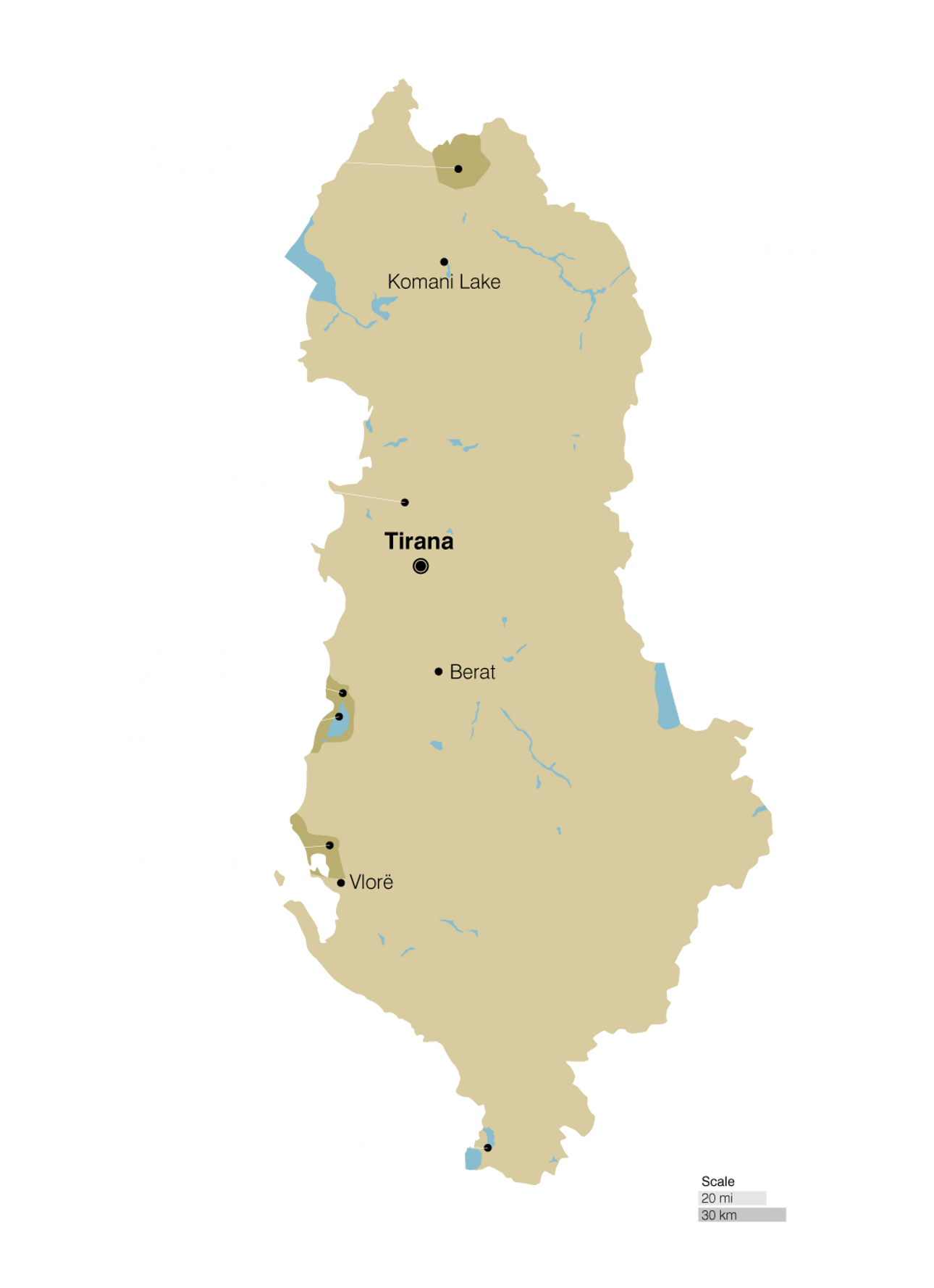 Tailormade Albania
Tailormade
|
Tour Code: TALB
Create your own Tailormade holiday to Albania with dates and an itinerary to suit you.
When to Visit
| | | | | | | | | | | | |
| --- | --- | --- | --- | --- | --- | --- | --- | --- | --- | --- | --- |
| J | F | M | A | M | J | J | A | S | O | N | D |
| YY | YY | YY | YY | YY | YY | YY | YY | YY | YY | YY | YY |
SAMPLE HOLIDAY: Albania in Autumn
11 days from £2,595 (Flight Inclusive)
A fascinating 10-day holiday to a little-known Balkan country, focusing on the birds, natural history and culture of the Albanian Alps and the scenic wetlands of Divjaka-Karavasta National Park.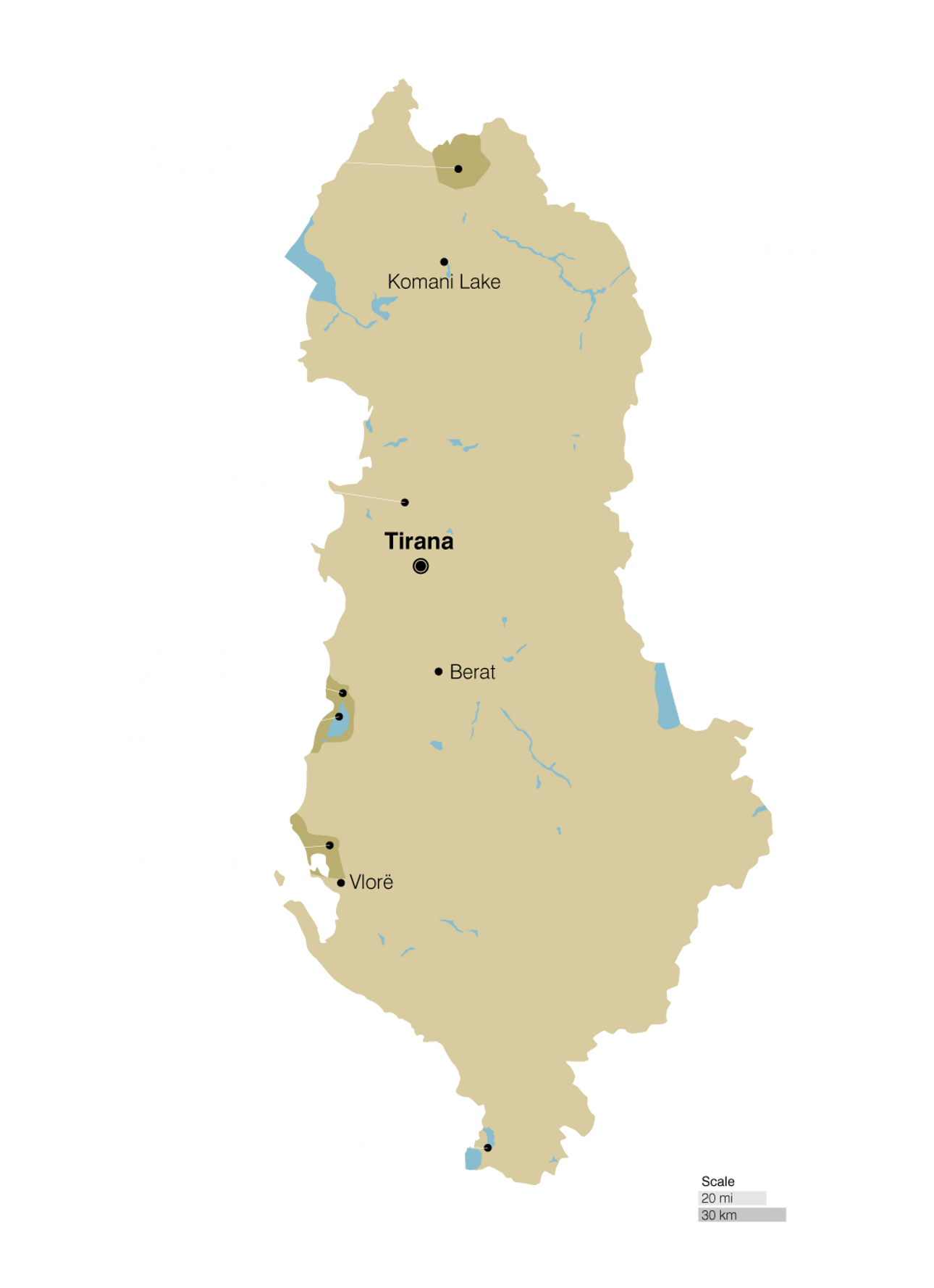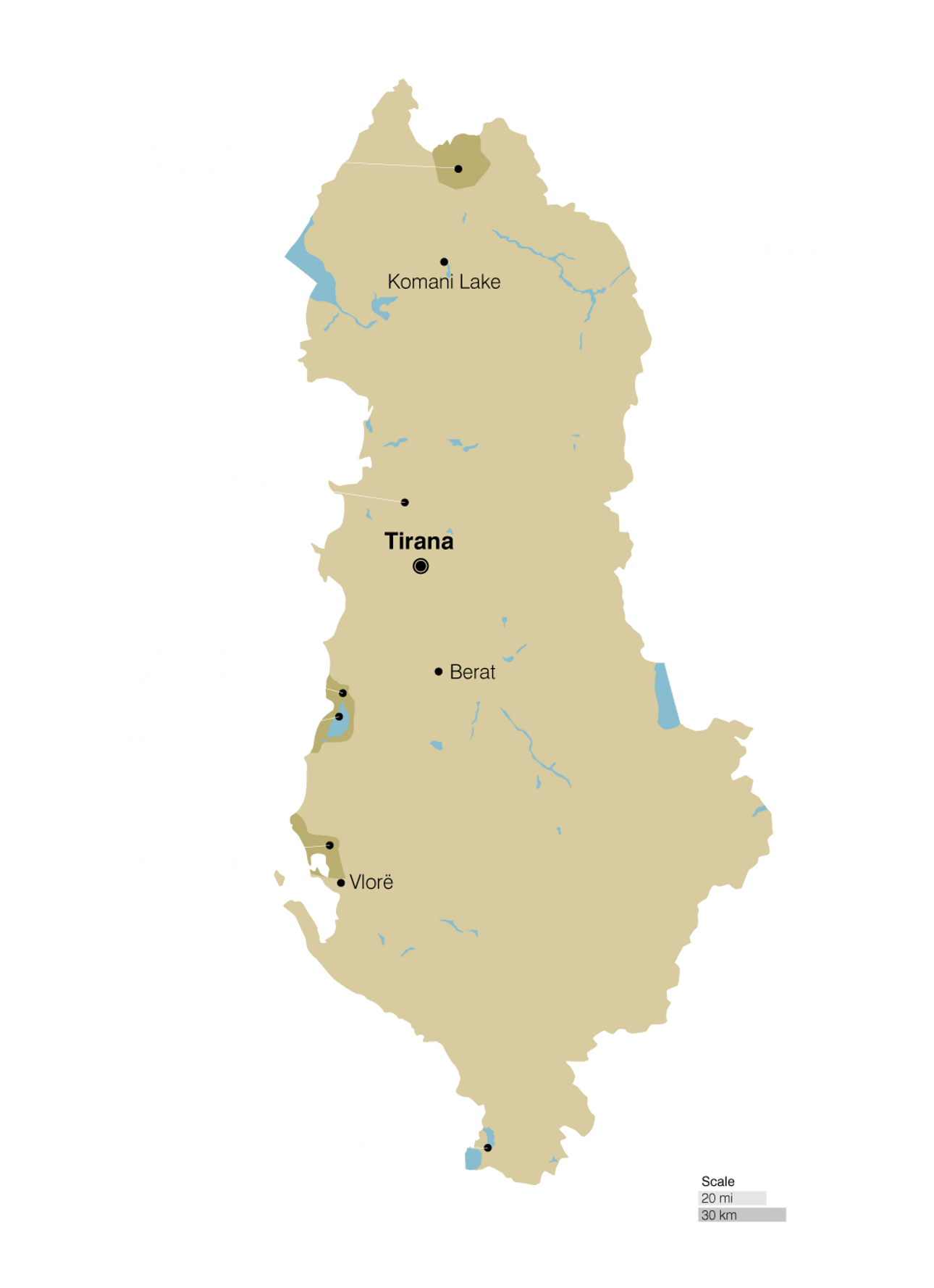 Summary
For so long, many of us have had no more than a tantalising glimpse of Albania — perhaps from Corfu or the Adriatic Sea — its distant, rugged hills full of allure, but not opportunity. Shackled for much of the latter half of the 20th century by the policies of the then People's Republic of Albania, followed by economic difficulties in the 1990s, only in the 21st century has the new Republic of Albania emerged from the shadows to become a tourist destination of incredible potential. Indeed, with its unspoiled beaches, wild mountainous topography, delicious cuisine – a fusion of Mediterranean and Middle Eastern flavours – and an archaeological heritage fashioned over millennia through successive Greek, Roman and Ottoman occupations, the potential for tourism is rich and varied. So, too, is its natural history; this little-known Balkan country has much to offer the wildlife enthusiast. 
Mountains cover about 70% of Albania's surface area, and a long coastline winds along the Ionian and Adriatic seas. It has a Mediterranean climate and a rich biodiversity relative to its size: over 350 bird species have been recorded, alongside nearly 80 species of mammal and a superbly rich flora – Albania contains around 30% of the species of flora found across the entirety of Europe!
Being so close to Greece and its array of magical islands, a Tailormade holiday to Albania can be easily extended, whether it be to continue a Mediterranean wildlife foray or perhaps spend time relaxing on beautiful beaches and exploring secret coves. The neighbouring island of Corfu is particularly well-placed, being only a short ferry journey from Sarandë and served by an excellent network of flight options.
Our Destinations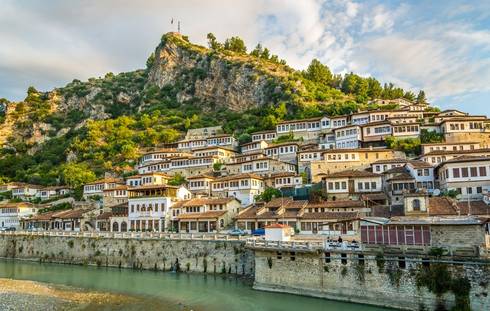 Beneath the pine-swathed Tomorr Mountains, the UNESCO city of Berat is one of Albania's oldest cities, offering one of the best-preserved Ottoman settlements in all of the Balkans. Berat is a historical gem and certainly one of the most iconic sights in Albania.
Attractive white houses wind their way up to a fortress castle dating back to the 4th century BC which perches above the city's old town and whose walls encircle a collection of medieval orthodox churches and ruined mosques. Berat has a vibrant atmosphere and offers several extravagantly decorated 15th-century mosques and many Byzantine orthodox churches. Of particular interest are the Icons Museum, located in the old Cathedral church of the Castle, and the Ethnographic Museum hosted in an old house in the Mangalem quarter.
Whilst walking the cobbled streets, one must remember to occasionally cast eyes skyward; raptors passing overhead may include Short-toed Eagle, whilst Red-rumped Swallow and Blue Rock Thrush, too, can be seen.  
Berat acts as a superb base from which to explore the Divjaka-Karavasta National Park. Covering an area of 22,300 hectares comprising a diverse range of habitats including floodplains, woodlands, reedbeds, salt marshes and estuaries, the park supports a remarkable assemblage of avifauna. The 4,000-hectare Karavasta Lagoon hosts a superb range of species from migrant waders including flocks of Marsh Sandpipers and Spotted Redshanks to wildfowl including Garganey along with Greater Flamingo and an internationally important colony of Dalmatian Pelican. Surrounding land hosts an array of mammals and herpetofauna while hose with an interest in botany, too, will delight!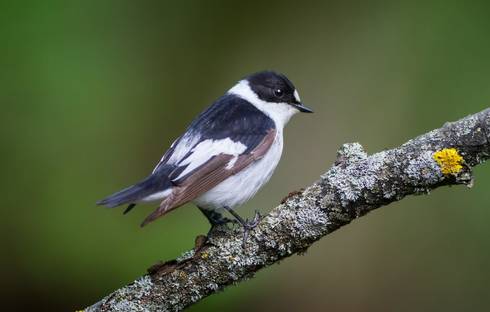 Northwest of Berat, the Divjaka-Karavasta National Park offers a wonderfully diverse array of habitats, including saltwater and freshwater lagoons, sand dunes and pine forest, in turn supporting a great variety of birds, orchids, butterflies and reptiles. The 4000-hectare Karavasta lagoon is a focal point of the park; the largest lagoon in Albania, it holds around 5% of the world's breeding Dalmatian Pelicans! Naturally, these impressive birds will be a highlight of a visit to the park and can be seen with relative ease.
The area is teeming with other avifauna, too - a great many migrant birds pass through this site, from Caspian and Gull-billed Terns to Little Stints and Montagu's Harrier. The wetlands are often teeming with waders and wildfowl. Garganey and Greater Flamingo are a common sight alongside a supporting cast of Pygmy Cormorants, Marsh Sandpiper and Black-winged Stilt, whilst herons can include Squacco and Purple Heron.
The woodlands within the park are dominated by pine, and low shrubs provide excellent cover and food for passing birds. Birds such as Collared Flycatcher, Nightingale and Subalpine Warbler may be found and Hoopoe and Bee-eater are regularly seen.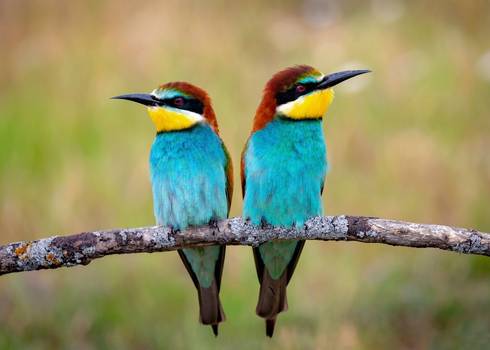 Along the coast a little to the south of Karavasta, and easily accessible from Berat, the protected, scenic wetlands at Vjosë-Nartë are a veritable magnet for migrant birds and offer some of the best wader-watching in Europe. A huge complex of saltpans, dunes and coastal pools surround the Nartë Lagoon, and many waders can be viewed at relatively close range as they take advantage of the food-rich habitats. Visitors are usually rewarded with a fantastic range of species. Large numbers of Kentish Plover are often present, and one must also be on the lookout for flocks of Little Stint, Curlew Sandpiper, Grey Plover, Spotted Redshank, Avocet and Marsh Sandpiper. Flamingos and Dalmatian Pelicans often make an appearance, alongside Collared Pratincole, Stone Curlew and Slender-billed Gull. Raptors including Marsh, Montagu's and Pallid have all been recorded here in recent years, and Bee-eaters and Hoopoes will no doubt add a splash of Mediterranean colour!
The area is also of great importance as a breeding site, with Little, Common and Gull-billed Tern all nesting here, along with Collared Pratincole, a range of waders, many herons and even Calandra Lark.
A short drive south takes one to Orikumi Lagoon, where birding opportunities are also plentiful, and a nearby site offers the chance – albeit elusive – of Golden Jackal as the sun dips beneath the horizon.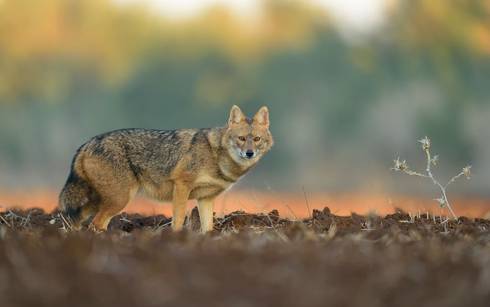 A gem in the Ionian Sea, Albania's southern corner enjoys a wonderfully reduced number of tourists to neighbouring Corfu (although during July and August, numbers do increase). The coastline is beautiful – palm-fringed white sand beaches aside a glittering turquoise ocean teeming with life.
An abundance of lovely beaches and settlements line this section of the coast. Sarandë itself is a modern, colourful resort-style town set around a horseshoe-shaped bay overlooked by the impressive 16th century Lëkurësi Castle. A short drive south sees one arriving at Ksamil; a friendly coastal town with an authentic, local feel and a string of small, sandy bays and islands set to a beautiful mountainous backdrop.
Nearby, the UNESCO World Heritage Site of Butrint is one of Albania's most important archaeological sites, with a fascinating, far-reaching history. It forms part of the Butrint National Park; a hilly region of freshwater lakes, plains, reedbeds, coastal lagoons, islands, forest and saltmarsh boasting an impressive biodiversity. Mammals here include Beech Marten, Golden Jackal and Grey Wolf (the latter only present in winter), approximately 35 species of herpetofauna have been recorded, and birding highlights include Golden Eagle, Golden Oriole and Rock Partridge - alongside a plethora of migrants over winter. Out to sea both Loggerhead and Leatherback Turtle are present, alongside an array of dolphins and the endangered Mediterranean Monk Seal.
Well-connected to inland regions, as well as via a daily ferry service from Corfu (into Sarandë), this beautiful region of Albania is a terrific addition to a holiday to this fascinating country.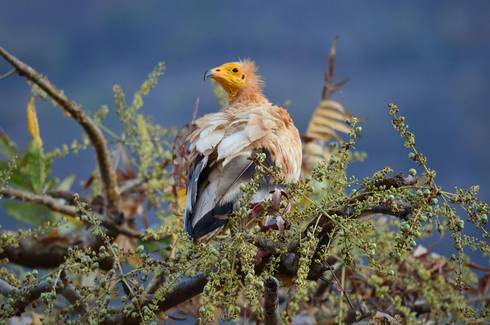 A wonderfully scenic drive between the Vjosë-Nartë Delta follows the Riviera of Albania, where amazing coastal landscapes blend seamlessly with towering mountains, up to the UNESCO town of Gjirokastër. The Ottoman town of Gjirokastër is often referred to as Albania's most beautiful and authentic town, yet it is far from the tourist trail. Intricately decorated houses with original stone tiles line winding, cobbled streets in the old town, where a delicious traditional meal can be enjoyed to a spectacular mountainous backdrop, and a peaceful few hours can easily be spent wandering the area. Sights to be enjoyed here include an old bazaar, a mosque and Zekate House, which houses a fascinating museum. A castle presides over the town, offering magnificent views.
This is also an excellent base from which to visit an Egyptian Vulture territory, where many other birds of prey and passerines can also be enjoyed.
An hour's drive from the port of Sarande, Gjirokastër is easily accessible, and makes a great addition for those combining their holiday with neighbouring Corfu in particular.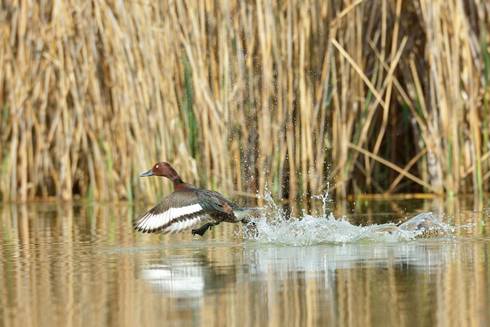 Albania's small but vibrant capital city of Tirana offers a range of interesting museums and architecture, alongside an array of cafes and restaurants, and is surrounded by some excellent wildlife watching opportunities.
The lagoon complex of Kune-Vain, situated to the north-west of Tirana International Airport, was the first ever proclaimed protected area in Albania more than 70 years ago and offers a rich diversity of habitats. Open water, wide reed beds and open agricultural land supports a fantastically diverse range of bird species with waterfowl, passerines and raptors all well-represented, and highlights include Ferruginous Duck, Bittern, Squacco Heron, Hoopoe, Bee-eater and perhaps even Roller. The agricultural land surrounding the lagoon may hold Black-eared Wheatear, whilst Semi-collared Flycatcher regularly pass through, as well as other flycatchers and warblers.
The town of Kruja is situated alongside a panoramic mountainside location and makes for another excellent visit within this region. A restored castle is a key focus here – inside, the Skanderbeg Museum was erected in memory of the eponymous Albanian national hero. Skanderbeg hailed from this area, and Kruja was a strategic point in the anti-Ottoman resistance. The Old Restored Bazaar has a truly oriental look, multi-coloured and overflowing with goods of every description.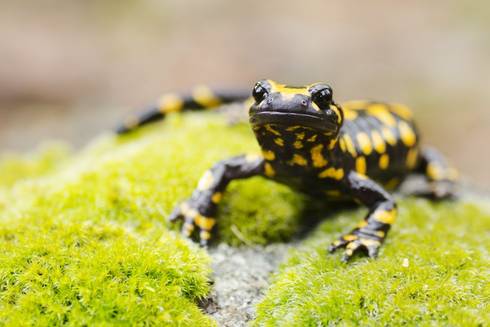 In the wild and rugged north of Albania one comes across Valbona Valley National Park. Located in the heart of the Malesi – the Albanian 'Highlands,' – proud Ghegs have lived for centuries in furious independence, carving a living from the dramatic landscape and scanty resources of the Dinaric Alps.  
The region is home to healthy – yet elusive – populations of Brown Bear and Wolf, as well as Chamois in higher areas, with Hazel Grouse, Rock Partridge and Black and White-backed Woodpeckers amongst the avian stars. A range of special butterflies also inhabit the region, including Chequered Blue, Yellow-banded Skipper and Camberwell Beauty, attracted to a plethora of wildflowers which includes the Albanian Lilly, whilst the reptile cast includes Eastern Green Lizard and the striking Nose-horded Viper.
One spectacular walk here ascends through vast Beech woodlands to vibrant meadows, above which may hold Ring Ouzels, Black Redstarts, Wheatears and Water Pipits and, after rainfall, there is always the exciting possibility of a Fire Salamander!
Botanically, this area is also wonderfully rich. Meadows teem with Green-winged Orchids in spring, and the fascinating Coralroot and Bird's-nest Orchids are common in the Beech woodlands. At higher altitudes the landscape opens out to reveal breathtaking views of snow-clad peaks, with Maja Jezercë the highest at over 2,600 metres.  
The village of Cerem offers a beautiful walk around the Mijush pass, where scanning for local avifauna is a delight, as are the marvellous views of the Albanian Alps. Towards the end of the valley, a short trail along the riverbed leads one to the Valbona waterfall.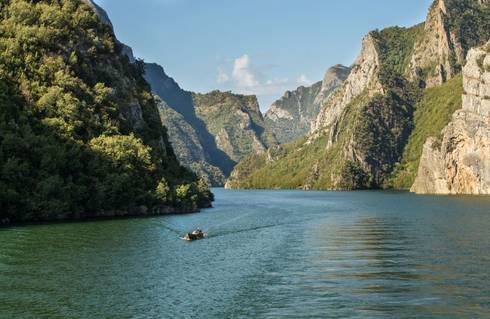 The ferry journey across Lake Komani has been dubbed by travellers and guidebooks alike as 'one of the great boat trips of the world'! A cruise of around two hours travels towards Koman, between towering peaks and sheer cliff faces and through a series of deep gorges and interconnected lakes, across a region in which no roads or power lines connect its few hardy resident farming families to the outside world. Golden Eagles soar overhead, and at the end of the reservoir a cave with a breeding population of Alpine Swifts means sightings can be excellent. The wild landscape here is somewhat reminiscent of the Norwegian fjords, and this unforgettable experience provides a fitting and dramatic addition to any Albanian itinerary.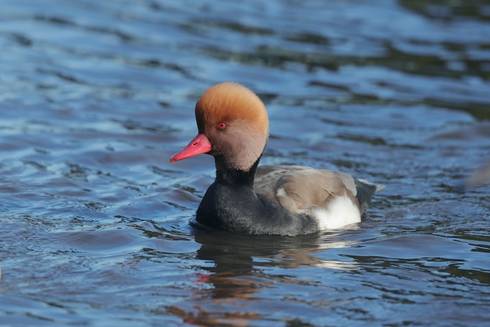 Spanning the Albanian, Greek and North Macedonian borders, Prespa National Park includes both the Great and Small Prespa Lakes and represents one of the most important biodiversity sites in Albania. Habitats include rugged, towering mountains, meadows, freshwater wetlands, salt marsh, reedbeds and dense forests, supporting an array of endemics, particularly fish, amphibians and reptiles. Avifauna are also extremely well-represented, boasting an impressive 300 species; Albania's portion of Great Prespa Lake is designated under the Ramsar Convention on account of its international importance to birds.
The famous island of Maligrad sits off the shores of Lake Prespa and is well worth a visit. Characterised by a circular cliff and many caves, as well as areas of sand, rock and scattered scrub, the island boasts an interesting archaeology including the unique cave church of Saint Mary, alongside an intriguing array of both aquatic and terrestrial snakes.
Breathtaking Lake Ohrid makes an excellent base from which to venture into the National Park. Linking the mountainous border between Albania and North Macedonia, the lake is one of Europe's deepest and oldest. Added to UNESCO's World Network of Biosphere Reserves in 2014, and Albania's side designated as a UNESCO World Heritage Site in 2019, the lake supports a spectacularly diverse ecology including many endemics. Birding highlights here include Dalmatian Pelican, Red-crested Pochard and Pygmy Cormorant, amongst a number of others. It is well worth investigation in its own right, and also makes a beautiful base from which to explore nearby Prespa National Park.
Sample Itineraries
A fascinating 10-day holiday to a little-known Balkan country, focusing on the birds, natural history and culture of the Albanian Alps and the scenic wetlands of Divjaka-Karavasta National Park.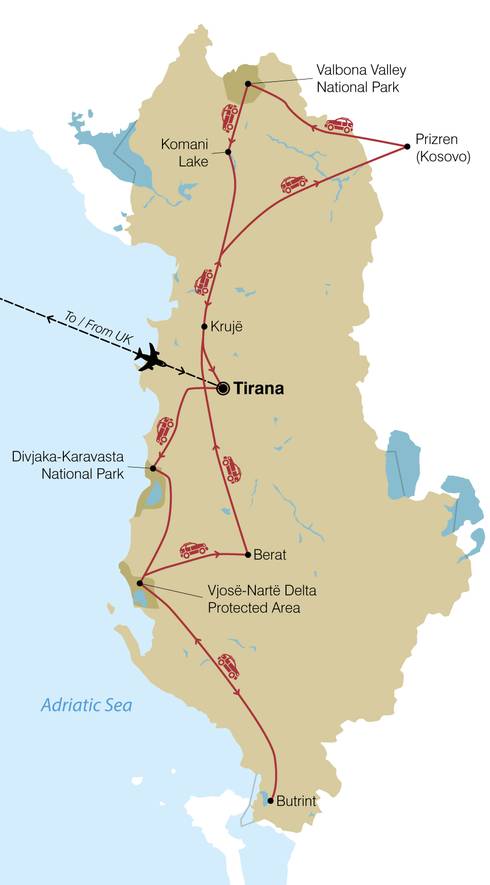 Day 2
Karavasta National Park
Day 7/9
Valbona National Park
Day 11
Tirana & Fly London
SAMPLE ITINERARY
COST (PER ADULT)
Albania in Autumn
from £2,595 (Flight Inclusive)
Enquire Now
The Essentials
Wildlife Guides: Good local English-speaking naturalists are available as well as specialist birding and cultural guides.
When to Visit: Albania is a year-round destination, with each season bringing its own special highlights. Whilst birders traditionally tend to favour spring and autumn, lured by the promise of sunny days and comfortable temperatures with bird migration in full flow. Albania's positioning along the Adriatic flyway means that winter birding can also be extremely productive. Peak tourist season spans July and August, however May, June and September see far fewer crowds in this off-the-beaten-track destination, as well as a slight relief from scorching summer temperatures, and therefore make for excellent months to visit cultural sites and beautiful coastal regions. 

| | | | | | | | | | | | |
| --- | --- | --- | --- | --- | --- | --- | --- | --- | --- | --- | --- |
| J | F | M | A | M | J | J | A | S | O | N | D |
| YY | YY | YY | YY | YY | YY | YY | YY | YY | YY | YY | YY |

Getting Around: Tailormade guests usually choose to travel around Albania in a private vehicle driven by their guide, although the majority of the country is served by a good main road network (aside from some of the more remote, mountainous regions) so those preferring to self-drive will be largely well accommodated. Flight schedules to Albania require a degree of flexibility, however neighbouring Corfu offers a greater choice of flight options for those with fixed dates in mind, with Albania easily accessible via a short ferry journey in to Sarandë.
Why Naturetrek Tailormade?
'A Naturetrek Tailormade holiday allows you, with the benefit of our wildlife travel expertise and destination experience, to enjoy the perfect private wildlife holiday – one that truly matches your requirements, expectations and ambitions. We will ensure the most competitive prices, superb naturalist guides and seamless ground services.
Some of the benefits of Naturetrek Tailormade travel include:
• A bespoke itinerary which is crafted by experts and designed specifically for you
• Private guiding by the very best local naturalists 
• Travel with people you know, at your own pace
• Incorporate as much culture, history or relaxation time as you wish
• Choose dates to suit you
• Select your preferred style of accommodation
• Travel with families and children of any age
Furthermore, our Tailormade team are always on hand to help and guide you along the way, with friendly advice, first-hand knowledge and inside information specific to your destination of choice. So if you have any queries about your holiday, we will be delighted to answer them. Please just give us a call!'
Similar Trips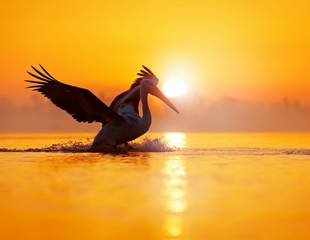 Add this tour to your favouritesRemove from Favouritesstar_border star
Create your own Tailormade holiday to Greece with dates and an itinerary to suit you.
8 days
£1,995 (inc flights)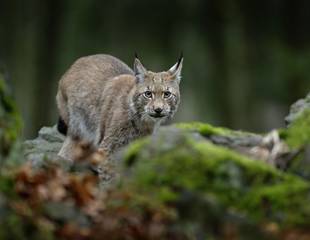 Add this tour to your favouritesRemove from Favouritesstar_border star
Create your own Tailormade holiday in Poland with dates and an itinerary to suit you.
8 days
£2,095 (inc flights)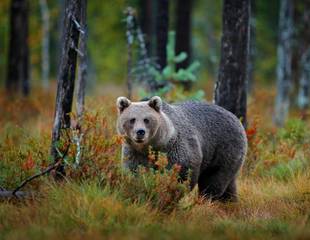 Add this tour to your favouritesRemove from Favouritesstar_border star
Create your own Tailormade holiday to Romania with dates and an itinerary to suit you.
6 days
£1,995 (inc flights)