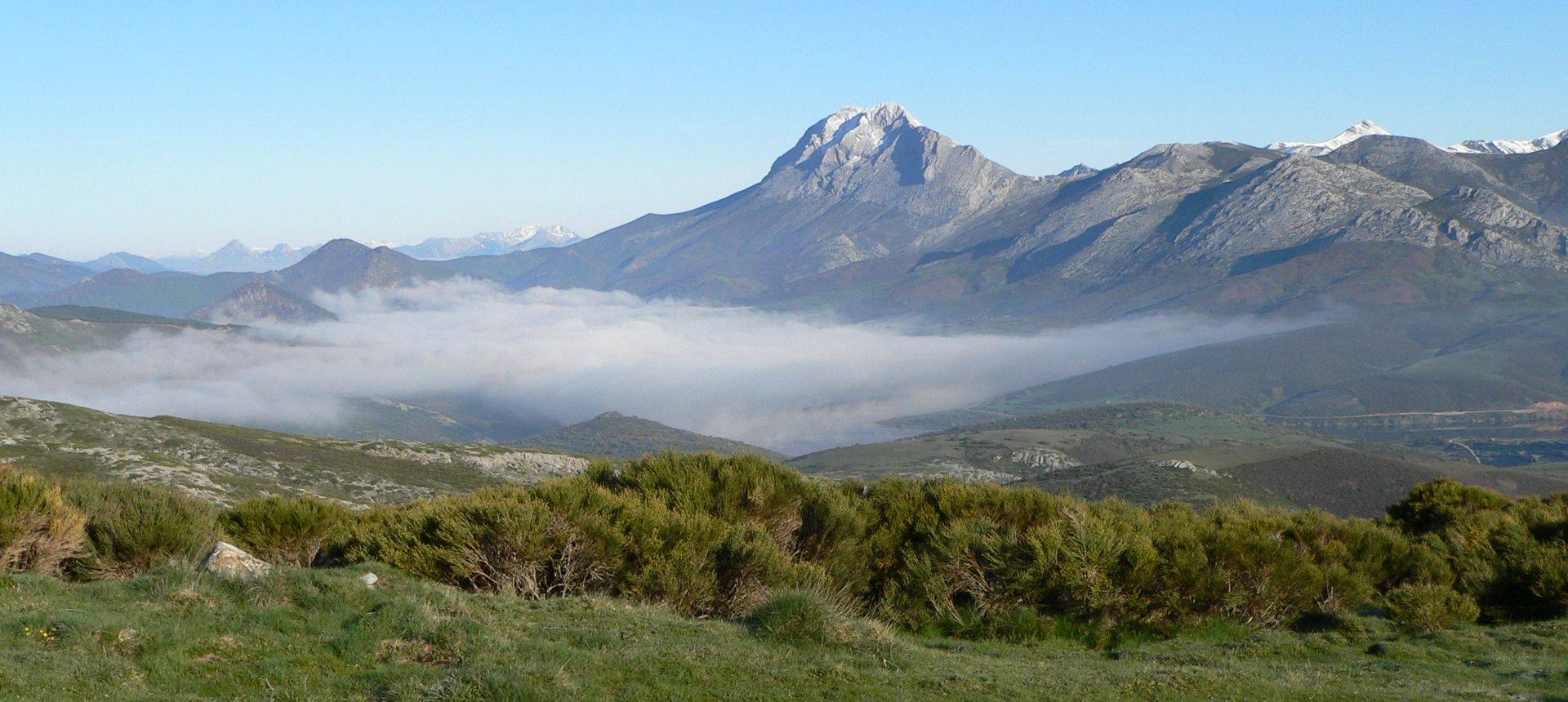 Spain's 'Big Three': In Search of Whales, Wolves & Bears
Tour Code: ESP27
A 10-day holiday in search of whales, dolphins and seabirds in the Bay of Biscay, as well as Bears and Wolves in the Cantabrian Mountains.
This tour offers a chance to look for three of Europe's most iconic mammals in contrasting habitats in northern Spain – the Bay of Biscay, Somiedo Natural Park in the western Cantabrian Mountains and the rolling hills of Zamora Province. Our holiday begins with a ferry trip to Santander across the Bay of Biscay, where we'll watch for whales, dolphins and seabirds. On arrival in northern Spain we head to the heart of Somiedo in search of bears, before transferring to our second base in Zamora for two days of wolf-scanning. There'll be some special birds too, including plenty of raptors, bustards and other mountain and steppe birds. We finish the tour with a little light culture in Santander.
Fin & Minke Whales, plus Common & Risso's Dolphins in the Bay of Biscay
Balearic, Sooty, Cory's & Great Shearwaters, skuas & petrels from ferry
Griffon Vulture, Water Pipit & Alpine Chough in Somiedo
Chance of Brown Bear with Chamois and Red/Roe Deer common
One of the world's largest concentrations of Great Bustards in the plains
Almost guaranteed views (90%+) of wild Wolf - one of Europe's most exciting mammals
Otter & Wild Boar also regularly seen
Led by expert naturalist guide
Can I help you?

For expert advice call +44 (0) 1962 733051

Operations Manager

X
Andy Tucker
Andy lives in north Hampshire with his wife and young children. He is an Aquatic Biology graduate (Aberystwyth) and worked in consultancy for a year after graduation before travelling to south-east Peru to work as a guide in the Amazon rainforest. During his year there he balanced guiding with his fisheries research and, after a brief spell back in England, returned to a full-time guiding post at Sacha Lodge in the Ecuadorian Amazon. Andy has travelled widely in Central and South America and his fluent Spanish is a huge advantage during our tours both across the Atlantic and in Spain. Andy has birdwatched for as long as he can remember and counts himself lucky to have seen so many fantastic bird and wildlife spectacles around the globe. He joined the Naturetrek team in 1998 and, while now kept increasingly busy as general manager, is involved in the operations of a wide variety of tours in Latin America, Western Europe and North Africa.
Outline Itinerary
Day 1
Ferry from Portsmouth to Santander
Day 2
Arrive Santander; transfer Palencia
Day 3/5
Palencian Mountains (in search of Wolves)
Day 6/8
Somiedo Natural Park (in search of Bears)
Day 9
Depart Santander by ferry
Day 10
Arrive Plymouth; transfer Portsmouth
We would like to say how much the experience was enhanced by the enthusiasm and dedication of the leaders.

C.C. West Midlands
Food & Accommodation
All included in the price, except on ferry crossings and lunch/dinner in Santander.
Twin-bedded cabins aboard the ferry. Comfortable rural hotels in Spain; all rooms with private facilities.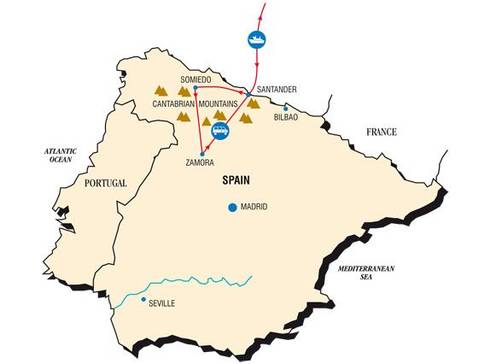 Tour Downloads
Tour leaders
Gerald Broddelez

Tour leader

Byron Palacios

Tour leader
Northern Spain, rugged and green, has a great deal to offer the naturalist. Here, in the Cantabrian Mountains, which extend for about 180 miles from the Pyrenees to Galicia, two isolated populations of European Brown Bear occur. The majority, about 100, live in the wildest, steepest and most wooded parts of the little-visited western end of the range. Of these, about 20 live in the deep valleys, forests and mountains of Somiedo Natural Park, one of Naturetrek's favourite European retreats, and very little known. Established in 1988, Somiedo protects almost 30,000 hectares of some of the highest and most scenic peaks and valleys of the region, and is regarded as the best-preserved montane environment in the Iberian Peninsula. The Cantabrian Mountains and their outlying ranges also hold the vast majority of Spain's 2,500 to 3,000 Wolves and are the stronghold of the species in Europe. This is a population that has increased markedly since an estimated all-time low of just 500 individuals in 1970. The depopulation of Spain's rural regions, as Spaniards have increasingly migrated to the cities, has benefitted both the Wolf and the Bear, as has a changing attitude towards these two species which were once viciously persecuted.
Our holiday begins with a ferry crossing from the south coast to Santander over the Bay of Biscay, a journey which at this time of year regularly produces sightings of an exciting range of whale and dolphin species. The ferry provides a good vantage-point for scanning the sea ahead for tell-tale fins or 'blows'. Our ship crosses the continental shelf during the night and the morning will find us in the Bay of Biscay, over a deep underwater topography that creates a particularly rich feeding ground for whales. Here we have a chance of encountering such exciting species as Fin, Sei, Minke and Longfinned Pilot Whales, plus the deep-diving Cuvier's Beaked Whale and a variety of dolphins including Bottlenose, Common, Striped and Risso's. In September it is also sometimes possible to see migrating Sperm Whales; at this time of year we also have a good chance of seeing Balearic, Sooty and Cory's Shearwaters, up to four species of skua, Sabine's Gull, Grey Phalarope and petrels that may even include Wilson's.
On reaching northern Spain and overnighting in Santander, we will drive south to the rolling hills of Zamora, where we will spend four nights. Now our focus switches to finding one of these mountains' iconic mammals, the Wolf. This is a region of rolling hills and broad valleys which affords excellent opportunities to scan wide areas of open land and which may easily be accessed via an extensive network of metalled roads and gravelled forest tracks. Birds of prey are much in evidence and include Red Kite, Hen Harrier, Sparrowhawk, Common Buzzard, Kestrel, Merlin and even the occasional Golden Eagle. Coniferous forests are filled with Firecrests, Coal and Crested Tits, and Jays, while the heaths hold Woodlark, Stonechat and Dartford Warbler. Good numbers of both Red and Roe Deer are here too — good news for us, as they form the main prey for the focus of our visit, the Wolf. Looking for Wolves involves lengthy scanning sessions from strategic vantagepoints and requires a great deal of persistence, patience and stealth. Having said that, 90% of our Wolf-watching tours in this area to date have been successful, so we will be hoping to maintain this record.
From Zamora we will drive north to the village of Pola de Somiedo, situated within Somiedo Natural Park, where we will be based for the next three nights. During September, Brown Bears will be feeding on the seasonal glut of fruits, nuts and other food sources in order to fatten up for their long winter hibernation. To stand a chance of seeing a Bear we must put in long hours of patient scanning from one spot during the early mornings and late evenings. A successful Bear quest will also require a hefty dose of luck, not least with the weather! There are Chamois, plus Roe and Red Deer in the park and we will also enjoy the other wildlife we see from our vantage-points, and during gentle-paced wildlife walks, as well as during our leisurely and lavish al fresco lunches set amongst the beautiful Cantabrian scenery.
Before long it will be time to drive to Santander to enjoy some more cetacean and seabird-watching on the ferry home to Plymouth or Portsmouth, from where we offer a transfer back to our port of departure.
Please contact us on 01962 733051 for details on what extensions either pre or post tour are available for this Tour.
We would like to say how much the experience was enhanced by the enthusiasm and dedication of the leaders.

C.C. West Midlands

Wonderful views of wolves and bears. The leaders worked hard. Excellent trip.

J.B. West Sussex

This Naturetrek holiday was a tour of Northern Spain in search of Bears, Wolves and Whales. From start to finish we were well looked after and the experience of our guides ensured that we had great sightings of over 120 birds, bears, whales, dolphins and butterflies. Great value for money.

M.S. Tyne & Wear

A terrific holiday. Both guides worked really hard to find the wolves, and to see 5 wolves playing for over half an hour was much more than we anticipated.

E.L. London

Our leaders were excellent, they both worked very hard to ensure we saw both bears and wolves. They were both very good company and helped ensure we gelled as a group.

D.B. Cheshire

Together, Gerald and Julian were a most effective team. For the most part I travelled with Julian, whose knowledge of geology and other aspects of geography in the widest sense is superb. His mobile library is marvellous.

T.N. Hampshire

The way in which we were looked after by the tour leaders and the hotel people was considerate; they could not do more to ensure we enjoyed our holiday.

E.B. Wiltshire

I most enjoyed seeing the Wolf watching in Zamora and watching the Bear with three cubs in Somiedo Natural Park.

A.R. Isle of Wight

Fabulous scenery of Cantabrian Mountains. Brilliant sighting of female and three Bear cubs. The guides had used their contacts to find the best chances of sightings and those of us who bothered to get up that morning observed the Bears for two hours. Guides very generous with use of scopes. Really helpful.

J.R. Isle of Wight

The guides were very good at finding out local information on possible location of animals. Once an animal/bird was spotted they tried hard to ensure that every member of the group had the best possible view. The food at both locations was excellent, including the provision of a vegetarian option at each meal.

M.D. Berkshire

For me the guides made this holiday a success. They worked well as a team, always ensuring we were safe, comfortable, well-fed and gave us the best opportunity to see the wildlife. Their experience and enthusiasm came across making the tour one of the best I have been on.

M.S. Tyne & Wear

The whole experience was impressive, the scenery, the wildlife and the expertise of two great guides, who were also two very nice guys.

J.D. West Yorkshire

The dynamic between Gerald and Byron was amazing. They could not have done any more to ensure that every member of the group felt included and were enjoying the experience. Their knowledge was encyclopaedic and they showed this with humour and generosity of spirit.

E.B. Tyne & Wear
2018
Departures
Availability
Cost
Tue 2nd Oct - Thu 11th Oct
SPACES
£1,545
Land only cost:

The "Land Only" cost is the tour price you will pay if you choose to arrange your own flights/transport.
£1,545
Single Room Supplement:
£150
2019
Departures
Availability
Cost
Tue 24th Sep - Thu 3rd Oct
SPACES
£1,545
Land only cost:

The "Land Only" cost is the tour price you will pay if you choose to arrange your own flights/transport.
£1,545
Single Room Supplement:
£150