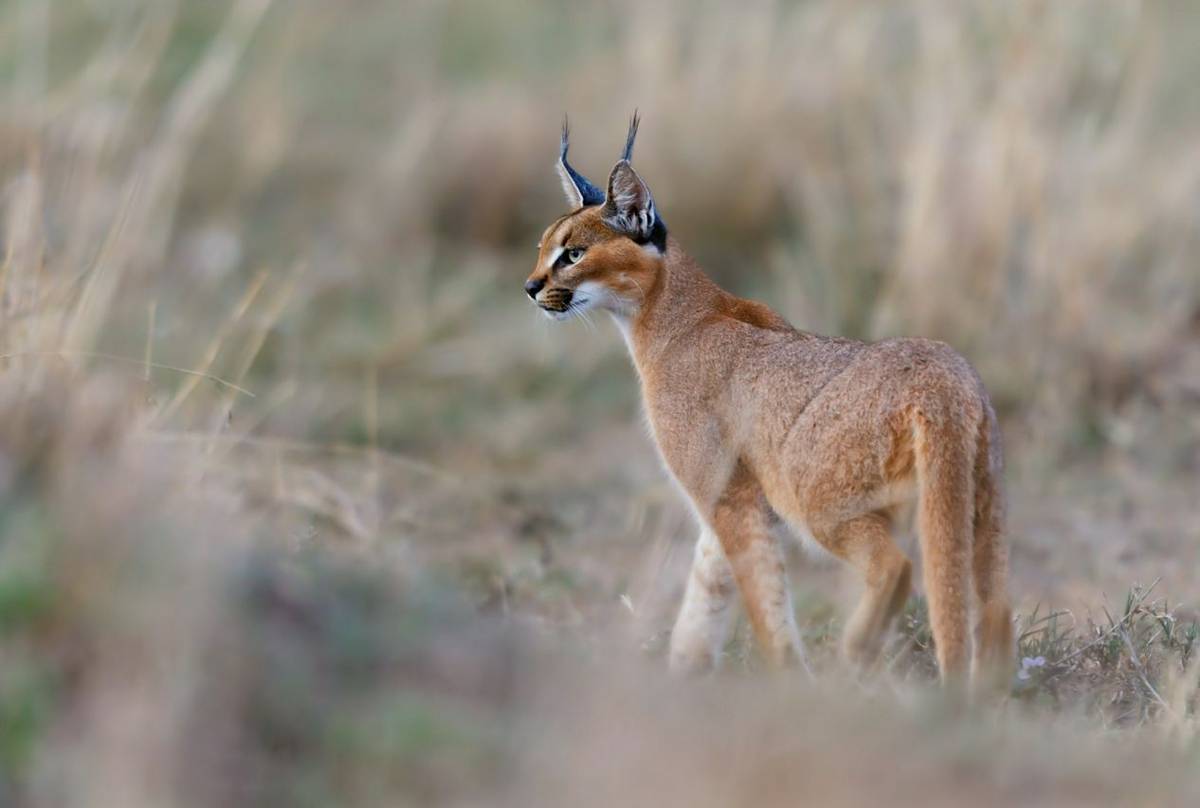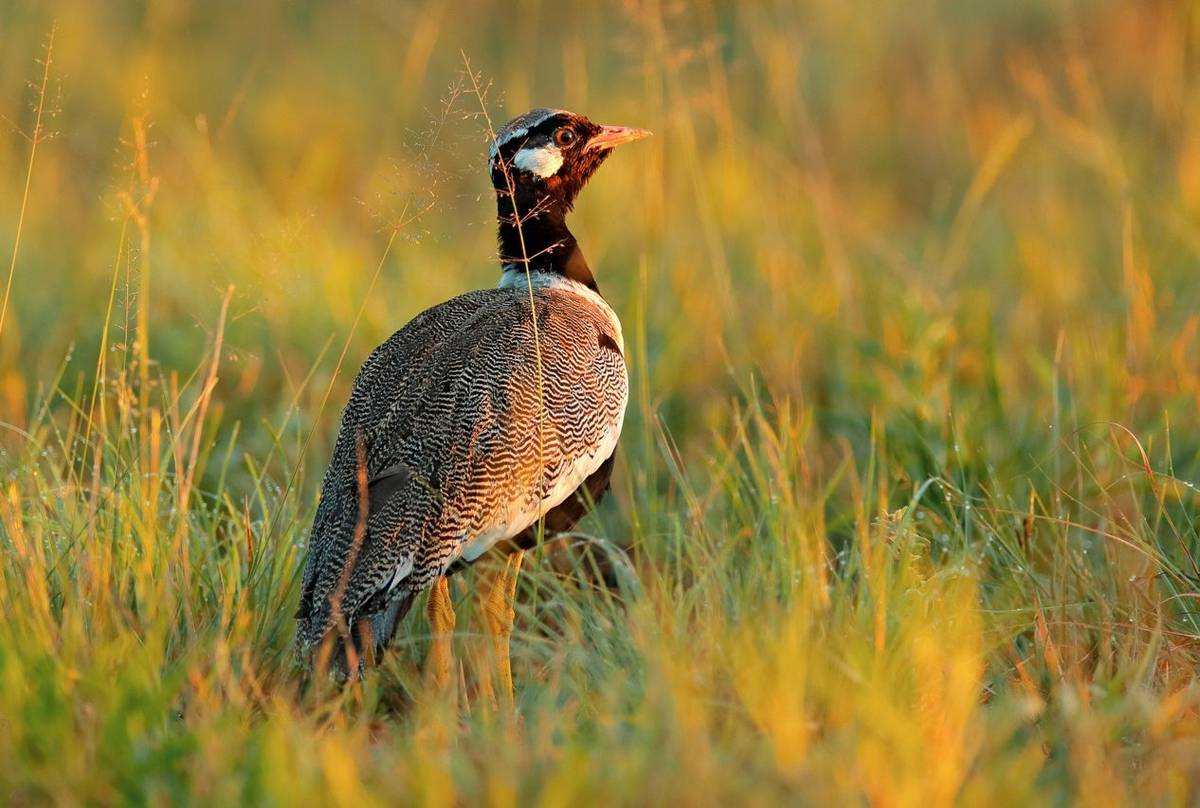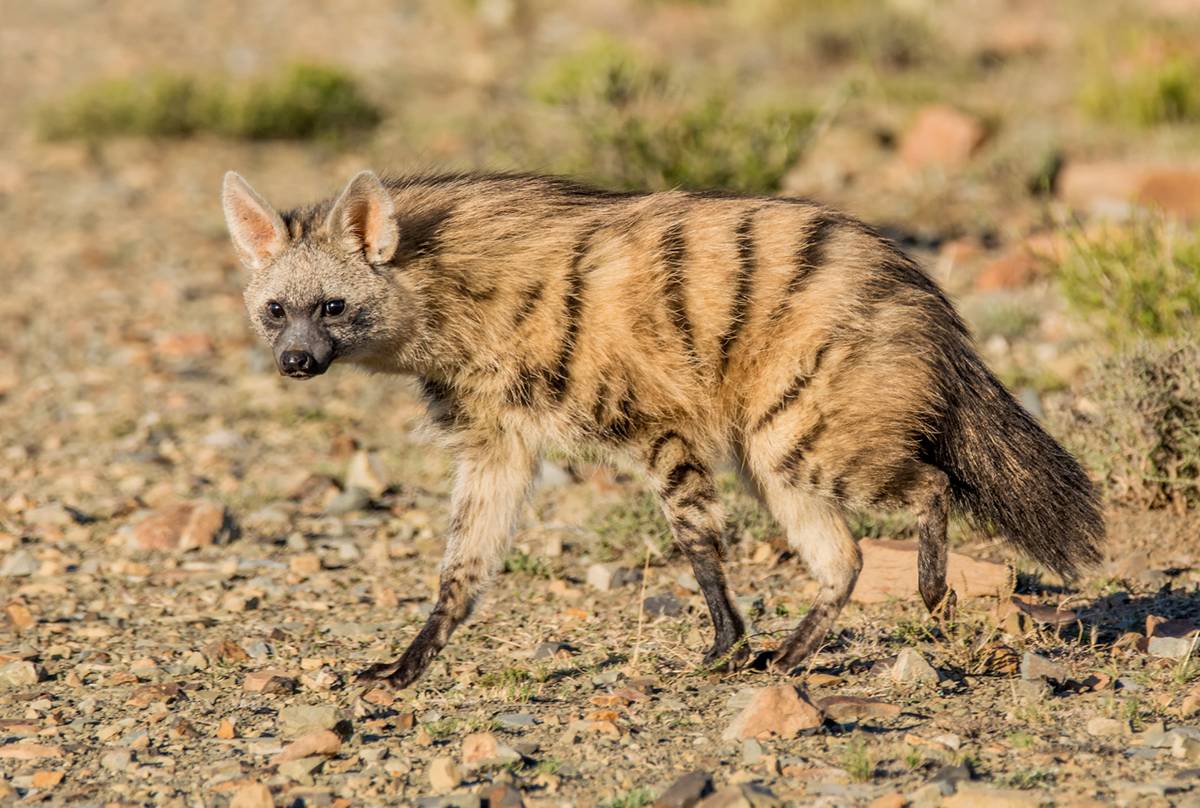 Tour Itinerary and Reports
South Africa's Western Cape - Land of the Caracal
Tour Code: ZAF18
A 13-day wildlife holiday to South Africa's Western Cape in search of the elusive Caracal and a wealth of less secretive mammals and birds.
13 days from
£5,295 (Inc flights)
Land only price from
£4,595
Add this tour to your saved toursRemove from saved toursstar_border star

Add to Saved Tours
Highlights
Tour Itinerary and Reports
Summary
This tour goes in search of Africa's most beautiful small cat: the elusive Caracal. Sometimes known as the 'African Lynx', this elegant feline reaches some of its highest densities in South Africa's Western Cape, and we will visit three of this stunning region's best reserves, where alongside the Caracal there is a wealth of extraordinary wildlife. Starting in West Coast National Park, we will look for antelope such as Cape Grysbok and Greater Kudu, as well as endemic birds like Black Harrier and Southern Black Korhaan. In Karoo National Park we will hope to find Lion, Black Rhinoceros and a variety of desert birds, and night drives could produce Aardwolf, Bat-eared Fox or even Aardvark. De Hoop Nature Reserve protects a vast swathe of unique fynbos vegetation, and astonishing numbers of Southern Right Whales gather offshore during the austral winter. Everywhere we go, we will make a special effort to find the Caracal, using a combination of day and night drives, and easy walks through spectacular scenery.
Look for the elegant & elusive Caracal.
Visit three stunning reserves, all with thriving Caracal populations and bursting with other wildlife.
Aardwolf, Cape Clawless Otter, Bat-eared Fox, African Wildcat & Aardvark all possible.
Chance of Lion & Black Rhinoceros in Karoo National Park.
Other mammals including Cape Mountain Zebra, Red Hartebeest & Bontebok.
Large numbers of Southern Right Whales at De Hoop Nature Reserve.
Excellent birdlife including Blue Crane, Black Harrier, Southern Black Korhaan & Bokmakierie.
Grading
A. Traditional game-viewing from vehicles, and easy walks.
Africa is well known for its big cats, but it also possesses a fascinating array of smaller felines. Perhaps the most beautiful of these is the Caracal, a sand-coloured, lynx-like creature found throughout the drier parts of the continent. Notoriously scarce and elusive across most of its wide range, it is more numerous and less secretive in South Africa's Western Cape, which is mostly free of larger carnivores. Here, the Caracal is the apex predator, and there is nowhere better in the world to search for them.
This new tour visits three of the best reserves in the Western Cape, all of which contain thriving populations of Caracal. We begin with a flight to Cape Town – where Caracals inhabit the suburbs – spending one night in Simon's Town, before driving a couple of hours north to the West Coast National Park. Basing ourselves in the nearby town of Langebaan for three nights, we will make daily excursions into the park. Dawn and dusk are best for cat-spotting, but there is a wealth of other wildlife here too, including Greater Kudu, Red Hartebeest and Eland. At sea, pods of Dusky and Heaviside's Dolphins occasionally pass by, along with Cape Fur Seals. Black Harrier, Bokmakierie and Southern Black Korhaan are some of the many spectacular birds to look for.
Next we will move on to the Karoo National Park, home to Black Rhinoceros, Gemsbok, and zebra bred to resemble the extinct Quagga. We will join night drives here in search of rare nocturnal species, possibly including Caracal, Aardwolf, Bat-eared Fox, Small-spotted Genet, African Wildcat and (if we are very lucky) Aardvark. During the day we will undertake game drives through this spectacular desert landscape, seeing a range of antelope and perhaps some of the recently reintroduced Lions. Special birds could include Ludwig's Bustard, Karoo Long-billed Lark and the extraordinary Secretarybird.
Heading south, we will stop for a night in the pleasant town of Swellendam, before moving on to the De Hoop Nature Reserve. During the journey we will pass fields which often contain large flocks of Blue Crane, South Africa's elegant national bird. We will stay for two nights at De Hoop, which is the largest protected area of lowland fynbos in the Western Cape. While searching for Caracal, we should also see Cape Mountain Zebra and the handsome Bontebok. In winter, Southern Right Whales gather offshore, and sheltered bays may contain a family of Cape Clawless Otters. We cannot guarantee that you will see a Caracal – they remain shy and unpredictable – but by joining this tour you will be giving yourself the best possible chance.
For those wishing to see South Africa's other medium-sized feline, the Serval, we have been offered access to the population that is thriving in an industrial park near Johannesburg (as seen on the BBC series 'Big Cats'). For more details on this extension, please do get in touch.
DETAILED INFORMATION
Outline Itinerary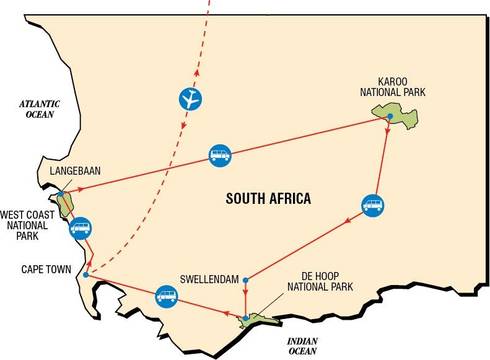 Day 6/8
Karoo National Park
Day 10/11
De Hoop Nature Reserve
cloud_downloadDownload Full Itinerary
What's Included?
Flights
Accommodation:

A range of modern hotels, quaint cottages, country houses and comfortable lodges, all perfectly placed to allow us access to the best of the Western Cape's wildlife.

Food:

Breakfasts and dinners are included in the price. Lunches will be taken in a variety of local restaurants (allow £150).
Dates & Prices
2022
Departures
Availability
Cost
Tue 12th Jul - Sun 24th Jul
1
£5,295
Flights:
Most Naturetrek tours include flight costs ex-UK. If flights are not included, we indicate that here.
Flights are included in the tour cost
Land only cost:
The "Land Only" cost is the tour price you will pay if you choose to arrange your own flights/transport.
£4,595
Single Room Supplement:
£395
Why Naturetrek?
At Naturetrek we craft expertly-guided group and tailor-made wildlife holidays and cruises to all seven continents. On one of our holidays, you can be assured that our passionate team will enable you to experience and enjoy the best of the world's wildlife and natural spectacles in as comfortable and rewarding a manner as possible, caring as best we can for the environment in the process. We are proud to provide:
The widest choice of wildlife holidays worldwide
Tours managed and led by naturalists, for naturalists
Outstanding value and exceptional customer service
Furthermore, as a Naturetrek client, our office team are always to on hand to help you – so if you have any queries about your holiday, whether before or after you have booked, we will be delighted to answer them on the phone. Please just give our team a call!