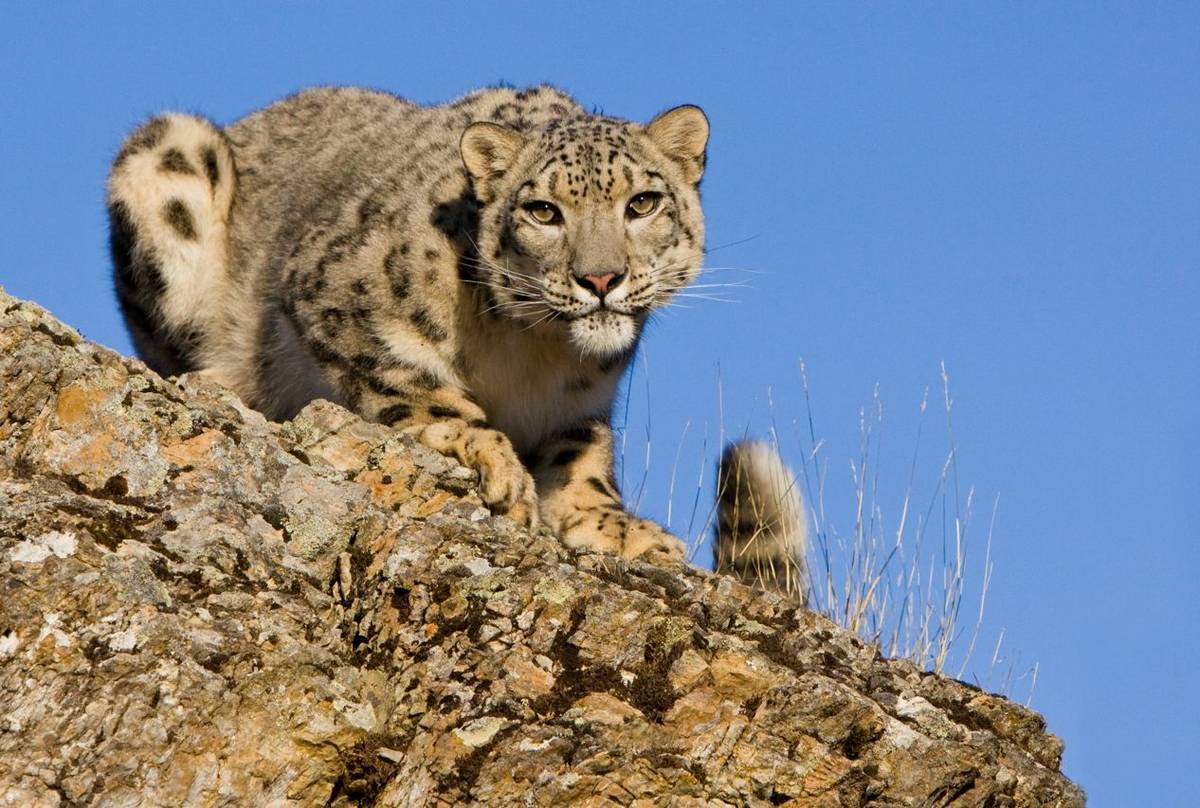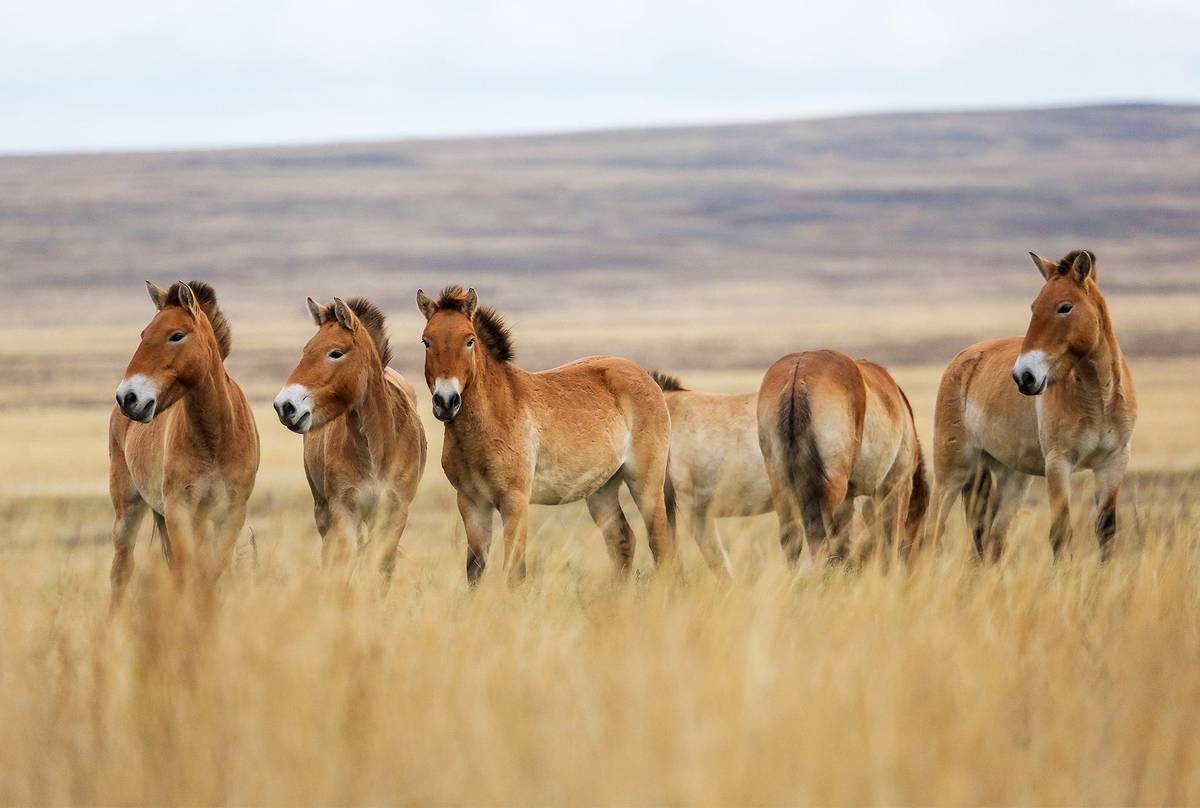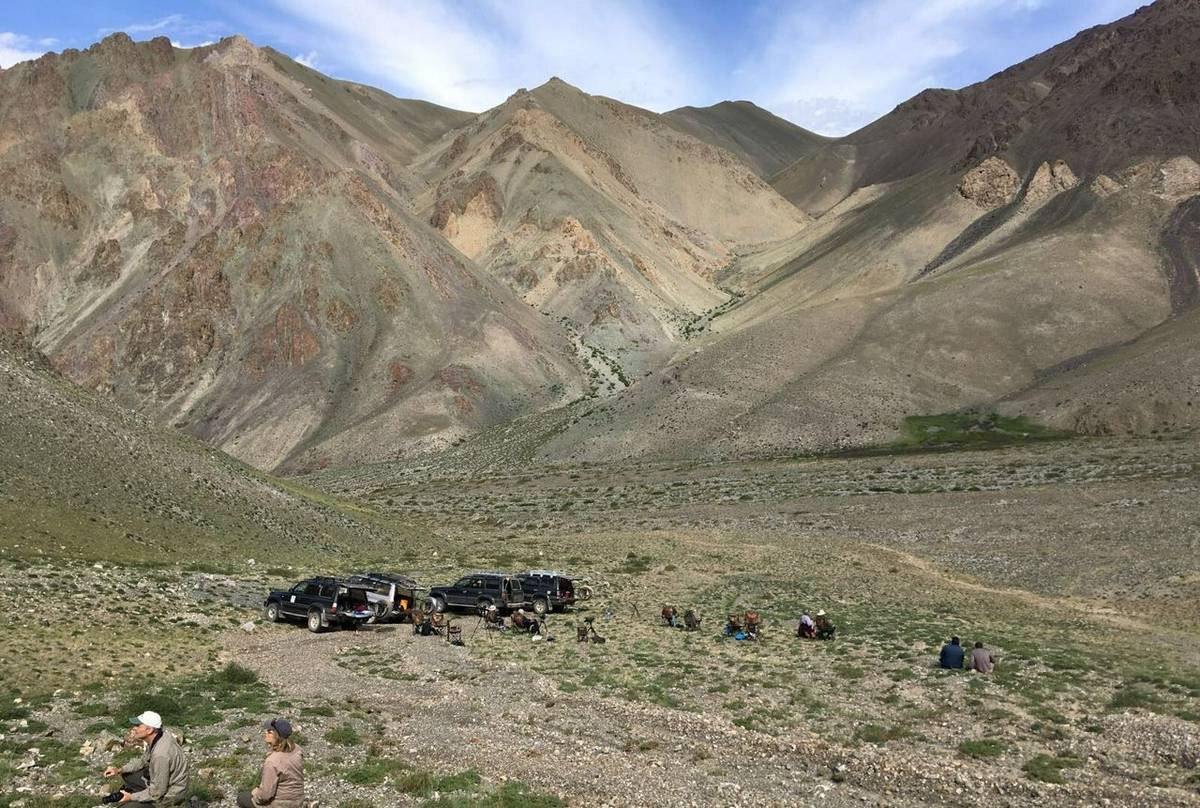 Mongolia's Snow Leopards
Tour Code: MON02
A 12-day tour to Mongolia's spectacularly beautiful Altai Mountains and Hustai National Park, in search of Snow Leopards, Wolves and a host of other very special mammals and birds.
12 days from
£6,195 (Inc flights)
Land only price from
£5,295
Add this tour to your saved toursRemove from saved toursstar_border star

Add to Saved Tours
Highlights
Summary
This holiday is based in a remote site in Mongolia that offers an excellent chance of seeing Snow Leopard – and without having to brave the harsh physical and climatic conditions so often associated with viewing this secretive and much sought-after species. After a night in Ulaanbaatar we fly to the city of Khovd, then drive west to our 'ger' camp for a 6-night stay in the foothills of the Altai Mountains. Our focus will be on finding Snow Leopards and enjoying the other wildlife of this remote and beautiful region. We will visit nearby steppes in search of antelope and gazelles, as well as special Asian birds. We end our tour in Hustai National Park, home of the Przewalski's Horse.
Approx. 30 to 35 Snow Leopards live in the area where we will based
5 days looking for Snow Leopard and other wildlife in rocky valleys & higher elevations (max. 3,000 metres)
Visit steppes where Mongolian Gazelle & the critically endangered Saiga Antelope live
Siberian Ibex & Siberian Marmot among other highlights
2-night stay in Hustai National Park, home to Przewalski's Horse & Long-tailed Souslik
Led by expert naturalist guides
Grading
Grade A/B. This is a relatively straightforward wildlife holiday with no trekking or demanding walks involved. However, it is likely that over the course of each day, we will cover several miles in total and sometimes over rough ground. A reasonable level of fitness is therefore required. We will travel into the mountains each day using 4 x 4 vehicles, and are likely to have some bumpy journeys to get to our target destination. It should also be noted that whilst we will sleeping at lower altitude, much of our time in the field will be spent at an altitude of 2000 – 3000 metres.
In the far west of Mongolia, the Altai Mountains represent one of very few true wildernesses left on Earth. In these remote foothills, rarely visited by tourists, we can find a remarkable assemblage of birds and mammals. Spending our days amidst the stunning scenery of the deep valleys and higher mountainous areas of the Altai Mountains and the nearby semidesert, as well as the gently rolling hills and open grasslands of Hustai National Park, we hope to find many of the region's notable mammals, including Saiga Antelope, Przewalski's Horse and Mongolian Gazelle, not to mention a fabulous cast of Asian birds. Our primary target in the mountains, however, is a near-mythical species, able to move silently and with near-perfect camouflage in its native terrain, seeking out its prey with ghost-like stealth. The most highly prized target for many mammal enthusiasts, our top priority during our stay in the Altai will be to try and observe a Snow Leopard. Though exceedingly rare and difficult to find, we do have a very realistic chance of seeing this beautiful cat on this Naturetrek tour, without having to brave the harsh physical and climatic conditions so often associated with viewing this secretive and much sought-after species.
Arriving in Mongolia's capital, Ulaanbaatar, we will transfer to a comfortable hotel on the outskirts of the city for our first night in this fascinating country. Lying at an elevation of 1,300 metres and with a population of over 1.3 million, Ulaanbaatar is home to almost half of Mongolia's entire population. Whilst there is little to keep us entertained on the busy and congested streets of the capital, on the outskirts of the city, along the Tuul River and its adjacent wetlands, we can look for the first of many exotic species of birds that will surely follow in the days ahead, including White-crowned Penduline Tit, Azure Tit, White-cheeked Starling, Yellow-breasted Bunting and Long-tailed Rosefinch.
The following morning we will fly west to the city of Khovd, from where we travel overland to the beautiful Altai Mountains for a 6-night stay in a remote 'ger camp' where we stay in comfortable, twin-bedded, traditional round tents. With an estimated 30 to 35 Snow Leopards in the surrounding mountains, the next five days will be dedicated to exploring the rocky valleys and higher elevations (to a maximum 3,000 metres) in search of the elusive 'mountain cat', using 4-wheel drive vehicles to access the more challenging areas.
This tour is timed to coincide with the period when Snow Leopard cubs are usually beginning to venture out from their dens to play and practise their hunting skills. With the cubs growing fast, the adult females will be hard pushed to provide them with enough food and so will need to spend a large amount of their time hunting on the open slopes. Through many years of observing and protecting these cats, the local trackers have built up an understanding of their movements and know the locations of several den sites that have been used in the past. Although sightings are still far from guaranteed, this local knowledge will give us an excellent chance of seeing our target mammal, and we will spend a great deal of time scanning from specific observation sites to give us the best of chance of success … without, of course, in any way disturbing the cats or compromising their welfare.
During our quest for the Snow Leopard we should also encounter some of its prey, including Siberian Ibex, Siberian Marmot and perhaps even the world's largest wild sheep, the Argali, though this species is very rare indeed. A fabulous array of bird species also lives in the Altai Mountains including such highlights as Altai Snowcock, Lammergeier, Steppe Eagle, Saker Falcon, Henderson's Ground Jay and the colourful Güldenstädt's Redstart. Venturing into the surrounding steppe habitat, we will hope to see the critically endangered Saiga Antelope, alongside the more delicately built Mongolian Gazelle.
Sadly, after six nights in this magical place, it will be time to bid farewell to our hosts and return to Khovd for a flight to Ulaanbaatar, from where we drive for approximately two hours to Hustai National Park for a 2-night stay. Home to the successfully reintroduced Przewalski's Horse — once extinct in the wild — Hustai National Park covers an area of over 50,000 hectares and is comprised of gently rolling hills, open grasslands and areas of scrub. Exploring on foot, we hope to be able to observe the horses alongside a wide range of other mammals and birds. If very lucky, we may even encounter one of the two resident packs of Grey Wolves that are known to live in this area.
DETAILED INFORMATION
Outline Itinerary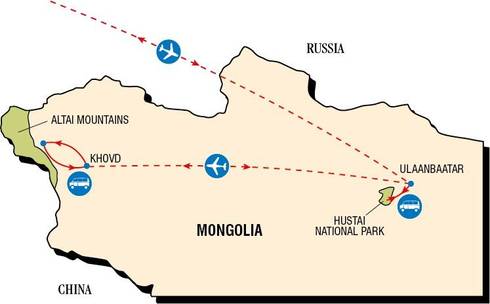 Day 3
Fly Khovd, transfer to Altai Mountains
Day 9/10
Fly Ulaanbaatar, transfer Hustain Nuruu National Park
cloud_downloadDownload Full Itinerary
What's Included?
Flights
Accommodation:

In Ulaanbaatar we use a modern tourist hotel, where all rooms have private facilities. For the rest of the tour we will stay in simple but comfortable tourist ger camps. These are usually twin bedded with shared outdoor washing/bathroom facilities.

Food:

All food is included in the price. 
Why Naturetrek?
At Naturetrek we craft expertly-guided group and tailor-made wildlife holidays and cruises to all seven continents. On one of our holidays, you can be assured that our passionate team will enable you to experience and enjoy the best of the world's wildlife and natural spectacles in as comfortable and rewarding a manner as possible, caring as best we can for the environment in the process. We are proud to provide:
The widest choice of wildlife holidays worldwide
Tours managed and led by naturalists, for naturalists
Outstanding value and exceptional customer service
Furthermore, as a Naturetrek client, our office team are always to on hand to help you – so if you have any queries about your holiday, whether before or after you have booked, we will be delighted to answer them on the phone. Please just give our team a call!