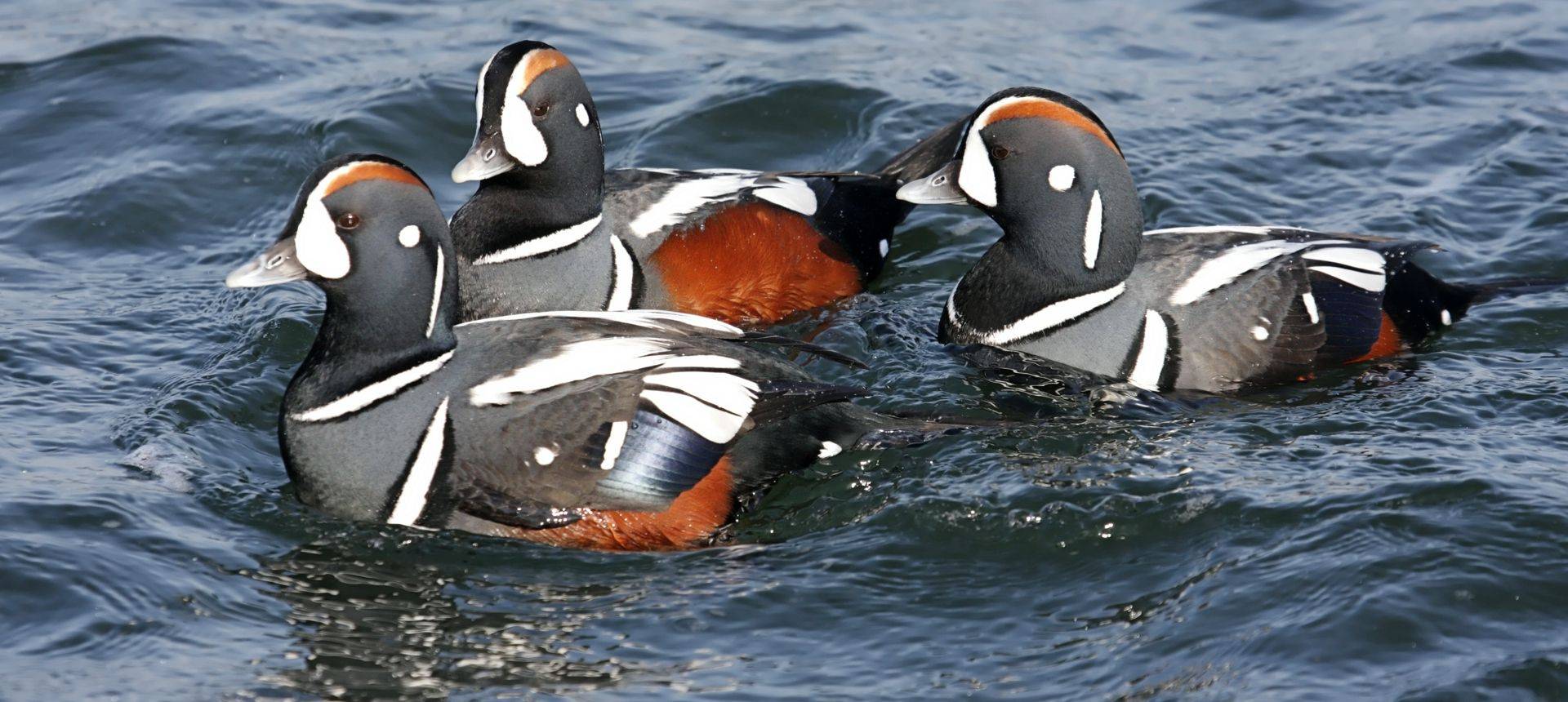 Iceland in Spring
Tour Code: ISL01
A 9-day holiday amongst dramatic scenery in search of the breeding birds (plus whales and other mammals) of this wild and beautiful land.
We begin our holiday on Iceland's north coast where we'll drive to the bird-rich Lake Myvatn in search of exciting species like Red-necked Phalarope and Slavonian Grebe which will be full breeding plumage. We should also have our first close-up views of Iceland's ubiquitous and awe-inspiring geothermal activity – in the form of pressure steams, vents and boiling mud around the lake! We'll take a whale watching trip from Husavik before heading west to the Snæfellsnes Peninsula in search of seabird colonies and the elusive Arctic Fox. Next we turn south to Thingvellir where we'll be hoping to see Red-throated and Great Northern Divers. Seals, Snipe and beautiful waterfalls formed with a double cascade of meltwater round off this late spring holiday.
Harlequin Duck & Barrow's Goldeneye on Lake Myvatyn
White-tailed Eagle, Slavonian Grebe, Ptarmigan & Gyr Falcon
Stand astride the Mid-Atlantic Ridge
Visit Geysir, & Gullfoss ('Golden Falls'), Iceland's most beautiful waterfall
Minke Whale & dolphins, plus Glaucous & Iceland Gulls on boat trip
Seabird colonies include Brunnich's Guillemot & 5 species of auk
Grey & Common Seals
Led by an expert naturalist guide
Can I help you?


X
David Phillips
David has had an enthusiasm for both nature and astronomy from an early age. As an undergraduate, reading Mathematics and Physics, he took courses in astrophysics and became chairman of the university's Astronomical Society. For the past 10 years David has worked in the travel industry and, during that time, he has organised and led many astronomically themed tours. He has seen eight solar eclipses and spent many nights viewing the spectacular Northern Lights from northern Iceland, one of his favourite places. David has travelled to 70 countries on all seven continents, combining his love of wildlife and star-gazing; during a recent winter trip to Norway (looking for Orcas and Humpback Whales) he saw in the New Year with a spectacular Northern Lights display as a backdrop.
Outline Itinerary
Day 1
Fly Akureyri, via Keflavik. Transfer Myvatn
Day 2/3
Excursions from Myvatn
Day 7/8
Thingvellir and Golden Circle; overnight Gullfoss
It was a good trip... all expected birds seen, and we gained a good insight into the country and its countryside.

J.B. Cheshire
Food & Accommodation
All included in the price, except for evening meals. Allow approximately £40 per day for these.
Comfortable hotels throughout, each with private facilities.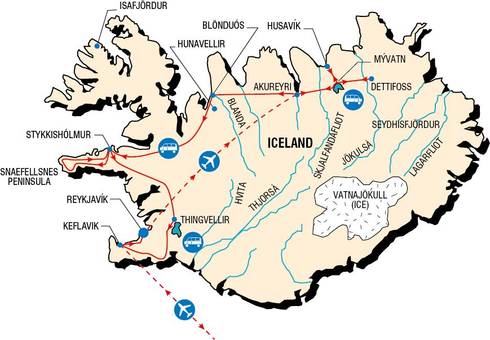 Tour Downloads
Tour leaders
Keith Clarkson

Tour leader
Iceland lies at an avian crossroads: the meeting place of Palearctic and Nearctic faunal regions. Here we find the most westerly breeding grounds of both Wigeon and Pied Wagtail, and the most easterly breeding populations of Great Northern Diver, Harlequin Duck and Barrow's Goldeneye. Many species are very much tamer here than elsewhere in Europe and, although the variety of birds is limited, the sheer quality of Iceland's northern specialities has long attracted visiting ornithologists. Mammals, though few, are of interest and include Arctic Fox, Grey Seal and an exciting variety of cetaceans such as Humpback Whale, White-beaked Dolphin and Orca. Slightly smaller than England, slightly larger than Scotland, Iceland holds a population of just 320,000 people. When you consider that over half of these live in the south-west corner of the country, you get some idea of the population density! Nearly all of Iceland lies south of the Arctic Circle — just! However, the whole country is still far enough north for us to benefit from as much daylight as we could wish for during the time of our visit.
We begin our holiday with a flight from London to Keflavik, Iceland's international airport. From here we transfer to the capital city of Reykjavík and connect with a short internal flight to Akureyri in the north of the island. Our drive east from Akureyri will not only introduce us to Iceland's spectacular scenery and landscapes, but should also yield our first northern birds, including Ptarmigan, Redwing and Golden Plover. We will be based for the first three nights of the tour in the beautifully positioned Hotel Mývatn, located on the shores of Lake Mývatn itself, Iceland's foremost birdwatching site. We will devote our first day here to the exploration and appreciation of the birds of this great lake, looking especially for Barrow's Goldeneye and Harlequin Duck. Other waterfowl we usually see here include Wigeon, Gadwall, Tufted Duck, Scaup, Pochard, Common Scoter, Long-tailed Duck, Red-breasted Merganser and Whooper Swan. We can also expect to see many Ptarmigan near the roads, and have a good chance of seeing the splendid Gyr Falcon. Additionally, we will be able to appreciate the spectacular geothermal activity around the lake — in particular, some awe-inspiring high-pressure steam vents and boiling mud! On our second day at Mývatn we will drive north-east to the coast at Husavík. Here, both Iceland and Glaucous Gulls are generally present, and we will see the catches of Cod being laid out to dry on traditional drying racks. Then, setting off from Husavík harbour, we will enjoy a half-day whale-watching excursion. Minke Whales are seen on most trips, and Humpback Whales as well as one or more species of dolphin are also seen regularly.
From the north-eastern corner of Iceland we now drive west to the dramatic landscapes of the Snaefellsnes Peninsula, keeping an eye open for Gyr Falcon along the way. From our base in the attractive town of Stykkishólmur, we will take a ferry to the tiny island of Flatey, where we can enjoy the populations of Snow Bunting and Red-necked Phalarope, and hope to find the very rare Grey Phalarope. We will also head to the westernmost point of the peninsula to view one of Iceland's larger seabird colonies, home to Kittiwakes, Fulmar and no less than five species of auk, including the much sought-after northern speciality, the Brünnich's Guillemot. This is also a good area in which to look for the elusive Arctic Fox and magnificent White-tailed Eagle. En route we will pass the huge shield volcano, Snaefellsjokull, the 'doorway into the planet's interior' chosen by Jules Verne for his book 'Journey to the Centre of the Earth'.
We next drive south-east, stopping to stretch our legs in Thingvellir National Park and Iceland's ancient parliament which overlooks Thingvallavtn, the island's largest lake. Thingvallavtn is home to Harlequin Duck, Barrow's Goldeneye, Red-throated and Great Northern Divers, Whooper Swan and wonderfully confiding Red-necked Phalaropes. Black-tailed Godwit, Whimbrel, Snipe and other waders all breed around Thingvellir, and this area is also of interest to geologists, for it sits astride the Mid-Atlantic Ridge, the great cleft in the Earth's crust that separates the Eurasian tectonic plate from the North American plate. The junction is marked by two series of conspicuous parallel fault lines and sheer basalt cliffs, separated by a wide sunken valley a kilometre or two in width. We will spend our final two nights close to the heart of Iceland's 'Golden Circle', and during our stay we will visit the very best of these volcanic and geothermal landforms. The following morning we will be well placed to enjoy a quiet visit to Geysir, home to the original 'geyser' (now dormant) and other more active geothermal spoutings and hot springs, plus Gullfoss (the Golden Falls), a spectacular double cascade of meltwater popularly considered the most beautiful waterfall in Iceland.
Finally, we complete our journey back towards Keflavik, taking a little time to explore the Reykjanes Peninsula before it is time to leave these dramatic landscapes behind and return to the international airport at Keflavik to catch our flight home.
Please contact us on 01962 733051 for details on what extensions either pre or post tour are available for this Tour.
It was a good trip... all expected birds seen, and we gained a good insight into the country and its countryside.

J.B. Cheshire

Sinclair Dunnett did everything including all the driving. He drove us through spectacular scenery and showed us lots of interesting birds and some mammals, including an arctic fox. He also gave us a commentary which was both informative and entertaining. In addition he provided us with some tasty picnics which included a variety of Icelandic specialities as well as familiar foodstuffs. In fact, he looked after us all extremely well and we had a great time. He deserves a big thank you.

B.S. Midlothian

The hotels were all good, in different ways, but best of all were the situations & being able to walk from the hotel for early morning/late evening birdwatching/enjoying the scenery was great. Lunches were excellent, very generous & varied - Sinclair did an excellent job there. He was also extremely interesting, telling us all the background information about Iceland, its history, wildlife, birds. We got far more from the trip than if we had hired a car and driven around on our own. Altogether a very interesting and happy trip, including for my daughter who wanted to wild places, but was scared of the emphasis on birdwatching.

J.P. Kent

...A thoroughly enjoyable trip. Paul was most helpful in re-organising the flights for us. The picnics were enjoyable...Bird Boat trip at Stykkisholmur was excellent as were the Snaefellness Peninsula Bird Cliffs. A worthy addition.

B. & J.M. Surrey

This is a wonderful country and a wildlife tour is an excellent way of seeing it.

T.B. Wales

I would like to express great appreciation for our tour leader, who went the extra mile on our behalf.

J.M. Surrey

Malcolm Stott, our guide, was excellent. His in-depth knowledge and his passion and enthusiasm showed throughout the whole holiday. His vast experience in visiting Iceland for many years has certainly helped in producing a great package for those who enjoy the wildlife or the geology or the landscape. I would recommend Malcolm as a leader to anyone. Well done Naturetrek for an excellent and interesting trip!

J.H. Somerset

This has been my third holiday with Naturetrek and once again I have been completely satisfied with every aspect of the trip. I have no hesitation in recommending Naturetrek to friends and colleagues and certainly hope it won't be too long before I am booking my next trip.

A.B. Dorset

Another excellent holiday with Naturetrek. This was the third time I've travelled with Malcolm and he has been brilliant every time.

Mr R. Cheshire

I am so pleased I made the choice of your holiday to Iceland, so interesting, so different and so many wonderful sights to enjoy.

A.W. Merseyside
2019
Departures
Availability
Cost
Fri 31st May - Sat 8th Jun
4
£2,895
Flights:
Most Naturetrek tours include flight costs ex-UK. If flights are not included, we indicate that here.
Flights are included in the tour cost
Regional Departures:

On certain tours it is possible to depart from a regional airport (rather than London). If a regional departure is possible, we indicate that here.
Regional Departures are available. Call 01962733051
Land only cost:

The "Land Only" cost is the tour price you will pay if you choose to arrange your own flights/transport.
£2,645
Single Room Supplement:
£295