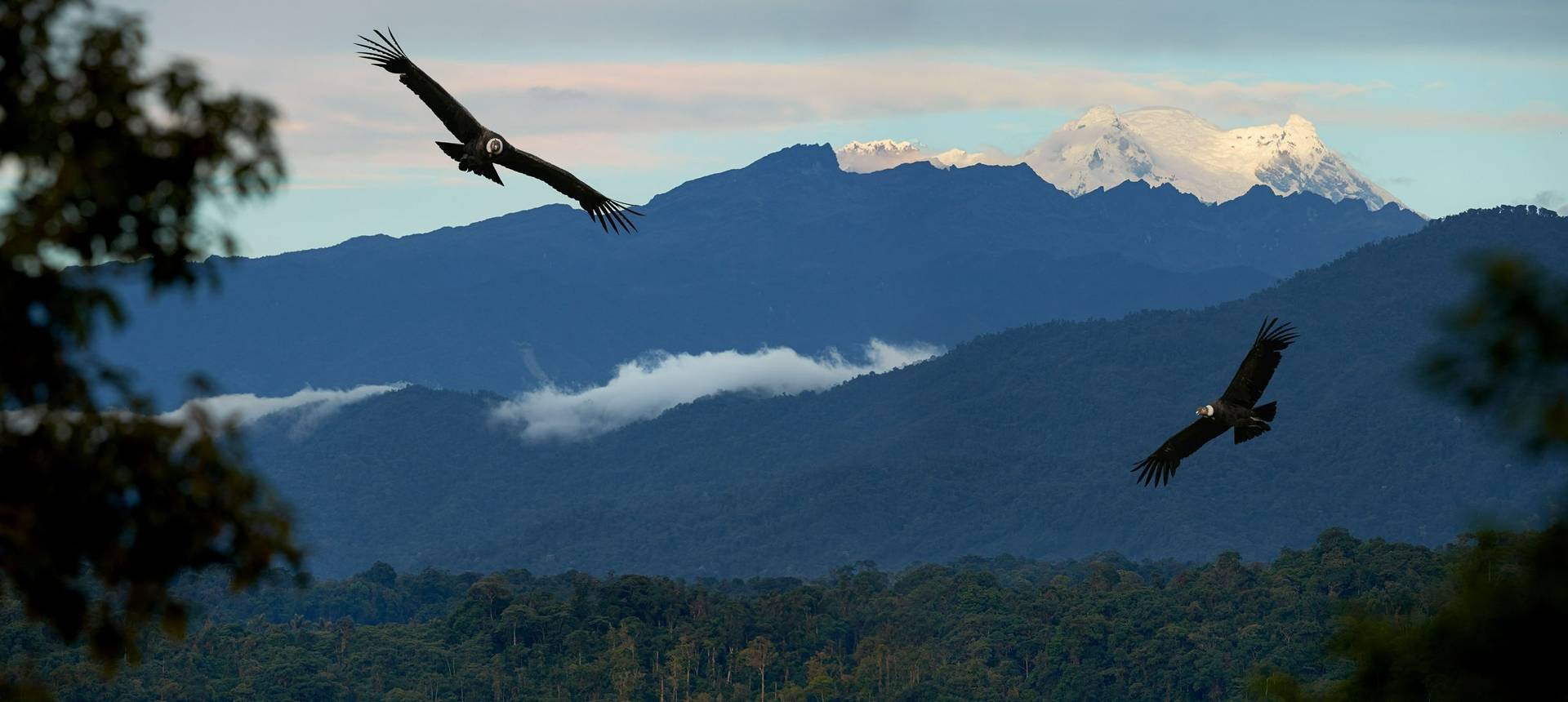 Ecuador - The Andes & Amazon
Tour Code: ECU08
A 15-day birdwatching tour of the threatened western cloudforests, the spectacular high páramo and the Amazon Basin.
Ecuador offers a mouthwatering variety of habitats within a small area. We visit the best of these during this tour, with a detailed look at the tanager and hummingbird-rich cloudforests of the Mindo area, the high Andean birdlife of the Papallacta pass, and the Ecuadorian Amazon during a 5-night stay at the world-renowned Sacha Lodge. At this wonderful lodge we'll watch cotingas, tanagers and toucans from canopy towers and walkways, photograph the bizarre Hoatzin as we explore tranquil oxbow lakes by dug-out canoe, and search for antbirds, foliage-gleaners and woodcreepers in the understorey. Six primate species are also common at Sacha, while night walks may reveal some of the rainforest's best kept wildlife secrets.
Experience the Amazon rainforest during 5 days at Sacha Lodge
Visit Angel Paz's famous Antpitta reserve at Mindo
Superlative Neotropical birding. Tanagers & hummingbirds galore!
Wonderful cloudforest & mountain scenery
High altitude birds at Papallacta include Seedsnipe & Andean Condor
Expertly guided by one of our outstanding Ecuadorian ornithologists
Extend your holiday with a visit to the Galapagos Islands
Can I help you?


X
Andy Tucker
Andy is an Aquatic Biology graduate (Aberystwyth) and worked in fisheries consultancy for a year after graduation before travelling to south-east Peru to work as a guide in the Amazon rainforest. During his year there he balanced guiding with his fisheries research and, after a brief spell back in England, returned to a full-time guiding post at Sacha Lodge in the Ecuadorian Amazon. Andy has travelled widely in Central and South America and his fluent Spanish is a huge advantage during our tours both across the Atlantic and in Spain. Andy has birdwatched for as long as he can remember and counts himself lucky to have seen so many fantastic bird and wildlife spectacles around the globe. He joined the Naturetrek team in 1998 and, while now kept busy as General Manager, is involved in the operations of a wide variety of tours in Latin America, Western Europe and North Africa.
Outline Itinerary
Day 12/13
Papallacta, High Andes
Tremendous trip. One of the best birding trips I have ever been on. 512 species seen or heard in 12½ days. Astonishing. (Saw a) Spectacled bear, a fantastic finale on the final day.

T.R. Norfolk
Food & Accommodation
All included in the price except main meals in Quito.
Comfortable lodges and hotels with private facilities.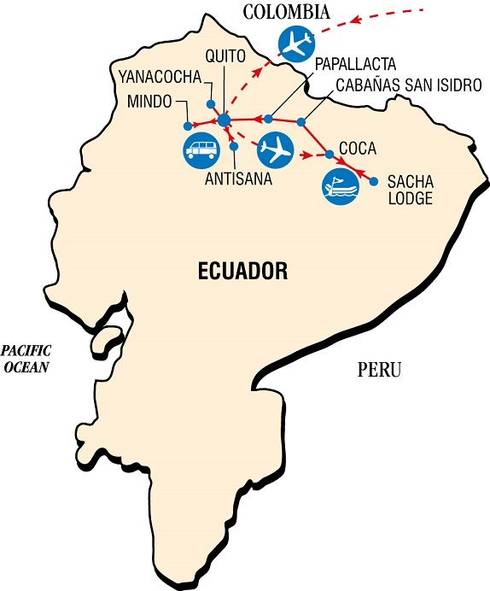 Tour Downloads
Tour leaders
Manuel Sanchez

Tour leader
Biologically, South America is the richest of the Earth's continents. Its Amazon Basin holds the largest and most diverse tract of tropical rainforest on the planet, while its major mountain range, the Andes, harbours an astonishing variety of ecosystems that range from the tundralike páramo and epiphyte-laden cloudforest to rain-shadow valleys and deciduous deserts. To sample these riches there is no better country in which to start than Ecuador. In this small country an astonishing diversity of birdlife may be found (the greatest for its size in South America), and with a welcoming people, relatively short travel distances and good accommodation, birdwatching here is truly a delight.
We begin our holiday with a thorough exploration of the western slope of the Andes, focusing first on the well-known and spectacular Nono-Mindo road. This long, winding road heads west from the outskirts of Quito at the base of Volcán Pichincha. We pass through near-páramo habitat before working our way down the western Pacific slope via the undisturbed temperate forest at Yanacocha. Highlights here may include Andean Guan, Rainbowbearded Thornbill, Black-chested Mountain-tanager and a whole kaleidoscope of hummingbirds at the spectacular hummingbird feeding station, including Sword-billed Hummingbird. Moving down in altitude, we pass through subtropical forest, looking for such species as Plate-billed Mountain Toucan, Andean Cock-of-the-rock, Toucan Barbet, Crimsonmantled Woodpecker, Booted Racket-tail and more. During the afternoon we will arrive at a comfortable birders' lodge in a valley of pristine cloudforest just outside Mindo, our accommodation for the next three nights. It is a delight to lie back in one of the hammocks and watch up to 12 species feeding on the sugar-water from one of the feeders. Mindo is a small town surrounded by hillside after hillside of lush verdant cloudforest. Many of the western endemic birds may be found here. One of many highlights during this leg of our holiday will be a morning spent at Refugio Paz de las Aves. A Cock-of-the-rock lek at dawn, five species of habituated antpittas (Giant, Moustached, Ochre-breasted, Chestnut-crowned and Yellow-breasted), plus Dark-backed Wood-quail and Rufousbreasted Antthrush, make this one of South America's most unforgettable birding experiences. If that is not enough, later in the morning we will walk to a feeding station where Toucan Barbets and Black-chinned Mountain Tanagers are confiding enough to take bananas from the hand!
The next leg of our journey takes us on a short flight over the Andes and down to the Amazonian lowlands. Here we will travel down the mighty Napo River by motorised canoe for an exciting 5-day stay at the exceptional Sacha Lodge. The lodge itself enjoys a wonderful location by the side of a secluded and peaceful oxbow lake, deep within virgin rainforest. One of the many highlights of our stay here will be the 50- metre high canopy walkway that gives us splendid access to the forest canopy. An early morning spent here is an unforgettable experience offering the chance to enjoy some superb mixedspecies feeding flocks of tanagers, toucans, parrots, macaws, euphonias, flycatchers and birds of prey. On other excursions we will paddle through beautiful flooded creeks in traditional dugout canoes. For those preferring a temporary break from the birding, a morning spent in the company of one of the local indigenous guides is fascinating. Their knowledge of medicinal plants, local tools and weapons and their overall jungle craft is remarkable. Mammals in the rainforest are notoriously difficult to spot but at Sacha there is an excellent chance of seeing up to six species of monkey. Sloths, deer, anteaters and even wild cats can be seen with some luck, while Spectacled Caiman and Side-necked Turtles are common in the surrounding blackwater lagoons.
Next we drive over the Amazonian floodplain and up the eastern slopes of the Andes to Cabañas San Isidro, a lodge that is well known for its warm hospitality and busy flocks of multi-coloured tanagers. Moving higher still, the windswept grassy páramo on the Papallacta Pass holds many interesting high-elevation birds (including Rufous-bellied Seedsnipe and Red-rumped Bush-tyrant). There is no better way to end a day's birding than with a bottle of wine, fresh locally caught trout and a long soak in the hot thermal springs beneath the equatorial stars!
Finally, before our flight home, we will explore the dramatic landscapes of the beautiful Antisana volcano (dormant since 1802), its 5,704-metre peak towering above us. This is a reliable site for Andean Condor, and this scenically stunning site will make for a fitting finale to a bird-filled tour packed with avian and other highlights.
 


Please contact us on 01962 733051 for details on what extensions either pre or post tour are available for this Tour.
Tremendous trip. One of the best birding trips I have ever been on. 512 species seen or heard in 12½ days. Astonishing. (Saw a) Spectacled bear, a fantastic finale on the final day.

T.R. Norfolk

The trip covered a lot of ground and we saw a lot of birds and quite a lot of orchids. The guides worked hard and were very enthusiastic with good equipment.

S.P. London

We saw a lot of wonderful birds and such great contrasts in habitat/scenery. William was a superb leader. His knowledge of birds and his ability to find them were second to none. He was very helpful and had a tremendous sense of humour. The arrangements in Ecuador were very well organised and the packed lunches were very good, if anything too generous!

T.H. Hampshire

My trip with you to Ecuador - Andes & Amazon was a great trip. 520 birds in two weeks does not get any better! The trip leader William Perez was excellent throughout.

P.B. Yorkshire

Accommodation was very good throughout as was the food. The local guide was pleasant and kept us very well informed throughout the tour...he is a great birder and was helpful to me in locating a lot of the birds. The guide at Sacha Lodge was also helpful in that he quickly got the telescope onto the birds enabling people to have good views. Overall an excellent holiday. My first experience of a Naturetrek holiday was a good one.

A.W. Berkshire

Our tour leader, Alejandro, is one of the best leaders I have had the pleasure of travelling with. His knowledge of the country and it's wildlife is second to none. I would consider travelling on any trip which Alejandro is leading in the future.

Mr B. East Sussex

This was the best ever trip as everything was excellent.

G.H. North Yorkshire

This holiday, 'Ecuador - Andes & Amazon', was the best organised holiday that I have ever been on. Nothing was left to chance; every detail of the itinerary had been painstakingly organised. Every aspect - transport, accommodation, food and travel arrangements - were superb. Our leader, Alejandra Solano, is in a class of his own as a bird guide and tour leader. He put a lot of his personal time in, ensuring that everyone was enjoying the trip, and nothing was too much trouble.

A.P. Norfolk

I thoroughly enjoyed my visit to Ecuador, and was amazed at the huge range of habitats and wealth of wildlife which we encountered over the two weeks we spent there. Thank you Naturetrek for such great attention to detail. I have already booked another holiday with you...

N.H. Hertfordshire

The trip leader, Andrea Molina, was superb. Her detailed knowledge and skills enabled us to see very many species of birds, including some rarities. She also had excellent knowledge of cultural aspects of Ecuador. We very much enjoyed the intense programme, with early starts to birdwatch at dawn, and the night trips by canoe in the Amazon - there were many unforgettable scenes, such as the Lyre-tailed Nightjar dancing in the evening sky, the calling Potoo, the displaying manakins, and the Condors circling. Another very enjoyable aspect was the diversity of habitats. The quality of food was excellent, especially at Sachatamia, Guango and Sacha Lodges. The hot springs at Papallacta were great.

D.W. London

Excellent accommodation and food despite the remoteness of some areas visited.

P.D. Gloucestershire

Excellent. Knowledgeable leader. Lodges were excellent.

Mr & Mrs D. Berkshire

The diversity of locations worked well on this holiday. Lelis was wonderful and did a great job of leading 13 people, even on forested walks where it is difficult. Sacha completely lived up to our expectations and from the representative at Quito airport to the laundry, everything ran like clockwork - an amazing place.

Mr & Mrs W. Canada

We wanted a birding holiday and we had a first class guide who was totally dedicated to birding. His skills, knowledge and enthusiasm were phenomenal which enabled us to locate and identify over 330 species. The accommodation was of a high standard and the Pembo birding lodge in Quito was very welcoming though the night in Quito on our way to Mindo was excessively luxurious for us!!

H.R. West Glamorgan