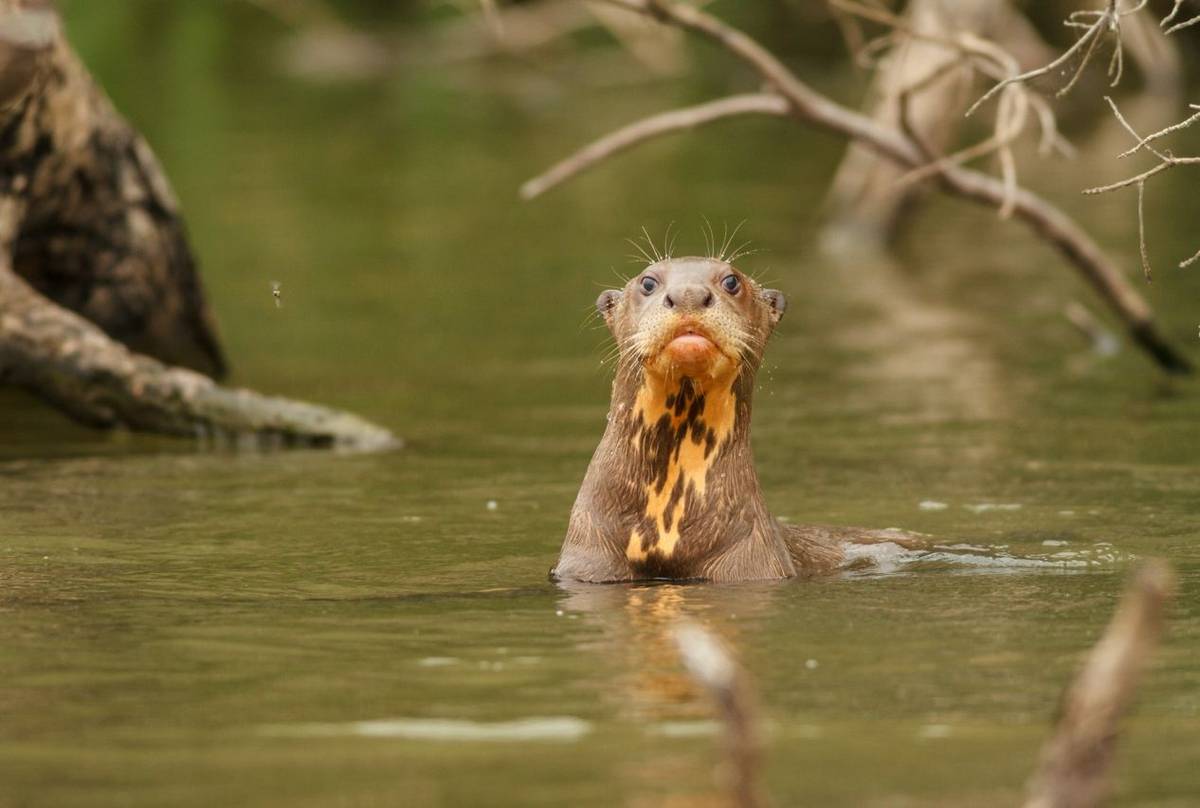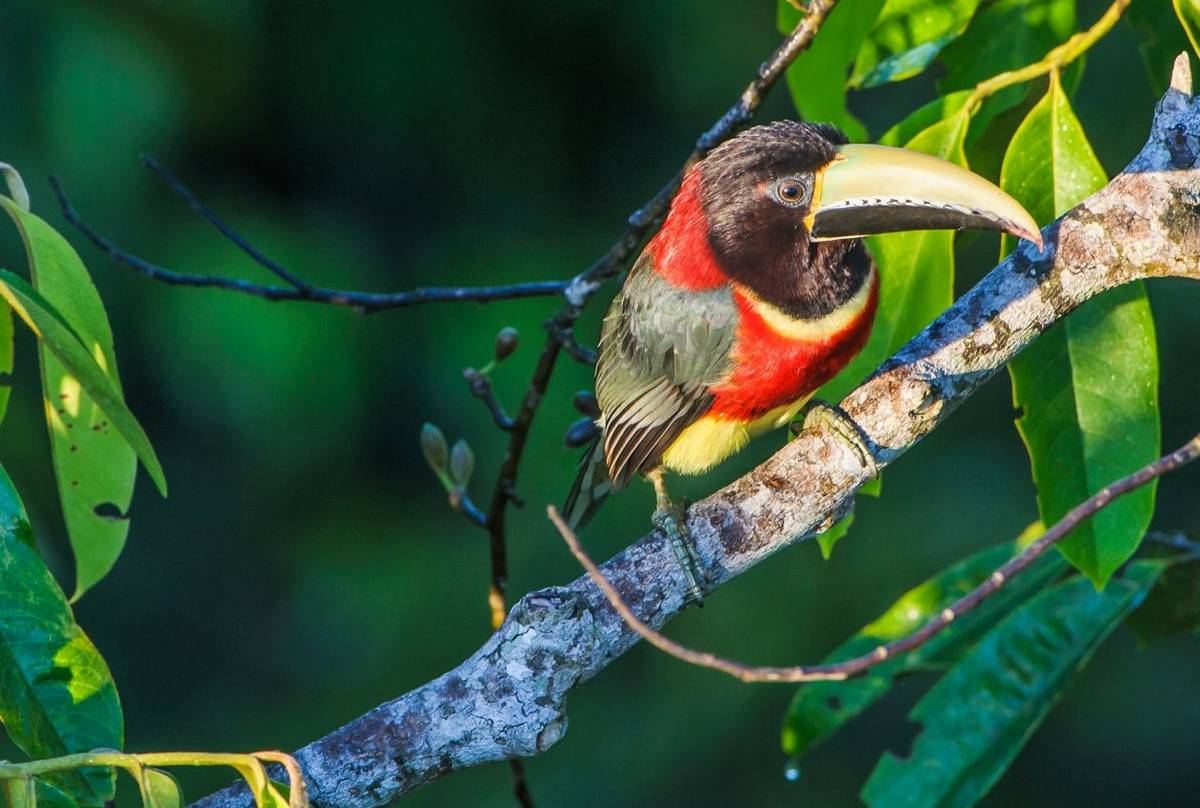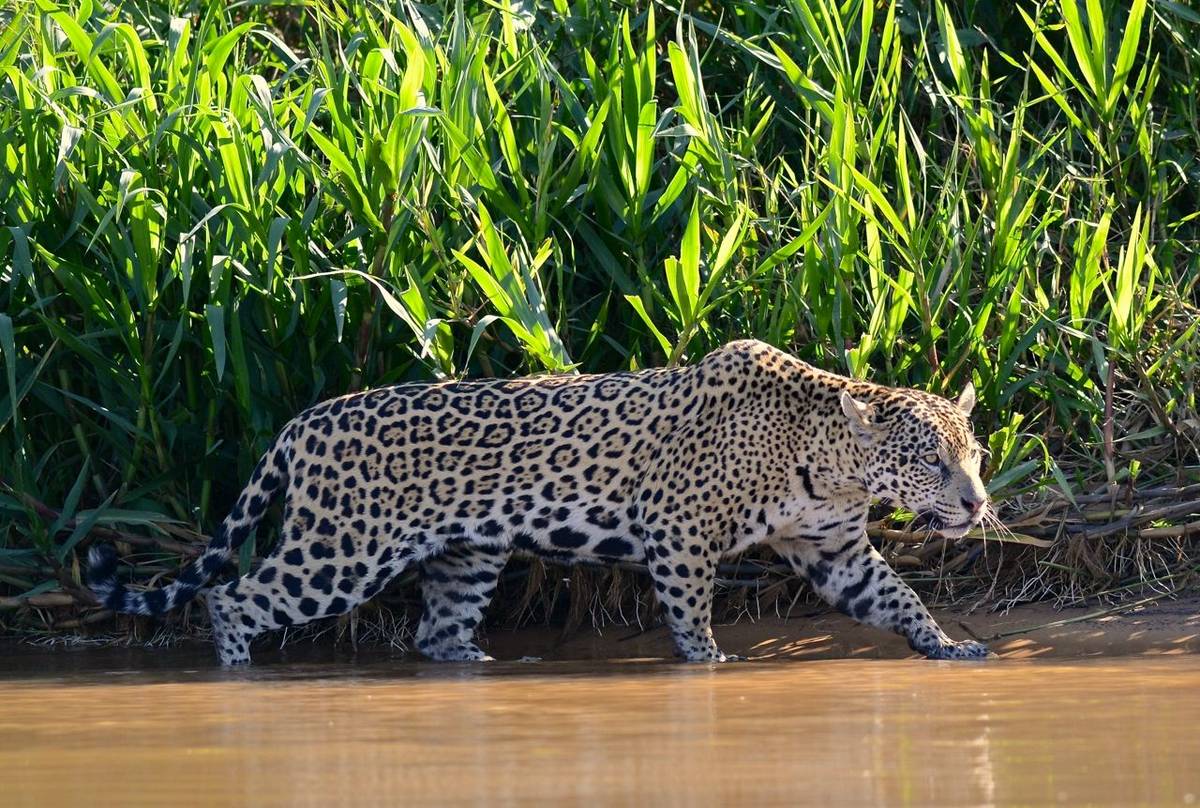 Brazil - Cristalino Lodge & The Pantanal
Tour Code: BRA08
An 11-day birdwatching holiday combining Brazil's foremost wildlife destinations - the rainforest of the Amazon Basin, explored from Cristalino Lodge, and the open wetlands of the Pantanal.
11 days from
£ (land only)
Add this tour to your favouritesRemove from Favouritesstar_border star

Add To Favourite
Highlights
SUMMARY
This holiday combines two of Brazil's foremost wildlife destinations - the Amazon basin rainforest and the Pantanal's open wetlands. After a flight to Sao Paulo, we fly north-west to Alta Floresta (via Cuiaba) in the southern Amazon then transfer by road and boat to Cristalino Lodge where we will be based for four nights. The world-famous Cristalino Lodge is situated within its own 52,000-hectare private reserve, and has a birdlist of nearly 600 species, including many localised or endemic species. We will explore the lodge's superb network of trails on foot and by boat looking for toucans, aracaris, parrots and fruitcrows among a host of other birdlife. Next we fly back to Cuiaba then drive along the Transpantaneira Highway to the Pixaim River, birding as we travel! We will settle into our delightful lodge which is within easy reach of key Pantanal habitats and explore our surrounds for a superb range of birdlife during our stay.
Cristalino Lodge - one of National Geographic's '25 best ecolodges in the world'
Bare-faced Curassows patrol the lodge's grounds, Cristalino
Cryptic Forest Falcon, Pavonine Quetzal & Paradise Jacamar, Cristalino
Lower storey specialities include Bare-eyed Antbird & Rufous-vented Ground-cuckoo
Target birds include the very reclusive Zigzag Heron & Razor-billed Curassow, Amazon
Four nights on the edge of the Pixaim River, Pantanal
We will explore the Pantanal with walks, in vehicles & boat trips
Look for Sunbittern, Boat-billed Heron & Agami Heron along rivers, Pantanal
All 5 of South America's resident kingfishers possible, Pantanal
Chaco Chachalaca & Helmeted Manakin in open forest, Pantanal
Greater Rhea & Red-legged Seriema, savannah
Look for Nacunda Nighthawk, Scissor-tailed Nightjar & Great Potoo at night, Pantanal
Led by expert local naturalist guides
Grading
Grade A. A variety of gentle walks and boat safaris.

Located in the southern Amazon, the world-famous Cristalino Lodge is situated within its own 52,000-hectare private reserve that borders the larger Cristalino State Park, itself connected to the enormous Brazilian Air Force Reserve that spans an area in excess of 2 million hectares. Selected by National Geographic as one of the 25 Best Ecolodges in the world and one of only two in the whole of South America, Cristalino Lodge offers a very comfortable base from which to explore the surrounding primary rainforest and waterways. With a bird list of nearly 600 species, including a phenomenal number of localised and endemic specialities, there will be no shortage of exciting target species to keep us entertained.

Our special 'Amazon experience' on this tour is combined with a 4-night stay in the seasonally flooded plains of the Pantanal, the largest wetland in the world which, with its vast numbers of waterbirds, offers some of the finest birdwatching on the planet. Herons, storks, ibises and Limpkins throng the marshy areas, whilst raptors such as Great Black, Black-collared and Savanna Hawks watch on with intent. The gallery forests and scrub are also rewarding, holding a bewildering array of tropical birds, amongst them antbirds, woodcreepers, toucans, tyrant flycatchers and colourful parrots, not least the magnificent Hyacinth Macaw, a welcome and frequent sight throughout the Pantanal. Arriving by air in Alta Floresta, we transfer by road and then boat to Cristalino Lodge. During our 4-night stay here we will focus on a variety of habitats, including primary tropical forest, mixed savannah with granite outcrops and the wetlands and seasonally inundated forests, exploring them on foot, by means of the lodge's 13 miles of networked trails, and by boat. The lodge grounds themselves can also be hugely rewarding, with fruiting Cecropia attracting toucans, aracaris, parrots and fruitcrows, whilst Bare-faced Curassows patrol the immaculately kept gardens.

Over the course of our stay we will search for a myriad of fantastic species, including the poorly known Cryptic Forest Falcon, brilliant Red-fan Parrot and Kawall's Amazon, Paradise Jacamar, Amazonian Royal Flycatcher, Tooth-billed Wren, the crepuscular Collared and Rufous-necked Puffbirds, Gould's Toucanet and the glittering Pavonine Quetzal. As with any tropical rainforest in South America, army ant swarms are not uncommon and will often attract a fine selection of lower-storey specialities that might include Yellowbrowed and Bare-eyed Antbirds, Curvebilled Scythebill, Spotted Antpitta and perhaps the scarce Rufous-vented Ground-cuckoo. The piercing notes of Marbled Wood-quail can often be heard ringing through the forest, as can the screeches of White-bellied Parrots. We will also spend time targeting some of the very difficult species such as the very reclusive and much sought-after Zigzag Heron and the magnificent Razor-billed Curassow.

For the second leg of our tour we will fly from Alta Floresta to Cuiabá, then drive to the town of Poconé to join the Transpantaneira Highway, a raised dirt track that extends south for 140 kilometres to the locality known as Porto Joffre, offering outstanding roadside birding en route. Our comfortable lodge for the next four nights is located approximately half way along the Transpantaneira, in a delightful spot on the edge of the Pixaim River and within easy rich of the key habitats of the Pantanal. Exploring the surrounding areas through a mix of short walks, drives and boat trips, we will enjoy the enormous congregations of waterbirds, including radiant Roseate Spoonbills, giant Jabiru Storks and beautiful Capped Herons. We will cruise slowly along small river channels, enjoying close views of Sunbittern, all five of South America's resident kingfishers, Black Skimmers, both Large-billed and Yellow-billed Terns and, with luck, the jewel of the Pantanal wetlands, the splendid Agami Heron. Delving into areas of forest we will look for such gems as Chaco Chachalaca, Chestnut-bellied Guan and Helmeted Manakin, whilst open expanses of savannah are likely to hold Greater Rhea and Red-legged Seriema. Night excursions should reveal Nacunda and Band-tailed Nighthawks and Common Pauraques, but we will also hope to see some of the region's more extraordinary nocturnal birds including the fabulous Scissor-tailed Nightjar and Great Potoo.

Finally, after four days of unforgettable birding in the Pantanal, it will be time to return to Cuiabá for our homeward flight, via São Paulo, to London.

DETAILED INFORMATION
Outline Itinerary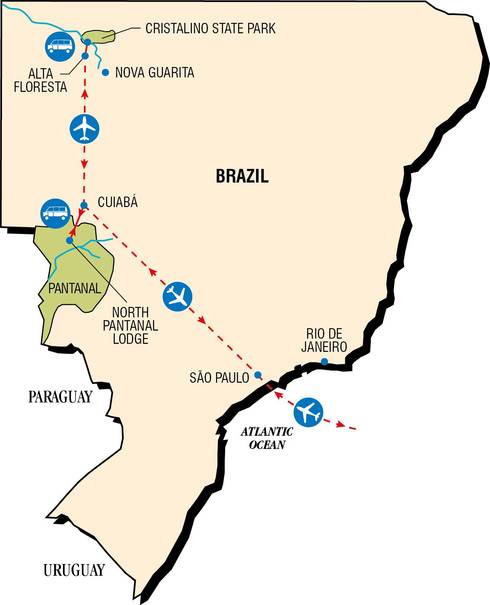 Day 2
Arrive São Paulo, then fly to Alta Floresta, via Cuiabá, and transfer to Cristalino Lodge.
Day 3/5
Cristalino Lodge, the Amazon.
Day 6
Fly to Cuiabá and drive to North Pantanal Lodge.
Day 7/9
North Pantanal Lodge, the Pantanal.
Day 10
Transfer to Cuiabá, fly to São Paulo and on to London.
cloud_downloadDownload Full Itinerary
What's Included?
Flights
Accommodation: Two comfortable lodges, each one with private facilities. Standard rooms are provided at Cristalino Lodge, though superior rooms can be booked on request at a supplement.
Food: All included in the price with the exception of meals taken in transit.
Why Naturetrek?
At Naturetrek we craft expertly-guided group and tailor-made wildlife holidays and cruises to all seven continents. On one of our holidays, you can be assured that our passionate team will enable you to experience and enjoy the best of the world's wildlife and natural spectacles in as comfortable and rewarding a manner as possible, caring as best we can for the environment in the process. We are proud to provide:
The widest choice of wildlife holidays worldwide
Tours managed and led by naturalists, for naturalists
Outstanding value and exceptional customer service
Furthermore, as a Naturetrek client, our office team are always to on hand to help you – so if you have any queries about your holiday, whether before or after you have booked, we will be delighted to answer them on the phone. Please just give our team a call!