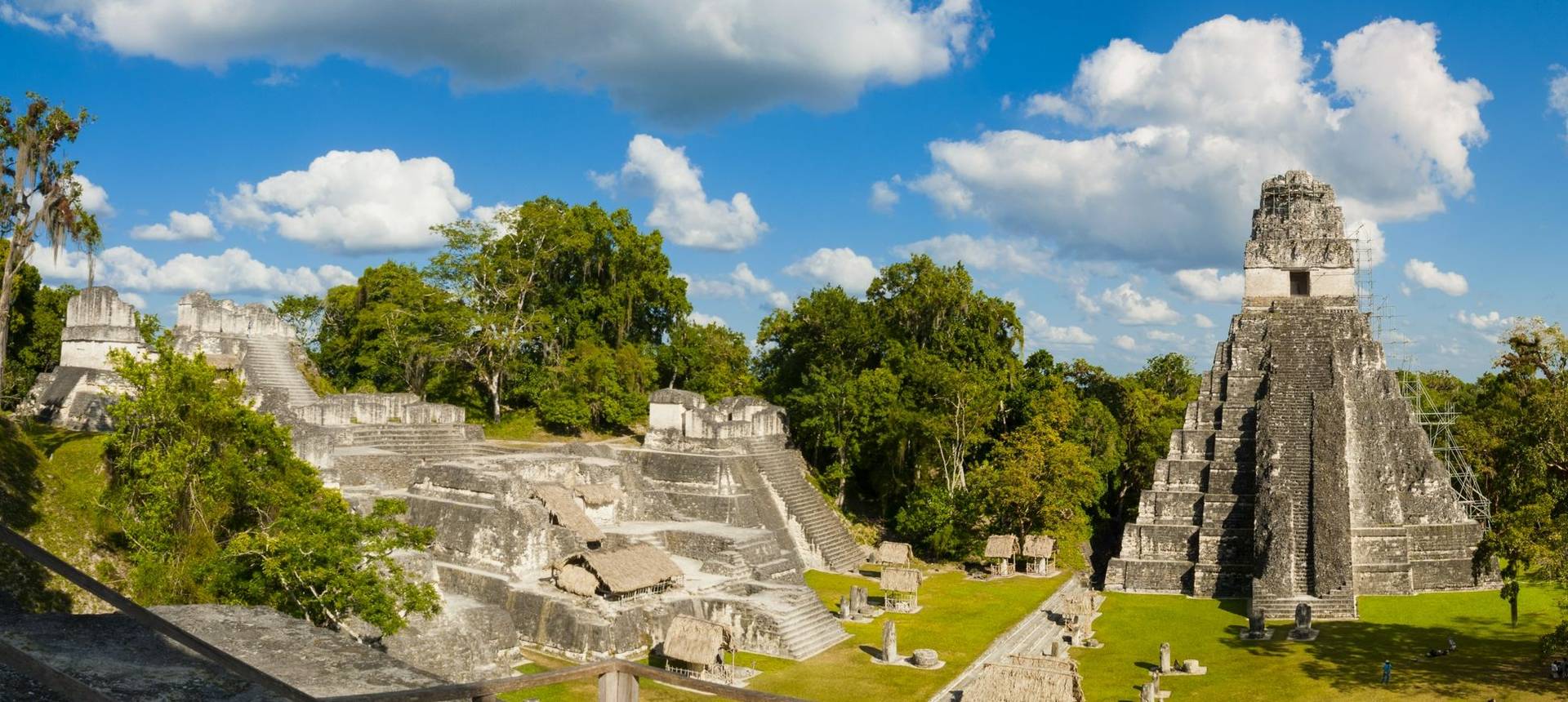 Belize & Tikal
Tour Code: BLZ02
A 16-day holiday of varied and gentle neo-tropical birdwatching amongst the undisturbed forests, magnificent ruins, pristine coral reefs and desert islands in the realm of the Maya.
Belize offers swathes of untouched rainforest, mangrove coastline and splendid coral reefs to explore. We begin this holiday in Belize City, then, via Black Orchid at Burrell Boom, head to Crooked Tree Wildlife Sanctuary's maze of waterways and lagoons in search of a wide variety of wetland species including the impressive Jabiru! After a boat trip in search of West Indian Manatees we travel north to the wonderful Lamanai Outpost Lodge and then south again to Pook's Hill which has over 300 bird species recorded within an 8-km radius. The magnificent ancient Mayan remains of Tikal are our next stop over the border in Guatemala, before heading back to Belize to explore the cayes and coral reefs at Pelican Beach, Dangriga for the final part of our tour.
Sungrebe, Jabiru & Mangrove Vireo in wetland areas of Crooked Tree
Enjoy hummingbirds, trogons, becards & manakins from lodge viewing platform
Mixed-species flocks including a wealth of woodcreepers, warblers & tanagers
Superb birding while relaxing in comfortable cabins!
Visit the ancient Mayan city of Tikal in Guatemala, plus Mayan remains in Belize
Ocellated Turkey, puffbirds, euphonias & honeycreepers at Tikal
Howler monkey chorus, turtles & Fish-eating Bats among other wildlife highlights
Chance to swim over coral reefs with myriad fish, corals and other marine life
Led by expert local naturalist guides
Can I help you?


X
Andy Tucker
Andy is an Aquatic Biology graduate (Aberystwyth) and worked in fisheries consultancy for a year after graduation before travelling to south-east Peru to work as a guide in the Amazon rainforest. During his year there he balanced guiding with his fisheries research and, after a brief spell back in England, returned to a full-time guiding post at Sacha Lodge in the Ecuadorian Amazon. Andy has travelled widely in Central and South America and his fluent Spanish is a huge advantage during our tours both across the Atlantic and in Spain. Andy has birdwatched for as long as he can remember and counts himself lucky to have seen so many fantastic bird and wildlife spectacles around the globe. He joined the Naturetrek team in 1998 and, while now kept busy as General Manager, is involved in the operations of a wide variety of tours in Latin America, Western Europe and North Africa.
Outline Itinerary
Day 2
Arrive Belize; transfer Black Orchid Resort
Day 3/4
Crooked Tree Wildlife Sanctuary
Day 5/7
Lamanai Outpost Lodge
Day 8/10
Pooks Hill Lodge
Day 11/12
Tikal, Guatemala
Day 13/14
Pelican Beach, Dangriga
We must say that Peter Dunn's expertise and knowledge was immense and his overall contribution to the holiday certainly enhanced our enjoyment.

A.B. Dyfed
Food & Accommodation
All included, except meals en route.
Comfortable lodges and hotels throughout, all with private facilities.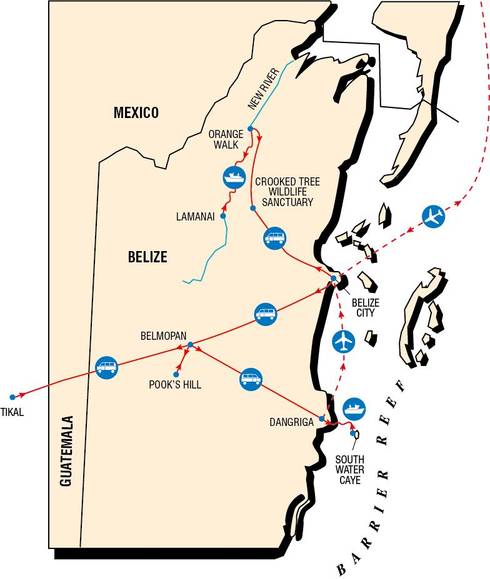 Tour Downloads
Tour leaders
Peter Herrera

Tour leader
'If the world had any ends, [Belize] would certainly be one of them. It is not on the way from anywhere to anywhere else. It has no strategic value. It is all but uninhabited.' Thus wrote Aldous Huxley back in 1934, when he was one of the few to ever visit what was at the time the most irrelevant corner of the British Empire. Belize's sheer obscurity had been the country's defining trait for centuries. By the 19th century, British Honduras (the name Belize was only adopted upon independence in 1981) had become the ultimate backwater, an English-speaking, largely black Creole outpost in Central America.
It is an irony that Huxley might well have appreciated, that centuries of underdevelopment have today given Belize its greatest resource: its magnificent and well-preserved natural history. Indeed, the country is now one of the world's leading ecotourism destinations, offering swathes of untouched rainforest, endless savannah and mangrove coasts, and the most splendid coral reef in the western hemisphere, second only in size and grandeur to Australia's Great Barrier Reef. Add to that over 900 ancient Maya ruins, the magnificent ruined Maya city of Tikal just over the Guatemalan border, and excellent, relatively easy Neotropical birdwatching, all located within a pleasantly manageable geographical area served by comfortable accommodation, and Belize's popularity becomes evident.
It is still, however, not particularly easy to reach Belize, and to do so we must fly to the United States from where, after a good night's sleep, we proceed to Belize City. An overnight stop at Black Orchid Resort in Burrell Boom will give us the opportunity to see Yucatan Black Howler Monkeys and to search for West Indian Manatees. From here we will drive north to Crooked Tree Wildlife Sanctuary. Established in 1984, this maze of waterways and lagoons supports a wonderful variety of wetland species including several species of heron, five species of kingfisher, raptors, waders and such specialties as Sungrebe, Jabiru and, around the margins of the wetland, Mangrove Vireo and Prothonotary Warbler.
We next head north to Tower Hill and the New River. Cruising upstream on our motorised launches, we will again be concentrating on the proliferation of wetland species, together with a rich assortment of raptors. We arrive at the outstanding Lamanai Outpost Lodge, surrounded by bird-rich jungle and some of the most impressive Maya ruins in the country. Our time here will be spent mainly on foot, gently exploring the magnificent ruins and bird-rich trails. Night-time spotlighting on the lagoon after dinner will also be rewarding with common sightings of Morelet's Crocodile and Hickatee, a large river turtle, along with potoos, Pauraques and Fish-eating Bats.
We now travel to Pook's Hill, a small ecolodge in western Belize arranged around a restored Maya residential site in the heart of a 300-acre primary rainforest reserve, which serves as a buffer to the 6,700-acre Tapir Mountain Reserve. We have two full days here to explore the area. The birding is exceptional, with over 300 species recorded within a 5-mile radius including trogons, tityras, becards, manikins, woodcreepers, wrens, warblers, orioles and tanagers, to name just a few! All these, and many more, will be just yards from our cabins! Jaguar, Ocelot, Coatimundi, White-tailed Deer, Yucatan Black Howler Monkey, Kinkajou, Central American Agouti and other mammals, as well as many birds, all make their homes in the forest around the lodge and, while sightings of the larger mammals are uncommon, they are a possibility.
We then proceed over the Guatemalan border and on to Tikal, where the famous ancient remains of this great Maya city, lying in the midst of one of the largest tracts of undisturbed rainforest in Central America, provide an atmospheric backdrop to some superb birding. Ocellated Turkeys wander along the deserted trails at dawn, whilst a plethora of exciting Neotropical birds flit about in the treetops: flycatchers, hummingbirds, euphonias, puffbirds and honeycreepers, all to the chorus of Guatemalan Howler Monkeys roaring in the distance. Few who have visited Tikal would dispute that this is one of the best — and most atmospheric — birdwatching localities in the whole of Central America.
To end our tour we drive to the coastal village of Dangriga and the wonderful beachside accommodation at Pelican Beach. From here, there will be an opportunity to take a boat out to South Water Caye. This pristine island is surrounded by coral reefs and we will make the most of the excellent swimming and snorkelling opportunities along the reef. Alternatively, for those preferring a landbased excursion, nearby Cockscomb Basin Wildlife Sanctuary and Jaguar Preserve offers some of the best birding in Belize. Dangriga is a wonderful spot from which to swim, snorkel, birdwatch or to simply lie back and relax in the Caribbean breeze, and is a fitting end to our stay in the world of the Maya.
Please contact us on 01962 733051 for details on what extensions either pre or post tour are available for this Tour.
We must say that Peter Dunn's expertise and knowledge was immense and his overall contribution to the holiday certainly enhanced our enjoyment.

A.B. Dyfed

Overall, an excellent itinerary, brilliantly led by the two Peters.

R.C. Bedfordshire

The food throughout the trip was superb, but the food and organisation at Pook's Hill was outstanding!

C.C. Avon

Both leaders - Andy Smith and Ivar - were excellent and superb due to their expertise, knowledge, time and patience to assist and impart their knowledge to all of us. Andy Smith is a brilliant birder and we would go with him again.

H.T. Warwickshire

Andy Smith and Ivar were excellent and worked well as a team.

T.H. Kent

We enjoyed our holiday and found our tour guide, Andy Smith, a very good organiser and his knowledge of bird life exceptional. Our local guide, Ivar, was equally knowledgeable in all things Belizean and his enthusiasm was infectious. Thanks for a wonderful trip.

Mr & Mrs Y. Worcestershire

Peter Herrera is a top class leader. He worked exceedingly hard to ensure that we all enjoyed the trip and all saw all of the birds. Excellent accommodation throughout.

Mr & Mrs H. Lancashire

Overall my wife and I thoroughly enjoyed the holiday. The guides were good, in particular the main guide, Peter Herrera was great; he was a very impressive birder and did everything that he possibly could to help us enjoy our trip. The Tikal local guide was Tony Ortiz who was also great, informative, entertaining and a joy to be with. Vicky at Pook's Hill was a perfect host. Pook's Hill was the nicest place that we've been to for some years; Vicky and Kate made us very welcome, the place was delightful and we enjoyed the whole experience and we were sad to leave.

Mr & Mrs C. South Yorkshire

Peter Herrera is one of the best bird guides I have ever encountered. He really knows his birds, can see things I can't even pick up with my bins. The mix of birds and Maya ruins was one of the reasons for me picking this holiday and the latter certainly were stunning whilst the birds delivered me 100 plus Lifers.

B.M. London
2019
Departures
Availability
Cost
Fri 1st Feb - Sat 16th Feb
1
£4,895
Flights:
Most Naturetrek tours include flight costs ex-UK. If flights are not included, we indicate that here.
Flights are included in the tour cost
Land only cost:

The "Land Only" cost is the tour price you will pay if you choose to arrange your own flights/transport.
£4,395
Single Room Supplement:
£595
2020
Departures
Availability
Cost
Wed 5th Feb - Thu 20th Feb
SPACES
£4,995
Flights:
Most Naturetrek tours include flight costs ex-UK. If flights are not included, we indicate that here.
Flights are included in the tour cost
Land only cost:

The "Land Only" cost is the tour price you will pay if you choose to arrange your own flights/transport.
£4,395
Single Room Supplement:
£595