Wildlife Holidays in Madagascar: An Interview with our Expert

With 

This email address is being protected from spambots. You need JavaScript enabled to view it.



Operations Manager
13th March 2018
Having lived and worked in Madagascar before joining Naturetrek, it made perfect sense for Operations Manager Kerrie Porteous to take over our portfolio of holidays to this unique island when she joined the company in 2012. In the years since she has led many of our tours there and in this article, she gives her opinion on why Madagascar is such a special destination for the all-round naturalist, and answers questions about what you can expect from a tour to the island.
Q. What's so special about Madagascar's wildlife?
In a word, endemics! Once part of the supercontinent of Gondwanaland, Madagascar separated from India about 88 million years ago and, since then, its flora and fauna has evolved in relative isolation which has led to very high numbers of endemic species. Over 90% of its reptiles and plants, 99% (all but two!) of its frogs, 50% of its birdlife, almost all the spiders and insects and, most notably, all (approximately 148) of Madagascar's terrestrial mammals are endemic. It's also a country where new species are still being discovered. We ran our first tour to the island in 1994; at that time there were 30 known species of lemur whereas now there are over 100 formally recognised species! It's an incredible destination for the all-round naturalist as there's so much wildlife that's unique and special.
Q. Wildlife-watching in tropical forests can be hard work. How easy is the wildlife to see?
In Madagascar, all wildlife-viewing is done on foot, walking along trails during the day and at night. Clients are frequently surprised by just how good the sightings are — that you can see so much fairly easily and often much closer than expected. As with all wildlifewatching, some species, including many of the lemurs, will come close of their own accord whereas others require a bit more work — in terms of going up steep slopes off-trail, or over slippery ground at night — to see. For example, Black-and-white Ruffed Lemurs tend to stay high up in the trees and so can be quite hard to see well, whereas Ring-tailed Lemurs are a lot easier — in one reserve we visit you can sit amongst a troop while the youngsters play around you. What is certain, is that during a 2-week trip to Madagascar you will definitely see a great deal of special wildlife, some of it at very close quarters. You can expect to see about 15 to 20 species of lemur as well as many endemic birds, including Madagascar Paradise Flycatcher, Long-tailed Ground Roller and Sickle-billed Vanga.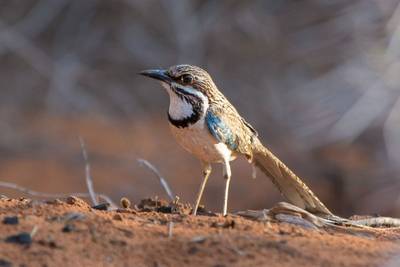 Long-tailed Ground Roller (Aniket Sardana)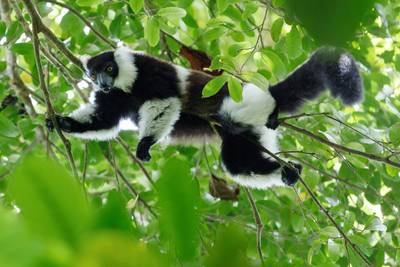 Black-and-white Ruffed Lemur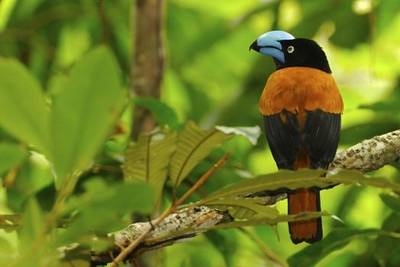 Helmet Vanga (Stephen Woodham)
Q. Talking of birds, and particularly endemics, what's the best itinerary for keen birders, and what are the birding highlights of a visit?
At first glance Madagascar's bird list can seem short — only 287 species recorded on the island, with just over 200 of them regularly breeding. But, look again, and you realise that over 100 of them are endemics, including six endemic or 'near endemic' families (found only on Madagascar and the neighbouring Comoro Islands). I would recommend joining our 'Madagascar's Endemic Birds' tour which targets the best national parks and reserves for ground-rollers, mesites, asities, Bernieridae warblers, vangas and cuckoo-rollers, as well as many of the other endemics. Some of our targets, like the diminutive Appert's Tetraka, are only found in a single fragment of forest in the entire country, making a sighting very special indeed.
Q. Are the photographic opportunities good?
Yes, very! And you can get astonishingly close to some species, including some of my favourites — the chameleons, Indri, and the aptly named Giraffe-necked Weevil.
Q. What are the reptiles like?
Often overlooked on traditional safaris, reptiles are one of the highlights of a trip to Madagascar for me. There are lots of chameleons, day geckos, leaf-tailed geckos, skinks and snakes (none of them dangerous!) to marvel at. I've spent hours watching chameleons, waiting to see them fire their tongue out to catch prey, or seeming to procrastinate endlessly about whether to put a foot down on a twig — it can be a highly entertaining, and rather mesmerising, pastime! The Panther Chameleon and the Jewel Chameleon are my personal favourites.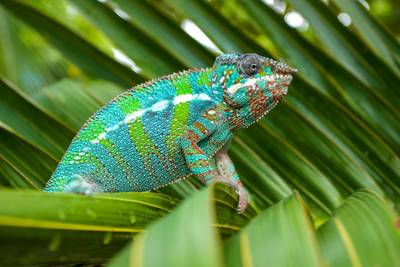 Panther Chameleon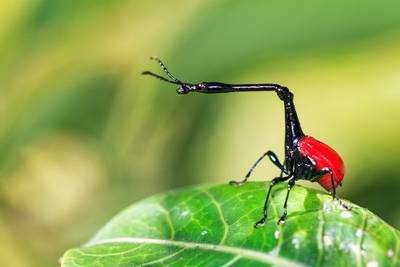 Giraffe-necked Weevil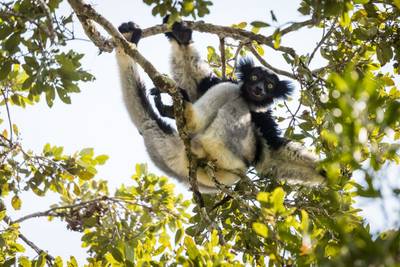 Indri
Q. When on a wildlife tour in Madagascar, do you get much sense of the habitat degradation that is often reported?
Typically we cover large distances on a holiday to Madagascar and, inevitably, you do see evidence of habitat destruction between reserves. However, about 10% of Madagascar is now protected — within these areas there's no sign of habitat degradation and the biodiversity is incredible. Ecotourism plays a very important role in the conservation of many of Madagascar's protected areas, as it provides a source of sustainable income for local communities and helps prevent further habitat loss. In some areas, half of the park fees we pay goes directly to local communities.
Q. When is the best time to travel?
From September to November (inclusive) is the best time — the weather's dry and warm (in the mid-20s to mid-30s). It's just before the rainy season so, although you might get the odd shower, you shouldn't get prolonged periods of wet weather! It's a great time for seeing birds and lemurs — the latter breed in July/August, so from September to November the young are beginning to be a bit adventurous which makes for some excellent sightings. Our tailormade department can organise trips at other times, but I wouldn't advise travelling between January and April as it's the cyclone season.
Q. Madagascar is a quite different experience from a classic African safari. What should the visitor be prepared for?
There are large distances to cover, most of the roads are of poor quality by Western standards, and the internal flights tend to depart according to their own unique timetable — early or late, but rarely on time! But if you have a sense of adventure and some patience, the wildlife rewards of a trip to Madagascar compensate a thousand-fold for these inconveniences. The Malagasy approach most problems in life with the saying 'mora mora', or 'slowly slowly', i.e. everything happens in its own time. I've found it's best to adopt this attitude whilst travelling in the country! As for logistics — yes, they can be complicated, but that's our job — you can leave our tour leaders and me to worry about logistics while you enjoy the trip!
Q. Lots of travel companies offer trips to Madagascar. Why travel with Naturetrek?
We have 20+ years of experience organising successful trips to Madagascar. We take a great deal of time and care planning our itineraries and working out logistics in conjunction with our local contacts. Our guides are second-tonone — phenomenal naturalists and organisers, passionate about their country as well as very friendly and a pleasure to spend two weeks with. It also helps that I have lived and worked there, getting to know the best wildlife sites and building up a great rapport with the country's top naturalist guides.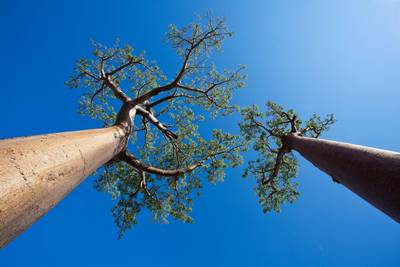 Baobabs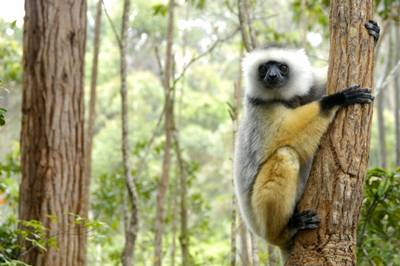 Diademed Sifaka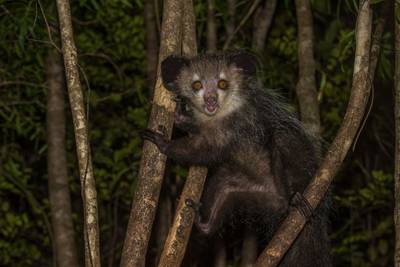 Aye-aye
Q. Are there any species you haven't seen yet, that are still on your wish-list?
Yes — the Aye-aye! I'm keen to lead our new 'Madagascar's Mammals' holiday which offers an excellent chance of seeing this bizarre-looking nocturnal lemur.
Q. What's your stand out moment from your time leading tours in Madagascar?
It's hard to choose, but I think it would have to be a wonderful day in Andasibe-Mantadia National Park whilst leading our 'Madagascar's Lemurs' tour. We spent the morning in Mantadia watching beautiful Diademed Sifakas. After a while, we heard the distant grunts of Black-andwhite Ruffed Lemurs, so we followed the calls and found a troop high in the trees where we watched them for some time. We finished off the day in Andasibe watching a family trio of Indris — a male, female and baby — and listening to their haunting and eerie cries echoing for miles through the forest.
Q. Anything else?
I have to give a mention to Madagascar's extraordinary Flatid Leaf Bugs! The adults look like pink petals on a branch and the juveniles are all white and fluffy! Like so much of Madagascar's wildlife, they are completely captivating.
Click here to view our holidays to Madagascar.
---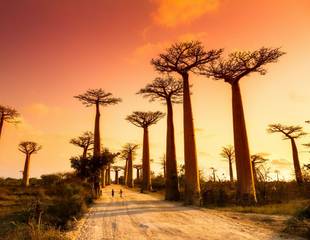 A 20-day wildlife photography holiday to the extraordinary island of Madagascar,...
20 days
£7,895 inc. flights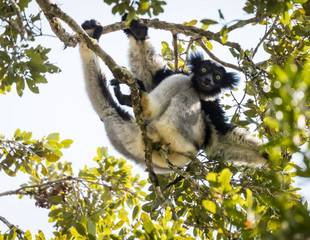 A 24-day wildlife holiday in search of the unusual birds, plants and mammals of...
24 days
£6,995 inc. flights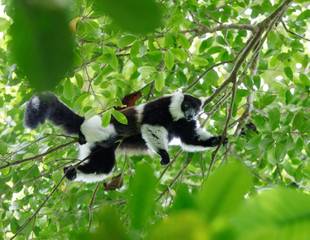 A 16-day holiday to the island of Madagascar in search of lemurs, birds and othe...
16 days
£4,495 inc. flights