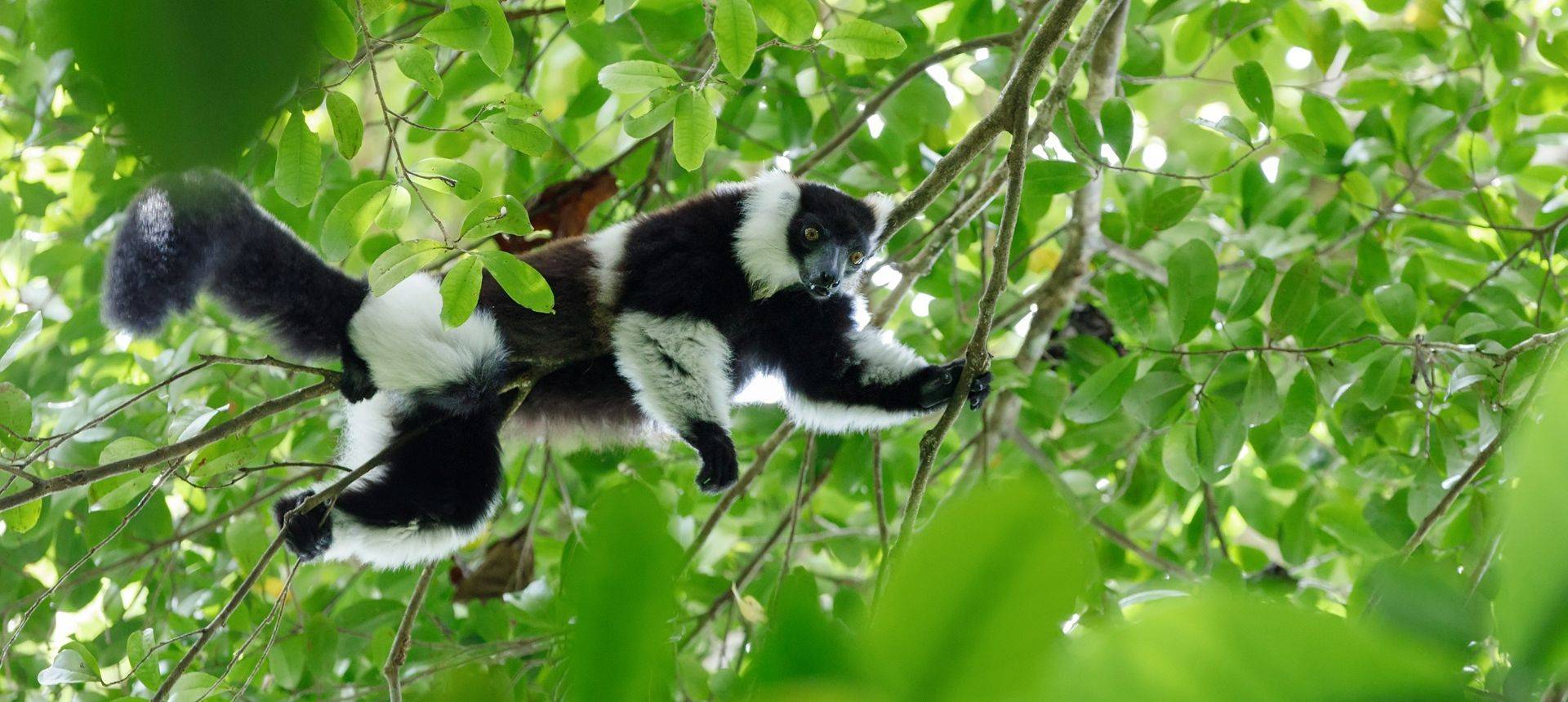 Madagascar's Lemurs
Tour Code: MDG04
A 14-day holiday to the island of Madagascar in search of lemurs, birds and other special wildlife.
Perhaps the most familiar – and endearing – of Madagascar's unique wildlife are the lemurs. Today they range in size from the largest, the Indri, to the diminutive mouse lemurs, the smallest of which can sit in an egg-cup! This, our most popular Madagascar holiday, will take you lemur-watching within some of the island's very best wildlife reserves including Ranomafana, Andasibe and the bizarre spiny forests around Ifaty. It includes the opportunity to enjoy the enchanting dawn chorus of Indri families at Perinet, a sound often described as 'whale-song in the trees', plus the rare Golden Bamboo Lemur and troops of charming Ring-tailed Lemurs. Whilst the lemurs will no doubt take centre stage, rest assured that a supporting cast of birds, reptiles and other wildlife will not be ignored!
Encounter Madagascar's lemurs (ca. 20 species usually recorded!)
Hear the plaintive dawn chorus of the Indris at Perinet
Spotlight for tiny mouse lemurs in the bizarre spiny desert
Experience day and night walks in pristine rainforests and bizarre spiny desert
A unique and endemic wildlife found nowhere else on Earth
Endemic birds – including ground rollers, mesites and vangas
Chameleons, Leaf-tailed Geckos and other reptiles
Spectacular scenery
Can I help you?

Outline Itinerary
Day 4/6
Ranomafana National Park
Day 7/8
Isalo National Park
Day 11/13
Andsaibe-Mantadia National Park
We had wonderful experience of Madagascar both in terms of wildlife and of the culture. We spent two weeks viewing wildlife on foot in Madagascar in a variety of environments. We saw 20 different types of lemur and many other birds insects reptiles butterflies and wonderful plants. I loved the spiny forest in particular. The Malagasy people were friendly and engaging. The highlight of the holiday for me was standing under a tree while an Indiri sang to his group, which was quite magical. 

Naturetrek  ensured that the trip was well organised from start to finish with a high level of guides (sometimes 5) to our small group ( maximum 9). The wildlife viewing was maximized by the timing of the tour in the year and the timing of the walks in the day. The guides both local and English were helpful and  knowledgeable. The accommodation and food was of a high standard which helped because the early starts, and long hours spent walking and travelling were tiring.

F.L. Essex, Oct 18
Food & Accommodation
All food is included in the price.
We stay in simple but comfortable hotels and eco-lodges. All rooms have private facilities.
One hundred and sixty-five million years ago the huge prehistoric super-continent of Gondwanaland began to break up. As the new continents embarked on their slow, inexorable drifts towards their present locations, the island of Madagascar was left isolated in an everwidening ocean. This isolation allowed the island's prehistoric fauna and flora free rein to evolve in their own unique way and, today, over 80% of all Malagasy wildlife is endemic, occurring nowhere else on Earth.
Perhaps the most familiar, and endearing, of these endemic creatures are the lemurs, one of the very first primate families to evolve and one that is now restricted to Madagascar. This 15-day tour focuses on them (offering an alternative to our popular and successful 24-day tour), and will take you lemur-watching in several of the island's very best wildlife reserves, including Isalo, Ranomafana, Andasibe and the bizarre spiny deserts around Ifaty. Whilst the lemurs will no doubt take centre stage, you can be assured that the supporting cast of birds, reptiles and other wildlife will not be ignored.
Our holiday begins with a flight to Madagascar's capital, Antananarivo, known colloquially as 'Tana'. From here we head south through the terraced hillsides of the Hauts Plateaux to the lush highland rainforests of Ranomafana National Park, spending one night in Antsirabe en route. Ranomafana is a beautiful mountainous reserve enveloped in lush rainforest. This is one of Madagascar's newest national parks, established to protect the rare Golden Bamboo Lemur and its close cousin the Greater Bamboo Lemur. We will be based here for three nights whilst we explore the network of forest trails in search of a wide variety of lemurs and other wildlife. Species to look out for include the beautiful Milne-Edwards' Sifaka, plus Red-bellied and Red-fronted Brown Lemurs, Grey Bamboo Lemur, the nocturnal Eastern Avahi (Eastern Woolly Lemur) and, if fortunate, maybe even the rare Golden Bamboo and Greater Bamboo Lemurs themselves. This is also a great place to search for the wonderfully camouflaged leaf-tailed geckos together with a variety of chameleons and other reptiles. Birds to look out for include Pittalike Ground-roller, Brown Mesite, Pollen's Vanga and Yellow-bellied Sunbird-asity.
From Ranomafana we continue south to the sandstone massif of Isalo, stopping on the way at the small reserve of Anja to enjoy the troops of Ring-tailed Lemurs that live there. The Isalo massif has been fashioned by the wind and the rain into spectacular gorges and gullies. Fringing woodland at the foot of the massif is home to Verreaux's Sifakas and Ring-tailed Lemurs, whilst in the dry rocky hillsides that span into the surrounding countryside the bizarre Pachypodium roselatum ('Elephant's Foot') and other unique plants may be found.
En route to Ifaty we will stop at Zombitse National Park, home to Zombitse Sportive Lemur and a variety of birds that includes the endemic Appert's Tetraka. Once on the coast we will spend two nights at Ifaty to give us the time to explore Madagascar's most unique habitat, the spiny desert. Here huge Bottle Baobabs and bizarre 'Octopus trees' create a fascinating habitat that is home to Grey-brown Mouse Lemurs and the beautiful Long-tailed Ground-roller.
For our grand finale we journey back to Tana and then east to the rainforest reserves of Andasibe (Mantadia and Analamazaotra). Here we will enter the forests at dawn to listen to the eerie cries of the beautiful Indri, the largest and most vocal of the lemurs. It is a truly mesmerising experience to stand in the forest at first light listening to the different Indri families calling to one another from the tree-tops, a sound which, once heard, is never forgotten. We will spend three nights at Andasibe to fully appreciate the sight and sound of the Indri, and the other lemur species present; these are likely to include Common Brown Lemur, Black-and-White Ruffed Lemur and Diademed Sifaka, and, if very fortunate, we may even catch a glimpse of the bizarre Aye-aye. Although sightings of this nocturnal lemur are on the increase, and past Naturetrek groups have been lucky, Aye-ayes are still a rare and very fortunate treat! We are sure to find plenty of birds, however, including Red-fronted Coua, Madagascan Pygmy Kingfisher, Rufousheaded and Scaly Ground-rollers and Velvet Asity, plus a range of reptiles that could include such species as Parson's Chameleon, Short-horned Chameleon or perhaps a Madagascar Ground Boa.
With the plaintive cries of the Indri still fresh in our minds, we must reluctantly return to Tana for our flight back to London, leaving the unique creatures of this lost world far behind and returning to the more familiar wildlife of home. 
Please contact us on 01962 733051 for details on what extensions either pre or post tour are available for this Tour.
We had wonderful experience of Madagascar both in terms of wildlife and of the culture. We spent two weeks viewing wildlife on foot in Madagascar in a variety of environments. We saw 20 different types of lemur and many other birds insects reptiles butterflies and wonderful plants. I loved the spiny forest in particular. The Malagasy people were friendly and engaging. The highlight of the holiday for me was standing under a tree while an Indiri sang to his group, which was quite magical. 

Naturetrek  ensured that the trip was well organised from start to finish with a high level of guides (sometimes 5) to our small group ( maximum 9). The wildlife viewing was maximized by the timing of the tour in the year and the timing of the walks in the day. The guides both local and English were helpful and  knowledgeable. The accommodation and food was of a high standard which helped because the early starts, and long hours spent walking and travelling were tiring.

F.L. Essex, Oct 18

We saw way more lemurs than we had anticipated - and we got much closer to them than I had imagined possible. The various guides and helpers were excellent, they seemed to truly care that we had a great holiday. The hotels we stayed at were all good, and a couple were outstanding.

J.W. Canada, Oct 18

The local guides in the parks were outstanding. It was very enjoyable to see a broad range of wildlife – lemurs, birds, reptiles, amphibians, insects and plants – and to visit the diverse habitats of rainforest and dry forest. Too many highlights to list them all, but they include the many sightings of lemurs in the day at night (21 species!), roosting nightjars, the ground rollers, the moth trap at dawn and the amazing chameleons and geckos.

D.W. London, Oct 18

This was a truly wonderful trip, with a group that gelled together and some excellent sightings - well worth the early risings and long walks. Dave Mallon was, for me, the perfect tour leader, being not only very knowledgeable and competent but also entertaining and fun to be with. He imparted information well and his ability to communicate readily with the local people was a valuable bonus. He took great care of us both in terms of our physical well being and our enjoyment of the wildlife, always ensuring that people saw what they wanted to see - quite an achievement given the wide-ranging interests of the group! Dave was more than ably supported by Claude Rambelosan who was also extremely knowledgeable and enthusiastic, and a good communicator. The local guides and support staff, particularly our driver and his assistant, were all very good and helpful. Maurice at Andasibe was a great character and an excellent guide. This was my first experience with Naturetrek but you will certainly be amongst my first choices when planning my next adventure. Many thanks.

V.K. Nottinghamshire

First of all, I would like to say that I really, really enjoyed this holiday. It was our first experience of Naturetrek...We look forward to our next trip!

A.M. Northumberland

This was immensely rewarding in terms of the richness and diversity of wildlife seen. Certainly one of the most fulfilling we have ever done. We cannot praise your leader, Andy Smith, too highly, he was caring, equitable and knowledgeable. An excellent trip, hugely enjoyed.

C.S. London

Excellent. We had some fantastic Lemur sightings and the other amazing wildlife of Madagascar didn't fail to disappoint either. The leader, Hilary Bradt was lovely , extremely knowledgeable and fun to be with. Her personal knowledge of the country meant that we got to see some extra things and experience some great local food which we probably wouldn't have done otherwise. Our local guide was fantastic also, and nothing was too much trouble!! Many thanks!

N.O. Somerset

Dave was very supportive and efficient...his knowledge of the flora and fauna was impressive, and he managed us very skilfully. We had an excellent group of people and enjoyed a lot of fun too!

B.U. Lancashire

The holiday was a two week wildlife trip to Madagascar, primarily searching for lemurs. The local guides and the English trip leader were keen to show us as much of the local wildlife as possible and we did see a lot of weird and wonderful creatures. Madagascar is a very poor country but the food and hotels were a good standard and the people were very welcoming. There was some long drives but there was always something to see and we had plenty of stops to stretch our legs. Our trip leader and guide were concerned about everyone's welfare and tried their best to promptly rectify any problems that anyone had.

J.A. Lancashire

...the holiday experience was superb. Dave Mallon was a great tour leader...he was great fun to be with and had a good fund of stories to tell without being over-talkative. Claude Rambelosen, our local naturalist, had a good knowledge of the lemurs, most birds, and especially the reptiles and amphibians.

R.U. Lancashire

Desire spent four hours and walked 10km on our penultimate day to find a Parsons Chameleon for us, a call way beyond his duty and we thank him so much for that. Roland our guide in Isalo also deserved a special mention for his friendliness and efforts to find wildlife for us. Also our guide in Perenty, Maurice, did all he could to find wildlife and make our holiday such a pleasurable one.

S.V. Jersey

We couldn't have asked for better tour leaders – Tony and Desi. They had an impressive knowledge and a great sense of humour. We had always travelled independently and never with a group before, but we really enjoyed this experience and will be doing it again.

A. & L.V.F Netherlands

Claude Rambeloson was not only an excellent guide he was a model of what a guide can do. For example, he would make a point of asking me of I had got a good view of a bird that others at the front of the group had seen and if I had not got a good view he would make a point of finding it again for me. He did this repeatedly. He was well organised, knowledgeable, attentive, enthusiastic and charming company too. If there is any kind of performance-related payments for guides, he deserves top money.

J.C. South Yorkshire

The guides were superb, both local - seeing the lemurs as we did was a marvellous experience.

W.S. London

Claude was very good as a guide, relaxed and efficient with good level of knowledge and willing to share it above and beyond duty. Food exceeded expectations, far better than led to believe. Overall a very good trip. Thank you.

K.S. Hertfordshire

This was another excellent trip which delivered everything promised.

C.W. Cumbria

A unique experience; being able to get so close to the lemurs and other exceptional wildlife; amazing light for photography (even in the dense forest areas); good organisation and great company.

P.K. & C.H. Lincolnshire

I most enjoyed the small group size, and the contributions of the expert naturalists. Cathy, our UK leader, was exceptionally knowledgeable and her understanding of the country and its wildlife, combined with her leadership ability, made it a huge success for me.

J.R. London

The wildlife and spiny forest were extraordinary! Our tour leader and local guide were knowledgeable and worked tirelessly for us.

R.S. Hertfordshire