Lion, Kruger National Park
Wildlife and Cricket in South Africa

This email address is being protected from spambots. You need JavaScript enabled to view it.
South Africa is one of the world's greatest nations for both sport and wildlife. In early 2020, the England cricket team will be touring the country; on our new 'Wildlife & Cricket' tours, you will experience first class international sport alongside spectacular wildlife and scenery.
We are running two departures. On the first, we'll watch the final Test Match in Johannesburg, and experience the natural wonders of the north-eastern highlands and remarkable Kruger National Park. The second will include two One Day Internationals (ODIs), in Cape Town and Johannesburg, as well as the highlights of Kruger and the endemic birds and mammals of the Western Cape.
Our first tour, which departs on 22nd January 2020, will take in the final Test Match between England and the Proteas, at the iconic Wanderers Stadium in Johannesburg; the final result of the four-match series could be hanging in the balance, and we will hope to witness plenty of high-stakes sporting drama.
After the match's conclusion, we will venture into the country's wild north-east. In the high-altitude grasslands of Dullstroom, we could encounter such gems as Meerkat, Black Wildebeest, Southern Bald Ibis, Long-tailed Widowbird, and the elegant Blue Crane. Then, we will search the lush montane forests of Mount Sheba for Narina Trogon, Knysna Turaco, Orange Ground Thrush and the localised Samango Monkey.
The highlight of the tour should be our 4-night stay in the world-renowned Kruger National Park, one of the largest and most diverse reserves in the whole of Africa. Here we will work our way through a who's who of iconic mammals; Lion, Leopard, Elephant, White Rhino, Cape Buffalo, Giraffe, Hippo and many others are likely, while we will also make a special effort to locate some of the park's more elusive residents, including Cheetah, African Wild Dog and Black Rhino. The birdlife is no less astounding, and Kruger protects healthy populations of many large species which are now rare or absent outside the biggest reserves. Amongst these are such giants as Saddle-billed Stork, Ostrich, Southern Ground Hornbill, Lappet-faced Vulture, Martial Eagle and Kori Bustard, whilst there is also a plethora of smaller, often riotously colourful species, including Southern Carmine Bee-eater, Black-collared Barbet, Green Woodhoopoe and Lilac-breasted Roller.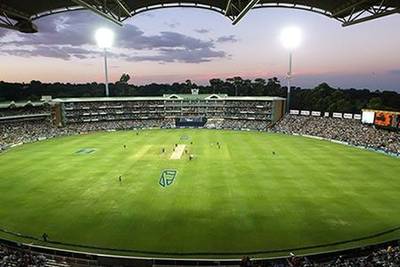 A 15-day cricket and wildlife tour, taking in the final Test between England and South Africa ...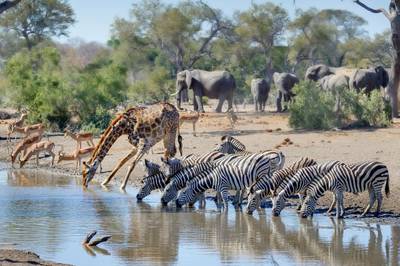 Talamati Waterhole, Kruger National Park
Gurney's Sugarbird, Dullstroom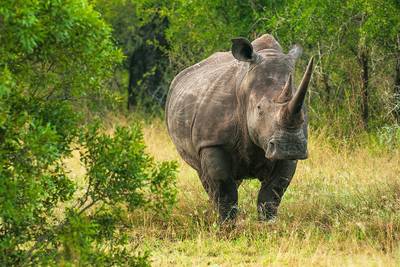 White Rhino, Kruger National Park
On our second tour, departing on 31st January 2020, we'll fly into Cape Town before driving north to the scenic West Coast National Park. Here, in the park's picturesque coastal landscape, we'll hope to find Black Harrier, Southern Black Korhaan, Bokmakierie, Cape Longclaw, Springbok, Cape Mountain Zebra and Eland. Dusky and Heaviside's Dolphins are possible offshore, while with luck we may encounter the elusive Caracal.
We'll then return to Cape Town for the ODI match at Newlands; sitting in the shadow of Table Mountain, this is widely considered the most beautiful cricket stadium in the world. After the match, we'll stay for three nights in Simon's Town, from where we will make excursions in search of the Cape Town area's varied wildlife. This could include the African Penguin colony at Boulders Beach, Cape Sugarbird and Spotted Eagle-owl in the Kirstenbosch Botanical Garden, and myriad wildfowl at the Strandfontein Wetlands. A short flight will subsequently take us to Johannesburg and the final ODI at the Wanderers Stadium. From there we'll head directly to Mount Sheba, and then on for a 4-night stay in the Kruger.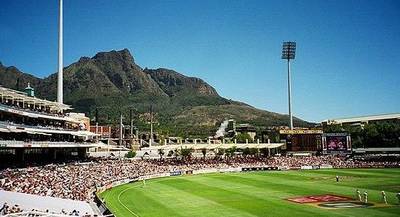 A 17-day wildlife and cricket tour, taking in two ODI's between England and South ...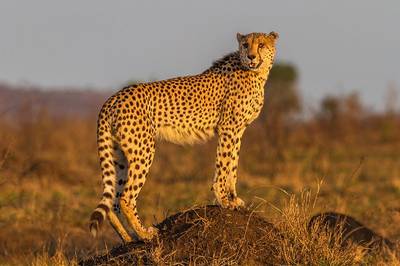 Cheetah, Kruger National Park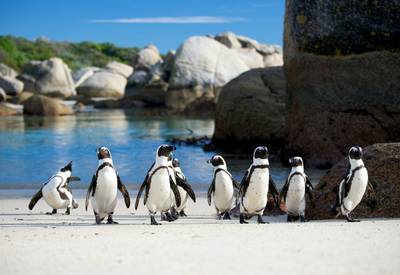 African Penguins, Boulders Beach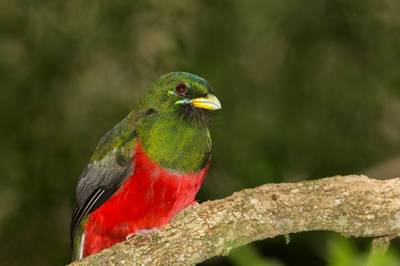 Narina Trogon, Mount Sheba