The Azores – a hidden Atlantic gem with the best whale-watching in Europe

By

This email address is being protected from spambots. You need JavaScript enabled to view it.



Marketing Manager and Azores Tour Leader
20th May 2019
Few people know much about this far-flung archipelago in the middle of the Atlantic – yet few places in Europe offer better cetacean watching! These attractive and unspoilt Atlantic islands combine a friendly, relaxed atmosphere with a fascinating natural history and geology. If that wasn't tantalising enough, the islands offer delicious local cuisine (the soft cheese from the island of Pico, served with honey, being a particular favourite) and fabulous wines – all of which we will have plenty of opportunity to enjoy during a whale-watching holiday here!
An autonomous region of Portugal, the Azores archipelago consists of nine volcanic islands, and stretches for more than 600 kilometres midway between Europe and North America. These lush and fertile volcanic islands enjoy a wonderfully warm oceanic climate in the summer. The surrounding seas are warmed by the Gulf Stream, and the islands shelve steeply into the sea, creating an underwater topography that is perfect for attracting deep-diving cetaceans such as Sperm Whales. Pico is the second largest island, and is where we base two of our holidays.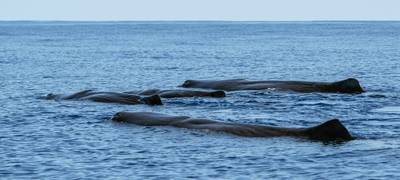 Sperm Whales
What's special about Naturetrek's holiday on the island of Pico, Azores?
1. Wildlife
Islands often harbour unusual wildlife and the Azores are no exception. While the Azores are home to interesting birds and delightful plantlife, the marinelife – in particular the whale and dolphin-watching – is world-class. 27 species of whale, dolphin and porpoise have been recorded in the waters around the Azores, including Sperm Whales, Blue Whales, many dolphin species and some of the elusive beaked whales. During our 'Whales and Dolphins of the Azores' holiday in Pico, we'll have the privilege of watching family groups of Sperm Whales with their calves, and an abundance of dolphin species – typically Atlantic Spotted, Short-beaked Common, Bottlenose, Risso's, and Striped Dolphins.
Each day we depart from the pretty town of Madalena (our base for the holiday) for our morning and afternoon boat trips, coming back to shore at midday to enjoy lunch in a sunny café by the harbour. In addition to an experienced wildlife guide on board the boat, our whale-watching tours in the Azores also enlist the skills of professional spotters onshore (known as 'vigias') which greatly increase our chances of frequent, and unforgettable, encounters with the whales. Without employing the experience of a local vigia, as we do on all of our Naturetrek tours, the chances of finding whales are dramatically reduced. We will benefit greatly from their expertise, and there is always a sense of great excitement as they guide us via the boat's radio! We may also, at any time, encounter other species at sea, such as Portuguese Man O' Wars, sharks, turtles and flying fish.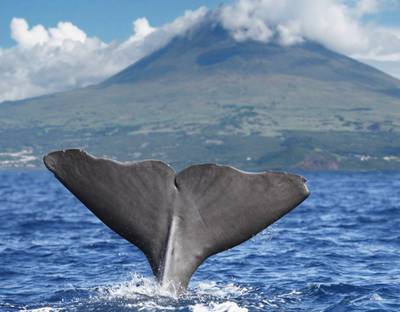 A 9-day holiday on Pico in the centre of the Azores archipelago, timed to coincide with ...
The Azores also hold the world's largest breeding population of Cory's Shearwater, which spend all day on the wing and return to their burrows at dusk, calling to their nesting partners as they do so. We make a memorable evening visit to a secluded site, and listen to these bizarre calls as the shearwaters return from the waves, fly over our heads and locate their mates.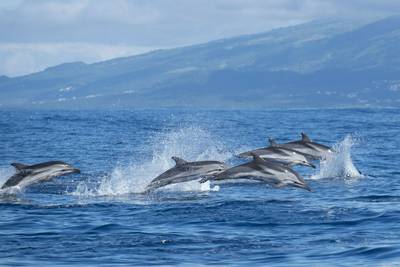 Atlantic Striped Dolphins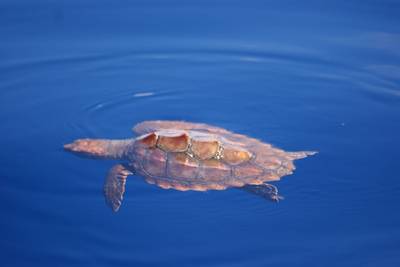 Loggerhead Turtle (Ed Drewitt)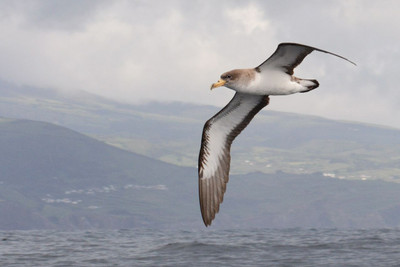 Cory's Shearwater (George Rutter)
2. Cuisine
There is no better way to round off a day of superb whale-watching than to relax on a warm terrace overlooking sunny vineyards, with a cold glass of wine and tucking into a delicious local dish. Over the course of the week-long holiday, we visit a variety of restaurants, selected by your experienced tour leader, where you can enjoy sampling fresh, authentic dishes from the island of Pico. Specialties include:
Cheese: Pico cheese is soft, fresh and white, best served with honey and a popular appetizer.
Seafood: Grilled limpets served with garlic, butter, herbs and pepper are a specialty. Hearty seafood stews and grilled tuna steaks are also typical dishes.
Black sausage: Azoreans have been making black sausage (blood sausage) for generations, and most locals have their own favourite recipes passed down from their families. Azorean blood sausage differs from others around the world by its unique blend of seasonings, including local cinnamon.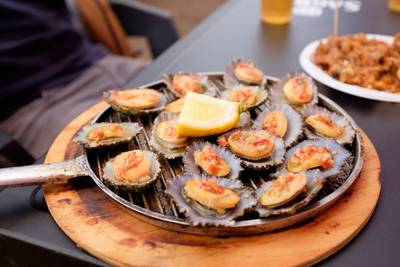 Grilled limpets
Pico cheese and wine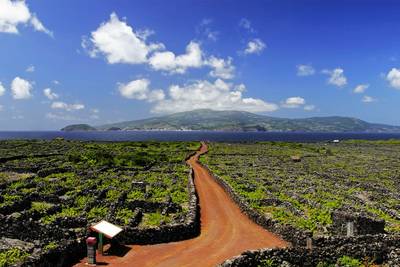 Pico vineyards, a UNESCO World Heritage Site
Fresh fruit: The volcanic soil, sun and a dry climate make Pico 'the orchard of the Azores'. Apple, pear, damson, peach, plum and orange trees flourish, producing sweet, juicy fruits. It is figs, however, with juicy ruby-red interiors, that best symbolize the delicious fruit of Pico!
Pasteis de Nata: The smell of these delicious, classic Portuguese custard tarts floats through the village streets from the local bakery, and are not to be missed with a morning coffee!
Pico wine: The unusual vineyards are made from small plots walled with dense black lava stone. The stones absorb heat during the day and continue radiating it throughout the evening, allowing the grapes to produce lots of sugars and making for excellent wine.
3. Fascinating sites of interest
Pico has much to offer on land to those interested in the natural world. In addition to whale-watching, we spend one day exploring the island of Pico. It is home to a network of lava caves, and we will visit the most famous and largest of them all – Grutas das Torres. Even deep underground there is life, and the ceilings of the caves glitter with silver and gold actinomycete bacteria. The unique vineyards on the island are a UNESCO World Heritage Site, and no visit to Pico is complete without walking through them – Atlantic Canaries, Blackcaps and the Azorean subspecies of Chaffinch often noisily fly within them. A guided wine-tasting session will allow us to sample the unique flavours of wines produced on the island. A visit to the historic town of Lajes will also provide the opportunity to visit a whale museum.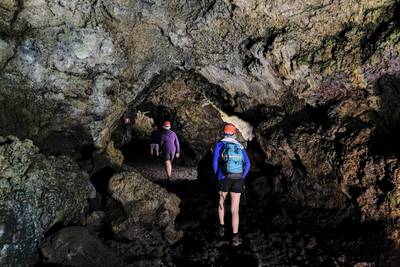 Pico caves
4. Culture
Due to its volcanic nature, the shoreline of Pico comprises black volcanic rocks and lacks sandy beaches. As such, it has fortunately not been developed for masses of 'beach holiday tourists'. This means the culture here remains wonderfully relaxed, slow-paced and hasn't been diluted by tourist shops, high-rise hotels or busy streets. Visitors can enjoy walking around peaceful towns (each with a fabulous bakery!), watch Atlantic sunsets over the island vineyards, sample delicious cuisine in family-run restaurants and, of course, experience some of the best whale-watching in the world!
Click here to see all of our dedicated whale and dolphin watching tours to the Azores.