Staff Spotlight: Rajan Jolly

This email address is being protected from spambots. You need JavaScript enabled to view it.
This month, we interview Operations Manager, Rajan Jolly. Born and raised in India, Rajan has worked in the travel industry for over 28 years and manages Naturetrek's tours to India, Sri Lanka, Nepal, Burma and Bhutan. We get to know Rajan better in this article.

When and how did your interest in wildlife begin?
Having been fortunate enough to be born in the beautiful valley of Kashmir (India), I have always been close to nature. I still remember as a young boy my favourite adventures were to trek up the hills to enjoy the fabulous landscape, and visit the Dachigam National Park to look for the endangered Kashmir Stag and the Himalayan Black Bear.
I lost my touch with nature in the hustle and bustle of the city life, when I moved to Delhi. I started my career in tourism but initially was mainly focused towards the rich culture of India. It was only through my association with Naturetrek that I rekindled my passion for nature and wildlife. I still remember my first Naturetrek trip back in 1998, which brought me so close to wildlife and gave me the realisation of what I was missing.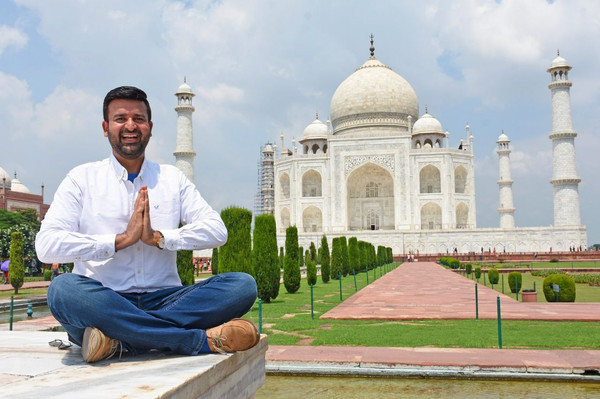 When and where did you lead your first tour for Naturetrek?
Before joining Naturetrek, I was working with their ground agents in India, co-leading and leading many wildlife tours, and the memory of the first trip that I led is still fresh in my mind. It was Naturetrek's 'Just Tigers!' tour to central India and was the first time I came face to face with the majestic cat, the Royal Bengal Tiger. I saw a family comprising a male and a female with their four 18-month-old cubs all strolling along! In addition, I was lucky enough to see seven Jungle Cats, a pack of Dhole (Indian Wild Dogs), a Sloth Bear and a Barasingha (Swamp Deer), one of the world's rarest mammals. Since then, Kanha National Park has been my all-time favourite and it just never disappoints!
What is your 'day job'?
Having had the first-hand knowledge and experience of the Indian subcontinent, I am now working as an Operations Manager, responsible for organising and operating our tours to India, Sri Lanka, Nepal, Bhutan and Burma. I have worked in the travel industry for over 28 years and besides manging the tours, I am also keenly involved in designing and researching the itineraries, with a view to giving our clients the best possible experience. I visit these countries regularly to refresh and check the logistics of our trips personally.
What other interests do you have outside of wildlife?
I am a big sports fan and especially love to play or watch cricket and badminton. I also enjoy going on long walks with my dog to the nature parks. I find watching any TV series by Sir David Attenborough very therapeutic to the soul.
What current conservation projects or issues most concern you?

One of the issues that concerns me the most is the constant conflict between humans and wildlife for their habitat. With increasing population, humans have been claiming more and more land from the wildlife and we need to find a solution to co-exist without harming each other.
Snow Leopard Conservancy India Trust (SLC-IT) is an NGO working in the Trans-Himalayan regions of Ladakh and Spiti for the conservation of the highly endangered Snow Leopard. They have been working diligently to find an amicable solution to this problem, with a strong belief that Snow Leopards and humans can co-exist, provided local farmers understand the vital role that Snow Leopards play in the high-altitude ecosystem.
The Snow Leopard is in conflict with farmers as the cat is considered a major threat to livestock due to its tendency to kill multiple livestock in a single attack. Snow Leopard conservationists have worked out several ways of reducing this man-animal conflict. SLC-IT are working towards building predator-proof corrals so that the livestock of the villagers is safe. These are built by local people using low-cost local materials. This simple yet ingenious solution has solved over 90% of the problem of multiple killings in livestock pens, and has saved Snow Leopards from vindictive farmers.
Sustainable tourism is a big help for these projects as well, as it not only provides funding for running them and also livelihood to locals but also discourages the villagers from harming the wildlife. Here at Naturetrek we strongly believe in responsible tourism and are helping in similar projects in many countries.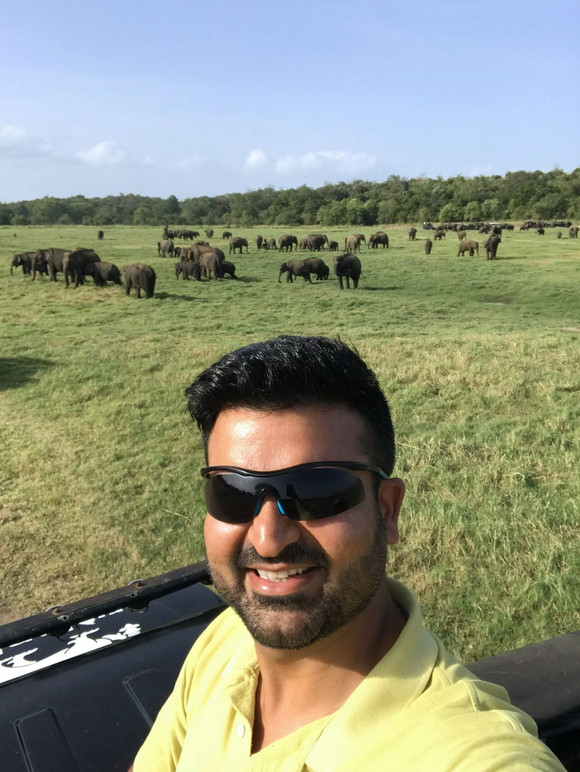 Rajan with the, annual, largest gathering of Asian Elephants in Minneriya National Park, Sri Lanka
Do you have a favourite bird, mammal, or plant?
It has to be the Tiger! Nothing beats the magic of seeing these cats in the wild. They are renowned for their undeniable beauty, grace and form. They have this certain majesty about them. When you look into their eyes you can't help but be in awe and be moved emotionally. I have been lucky enough to see them on various occasions in their natural habitat and each time I was mesmerised by their charisma.
What is your most memorable wildlife encounter to date?
A couple of years ago in Satpura National Park, after a dull start and a hide and seek with a Tiger, as we were heading back, suddenly my guide pointed to a Sloth Bear mother with her cub riding on her back. Just when I thought I was lucky, I never imagined what was coming next. Another male Sloth Bear appeared trying to pursue the female. Well, she was not interested in him at all and told him loud and clear. The male was also not in a mood to give up and chased her round and round. The mother helped the cub to climb up a tree and gave a good fight and chased him away. The combat lasted for over 10 minutes with the cub crying loudly from the tree. Finally, the male gave up and went away. The protective mother took the cub on her back once again and moved to the water hole. This whole episode is still fresh in my memory and I am overwhelmed by the strength of a mother mammal to protect her own at any cost.
What are you reading at the moment?
Beyond Possible: The man and the mindset that summitted K2 in winter. It is an autobiography of Nimsdai Purja, who tells the story of his life before his recent epic achievement of leading the team that scaled K2 in winter. 'Beyond Possible' is about a seemingly unreachable goal to climb all 14 'death zone' mountains in record time.
What new destination would you most like to travel to next?
I would like to visit the Brazilian Pantanal to see the elusive Jaguar and the Arctic island of Spitsbergen to see the magnificent Polar Bear.