Sara Frost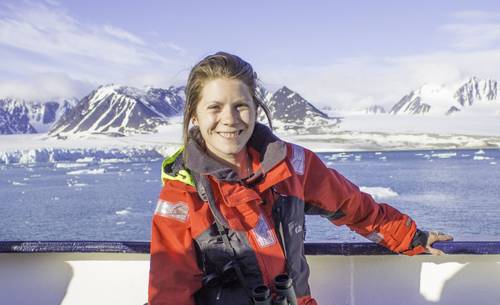 Sara works full time in Naturetrek's busy office as the Website and Marketing Manager. However, by training, she is a Zoologist, graduating from Newcastle University where she was also the president of the university's Zoological Society. Prior to working at Naturetrek she lived and worked in British Columbia, Canada, as a wildlife rehabilitator caring for Black Bears, Coyotes, River Otters and Raccoons on a daily basis. When she wasn't providing medical care to injured wildlife she could be found hiking in the mountains, photographing wildlife, howling with wolves and avoiding bears (usually successfully). On her return to the UK she moved to the Scottish Hebrides, where she spent three years working at sea as a wildlife guide, finding Minke Whales, Otters, dolphins and eagles for her guests on a daily basis! She also spent her summers as the Senior Wildlife Officer on a ship in the North Sea, collecting sightings data on whales and dolphins, and delivering marine biology lectures to guests.
Always keen to be involved with media, Sara has presented on both live radio and TV, is regularly published in wildlife and travel magazines and has worked as a guide for Ray Mears and TV film crews for several natural history documentaries. A keen cetacean spotter, Sara specialises in leading Naturetrek's cruises in the Maldives, Hebrides, Indonesia and Arctic, as well as our whale and dolphin holidays in the Azores. 
Upcoming tours with Sara Frost...
Date
Tour
Availability
Sharing
Price
Sharing:

N/A

Sharing is designed to help those who wish to pair up in order to avoid single occupancy surcharges. M = Male / F = Female / B = Both

Sharing:

N/A

Sharing is designed to help those who wish to pair up in order to avoid single occupancy surcharges. M = Male / F = Female / B = Both

Sharing:

N/A

Sharing is designed to help those who wish to pair up in order to avoid single occupancy surcharges. M = Male / F = Female / B = Both

Sharing:

N/A

Sharing is designed to help those who wish to pair up in order to avoid single occupancy surcharges. M = Male / F = Female / B = Both

Sharing:

N/A

Sharing is designed to help those who wish to pair up in order to avoid single occupancy surcharges. M = Male / F = Female / B = Both