Peter Cunnington travelled on our 'Spain's Coto Donana and Extremadura' holiday and submitted this entry to our writing competition.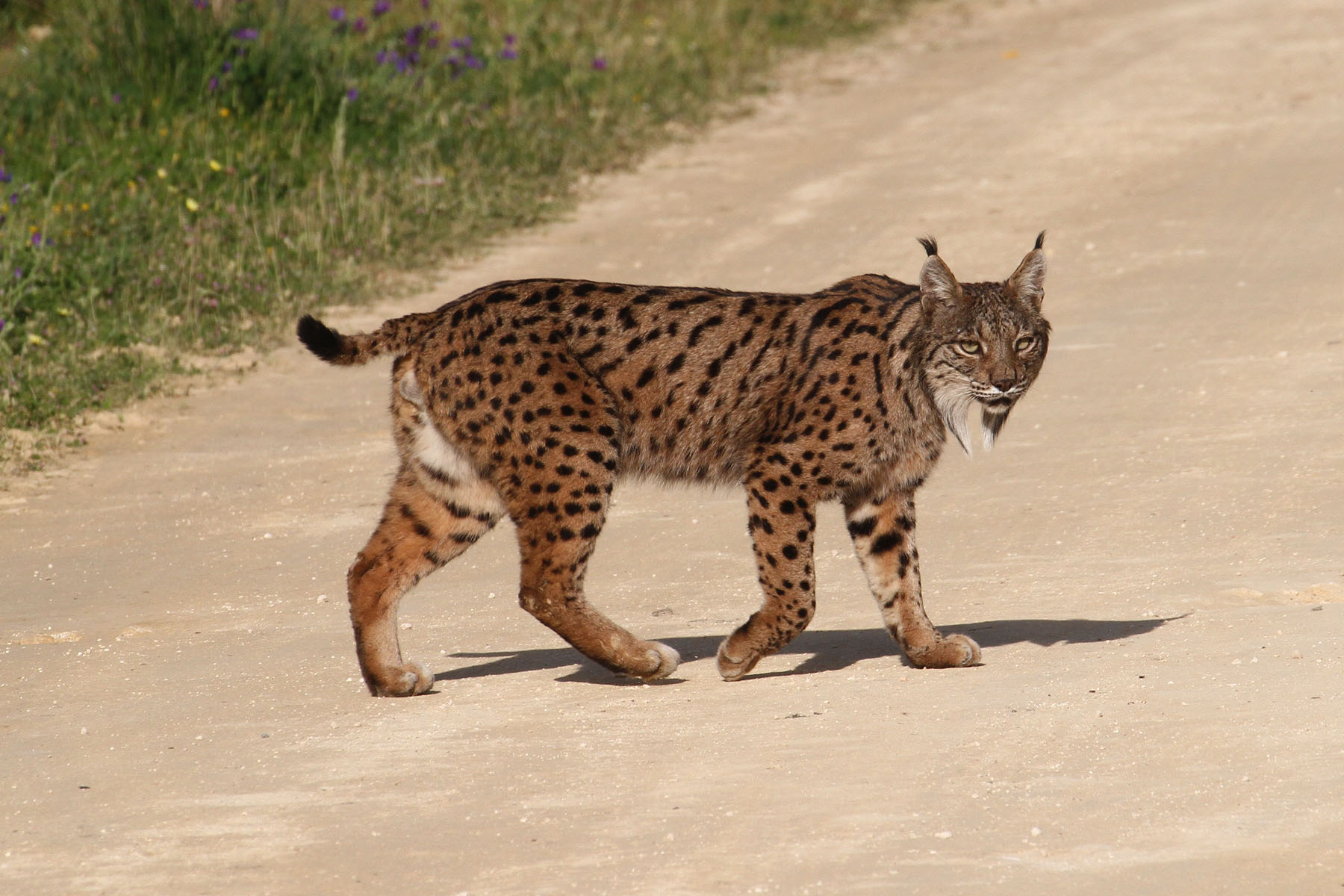 Iberian Lynx, Spain
May 7th proved memorable for our small Naturetrek group in Spain. Venturing into the 'core area' of Coto Doñana National Park in the company of ranger Sergio, our target was a nesting site of the Spanish Imperial Eagle, which might offer better viewings than a single bird seen previously at great distance. However, despite searching carefully for a considerable time without any sightings, we had to be content with good views of several other raptors, vultures and storks.
Returning towards our hotel in early evening, feeling drowsy from a hot afternoon in the field, the shade offered by a Stone Pine forest was most welcome. This habitat was typical Wild Boar and lynx territory, as we had already seen boar and been teased by the presence of feline paw prints in the sand, that very morning.
Driving slowly along a dusty track, we were suddenly wide awake and staring forwards as a female Iberian Lynx crossed the track some 30 yards ahead. Sergio stopped the vehicle and we watched enthralled as she ambled slowly into the undergrowth and disappeared. From my back seat, I was unable to capture the moment on camera but still have the image in mind.
Unlike a Leopard sighting last year (in Pench NP, India) there was no cacophony of alarm calls from monkeys overhead nor commotion in the undergrowth as terrified prey species dashed to escape; simply an enveloping silence broken only, within the vehicle, by our own breathing and excited whispers. Like the Leopard, however, was the lynx's strikingly similar relaxed manner as it sauntered along, apparently unconcerned by our presence.
After some time peering intently ahead, Sergio inched forward to the crossing point where, to our surprise and delight, she had not continued away into the forest but was sitting under a nearby tree looking around, her head clearly visible above the grass. We watched spellbound as the head turned slowly from side to side and long tufted ears constantly twitched. Finally, she stood up again and moved into longer grass becoming lost to view. Nearly half an hour had passed when we eventually left the forest feeling extremely fortunate to have witnessed this graceful feline at such close range.
Returning to our hotel in El Rocio - the regional equestrian centre - we encountered a cavalcade of revellers in horse-drawn carriages on an evening drive. An atmosphere of mutual high spirits prevailed amongst passengers - although perhaps not our driver. The sure-footed horses coped well with the sandy terrain, but our 4x4 minibus struggled for traction and slewed about, its wheels making deep tyre tracks in the sand. Later on, we enjoyed celebratory drinks in town, while local riders drank at a high-level bar complete with hitching rail, without dismounting: a small taste of the wild-west, European style!
Disappointment at not obtaining good views of the Spanish Imperial Eagle was dispelled two days later when we visited Monfragüe National Park in Extremadura. In the morning at Pena Falcon cliffs we were treated to the amazing sight of dozens of vultures, of several species, soaring over spectacular mountainous scenery. This was a photographer's paradise, but for those with only modest optical equipment it was sufficient to simply watch in awe as these enormous birds wheeled around us, circled above on thermals, and landed on rocky ledges.
Moving further into the park we reached Potilla del Tietar and parked at a convenient location directly opposite a wooded hillside where eagles nested. Unsurprisingly this was already frequented by several other birders and photographers. As Simon accurately trained his telescope on a tree containing a nest, one bystander remarked 'They fed about 10 minutes ago, so you won't see anything for a couple of hours'. This, however, was destined to be another lucky day for us, as within minutes a great bird arrived at the nest, offering excellent, detailed, views of Spanish Imperial Eagle in flight and perching. Better still, the other parent and a chick soon became visible, and the second adult subsequently took off. Feeling privileged to have witnessed three of these majestic birds all together, we once again returned to our hotel in excellent spirits, ready to celebrate over dinner.
Where better than the Vina las Torres guesthouse to do just that? At this lovely villa perched on a hillside with views across to the ancient walled town of Trujillo, we were treated to gourmet food, excellent quality wines, and entertained with live classical music by younger members of the Belen family. A wonderful ending to another memorable day in a week so full of highlights that it was hard to choose the best.
Read more about our 'Spain's Coto Doñana & Extremadura' holiday.