New Tours: Sark ... in Style

This email address is being protected from spambots. You need JavaScript enabled to view it.
Sark is truly a hidden gem in the British Isles – a beautiful landscape which offers the chance to unwind like very few places here in the UK, indeed very few places in the world. As you land on the island by small boat, you will instantly feel the enviable weightlessness of life here; a weightlessness which you can expect to cherish for the duration of your stay. With no cars, airport nor light pollution, Sark offers the chance to activate the senses in an idyllic way which is seldom found in today's modern world. Indeed, Sark has been declared the first 'dark sky island' in the world, in recognition of the superb black backdrop of the night sky that presents the stars in their true glory and makes for spectacular stargazing on the island.
Our hand-chosen hotel was named by Which? hotel guide as 'The place to stay in the Channel Islands'. Each night we shall enjoy a five-course gourmet meal made with local butter, fresh cream, seafood, meat, fruit and vegetables which, where possible, are sourced from the hotel's own farm and gardens. The hotel itself is charming, and describes itself as being "totally geared to unhurried relaxation – devoted to providing comfort and relaxation for those that arrive to enjoy the calm and solitude of Sark. It's a wonderful place and helps you remove yourself from the rigours of 'civilisation'."

There has never been a better time for the prescribed peace which Sark offers, and we are delighted to offer the chance to join a Channel Islands expert naturalist for a relaxing exploration of, in wildlife terms, little-known Sark for two tours which are set up to be a perfect balance of excitement and relaxation.
On picturesque Sark there are walking trails which cover almost the whole island with stunning vistas at every turn and beautiful bays always within a stone's throw. Sark has over 40 miles of untouched coastline, and at sea here we can expect to find Puffin, Fulmar, a 300-strong colony of Guillemot, Gannet and other superb seabirds, and perhaps even dolphins enjoying the peaceful waters, as we are guided by our expert naturalist who resides in the Channel Islands.

The coastal paths will be lined with a profusion of Dog Violet, Celandine, Red Campion, and Sheep's-bit. On Gouliot Headland, a RAMSAR listed site, we'll see swathes of wildflowers covering much of the headland, notably a gorgeous carpet of primroses set against a background of the beautiful rich blue sea. We'll enjoy several species of butterflies with highlights such as the intricate Silver-studded Blue and the iridescent Green Hairstreak, as well as day-flying moths, both in the wildflower areas and the wonderful ornamental gardens.

At the time of our visit, the dawn choruses will be in full-flow and heightened by the serene lack of noise pollution. Amongst the many lovely warbler species, we'll be particularly listening out for Dartford, Cetti's and other species which can be found here.
Of course, we'll also be hoping to see some of the exciting migrating species which will be passing through the Channel Islands. At this time of the year, situated so close to the coast of France, the island offers wonderful respite, not only for birds on passage, but for us too! Merlin, Sparrowhawk or Honey Buzzard may pass through and in the Channel Islands there is always the chance of finding something much rarer, raptor or otherwise.
Sark in September offers a tantalising prospect. As with our spring holiday, we have a genuine opportunity to add to the natural history records of the island, with every chance of recording a species not previously seen here.

We'll deploy a number of methods to add to Sark's list including moth-trapping, seawatching, pitfall trapping for rare invertebrates and, with our licensed Channel Island tour leader, we'll set mist nets to enable us to ring birds passing through the island, adding to scientific knowledge on the migration of these species.

Exciting species we hope to find include Queen of Spain Fritillary, Northern Wryneck, skua, Scaly Cricket (amongst the rarest and least well studied of British Orthoptera), Autumn Squill, Ploughman's-spikenard, Rock Samphire, Wasp Spider, Osprey and much more.

At the end of each day, we'll enjoy a superb five-course gourmet meal together, taking the opportunity to finely discuss the species we had enjoyed, before the final delight of the day... Sark's incredible night sky!
La Coupée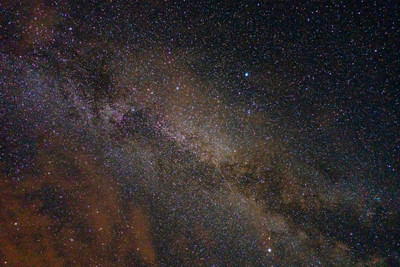 The Milky Way enjoyed from Sark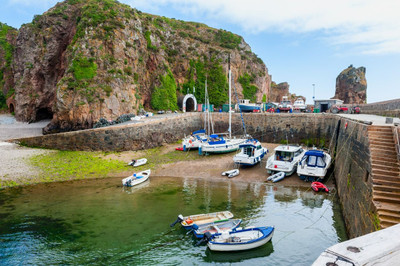 Creux Harbour
Sark has a very unique character and personality and a visit here provides serenity which, travelling the world over, is hard to find. Those who visit crave to return. These are certain to be most memorable holidays, providing the opportunity to explore an exceptionally delightful place within our own waters.

Join us for Sark ... In Style or Sark ... In Style - Autumn Migration