News in Brief: Scotland, the Azores, Iceland and Sweden
'Our cruise of the Hebrides was initially met with some windy (although very sunny!) weather', writes tour leader Sara Frost. 'Nonetheless, visiting the mountainous island of Rum rewarded us with a Red-throated Diver, male Hen Harrier and Cuckoo, whilst a day walking on Canna found Golden Plover, Corncrake (heard only!), Common Eiders, Rock Pipits, Curlews, Early Purple Orchids and beautiful turquoise bays surrounded by beds of Yellow Flag Irises and Bluebells!
Sadly (and unusually), it was too windy and choppy for us to venture into the Atlantic to St Kilda, but the other islands and wildlife we encountered quickly distracted us from this – the undoubted highlight (which will NEVER be forgotten!) was finding a pod of eight Orca off the north coast of Skye early one calm morning. We were privileged to spend almost an hour watching these incredible cetaceans (including two huge males, recognisable by their enormous dorsal fins), our jaws almost on the floor as they swam near our boat!
A zodiac cruise around the bustling seabird colonies and sea cliffs of the Shiants provided eye-level views of hundreds of puffins, guillemots and razorbills on the water, and our return journey found three sizeable pods of Common Dolphins (around 200 in total) and more Minke Whales, all busy feeding. We also enjoyed walks on North Uist (many Red Deer and a distant Short-eared Owl), Eigg, the Treshnish Isles, Iona (Corncrake heard!) and watched an Otter feeding off Kerrera on our last night. What a trip!'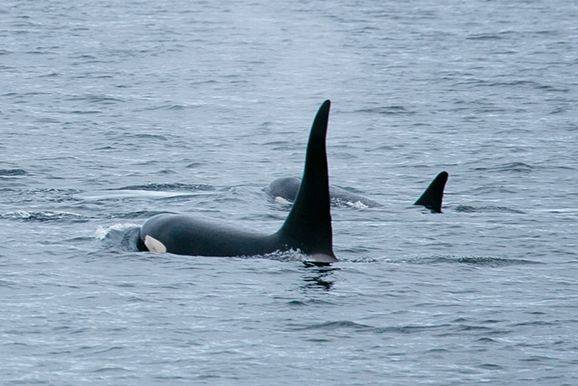 Orca (Sara Frost)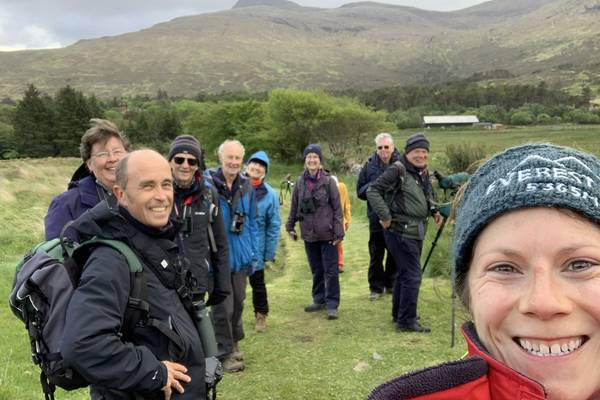 The St Kilda group walking on the Isle of Rum
'This superb 9-day holiday to the picturesque island of Pico in the Azorean archipelago was full of cetacean highlights, comprising unrivalled views of four whale and four dolphin species', writes tour leader Matt Eade. 'Early May sees the great whales migrate through this region, and blessed with excellent conditions, our group successfully completed nine out of nine RIB excursions allowing intimate views of Blue, Humpback and Sperm Whales, while four Fin Whales were also seen. Without a doubt, being the only boat on the open ocean whilst a feeding Blue Whale went about its business close by was a memory to cherish forever! Several pods of Risso's Dolphins, 'oceanic' Bottlenose Dolphins, Short-beaked Common Dolphins and Striped Dolphins also entertained us throughout! Two 'land days' meant we had time to visit a magnificent cave system, local vineyards and quaint coastal villages, all with the stunning backdrop of Pico itself.'
Book tour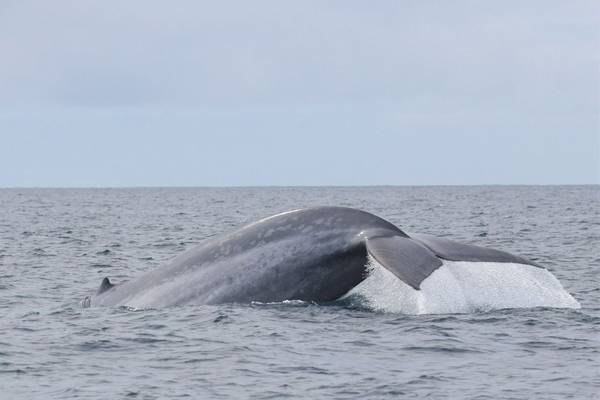 Blue Whale (Matt Eade)
'A team of 11 guests and two leaders set off on the "Undiscovered Iceland" tour in May', writes leader Neil McMahon. 'Commencing in the south, we then travelled east and into the north central areas, before returning to Keflavik. Huge glaciers, hot springs with fumaroles and steamy vents, an iceberg-studded lagoon, powerful and impressive waterfalls, black sand beaches, larva fields and massive basalt columns awaited us! Brooding volcanoes, dwarf birch forests and spectacular skies were reflected in the melt pools and glacial lakes, as we wandered the wilderness in search of the next horizon and the wildlife that dwelt there. Arctic Tern colonies, "drumming" Snipe and singing Icelandic Redwings provided an almost continuous audio backdrop, interspersed with the plaintive and evocative calls of Whimbrel, Golden Plover and Icelandic Black-tailed Godwits.
Mammals on the land are not easy to find but we glimpsed three Arctic Foxes and several herds of the introduced Reindeer and of course there were plenty of the Icelandic horses enjoying the renewed spring grasses. We were wowed by several Humpback Whales and extremely privileged to experience an encounter with the largest animal of all - the Blue Whale - as it fed and cavorted in the waters off Husavík.
Seabirds included close views of Puffins and we saw Brünnich's Guillemots and enjoyed almost daily sightings of resplendent Red-throated and Great Northern Divers in all their breeding plumage finery. Ptarmigans showed off and in the Mývatn area we were wooed by tame Red-necked Phalaropes, bugling Long-tailed Ducks, white-water rafting Harlequin Ducks and Barrow's Goldeneye.'
Book tour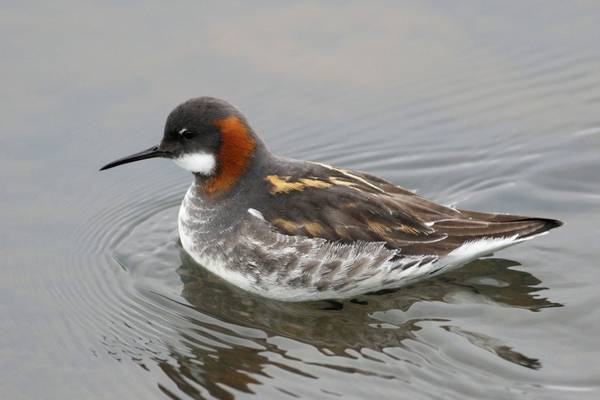 Red-necked Phalarope (Neil McMahon)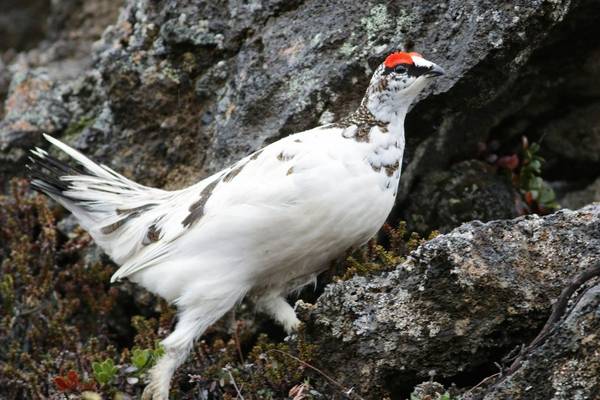 Ptarmigan
'We drove across the bridge from Kalmar to Öland and into a different world', writes tour leader Pip O'Brien. 'The hedges were almost all lilac, purple or white and just coming into flower. From the cultivated west side, we moved into the seemingly desolate Alvar: a vast expanse of limestone pavement, covered with a thin layer of acid soil. We had tantalising glimpses of swathes of orchids and brief fly-bys from a Marsh Harrier and a Montagu's Harrier. Emerging onto the eastern cultivated strip of the island we drove along ruler-straight roads, edged with tidy farms painted a uniform rust colour. To the east, fields ran down to the glittering Baltic.
During the week we were deafened by Skylarks, enchanted by Red-necked Phalaropes and dazzled by a Rose Finch singing "pleased to meet you". We caught the Red-backed Shrike migration and watched a Red-footed Falcon hunting. For me, the outstanding highlights of the trip were the variety of ecosystems we saw: a moss-carpeted oak wood with Golden Orioles calling in competition with the Cuckoos; a coppiced hazel wood where we were overpowered by the scent of wild Lily of the Valley; a meadow quite literally covered in Burnt-tip and Military Orchids; not to mention the Alvar and the secret location of the Lady's Slipper Orchid.
There was so much to discover, from the small black oak windmills that lined the higher spots on the island, to the wide range of endemic plants, ancient forts and Caspian Terns. It was like travelling back in time.'
Book tour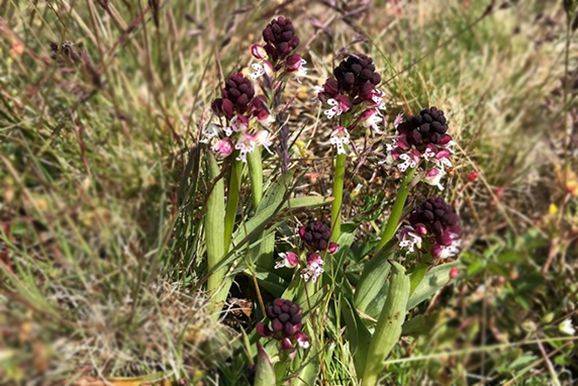 Burnt-tip Orchids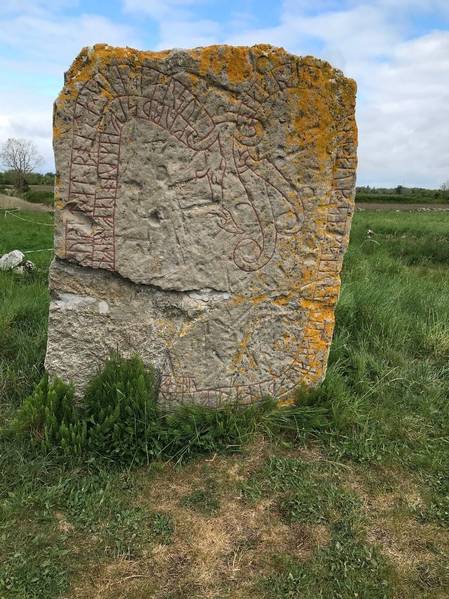 Runic Stone dating from 300AD (Pip O'Brien)