Registan Square, Samarkand, Uzbekistan
News in Brief: Uzbekistan, Spain, Switzerland, Norway and the UK
'The Uzbekistan tour visited a variety of habitats from mountains and streams to ancient cities, and beyond to the saxaul desert', writes tour leader Alison Steel. 'Blue skies and snow-capped peaks in the east of the country created a stunning backdrop to the vultures and eagles circling on thermals. Cryptic coloured warblers called loudly from within the vegetation and Blue Whistling Thrush were found in some of the rushing streams. The ubiquitous Common Myna was frequently seen, particularly in the cities, along with hundreds of screaming swifts, swooping past the many highly decorative buildings, including mosques, madrassas and mausoleums, with their facades glinting in shades of blue, yellow and green jewel tones, and white highlights. Hilly areas are good places to search for wheatear, rock thrushes, Turkestan Shrike, Red-headed Bunting, Eastern Orphean Warbler and Indian Paradise Flycatcher. The saxaul desert is habitat for the very localised Pander's Ground Jay and, after a bit of searching, we were fortunate enough to be able to get good, if distant, views of a couple of perched birds. Water is a precious commodity when it's hot and an early visit to some pools allowed for views of Black-bellied Sandgrouse, Black-winged Stilt, Collared Pratincole, Red-crested Pochard and Kentish Plover.'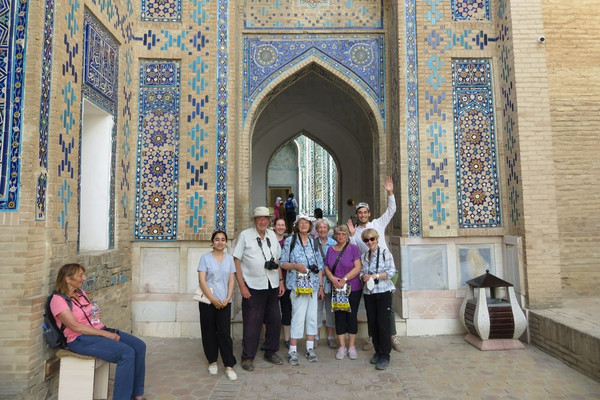 Naturetrek Group at Shah-i-Zinda
'Our wildlife and cultural trip to Uzbekistan was a successful introduction to this diverse and ancient land, with its mix of mountains, deserts and the icons of the Great Silk Road', writes tour leader Martin Pitt. 'Expertly assisted by local guides we visited the cities of Tashkent, Samarkand and Bukhara and the natural wonders surrounding them. We experienced not only the physical historical monuments but also the hospitality of the Uzbek people and their unique cuisine, a tasty blend of Persian, Turkish, Indian and Chinese food.
Overall, we recorded 121 species of bird, five species of mammals, 19 butterflies and a few reptiles, dragonflies and other interesting species. Many of these are familiar from further east, south or west but some are special to this 'melting pot' of a region and these include species that are rarely seen. Highlights included the Turkestan Ground Jay, Rufous-naped Tit, Himalayan Griffon and Turkman Gazelle. It was good to visit national parks that showed the commitment to conservation and see at first hand the reintroduction of Kulan and Przewalski's horse. Many vowed to return to this intriguing part of the world, of which previously we knew so little.'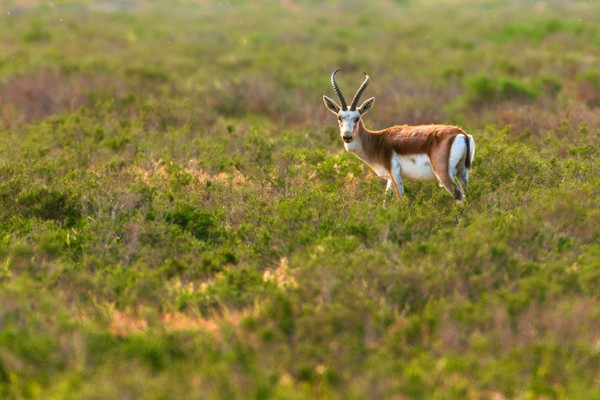 Turkman Gazelle
'Málaga "The Beautiful", as it is known, is a vibrant cosmopolitan city on the shores of the sparkling Mediterranean, surrounded by some of southern Spain's most dramatic landscapes and varied natural habitats', writes tour leader Niki Williamson. 'From our luxurious hotel in the heart of the city's Old Town, the province's natural, cultural and gastronomic highlights were all within easy reach!
Relaxed mornings birding and wildlife-watching brought us to the realms of some of Andalucía's star species, including Little Bustard, White-headed Duck and Iberian Ibex. Among the limestone crags and forested mountains, Rock Buntings, Rock Sparrow, Griffon Vultures, Short-toed and Booted Eagles, Honey Buzzards, Alpine Swifts, Blue and Common Rock Thrush, Scarce Swallowtail and Marsh Fritillary vied for our attention. 
Birds of freshwater wetlands and saline lagoons included Black-necked Grebe, Red-crested Pochard, Black-winged Stilts, Curlew Sandpiper, Gull-billed, Caspian and Sandwich Terns and hundreds of Greater Flamingoes, Common Ringed and Kentish Plovers. The area's wildlife-rich farmland meadows were some of the most colourful we'd ever seen, not only for the wildflowers but also the smattering of European Bee-eaters, European Rollers, European Turtle Doves, Painted Ladies and Clouded Yellows among the Crested, Thekla's, Calandra and Greater Short-toed Larks!
Our excellent hotel was just a hop, skip and a jump from some of Málaga's must-visit cultural attractions, including the Picasso Museum, the Alcazaba Moorish citadel and the famous cathedral, brought passionately to life for us by city guide Alberto.  And with so many fantastic restaurants right on our doorstep, it was thoroughly enjoyable to spend our evenings in great company, sampling typical local dishes in some of Malaga's finest culinary institutions and hidden gems!
This is the first time this trip has been run in its current form – we think it was a great success and look forward to many more!'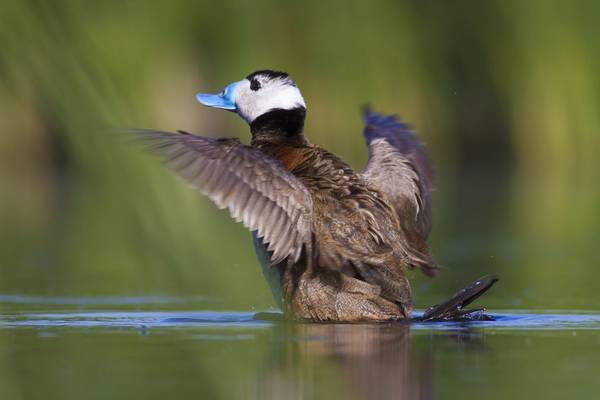 White-headed Duck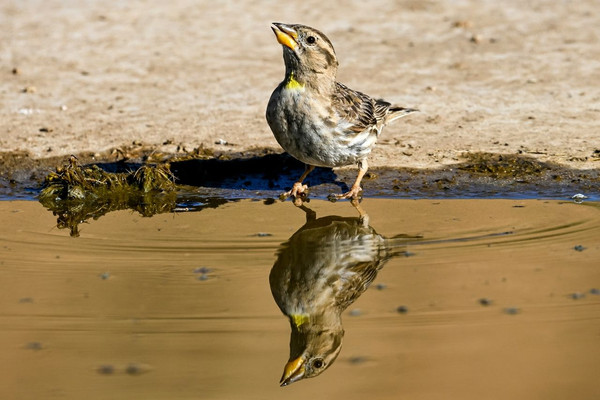 Rock Sparrow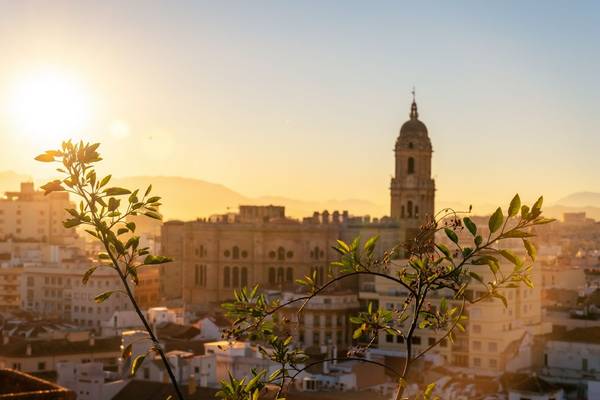 Cathedral of Málaga
'Standing at the cable car station waiting to start the journey back to the UK, I reflected on the past week', writes tour leader Pip O'Brien. 'The sky was cloudless, the Alps a glittering backdrop with waterfalls misting down the cliffs into the Lauterbrunnen Valley. A couple of Alpine Choughs wheeled about below the balcony and paragliders drifted past searching for thermals. We had experienced a glorious week of almost unbroken sunshine, with just a couple of cracking thunderstorms once we were safely back at our hotel. The Bernese Oberland had, as always, produced an impressive plant list and the warm weather had brought out a profusion of butterflies. Walking through alpine meadows, the most common cry was "Don't step on that orchid!"; an almost impossible task.
On this "Go Slow" tour there was time for people to do their own thing in addition to our daily walks and excursions, and the group enjoyed watching the Chamois in the field 200m from our hotel, sketching, swimming in the immaculate Mürren sports centre, searching for dark-form Red Squirrels and Nutcrackers or just sitting back with a coffee or a beer. Personally, I could have spent the entire week just looking at the view from my bedroom window; the Eiger, Monch and Jungfrau all seemingly close enough to touch, snow-capped and rugged.
Our trip to the top of the Schilthorn was certainly a highlight, I think more for the little purple Thlaspi rotundifolium (Round-leaved Penny-cress) and the cushions of pink Androsace alpina (Alpine Rock-jasmine) than the Bond Brunch in the revolving restaurant… though that was quite an experience! On our last full day, we chugged up to Schynige Platte on the small ancient rack railway, botanising as we went. Whistling Marmots and the best flowers of the week awaited us and we picnicked in a rocky outcrop with stones for tables.'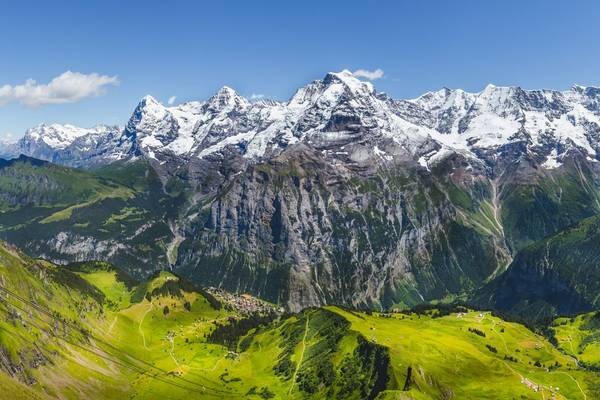 Jungfrau, Schilthorn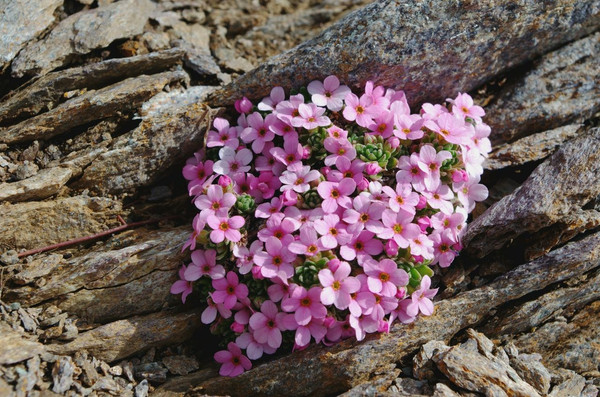 Alpine Rock-jasmine
'What a way to enjoy the end of June in such an amazing place – top class botany, great birds, fabulous scenery and even the weather was kind (until the final 15 minutes of the tour!)', writes tour leader Steve Gater. 'Our group of 10 clients and two leaders was enthusiastic and wanting to see as much as possible, which is exactly what we did. Many of the very special 'Teesdale Assemblage' plants were in flower, including Mountain Everlasting, Alpine Bistort, Hoary Whitlow Grass and even a very late Spring Gentian. Mountain Pansy came in a variety of colours, Bird's-eye Primrose in flower and fruit, Alpine Bartsia and Grass of Parnassus in bud – so worth coming back in a few weeks. Stunning close-up views were had of so many sedges, with Hair Sedge particularly admired and much Sundew found. Uncommon Variegated Horsetail and Parsley Fern, Early Hair Grass and Frog Orchid gave delight. So too did amazing views of Snipe, Lapwing, Curlew, Golden Plover, Black and Red Grouse, Ring Ouzel, Common Sandpiper, Dipper, Kingfisher and more! Brown Hare, butterflies, moths and other fauna added much interest. As did the amazing cliffs and waterfalls, made of Dolerite and limestone, plus relic features of ice-age geomorphology.
Great company, great hotel, great week!'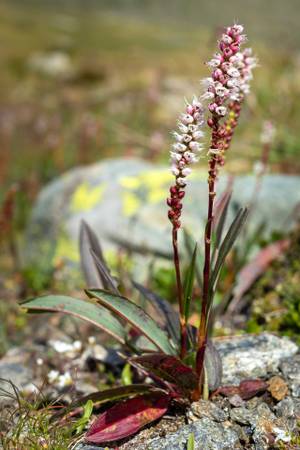 Alpine Bistort
'Spring had definitely sprung on our Peak District trip this year', writes tour leader Matthew Capper. 'Everywhere had that fresh green hue and the summer migrants were out in force. We enjoyed a superb range of scenery and some truly memorable wildlife encounters. From dippers on the River Derwent, two Wood Warblers singing against each other, a Ring Ouzel right in front of us and Pied Flycatcher views you could only dream of; the woodlands and moors of the Peak District did not disappoint. On top of that, we enjoyed a total contrast at the wetland reserves of the Dearne Valley, complete with Black-necked Grebes, Garganey, Marsh Harrier and Avocets at point blank range. Nothing though will beat the first evening with drumming Snipe, churring Nightjar, roding Woodcock and incredible views of two Long-eared Owl chicks with the adult quartering the moorland behind them. Amazing!'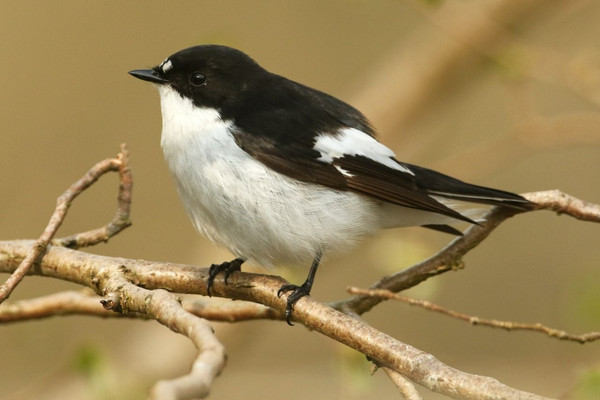 Pied Flycatcher
'We had four great days on the island, meeting some of its more charismatic and enigmatic residents', writes tour leader Jim Andrews. 'Highlights included Glanville Fritillary and other butterfly species such as Green Hairstreak and Adonis blue. We also thoroughly enjoyed a day spent with the People's Trust for Endangered Species, learning about one of the island's more secretive inhabitants, the Hazel Dormouse. Our group was lucky enough to see three, before heading on and seeing one of the better-known residents, the Red Squirrel.
The group also managed to find some of the more specialist plants on the island such as Crested Cow-wheat, Yarrow Broomrape and Lungwort, while other goodies included both Wall Lizard and Firecrest at the hotel. Our last morning saw us meeting the island's newest and biggest inhabitants in the form of two of the White-tailed Sea Eagles, with other winged highlights including Great White Egret, Bittern, Hobby and Mediterranean Gull.'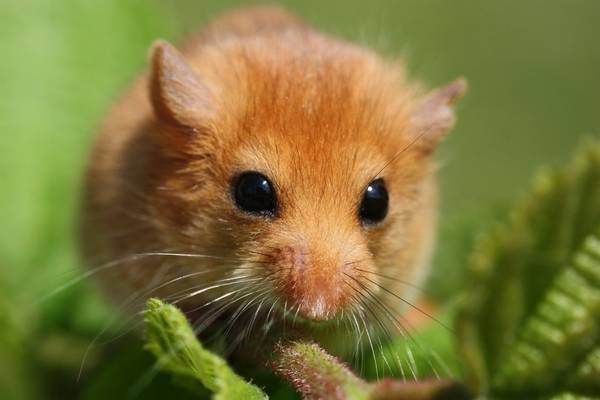 Hazel Dormouse
'This tour hadn't run since 2018, so we were all looking forward to seeing what this beautiful area, fully encompassed within the Arctic Circle, was likely to produce in 2022!' writes tour leader Neil McMahon. 'The group met in Bodo before taking the ferry over to Moskenes at the southern end of the archipelago. On our travels we encountered an unexpected Blue Whale, and several Minke Whales and huge Basking Sharks, whilst picture postcard conditions highlighted the stunning scenery and awe-inspiring snowy peaks.
The freshwater lakes of the interior produced some great birds with Red-throated and Black-throated Divers in resplendent summer plumage, Slavonian Grebes and Whooper Swans, all intent on breeding. Our first two nights were spent at Reine, where Common Gulls were nesting in gardens and nursing just-hatched young, small numbers of Kittiwakes were nesting on buildings close by and small passerines included breeding Pied Flycatcher and Twite, as well as plenty of Redwings and Fieldfares.
Our last three nights were spent on the Vesteralen island of Andoya to the north, and here again there was wildlife on your doorstep, with noisy Curlews, Redshanks and Common Gulls nesting right next to the rooms. Up to three White-tailed Eagles could be seen without leaving the complex and a woodland compartment nearby contained Black Grouse, Brambling and Goldcrest amongst others. Other raptors encountered on the trip included Merlin, Golden Eagle and a female Goshawk together with crow prey.
It is perpetual daylight at this time of the year, but a customary Naturetrek 'night drive' yielded a super herd of European Elk including three bulls. Big bright Bullfinches delighted, Twite, Siskin and Redpoll 'twanged' their calls and songs and even here summer migrants in the shape of Sand Martin, Swallow, Chiffchaff, Willow Warbler and Sedge Warbler were audible and visual having flown a long way north to breed. Highlights included a super singing Red-spotted Bluethroat, close views of Willow Grouse and a short boat ride to see hundreds of Puffins whizzing around their colonial nesting island at Bleiksoya.'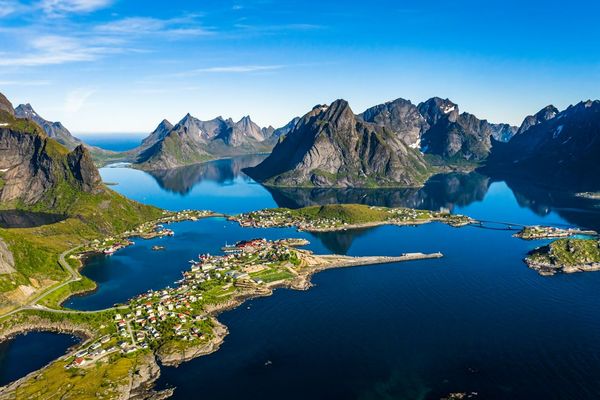 Lofoten Islands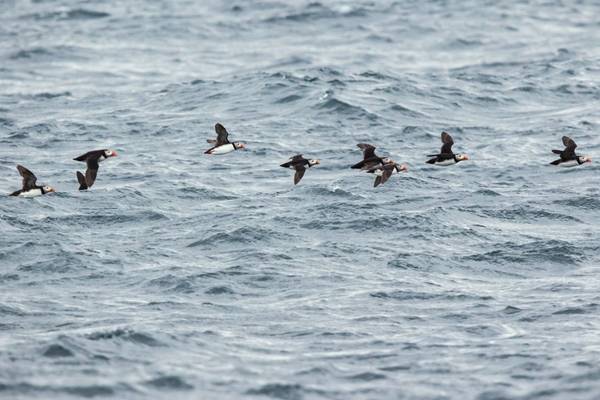 Puffins, Bleiksoya