Read about highlights from recent tours to India …
'We enjoyed some wonderful wildlife-watching, with 164 different bird species and 20 mammal species seen, including big cats, Dhole (Indian Wild Dog), Sloth Bear and an always-special sighting of Indian Crested Porcupine', writes tour leader Yusuf Rizvi.
'The tour started from Delhi, where half of the group went birding in Sultanpur National Park. We saw some interesting birds, including Painted Stork, Intermediate Egret, ibises, and an unexpected sighting of Eastern Imperial Eagle. Meanwhile, the rest of the group went for a tour in Delhi, where they had a great time experiencing a rickshaw ride around the old city.
Kanha National Park was special, with sightings of two different Tigers on our first two drives and no fewer than five individuals in total. There were lots of interesting birds, and we also saw two Dholes and an Indian Crested Porcupine.
One of the highlights of the holiday was our visit to the Bhoorsingh pre-school at Mukki Gate, which is a Forest Department initiative, supported by Singinawa Jungle Lodge. Everyone was pleased to meet the children, who sang a few songs, after which the group distributed donated stationery items, which were very well received. One night, Phil had a great time finding 16 different species amphibians on an after-dark walk.
Bandhavgarh too provided a pleasant experience. We saw two individual Tigers and two Leopards on different drives, while some of the group had two sightings of Sloth Bear.'
Our next 'Wild India ... in Style!' holiday departs on 30th October 2020, and prices start at £3,495. For more information please click on the link above, or email This email address is being protected from spambots. You need JavaScript enabled to view it..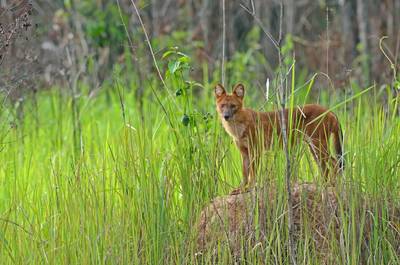 Dhole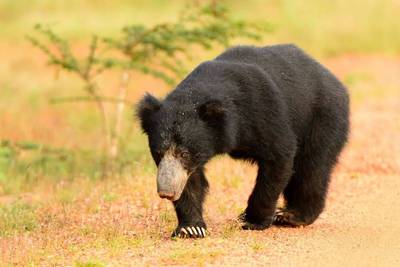 Sloth Bear
'The "Go Slow" ethos fits perfectly with Satpura National Park, one of the most exclusive parks in Central India, and one which is best explored at a leisurely, comfortable pace', writes tour leader Sujan Chatterjee.
'We enjoyed some wonderful sightings, the highlights of the tour being one Tiger, two Leopards and a Sloth Bear, plus over 110 species of birds and various butterfly species.
Some memorable moments on the tour included great views of an Indian Giant Squirrel for nearly half an hour and some of the group finding a Leopard on the last morning, very close to the lodge. The birders enjoyed amazing views of special species like Malabar Pied Hornbill, ten species of raptors and many others. The group also had a Leopard sighting on the first drive in the park and it was lovely to observe the exquisite camouflage of these spotted cats.
In addition to the wonderful and varied wildlife of the region, we also had opportunities to experience some of the culture and cuisine, with visits to historic sites and even a cookery demonstration.
The last game drive gave us the most luck, producing the Tiger and Sloth Bear sightings, and making for a wonderful finale to the holiday.'
Our next 'Go Slow … in Tiger Country' holiday departs on 1st November 2020, and prices start at £3,295. For more information please click on the link above, or email This email address is being protected from spambots. You need JavaScript enabled to view it..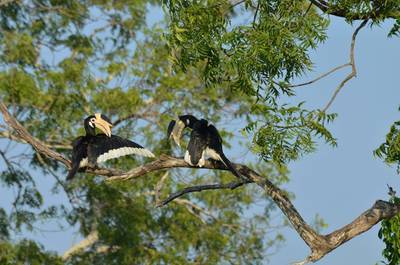 Malabar Pied Hornbills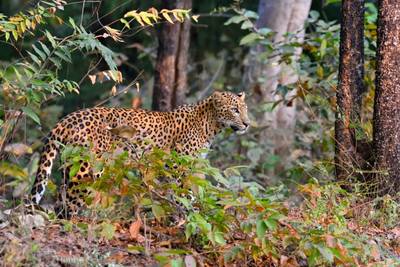 Leopard
'We had some superb sightings of varied wildlife in Bharatpur, Corbett and Nanital, seeing 316 species of bird, 42 species of butterfly, 17 species of mammal and nine species of reptile', writes tour leader Amith Bangre. 
'Some of the highlights in Bharatpur were an excellent sighting of Striped Hyena and some great birds like Indian Courser, Greater Painted-snipe, Black Bittern, five species of owls including Dusky Eagle-Owl, Oriental Scops and Brown Hawk Owls, Grey Nightjar, plus Indian Spotted, Booted and Eastern Imperial Eagles.
On the Chambal boat trip, we had several Great Thick-knees, Sand Lark, Black-bellied Tern, Blue Rock Thrush and many Gharials and Mugger crocodiles.
Corbett and Nanital also provided amazing experiences, with many Himalayan rarities amongst some great birds. Sightings included two Wallcreepers, Bearded Vulture (or Lammergeier), Himalayan Rubythroat,  Brown Dipper, Altai Accentor, Orange-headed and Long-billed Thrushes, Brown Fish Owl, Oriental Pied and Great Hornbills, Collared Falconet, Eurasian and Himalayan Griffons, Black Francolin, Red-breasted Parakeet, Blue-bearded Bee-eater, Blue-fronted Redstart, Crested Bunting, Spotted and Slaty-backed Forktails and Stork-billed and Crested Kingfishers.
We had wonderful sunny weather throughout the tour and delicious food helped make this holiday memorable.'
Our next 'Northern India and the Himalayan Foothills' holiday departs on 13th November 2020, and prices start at £3,495. For more information please click on the link above, or email This email address is being protected from spambots. You need JavaScript enabled to view it..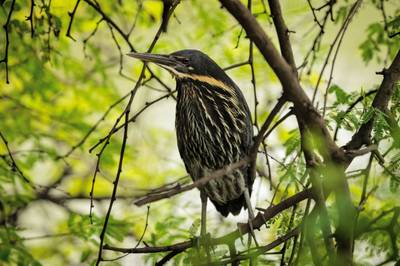 Black Bittern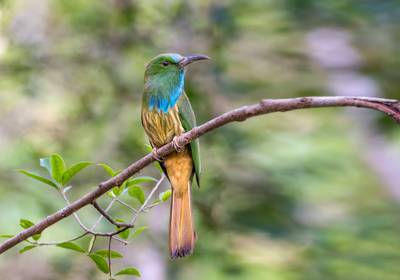 Blue-bearded Bee-eater
'Our  tour in March 2020 was wonderful, even though we only managed 10 game drives before everything closed down due to the Coronavirus situation. We had great sightings of 187 species of bird, 24 species of mammal, and eight species of reptile', writes tour leader Pradeep Singh.       
'The main highlights of the tour were eight individual Tigers, one Leopard, two Sloth Bears (one with cub), a pair of Indian Wild Dogs with a young Northern Plains Grey Langur kill, Small Indian Civet, Indian Giant Squirrel, the elusive Four-horned Antelope, more than a dozen Golden Jackals, Gaur and several different monkeys and deer. 
India is a great country for birders and some of the highlights of the tour were Greater Painted-snipe, Indian and Savanna Nightjars, Orange-headed Thrush, Mottled Wood Owl, Brown Fish Owl, Indian Scops Owl, White-browed Bulbul, Indian Thick-knee, Paddyfield Warbler, Shikra, White-rumped Vulture and Grey-headed Fish Eagle.
Throughout the tour we had pleasant weather, accommodation in wonderful lodges and delicious food.'
Our next 'Unknown India – Tadoba & Satpura' holiday departs on 18th November 2020, and prices start at £3,395. For more information please click on the link above, or email This email address is being protected from spambots. You need JavaScript enabled to view it..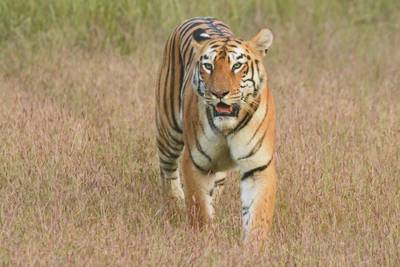 Tiger (Pradeep Singh)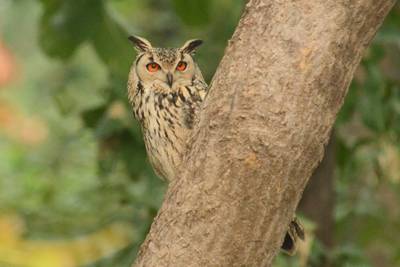 Indian Eagle-owl (Pradeep Singh)