Read about highlights from recent tours to Cambodia, Tanzania, Sweden, the UK and Spain …
'The inaugural Cambodia tour, which ran in January, encompassed a wide range of habitats in a quest to uncover the country's many natural history and cultural highlights', writes tour leader Neil McMahon. 'Following flights from the UK via Bangkok to Siem Reap, the first day saw our party enjoying Angkor Wat and its many temples, exploring past beliefs and marvelling at the extraordinary relics and superbly illustrated engravings. Despite the first full day focusing mainly on the cultural treasures, wildlife was not ignored and we recorded over 40 bird species typical of south-east Asia and even found three species of primate, including the energetic Pileated Gibbon.
The following day found us aboard small boats as we went in search of waterbirds, which included many herons, egrets, storks, cormorants and pelicans, some giving us excellent views. Amongst the throng we picked out very rare Milky Storks and enjoyed close encounters with Grey-headed Fish-eagle and Whiskered Terns, before capping the morning by visiting a floating village for lunch!
Two further days were spent in open plain-like landscapes, searching for the birds that called the giant rice paddies and grasslands their home. Enigmatic species that are generally difficult to see included Bengal Florican, Sarus Crane, Pied Harrier, button-quails and a variety of raptors and owls.
Next on our itinerary was forest birding, which also included time looking for the squirrels and primates of the northern belts of surviving lowland forest which seasonally floods during the rainy season. The forests were dry and dusty for our visit, and we felt privileged to see the very rare Giant Ibis, the White-shouldered Ibis and an array of woodpeckers and other woodland species. Sadly, the White-winged Ducks avoided us but Pileated Gibbon and Germian's Langur were tracked down. Not too far away we visited the famous 'vulture restaurant', enjoying close views of the now rare Red-headed Vulture, Asiatic White-backed Vulture and Slender-billed Vulture gathered around a carcass.
The tour then headed generally east, crossed the River Mekong and connected with the Irrawaddy Dolphin and range-restricted Mekong Wagtail, before nestling close to the Vietnamese border where we found Black-shanked Douc Langurs and Northern Yellow-cheeked Gibbons. Stunning birds of this area included Dusky Broadbill, Banded Broadbill, a variety of forest and upland pigeons, Mountain Hawk-eagle, particularly close views of Jerdon's Baza and plenty of barbets, warblers and small birds of the broken, upland forests.
Finally, we connected with the endemic Cambodian Tailorbird before driving on to Phnom Penh and departing back to the UK, after a very enjoyable and diverse tour through this fascinating country.'
Our next 'The Best of Cambodia – Birds, Mammals & Temples' holiday departs on 12th January 2021, prices start at £4,695. For more information please click on the link above, or email This email address is being protected from spambots. You need JavaScript enabled to view it..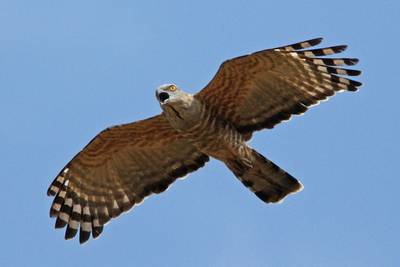 Jerdon's Baza (Neil McMahon)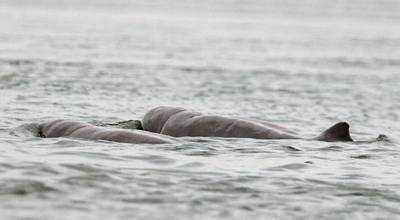 Irrawaddy Dolphins (Neil McMahon)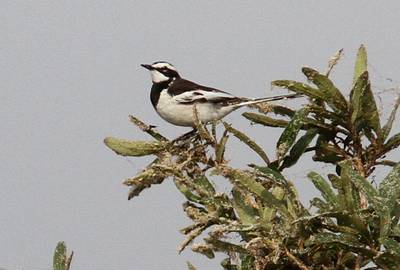 Mekong Wagtail (Neil McMahon)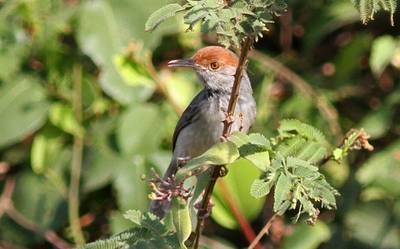 Cambodian Tailorbird (Neil McMahon)
'The Naturetrek "Tanzania Highlights" trip does exactly what it says on the tin! This year three intrepid guests and I enjoyed those highlights and here is a taster of what we saw', writes tour leader Rob Mileto. 'Starting on the forest-clad slopes of the Arusha National Park in the shadow of Mount Meru, several troops of lovely Guereza Colobus and Blue Monkeys entertained us with their antics. Next it was Tarangire, famous for its Elephants and we certainly saw plenty of those. Moving on to Lake Manyara, overlooked by the great rift, there were over 45 bird species spotted here in a single afternoon.
The rightly famed Serengeti was our next port of call and the trip is timed to hopefully coincide with the great migration – and it did. We drove through seemingly endless herds of wildebeest and zebra and saw many attendant predators, Lions (some spending the heat of the day up a shady tree), Cheetah (on the hunt), Leopard (leaping out of a tree) and even the very elusive Caracal (just trotting along a track!).
The grand finale was the Ngorongoro Crater (via the 'Cradle of Mankind' – the Olduvai Gorge). This 18km-diameter ancient caldera is home to the densest population of Lions known and we saw plenty, although these were eclipsed by a Serval walking right past our van – making five cat species seen on the trip! It is also a great place to see Black Rhino and we were not disappointed, seeing 11 (yes, eleven!) in our two days there. Northern Tanzania has many highlights and this tour really gives you a flavour of the very best of them.'
Our next 'Tanzania Highlights' holiday departs on 29th October 2020, prices start at £6,795. For more information please click on the link above, or email This email address is being protected from spambots. You need JavaScript enabled to view it..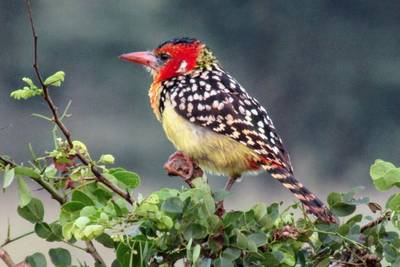 Red-and-yellow Barbet (Rob Mileto)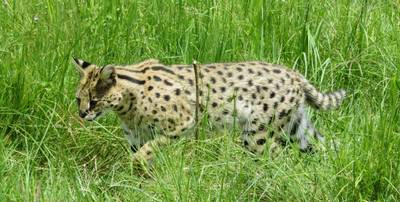 Serval (Rob Mileto)
'We enjoyed a fabulous five days in Swedish Lapland in mid-January', writes Operations Manager Kerrie Porteous, who travelled out with our first group of the year. 'January is always so wet and grey here in the UK, so it was with joy that I joined our short break to snowy Swedish Lapland, where we stayed for four nights north of the Arctic Circle. From our base in Jokkmokk, by day (which is quite limited at this time of year!) we explored the frozen lakes and forests by husky safari, searched for Moose, visited an incredible bird feeding station, and learnt all about Sami culture and history from a local reindeer herder, Anna, over dinner in her traditional laavu tent. Wildlife highlights included seeing a total of 16 Moose on one day – each sighting improving on the last – and culminating in a mum and twin calves just to the side of the road. We celebrated by grilling cheese and tomato toasties over a campfire in the snow, and enjoying them with warm tomato soup. We saw 15 Black Grouse sitting in the treetops just outside town, and had a flyover of a further 30 Black Grouse later in the day. At the feeding station we enjoyed close encounters with Siberian Jay, Northern Bullfinch, Willow Tit and Crested Tit.
Each night, after dinner, we ventured out to build a fire on a lake and look northwards, in search of the Northern Lights. We just about saw them one night, though sadly it was cloudy for much of our stay. In the end, I don't think any of us minded in the least – we had so many other wonderful experiences that seeing the Northern Lights felt unimportant by the end!
For our final night, we travelled further north, deep into the wilderness, where we stayed in wonderfully heated tipis. As the light faded, we pulled on traditional Nordic skis or snow shoes, and quietly crossed the frozen lake. Some returned mid-way to relax back at the camp, whilst others continued through the forest, using headlamps to spot snowy Ptarmigan and Fox tracks, before returning to our camp for dinner, wine and our final night together in Lapland.'
Our next 'Northern Lights & Wildlife in Swedish Lapland' holiday departs on 20th January 2021, prices start at £2,895. For more information please click on the link above, or email This email address is being protected from spambots. You need JavaScript enabled to view it..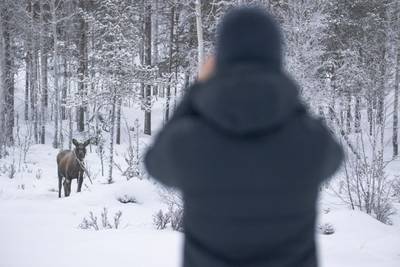 Moose (Simon Green)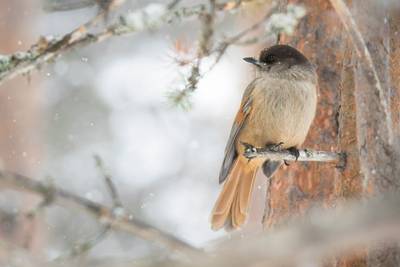 Siberian Jay (Simon Green)
'This tour around the Somerset Levels in winter was a fantastic opportunity to witness two major British wildlife spectacles: the largest roost of Starlings in the country and the massive concentration of waterfowl and other wetland species that winter in the area', writes tour leader Matt Collis. 'With the UK and mainland Europe still unseasonably mild, the diversity and density of birds (particularly waders) have been slightly lower than normal but still an awe-inspiring spectacle nonetheless. With this weekend being the first with multiple frosts, we were also able to enjoy some spectacular winter scenery as well as one of the largest and best Starling roosts of the season so far, featuring an estimated 650,000 birds. Other special encounters from this trip included Merlin, Hen Harrier, Eurasian Crane and a Scaup.'
Our next 'The Somerset Levels' holiday departs on 2nd December 2020, prices start at £325. For more information please click on the link above, or email This email address is being protected from spambots. You need JavaScript enabled to view it..
'This tour around south and east Devon is a fantastic opportunity to enjoy some of the best of UK winter wildlife', writes tour leader Matt Collis. 'Exploring an array of habitat types including the vast heathlands of east Devon, the River Exe Estuary, and the mosaic woodlands of the Haldon Hills, this short break offers each person the chance to catch up with a diverse and exciting mix of species. During the trip we were lucky enough to enjoy sunny, dry days during a year where the winter has been relatively mild. In total we managed to encounter 98 different species having some incredible sightings along the way. A notable highlight was our fantastic private boat tour which saw us get close to a huge number of waders, including large numbers of Avocet, Black-tailed Godwit and Golden Plover, as well as some less common species including Bar-tailed Godwit, Knot and Ringed Plover. Other notable birds from our trip included several difficult sea-based birds with close views of Red-throated Diver, Eider and Red-necked Grebe, and a few local specialties including Dartford Warbler, Common Crossbill and Cirl Bunting. The food and accommodation were fantastic and overall it was a wonderful few days birding.'
Our next departure of our 'South Devon in Winter' holiday will be announced shortly. To register interest, or for more information please click on the link above, or email This email address is being protected from spambots. You need JavaScript enabled to view it..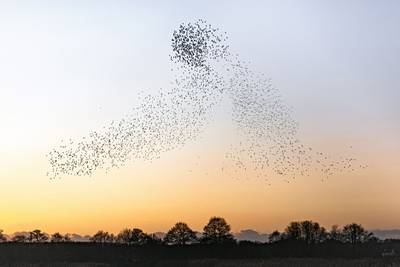 Starling Murmuration (Dan Lay)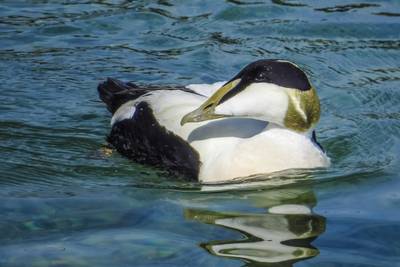 Eider
'I had been fortunate to see an Iberian Lynx in Coto Doñana when co-leading with Byron back in 2013, so I was excited to try and see them again', writes tour leader Peter Dunn.
'The first two days were spent in Doñana, scouring the sandy tracks for the rarest cat in the world and although we found plenty of footprints, the cat was always one step (or corner) ahead of us and we failed to connect here. However, the wealth of other wildlife kept us on our toes, highlights being Spanish Imperial Eagle showing extremely well with two juveniles 'playing' almost overhead, and flamingoes, Glossy Ibis, Purple Swamphens and Spoonbills – the marsh and scrub was a magical place on a bright winter's day.
It was at the second base in the Sierra de Andújar that things really came alive. Fabulous apartments with great food set the scene and then two days overlooking the Jandula Valley paid off.  Each day we had two sightings of this aloof, confident cat as it totally ignored its admirers. Both male and female had a territory here and, on each day, one appeared so close that it was hard to believe it was wild!
The final sighting was of the male lying in the shade of scrub, resting and yawning for almost an hour; the same animal being seen the day before sitting on top of a boulder washing himself!
This had been an excellent trip with all boxes ticked and a very satisfied, happy group of 'cat-watchers' headed back to the UK.'
Our next 'Spain – Realm of the Iberian Lynx' holiday departs on 26th October 2020, prices start at £1,195. For more information please click on the link above, or email This email address is being protected from spambots. You need JavaScript enabled to view it..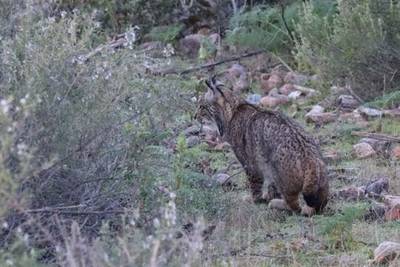 Iberian Lynx (Peter Dunn)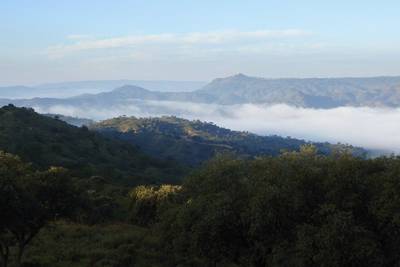 Sierra Morena (Caroline Stelling)