Garajonay National Park, La Gomera
News in Brief: The Canary Islands, Spain, France, Scotland, Devon and Somerset
The Canary Islands encompass a great variety of endemic birds, plants and other wildlife in contrasting habitats (writes tour leader Jessica Turner). From our delightful hotel in Vilaflor complete with wonderful, resident Blue Chaffinches, not to mention Canaries, we explored both high and low altitudes, enjoying especially the Laurel and Bolle's Pigeons and the wonderful laurel forest, the amazing views of Cory's Shearwaters, dolphin species and Short-finned Pilot Whales between Tenerife and La Gomera, the flowering display of Canary Twayblade at Chinamada, and the morning and evening light on El Teide and the caldera. On Fuerteventura we had exceptional views of Houbara Bustards – eight in a morning! – plus really good views of Trumpeter Finch, Spectacled Warbler, Canary Island Stonechat and Egyptian Vulture, as well as Plain Tiger and Canary Blue butterflies. So many highlights in a great week's wildlife-watching!
Book for 2022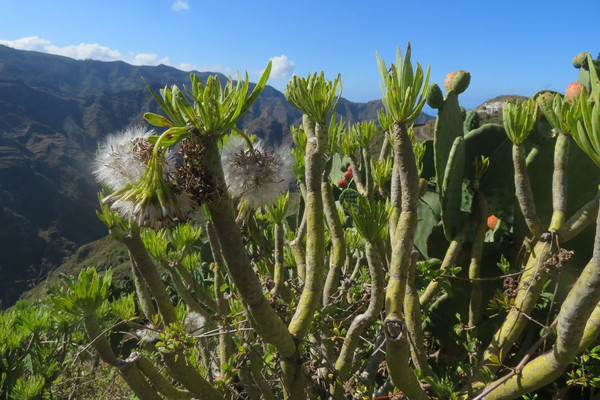 Canary Islands Candle Plant (photo by client Sue Custance-Baker)
This November, Matt and Bob Eade (a son/father duo) led our inaugural 'Go Slow' holiday to Fuerteventura. Graced with perfect weather over the week, our group enjoyed visiting every corner of the island and finding an impressive variety of wildlife.
Despite an ongoing drought on the island, small pockets of water and scrub held all of the species one would hope to find, including the only true endemic, the Canary Islands Stonechat! Houbara Bustards, Black-bellied Sandgrouse and Cream-coloured Coursers were admired by all, with the latter showing exceptionally well as a small party fed along a roadside. Three rarities to the island were also found, comprising Crag Martin, Short-toed Eagle and a Hawfinch!
With the leaders' knowledge on all forms of wildlife, a wonderful variety of butterflies and Odonata were found too. Monarchs, Plain Tigers, Lang's Short-tailed Blues, Geranium Bronze and Clouded Yellows were abundant within the hotel grounds, while Odonata included Saharan Blue-tailed Damselfly, Red-veined Darters and Broad Scarlets.
The group also enjoyed some excellent picnics, especially on the last afternoon which involved Cava! Join us in Fuerteventura during March 2022 for winter warmth and excellent wildlife!
Book for 2022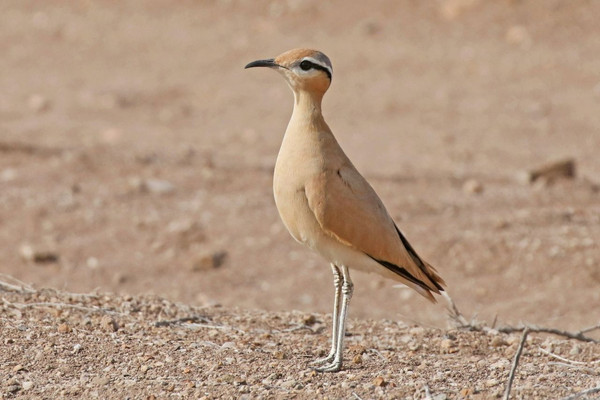 Cream-coloured Courser (Matt Eade)
It was never going to be an easy mission seeing the world's rarest cat but we achieved just that with wonderful views of Iberian Lynx in the wilds of Spain on the most recent 'Spain - Realm of the Iberian Lynx' tour (writes tour leader Tom Mabbett). This most elusive cat evaded us as we explored the fantastic Coto Doñana National Park but to our delight we succeeded in the beautiful Sierra Morena mountains of Andujar. We enjoyed no less than four different Lynx on two evenings with an adult male and female showing courtship behaviour as they ambled through their beautiful Dehesa habitat, with two young animals to finish on the final evening! Wow! We also enjoyed four Otters, a super male Mouflon and Spanish Ibex, with birds including Spanish Imperial Eagle, Griffon and Black Vultures, Flamingoes, Hoopoes, Penduline Tits, Hawfinches, Rock Sparrows and Iberian Green Woodpeckers to name just a few – all amongst spectacular scenery and true wilderness!
Book for 2022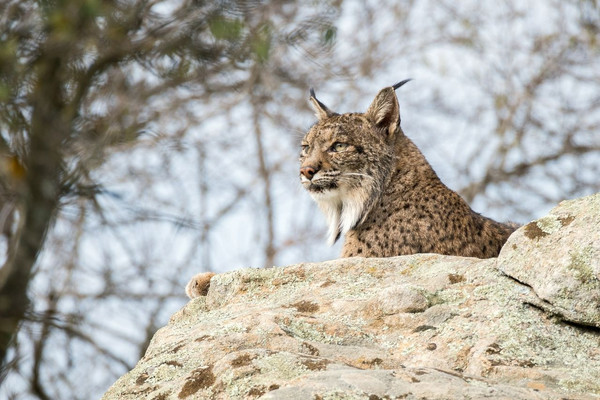 Iberian Lynx
From the wild mountains of the Serranía de Ronda to the rugged coastline and cross-continental views of the Strait of Gibraltar, Andalucía boasts outstanding winter birding and this group enjoyed it under glorious blue skies (write tour leaders Niki Williamson and Simon Tonkin).
Up in the mountains Golden Eagles soared over Spanish Ibex, Blue Rock Thrush, Black Wheatear and Rock Bunting, while Red-billed Choughs, Crag Martins and Red Crossbills patrolled the streets and bridges of the historic city of Ronda.
Down at the coast we enjoyed huge flocks of Common Cranes and Spanish Sparrows, Glossy Ibis, White Storks and Black-winged Kites on the wetlands and Kentish Plovers, Black-winged Stilts and Northern Bald Ibis around the saltpans of Barbate. From Tarifa, we gazed across the 14km divide to Africa while many thousands of Scopoli's and Cory's Shearwaters swept by. But above it all the group watched in awe as thousands of young Griffon Vultures gathered and filled the skies to make their first and only journey across the Strait to Africa!
A highly memorable birding week was capped off by gorgeous weather, fantastic food and great Andalucían hospitality throughout!
Book for 2022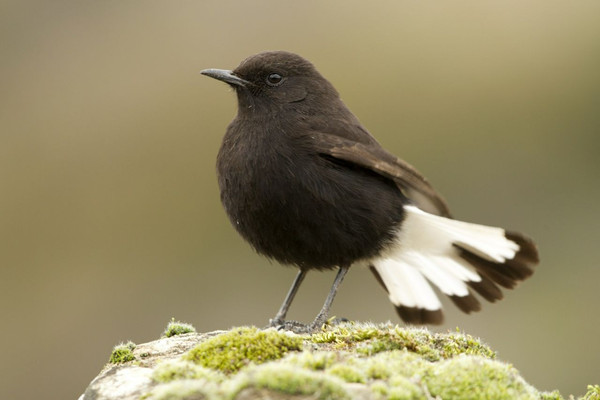 Black Wheatear
This brilliant week's birding in Extremadura took place under glorious blue skies throughout and was about both quantity AND quality (writes tour leader Niki Williamson).
The plains were alive with huge quantities of Pin-tailed and Black-bellied Sandgrouse, and yielded many sightings of both Little and Great Bustards accompanied by a constant soundtrack of Calandra, Thekla and Crested Larks, Corn Bunting and Eurasian Skylark. The group enjoyed thousands of Common Cranes coming in to roost on rice fields in the late afternoon sun and hundreds of Griffon and Cinereous Vultures gathering on thermals as they left Monfragüe National Park to cruise the plains.
Moments of sheer quality included breathtaking views of Spanish Imperial Eagle – an adult and juvenile together – two Bonelli's Eagles, Blue Rock Thrush, sprinklings of Red Avadavat and Common Waxbills amongst thousands of House and Spanish Sparrows, and the seemingly ever-present Eurasian Hoopoes! And of course, watching the heaviest flying bird on the wing in soft winter sunshine is definitely a sight worth seeing! Join us in February or November next year!
Book for 2022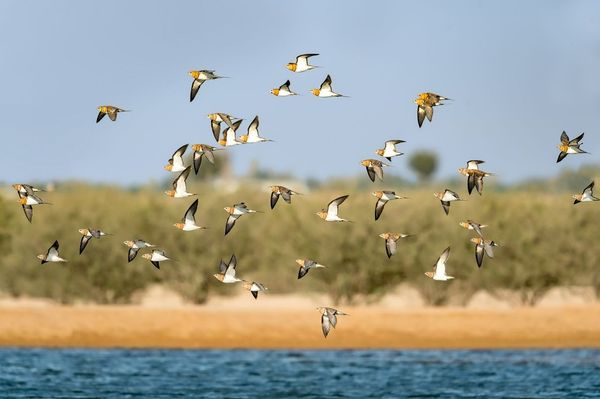 Pin-tailed Sandgrouse flock
Our recent 'France – Wallcreepers & the Camargue' tour was a great success with super sightings of a range of special species (writes tour leader Neil McMahon). The first site visited was the village of Château Baux de Provence, situated in the limestone hills of Les Alpilles. Here we scanned the cliffs and walls of this stunning location, finding Blue Rock Thrushes and obtaining brief views of Sardinian Warbler and Firecrest and plenty of Mediterranean fauna. And there was the main target – an incredible Wallcreeper! Spotted high up on the cliffs it remained on view for a long time, examining crevices, fluttering around the weathered limestone and generally showing off to our happy group of Naturetrekkers! A second bird was heard calling and further exploration revealed Black Redstarts, Serins and a complete surprise were three gaudy Citril Finches! At the impressive Pont du Gard we enjoyed another Wallcreeper with Rock Sparrows also on view and we made time to visit the historic town of Arles. In the Camargue enjoyed Coypus, Greater Flamingoes, bugling Cranes, Black-necked Grebe, raptors and even a small group of Wild Boar!
Book for 2022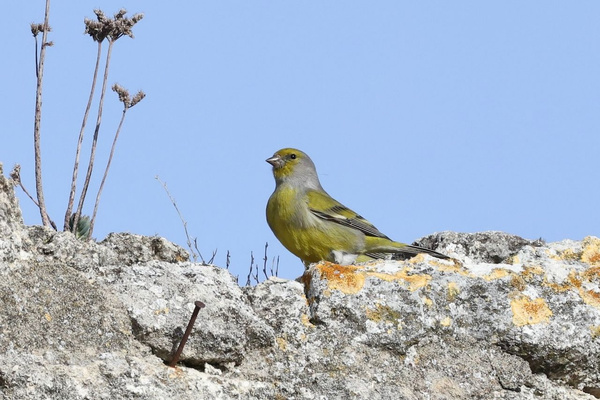 Citril Finch (Dave Jackson)
Our four 'Red Deer Rut' tours ran from 29th September to 16th October this year and no tours, or indeed no days, were the same (writes tour leader Dave Jackson). The stags were in fine fettle and double figures were seen on some days, with rutting being more drawn out this year due to the cold spring and dry summer, meaning the stags had to work extra hard to attract the hinds.
The resident stag in the grounds of our accommodation could be heard bellowing until the early hours some nights, whilst one tame hind brought her calf along to be fed apples and peanuts by hand.
But it wasn't all about the deer; Otters had been elusive this year, though we were treated to prolonged views of one male hauling himself onto a pontoon where he remained for over an hour in full view, rolling and scratching before returning to the water to fish.
Eagles were in abundance with three Golden and one White-tailed over our heads at the same time and we'd previously watched a pair of Otters very close to a pair of White-tailed Eagles, with Harbour Porpoises in the same field of view!
Fungi too were evident with Fly Agaric attracting the most attention, along with Boletes and Russulas complementing the stunning autumn landscape. Ringed and Golden Plovers fed on short grass favoured by brightly coloured Waxcaps on our visits to the spectacular Sanna Bay, whilst distant Red-throated and Great Northern Divers rested on the sea.
Badger, Red Squirrel, Roe and Fallow Deer were also seen and the highlights of the trips for many were the Pine Martens who fed on the windowsills of our accommodation each evening – such wondrous characters!
Book for 2022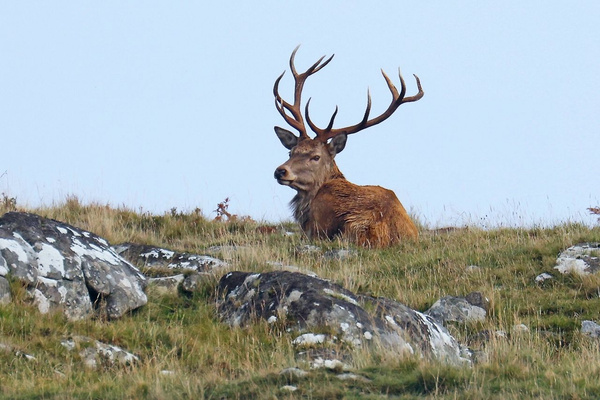 Red Deer stag (Dave Jackson)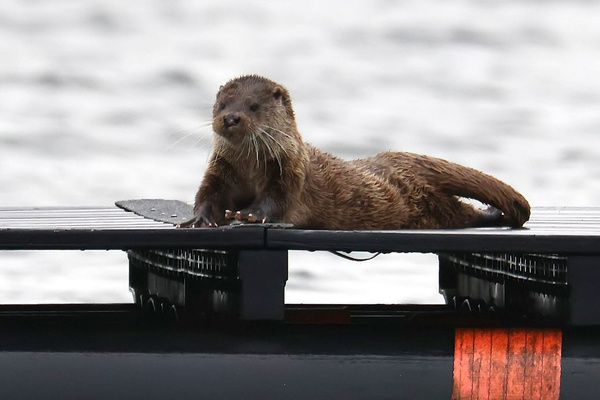 Otter (Dave Jackson)
The week began on the Solway Firth at RSPB Mersehead and WWT Caerlaverock, where the group enjoyed stunningly close views of Svalbard Barnacle Geese, Whooper Swans and Northern Pintails, with a supporting variety of other waterfowl including Pink-footed and Greylag Geese (writes tour leader Chris Rollie). Threave Wetlands delivered a magnificent hunting Peregrine, which then perched obligingly atop Archibald the Grim's impressive 14th century castle ruin on an island in the River Dee. About 100 scarce Greenland White-fronted Geese completed a nice circular walk, then on to RSPB Ken-Dee Marshes and Bellymack Red Kite Feeding Station, where the group were wowed by the kites' spectacular display.
The week was completed with a wonderful visit to Loch Ryan in the far west, with stunning views of various waterfowl including numerous Pale-bellied Brent Geese, Slavonian Grebe, Common Scoter, Greater Scaup, Eider Duck and three wonderful male Long-tailed Ducks. The day was rounded off with good views of 100+ Greenland White-fronted Geese and two ringtail Hen Harriers arriving at their communal roost. Overall, a great week based in the friendly, award-winning Clachan Inn, St John's Town of Dalry in the heart of Galloway. A total of 90 bird species were seen plus one heard.
Book for 2022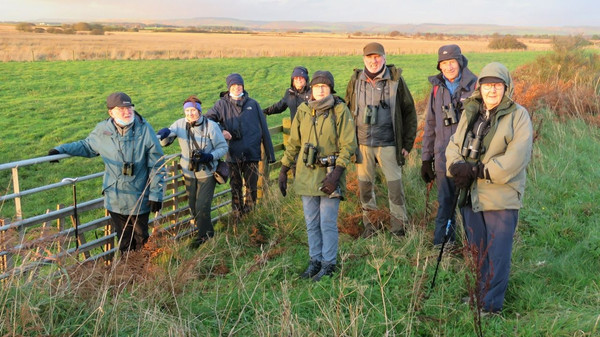 Dumfries & Galloway group (Duncan Stevenson)
This tour around south and east Devon is a fantastic opportunity to enjoy some of the best of the UK's winter wildlife, as we explore the full range of habitats on and around the River Exe Estuary (writes tour leader Matt Collis). Our first two days were notably blighted by challenging weather thanks to storm Arwen and no doubt limited some sightings, including several key target species. Despite this, our count reached an impressive 95 different species, with several local rarities including Snow Bunting and Black-necked Grebe.
The large numbers and close views of waders including Avocet, Black-tailed Godwit and Golden Plover, as well as some less common species such as Bar-tailed Godwit, Knot and Ruff, were common highlights amongst the group. Another spectacular stand-out moment featured a Peregrine hunting Black-tailed Godwit. Other notable birds from our trip included Red-throated Diver, Common Scoter and Common Crossbill, together with an impressive range of local specialities such as Black-bellied Brent Geese, Red-breasted Merganser, Rock Pipit and Cattle Egret.
Book for 2022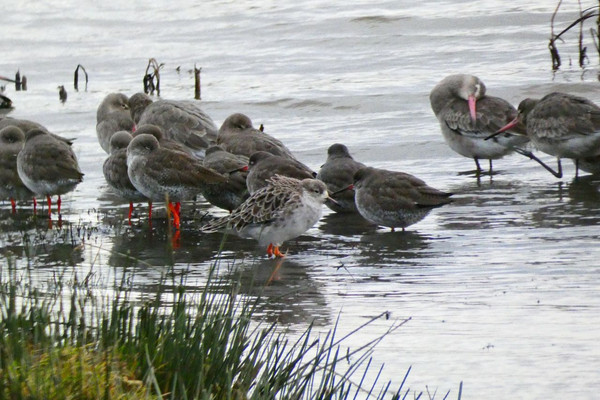 Ruff (Matt Collis)
The Somerset Levels are one of our most popular British destinations and we recently ran a private tour here for the Brighton RSPB group (writes tour leader Simon Dicks). They are the perfect habitat for wildfowl with Shoveler, Teal, Wigeon and Gadwall being just a few of the species that gather in good numbers among the many pools and reedbeds. Egrets also do very well here with several Great White Egrets seen each day and one particularly productive field held an impressive 41 Cattle Egrets and a single Glossy Ibis as an added bonus.
Although the predominant habitat of the area, it is not all wetlands. RSPB Swell Wood provided great views of Marsh Tit, Nuthatch and Coal Tit among the usual Great and Blue Tits on the numerous feeders. From the viewpoint here, we also enjoyed lovely views of four Common Cranes.
Raptors too were plentiful with Marsh Harriers seen frequently, along with Kestrel, Peregrine and Sparrowhawk. One particular highlight was a superb ringtail Hen Harrier flying over us and circling back behind our enthralled group.
The area is perhaps best known, however, for its superb Starling murmurations consisting of hundreds of thousands of Starlings coming in to roost in the reedbeds as the sun sets. Against a backdrop of a sky filled with pink, orange and blue after a glorious winter's day, the sight and sound of these huge numbers of birds sweeping and swirling above the reedbeds has to be one of the wildlife highlights in the UK.
Tours for Private Groups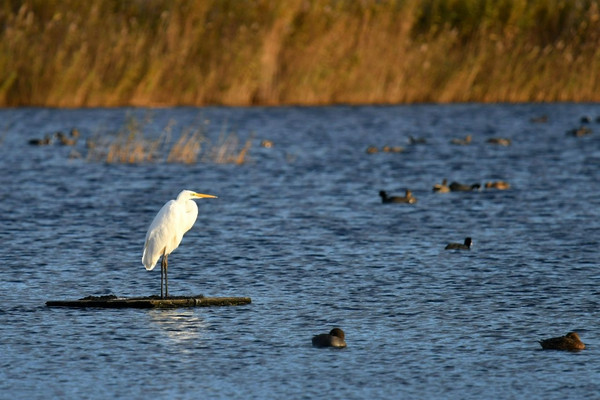 Great White Egret (Simon Dicks)
Watch the Starling murmurations in the Somerset Levels (filmed 2020)