Read about highlights from recent tours …
'We had an amazing time here in the Pantanal', writes tour leader Karen Souza. 'During the eight days in the area, we saw more than 20 different species of mammals, 10 species of reptiles and nearly 150 bird species, which included some special sightings (a Great Potoo with a chick being one of them!). We had a very enthusiastic group, with everybody being very passionate about wildlife. Every moment was celebrated, from the smallest species seen to the enormous and beautiful Pantanal sunset. As well as exceptional Jaguar encounters, we were also privileged to see Tapir, the elusive Ocelot, and playful Giant River Otters. It wasn't only mammals that we enjoyed on this tour; on our way down to the boat one morning we were greeted by a Sepia Chaco Mock Viper, and that was only the first snake species of the day – later on we also saw a 2m-long Yellow Anaconda. Finally, before leaving our second lodge, Jofre Velho, we were lucky enough to share our final walk with some Black Howler Monkeys!'
Our next 'Brazil – Mammals of the Pantanal' holiday departs on 10th September 2020, prices start at £3,995. For more information please click on the link above, or email This email address is being protected from spambots. You need JavaScript enabled to view it..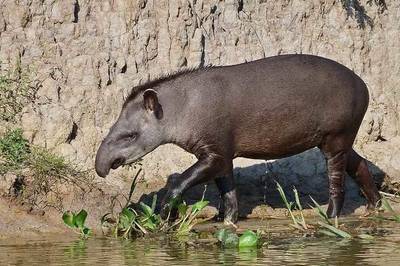 Brazilian Tapir (Mick Tilley)
'A total of 229 bird species, 26 mammal species and 15 reptile and amphibian species were seen throughout the tour, including the extension', writes tour leader Indika Jayatissa. 'Overall, the tour recorded 31 endemic bird species out of 34. The elusive Leopard sighting at Horton Plains National Park was a major highlight for the group. There are only around 12 recorded Leopards in Horton Plains National Park and only a handful of people have seen them. On our way back from the trail, we were lucky enough to see this cat sitting amongst the thick grass on the plains. It was an unforgettable sighting! It seemed that the special cats of Sri Lanka were coming out for the viewing pleasure of our group, as we had another fantastic sighting of a Fishing Cat during our short night drive in Sigiriya. Out of the four wild cats in Sri Lanka, this is the second largest. We had some good views of it just next to a small marsh, waiting for a fish or an aquatic snake.
On the history front, we had a golden opportunity to view the casket of the Buddha's tooth relic which is enshrined in Kandy's Temple of the Tooth. In addition, the towering ruins of the ancient cities of Anuradhapura and Polonnaruwa exceeded the group's imaginations, as they questioned aspects of architecture, planning and the quality of life in days gone by.
The Bay-backed Shrike, a rare winter migrant, was discovered at the Bundala National Park and was one of the birding highlights for the group.
Overall, the combined experience of the island's amazing wildlife, history, cuisine, hotels and friendly people left a lasting impression in the hearts of our explorers.'
Our next 'Sri Lanka – Wildlife & History' holiday departs on 27th February 2020, prices start at £3,195. For more information please click on the link above, or email This email address is being protected from spambots. You need JavaScript enabled to view it..
'This tour delivered wonderful multiple sightings of Blue Whales and Leopards, in addition to the other abundant wildlife of Sri Lanka', writes tour leader Dhanushka Samarasinghe. 'We were fortunate enough to see three different types of whales – a rare Fin Whale, Sperm Whale and Blue Whale, along with Spinner Dolphins.
Our search for Leopards was also fruitful as we enjoyed close encounters with one of the cats in Lunugamvehera National Park. In addition, other highlights of the tour included Asian Elephants, Spotted Deer, Golden Jackal, Mugger Crocodiles and many exciting bird species.
Overall, we had sightings of 22 mammal species, 139 bird species, 16 reptiles and amphibians and 64 species of butterflies.'
Our next 'Sri Lanka – Blue Whales & Leopards' holiday departs on 7th March 2020, prices start at £2,595. For more information please click on the link above, or email This email address is being protected from spambots. You need JavaScript enabled to view it..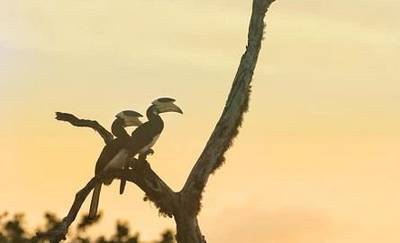 Malabar Pied Hornbills (Indika Jayatissa)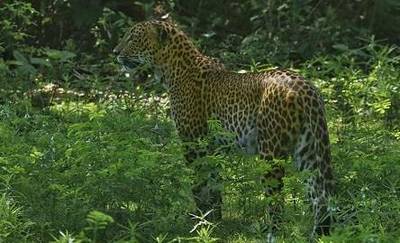 Leopard (Indika Jayatissa)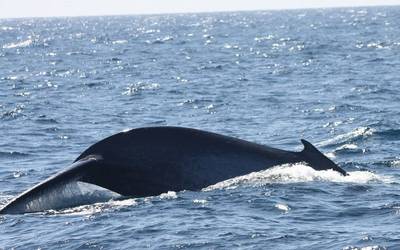 Blue Whale (Dhanushka Samarasinghe)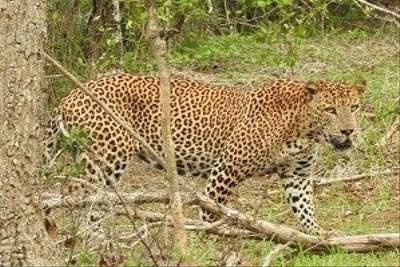 Leopard (Dhanushka Samarasinghe)
'Our "Algarve at Christmas" tour enjoyed exceptional weather during the 2019 festive season, with sunshine every day and dry conditions with gentle breezes', writes tour leader Neil McMahon. This in turn helped us to find an excellent array of birds in a variety of habitats and we enjoyed visiting all of our usual sites.
Mammals rarely provide much interest in the Algarve but on this occasion we were fortunate to encounter two sow Wild Boars with their humbug-patterned piglets, an Otter and an Egyptian Mongoose. Using our two hotels at Sagres and Tavira for forays into the Algarve and a day spent in the Alentejo region ensured we didn't spend too long in the vehicles. The high hills around Monchique provided us with magnificent scenery and views of Dartford Warbler, Lesser Spotted Woodpecker and Short-toed Treecreeper, whilst the areas around Sagres produced Bonelli's Eagle, Richard's Pipit, Thekla Lark, Ring Ouzel, Stone Curlew and Red-billed Chough. Faro's list included Little Bittern, Western Swamphen, Booted Eagle and Osprey and the wonderful plains near to Castro Verde were particularly productive with Little and Great Bustards, Iberian Imperial Eagle, more Stone Curlews, Common Cranes, Black-bellied Sandgrouse, Calandra Larks and even a Yellow-browed Warbler.
Both our respective hotels were very comfortable and the staff responsive to our needs. Wonderful Portuguese cuisine was served up in these hotels but we also made time to eat out at local restaurants and sample local cuisine in addition to the famous Naturetrek picnics!
The bird list numbered nearly 150 species and the gentle, relaxed pace and wonderful camaraderie in a non-commercialised part of the world made it a Christmas season to remember!'
Join Neil and Robert Manzano on our next 'Portugal – the Algarve at Christmas' holiday departing on 23rd December 2020, prices start at £1,795. For more information please click on the link above, or email This email address is being protected from spambots. You need JavaScript enabled to view it..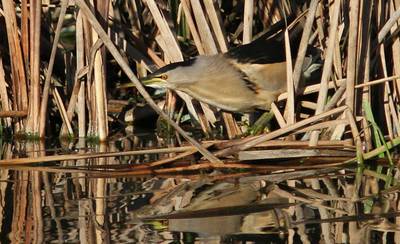 Little Bittern (Neil McMahon)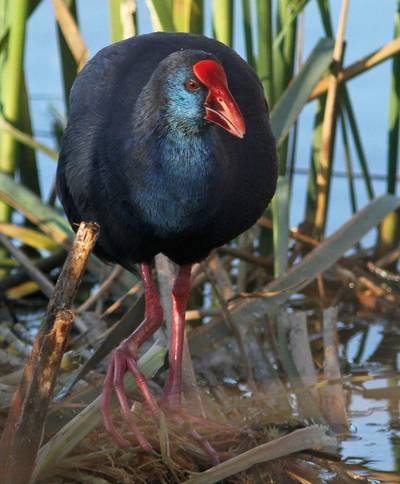 Western Swamphen (Neil McMahon)
'The 14 of us (10 clients and four guides) enjoyed some wonderful weather and wildlife during our Christmas wolf-watching tour in Spain', writes leader Pablo Perez. 'During our five days away, we enjoyed amazing wildlife and delicious food, especially on Christmas night. On our first morning in the Palentian Mountains we were extremely lucky to have a really close view of an adult Iberian Wolf for about five minutes in front of us, visible with our naked eyes! Right after that we all watched, in the distance, an adult male Cantabrian Brown Bear marking and climbing trees in the forest. On the last day we were also able to watch a mother Brown Bear with her three cubs for about 20 minutes before they went for a nap. Furthermore, we also saw Chamois, Red Deer and Foxes. Bird-wise, a super view of a Middle-spotted Woodpecker, and a couple of Golden Eagles perched over the top of a cliff with the snowy Picos de Europa peaks in the background were highlights. This was certainly an excellent opportunity to enjoy Christmas time in this remote and peaceful part of Spain.'
Join Pablo, Tino, Eva and Tono next Christmas on our next 'Wolf-watching in Spain (hotel)' holiday departing on 23rd December 2020, prices start at £1,295. For more information please click on the link above, or email This email address is being protected from spambots. You need JavaScript enabled to view it..
'This 7-day festive exploration of the plains, mountains and wetlands of Extremadura was a real Christmas to remember', write tour leaders Niki Williamson and Simon Tonkin. 'As well as being treated to some stunning days of birding, the group enjoyed relaxed, sunlit days, taking in all the gorgeous wildlife, scenery, culture and cuisine Extremadura has to offer.
From the very first day we were treated to breathtaking views of star species such as Great and Little Bustards, Black-bellied and Pin-tailed Sandgrouse, Golden, Bonelli´s and Spanish Imperial Eagles and Cinereous Vulture. It was also hard to beat the sight of dozens of Griffon and Cinereous Vultures taking to the air from the imposing crags of Monfragüe National Park, or hundreds of Common Cranes calling softly as they come in to roost against a setting sun.
Other wildlife highlights included views of Red Deer, Iberian Grey Shrike, Black Storks, Blue Rock Thrush, Rock Bunting, Rock Petronia, Black-winged Kite, adorable Little Owls, Crested, Thekla, and Calandra Larks. The huge and varied aggregations of wintering wildfowl at the area´s picturesque reservoirs were a sight to behold, as were massive flocks of Common Waxbills, Red Avadavats, Corn Buntings and Spanish Sparrows adorning the trees like baubles!
Each evening we relived our day´s experiences in front of the open fire in  the welcoming surroundings of our home-from-home at Casa Rural Viña las Torres, before indulging in truly superb festive cuisine!'
Would you like to join Niki and Simon next Christmas? Our next departure of 'Extremadura at Christmas' leaves on 22nd December 2020, prices start at £1,695. For more information please click on the link above, or email This email address is being protected from spambots. You need JavaScript enabled to view it..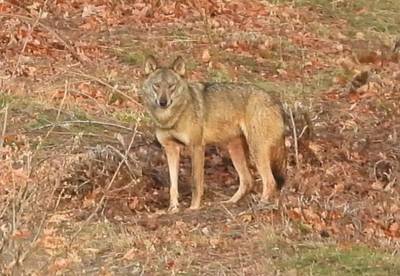 Iberian Wolf (Toño Gopegui)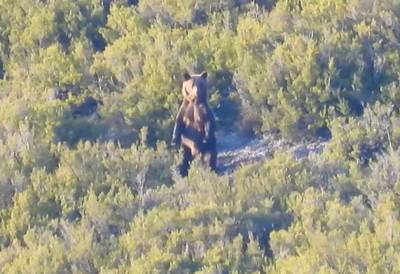 Brown Bear (Toño Gopegui)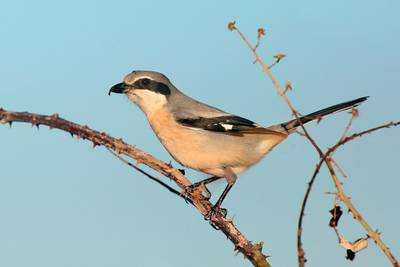 Iberian Grey Shrike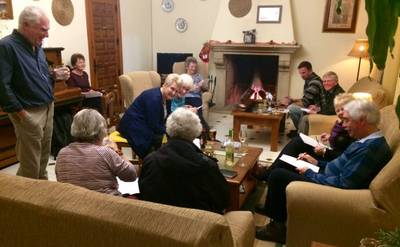 Completing the checklist (Niki Williamson)