Two New Eclipse Holidays to Chile for 2020

This email address is being protected from spambots. You need JavaScript enabled to view it.
We are delighted to launch two new itineraries to witness next year's total solar eclipse. On 14th December 2020, the shadow of the moon will speed across the Pacific Ocean and make landfall in South America. The eclipse track crosses one of the most beautiful regions on that continent: the clear lakes, forested mountains and snowclad volcanoes of Chile's Lake District. This region will undoubtedly provide a stunning backdrop for an eclipse which will take place in the southern summer. Our groups will spend three nights in the southern city of Valdivia, our base for the eclipse, as part of a series of tours that will include Chiloé Island, rugged Patagonia and an epic Andean crossing to Argentina. If wonderful scenery wasn't enough, southern Chile is also home to some fabulous wildlife, from majestic condors and colonies of penguins, to forests of southern beeches and iconic araucarias.
Starting in the Chilean capital we visit vineyards and the colourful port of Valparaiso before flying south to Chile's Lake District to explore the mountains, volcanoes and forests of this stunning region. The rugged island of Chiloé is the next stop where we hope to see Humboldt and Magellanic Penguins.
Our focus then switches to the solar eclipse and, to maximise our good weather, we have a designated site north of Valdivia on land owned by the indigenous Mapuche community. Historically this region has the best prospect for clear skies along the Chilean part of the eclipse track and the Mapuche culture will provide an interesting counterpoint to the eclipse.
Date: 4th – 17th December 2020  
Price: £6,495
View Tour Page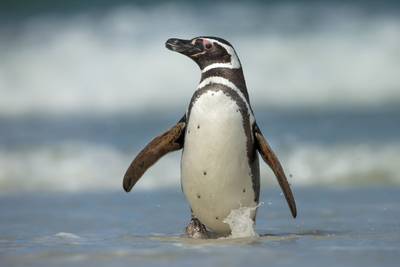 Magellanic Penguin
This tour combines two countries; starting in Chile we visit perhaps the most dramatic mountain landscape in the world in the Torres del Paine National Park in Patagonia, the realm of the magnificent Andean Condor. The Lake District of Chile offers softer but no less beautiful scenery and will be the region from which we view the solar eclipse from a site belonging to the indigenous Mapuche people. A spectacular crossing of the Andes takes us into Argentina and ends with a few days in the vibrant city of Buenos Aires.
Date: 7th – 22nd December 2020  
Price: £7,795
View Tour Page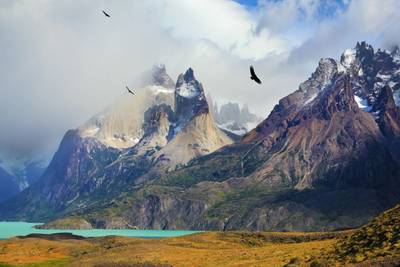 Andean Condors and the Paine massif