Nepal on course to double Tiger numbers within 10 years!

This email address is being protected from spambots. You need JavaScript enabled to view it.
While India's Tiger population may be unmatched, and the habituation of the Tigers of its most popular Tiger Reserves has made these sanctuaries the most reliable places in which to see this once-elusive cat, it is neighbouring Nepal that now leads the way in the conservation of the species. Back in 2010, those Asian countries with wild Tiger populations pledged to double Tiger numbers by 2022 – the 'Year of the Tiger'. Despite the odds, Nepal is set to achieve this goal.
In 2009 its Tiger population was estimated to be 121 individuals following a government survey supported by WWF and ZSL. Now, figures released from a count completed in 2018 by the National Trust for Nature Conservation (formerly the King Mahendra Trust) put the total at 235 – an amazing achievement given Nepal's fast-growing population and impoverished situation. These numbers have been produced by looking at the unique stripe pattern of each Tiger photographed by camera traps set in the country's national parks. In Nepal, Tigers occur chiefly in the remaining forests and grasslands of its southern lowlands, known as 'the Terai'. Here, the Tiger's success can be attributed to the effectiveness of its anti-poaching patrols. Uniquely, Nepal is the only country in the world which deploys its regular army to protect its wildlife. 8,000 troops are assigned to this task, half of them guarding and patrolling in its Tiger parks, a military tradition and solution that is perhaps a legacy of the high regard assigned to the Gurkha soldier by the British and Indian armies over the past 200 years.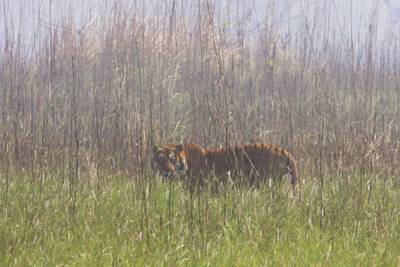 Tiger, Suklaphanta, Nepal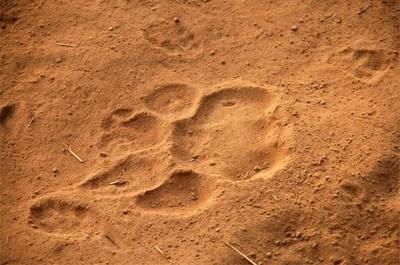 Tiger Pugmarks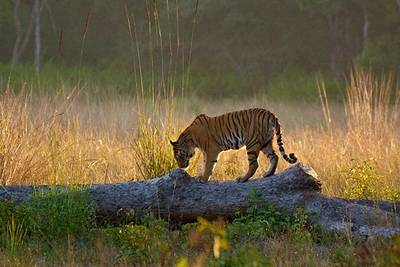 Tiger
Other major conservation efforts have also played their part, backed by the country's ongoing political commitment. Local people living in and near protected forests, particularly the designated park buffer zones, are being encouraged, through various micro-loans and other alternative livelihood initiatives, not to exploit natural resources beyond sustainable levels. Further, with local tourism now 'booming', the realisation that wild animals are a source of income only adds to the resolve of the local people to protect their Tigers and other wildlife. Communities are now taking real pride in saving wildlife, and those living within the buffer zones have even created community-based anti-poaching units that regularly patrol their own forests and ensure that no poaching or illegal activities take place. Indeed, our very own tour leader, Tika Ram Giri, known to many of you, has played his part in these.
Despite such positive steps however, the Tigers and their habitat continue to face threats. Declining prey populations, Tiger-poaching driven by a continuing demand from the illegal markets in wealthier Asian nations, and habitat degradation and fragmentation are all major challenges to be tackled if Tiger populations are to be protected. Tiger conservation, after all, is much more than just the saving of one iconic species. As a large predator, its preservation is essential in the maintenance of a healthy ecosystem, and the protection of the expansive habitats they require benefits all species in them. So Tigers are truly the umbrella species; by saving one, we save an entire suite of wildlife!
Five of Nepal's lowland national parks hold healthy Tiger populations and offer the chance of a sighting (see the table below). Chitwan National Park holds the largest population, though its dense riverine forests and grasslands present the most challenging viewing conditions, while the dry Sal forests and broad riverbeds of Bardia National Park provide better viewing opportunities. Suklaphanta National Park offers similarly good viewing chances, but is more remote. There, Naturetrek provide the only tourist accommodation, Suklaphanta Wildlife Camp, and the joy of having a Tiger reserve to ourselves is very special, if a more rustic experience. Suklaphanta's wonderful wildlife can be enjoyed on our stand-alone tours to the park, on extensions to all our Nepal tours, or incorporated into Naturetrek Tailormade holidays. However, for the best chance of a Tiger sighting in Nepal (much more rewarding than a sighting in India because Nepal's Tigers are not habituated!), our new tour to Bardia and Chitwan, detailed right, is proving particularly popular.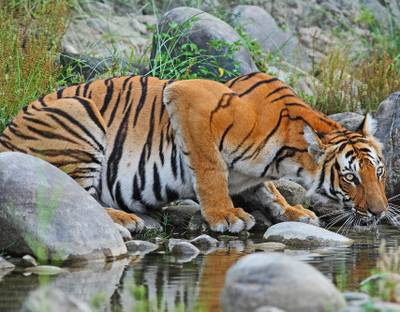 A 12-day, two-centre holiday that goes in search of Tigers and other spectacular wildlife in two of Nepal's finest national parks...
Table showing park-by-park breakdown of Tiger numbers:
| | | | | |
| --- | --- | --- | --- | --- |
| National Park | Core Area (Km²) | Elevation (metres) | Tiger numbers in 2009 | Tiger numbers in 2018 |
| Parsa & adjoining forests | 627.39 | 435-950 | 4 | 18 |
| Chitwan & adjoining forests | 952.63 | 150-815 | 91 | 93 |
| Banke & adjoining forests | 550 | 153-1247 | * | 21 |
| Bardia  & adjoining forests | 968 | 150-1441 | 18 | 87 |
| Suklaphanta & adjoining forests | 305 | 174-1386 | 8 | 16 |
| Total | 3403.2 |   | 121 | 235 |

NB 1. Banke was designated a national park in 2010, so was not included in the 2009 count.
NB 2. 'Adjoining forests' primarily relates to designated buffer zone forests outside the core area of each park.
NB 3. While Tigers have been recorded in national forests that lie close to protected areas, these animals are considered as transient, and not part of viable populations, on account of the lack of protection and prey available to them. Therefore they are either not included in either count, or tallied stripes indicate that they have already been included in counts within one of the parks.
NB 4. Banke and Parsa, adjacent to Bardia and Chitwan respectively, have only recently been afforded national park status yet, encouragingly, are already building up their own viable populations. As yet, there is no infrastructure in these two parks to support tourism.