Join us in the UK this Summer!

By

This email address is being protected from spambots. You need JavaScript enabled to view it.



Operations Manager
12th April 2019
As the days begin to lengthen and we look forward to summer, it can be easy to forget that we have some fantastic wildlife on our doorstep. We don't need to travel to the other side of the world to witness the spectacle of thousands of birds gathered in one place to breed, or to marvel as a shy creature appears in front of us, or to find fields rich in wild flowers. The UK has some amazing locations throughout its length and breadth, offering something for everyone – from coastal cliffs and wetland habitats to upland moors, reedbeds and ponds; from scrub habitats to woodlands and forests.
Below we set out our suggestions, outlining just some of the amazing variety of wildlife and habitats to be found in the UK:
Alderney sits within the English Channel and is the most northerly of the Channel Isles. Peregrines, Buzzards, Ravens and large Gannet colonies will be among the avian highlights, and we may also come across one of the local 'Blonde' Hedgehogs. During the tour we will be based at the lovely Braye Beach Hotel, overlooking the bay and the harbour. The Alderney Bird Observatory will be active and we will take time to observe some species at close quarters, thus being able to appreciate more fully the subtleties of plumage colouration. For those who prefer a gentler pace of holiday, we offer a 'Go Slow' departure in September.
The Isle of Wight is an excellent location for butterflies and flowers in the late spring, both in the central downlands and around the cliffs. Green Hairstreak and Glanville Fritillary are among the possible species found here, while the woodlands are home to the charismatic Red Squirrel.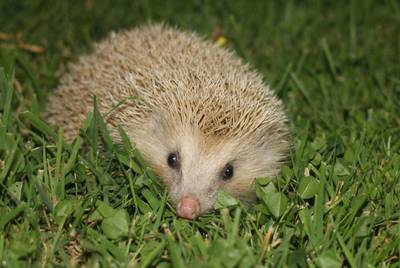 Hedgehog
At almost the opposite end of the country, the Outer Hebridean islands of North and South Uist are a stunning backdrop to the wildlife of the machair and lochans. Breeding waders and raptors, as well as the possibility of Corncrakes and Otters will make this a trip to remember.
The Farne Islands lie off the east coast of Northumberland and each year play host to thousands of seabirds including Guillemot, Puffin, Shag, Razorbill and a number of tern species. The level of noise and activity within the colonies is phenomenal, and it's hard to know where to look as Puffins run the gauntlet of gulls to return to their burrows with a catch. With boat trips to Coquet Island, as well as Staple and Inner Farne Islands, there will be plenty of time to marvel at this annual spectacle. Further inland, we will look for Red Grouse and Dipper amongst the dramatic landscape of the Cheviot Hills.
The Yorkshire coast is also visited by large numbers of seabirds each year and the towering sea cliffs at Bempton are an incredible sight as Gannets, Kittiwakes and Fulmars vie for spaces on the ledges and crevices to raise their chicks. Listening to their cacophony of cries awakens the senses and draws us into the hundreds of mini dramas being played out across the rock face. The surrounding countryside has areas of farmland where Corn Bunting and Tree Sparrow can still be found. We will also visit the nearby North York Moors in search of Golden Plover, Ring Ouzel and Merlin.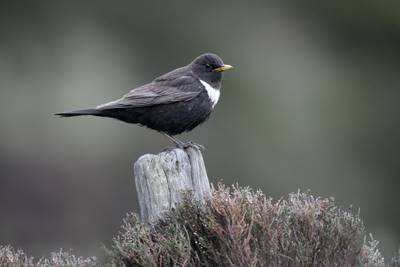 Ring Ouzel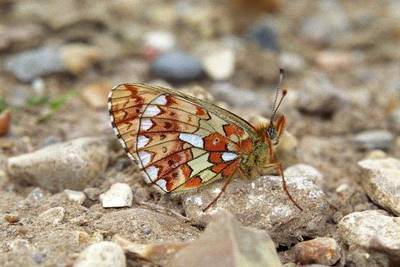 Pearl-bordered Fritillary (Dave Shute)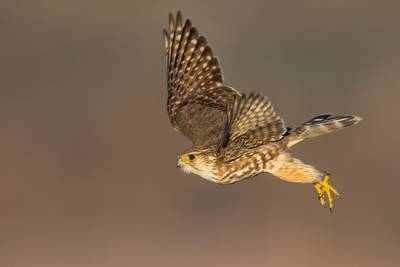 Merlin
From Morecambe Bay's mudflats, saltmarshes and sand dunes, to the flower-rich fens and moors of the Lakeland fells, the north-west of England is rich in varied wildlife. Eight species of orchid, Adder, Otter, Red Squirrel and Natterjack Toad can all be found here, along with Pearl-bordered Fritillary, Northern Brown Argus and perhaps a late Duke of Burgundy butterfly. RSPB Haweswater hosts a good range of breeding migrant warblers along with Marsh Tit and Hawfinch, and in the open country we have a chance of breeding Merlin, Peregrine and Short-eared Owl. Our long weekend is based in a comfortable hotel in the beautiful town of Kendal, on the edge of the Lake District National Park.
Lundy Island lies just off the coast of Devon and is the largest island in the Bristol Channel. The island is completely traffic free, allowing us to explore in relative peace, although the calls of nesting auks can be very raucous! At night we will listen and look for Manx Shearwaters, as the island is home to England's largest colony.
The Dorset coast is another location visited by breeding seabirds each year, although visits to the cliffs at Durlstone and Portland will only make up a small part of this tour. Reedbed and marshland species, including Marsh Harrier, Cetti's Warbler, Bearded Tit and Reed Bunting can be found at the RSPB reserves of Lodmoor and Radipole, while all native UK reptile species can be found around Arne, as can European Nightjars whose 'churring' sound is one of the delights of summer.
The ancient Forest of Dean offers the opportunity for finding a range of very special wildlife. Pied and Spotted Flycatcher as well as Redstart, Wood Warbler, Hawfinch, Nightjar and Goshawk all breed in the forest, and we will also be looking out for Wild Boar during this weekend tour.
Anyone more interested in four-legged creatures might like to visit the Scottish Highlands. In the late summer the Ardnamurchan Peninsula is a fabulous location for Pine Marten, Otter, Red, Roe and Fallow Deer. Off the coast Common and Bottlenose Dolphins can be found, as well as Minke Whale and Basking Shark.
Not far from the Naturetrek office in Hampshire, one of the important UK bat roost sites can be found. Evenings are the best time to catch up with these nocturnal mammals and our local expert will accompany you on a bat walk to look for such species as Natterers, Daubentons, Noctule and Pipistrelle Bats. With the help of some bat detectors, the calls will be interpreted and you will be able to distinguish the different species as they fly past along the canal.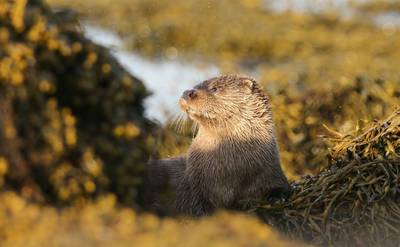 Otter
Hampshire has much more to offer in terms of wildlife and our 'Go Slow' tour is taken at a relaxed pace. Woodlark, Dartford Warbler and Redstart all breed in the county. Hunting Hobby hawk for insects over marshy areas and there will be the option of an evening excursion for Nightjar and Woodcock. Chalkland grass habitat hosts an array of plant life, including orchids, and attracts butterflies such as Brown Argus and Small Skipper.
To find out more about our UK tours, see a full list of our UK tours or contact Alison Steel on 01962 733051 or email This email address is being protected from spambots. You need JavaScript enabled to view it..