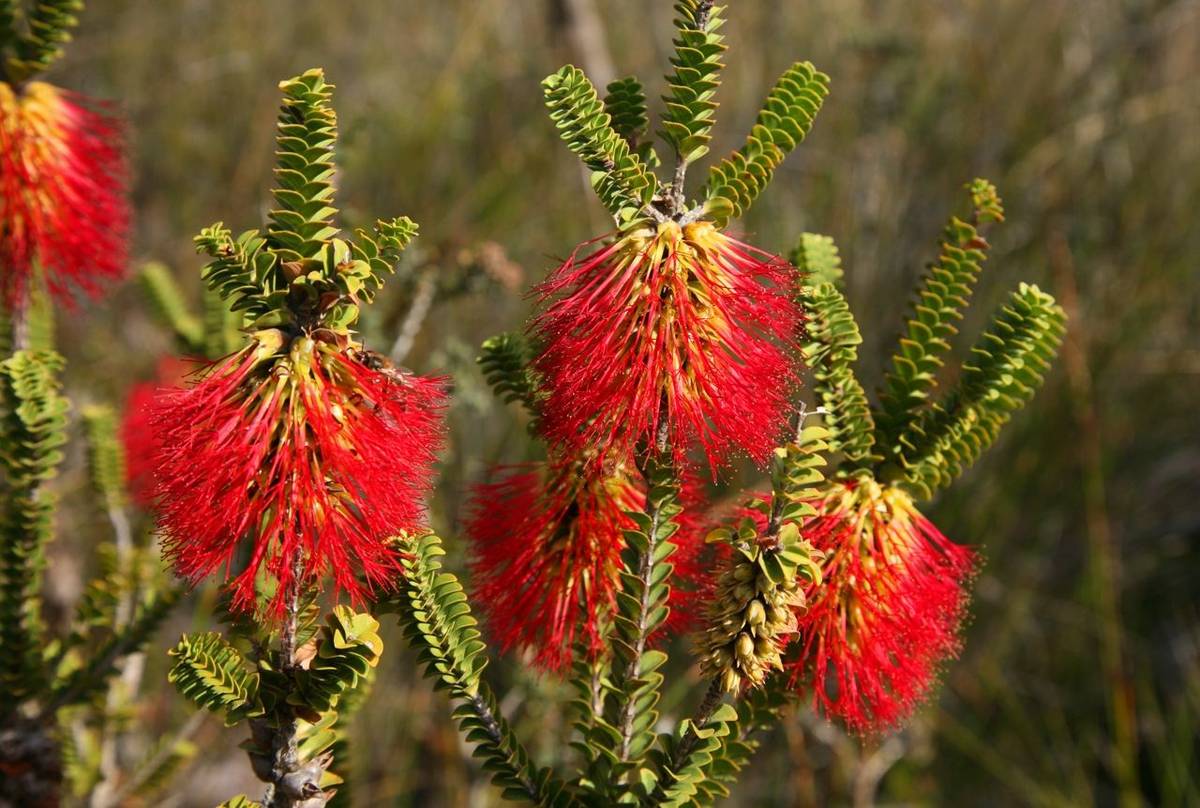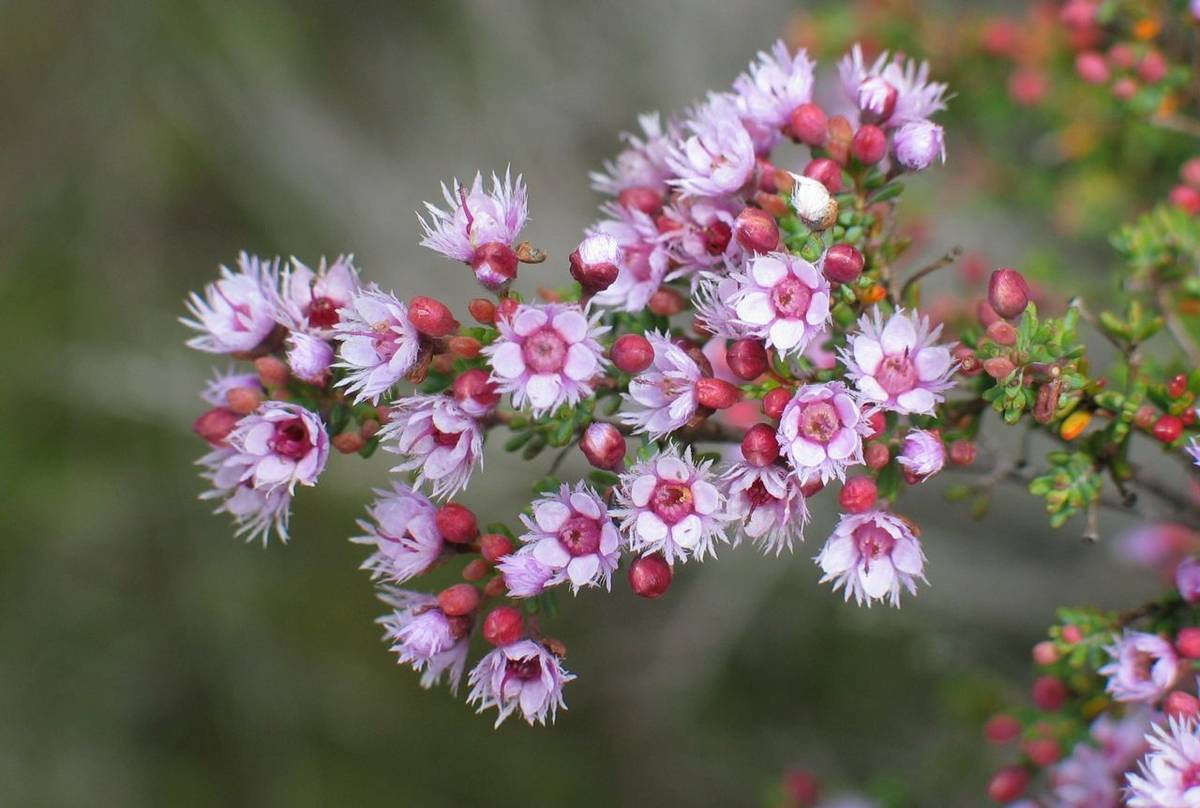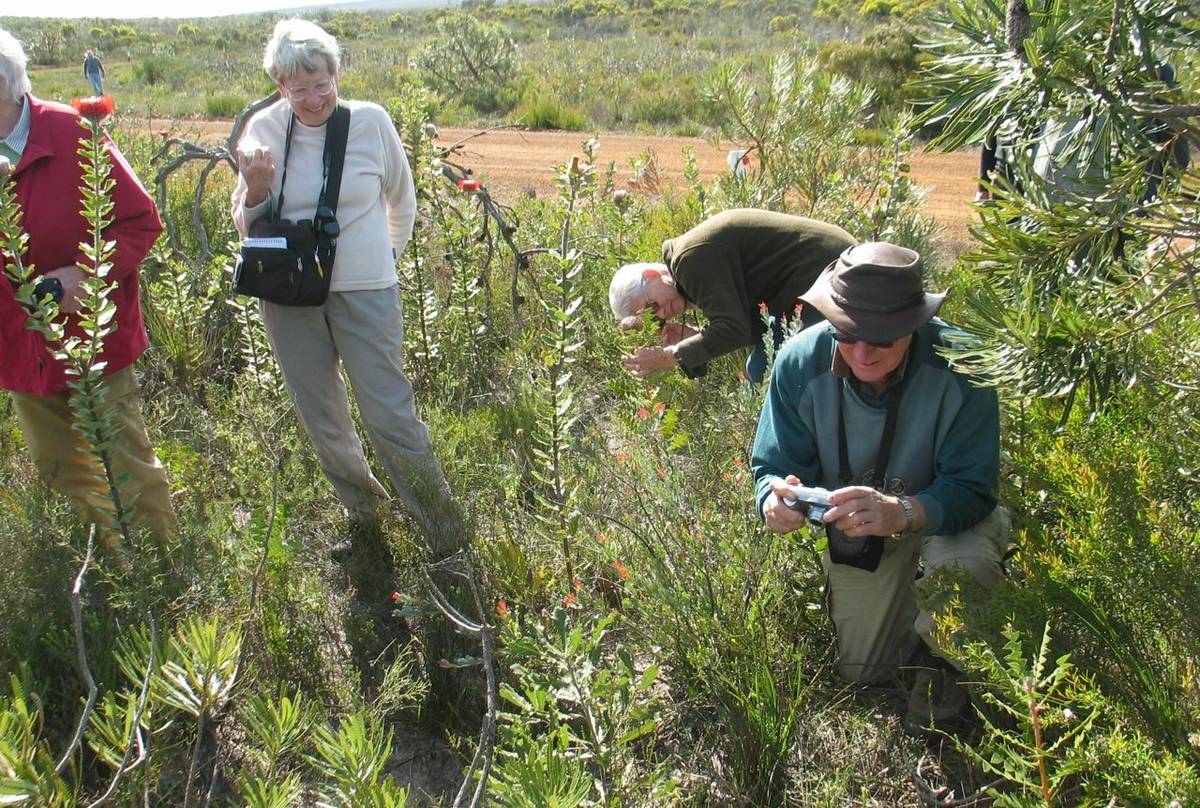 Tour Itinerary and Reports
Wild Flowers of Western Australia
Tour Code: AUS05
A 17-day tour to enjoy the kaleidoscopic floral display in one of the world's botanical 'hotspots'. Spectacular coastal scenery, arid and temperate bushland and some of the world's tallest forests are all included.
17 days from
£6,995 (Inc flights)
Land only price from
£6,395
Add this tour to your saved toursRemove from saved toursstar_border star

Add to Saved Tours
Highlights
Tour Itinerary and Reports
Summary
The ancient landmass of Western Australia supports a primitive and specialised flora on a grand scale. Beginning in Perth, we visit the renowned collection of native flora in King's Park Botanical Gardens, then travel through the vast and colourful heathlands and wheatbelt, famed for their unique wild flowers and magnificent displays of colourful everlastings. Reaching the south coast, we'll find a wealth of wildlife in the spectacular stands of Royal Hakea in the Fitzgerald River National Park, whilst in the majestic 1,000 million-year-old peaks of the Stirling Range National Park, numerous orchids and over 100 species of endemic plant may be found. Finally, we'll explore the magnificent Karri forests of the 'south-west', amongst the tallest in the world.
Kings Park Botanical Gardens
Ancient plant forms, including Hakeas, Grevilleas & Banksias
Numerous endemic species
Exquisite orchids
Stirling Range & Fitzgerald River National Parks
The Karri forests – amongst the world's tallest
Colourful birdlife, including honeyeaters, parrots, fairy wrens & kookaburras
Learn from our expert local botanist guide
Grading
Day walks only.

Amongst plant enthusiasts, Western Australia is renowned as one of the world's botanical 'hotspots's, rivalling South Africa's Cape and Namaqualand regions. Each southern spring, this remote and relatively undeveloped corner of Australia bursts into magnificent bloom as carpets of wild flowers and hillsides of colourful shrubs flower after winter rains. The reason for this unique storehouse of biological diversity, in particular the abundance and exuberant colours of this diverse and exotic flora, is the great age of the West Australian landmass, it being one of the most ancient and least geographically disturbed in the world. This has resulted in the survival of primitive forms of plants and the evolution of more specialised forms.

We begin our travels in Perth, the sparkling capital of Western Australia, beautifully situated beside the broad blue waters of the Swan River and backed by the rolling hills of the Darling Range. Here, King's Park, a 450-acre reserve of native forest and bushland that enjoys the finest of views, and its attractive Botanical Gardens, offer a perfect introduction to the many families of plants and trees endemic to Australia — banksias, grevilleas, acacias, eucalypts, grass trees and one of the most ancient of plant families, the hakeas. Amongst them we will see similarly unique and exotic bird families — honeyeaters, wattlebirds, Magpie-larks — plus Kookaburras and colourful parrots.

Next, we head north, into a vast and largely uninhabited bushland. In the Northern Kwongon, a sandplain heath supporting sweeping carpets of brightly coloured flowers, we will visit a private wild flower reserve which holds many rare and endemic species. In the Nambung National Park we will watch the sun set behind the magnificent Pinnacles Desert, a bizarre region in which thousands of limestone pinnacles rise, forest-like, from the coloured sands. Further north still, we will explore Kalbarri National Park. Within its 186,000 acres lie the dramatic red Murchison Gorge, rolling sandplains and sea cliffs, the result of 400 million years of geologic formation and now home to over 500 species of plants. Here, the tall flowering stems of Grevillea leucopteris and G. annulifora amongst the grey flowers of the smoke bush (Conospermum) make an unforgettable picture.

We now turn south, heading inland through the Moresby Ranges and Mullewa (home of the extraordinary Leschenaultia macrantha) and into the 'Wheatbelt's for three days. Although much of this vast region has been cleared for cereal production, enough natural habitat remains for this area to be famed for its stunning spreads of colourful everlastings (Helichrysum spp.). The largest area of natural bushland remaining in the 'Wheatbelt's is the Dryandra State Forest. This protects many interesting eucalypt species and a fine associated flora; it is also of international importance for its birds and mammals, the latter including that most exquisite of marsupials, the striped Numbat.

On reaching the south coast, we focus first on the Fitzgerald River National Park. Justly famous for its bewildering diversity of plants (over 1,300 species, including 80 endemics!), so many of which are of outstanding beauty or restricted distribution, we will explore its heaths, wetlands and rugged mountains. The spectacularly coloured Royal Hakea (Hakea victoria), the region's best known plant, will be at its best at the time of our visit, whilst Western Grey Kangaroos, emu-wrens, blue fairy-wrens, honeyeaters, parrots and thornbills ensure a balanced wildlife menu.

The Stirling Range National Park is our next point of call. Here, five peaks rise to 1,000 metres from the coastal lowlands, part of an isolated mountain system which was formed over 1,000 million years ago! High regional rainfall ensures a wide range of plants not found elsewhere, including many orchid species and around 100 endemics; enough to keep us going for a day or two!

Finally, we will head into the forested region of Western Australia's well watered southwest. Here the towering, pale-barked Karri Trees (Eucalyptus diversicolor) reach up from an emerald forest understorey. The Karri is a West Australian endemic and one of the world's tallest trees. After a tour full of so many botanical riches, these majestic giants are bound to ensure that we finish on a 'high's, for a recently completed treetop walkway offers an optional exciting experience for those of strong disposition!

DETAILED INFORMATION
Outline Itinerary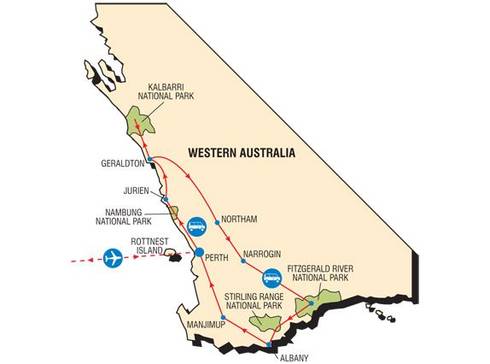 Day 9
Dryandra Forest and Narrogin, Wheatbelt
Day 10/11
Bremer Bay and Fitzgerald River National Park
Day 12/13
Albany and Stirling Range National Park
Day 14
Manjimup and Karri Forests
cloud_downloadDownload Full Itinerary
What's Included?
Flights
Accommodation: A variety of comfortable motels and hotels, all rooms with private facilities.
Food: All meals are included, except in Perth where we provide breakfast only. Allow ?90 for lunches and dinners there.
Reviews
I extended my trip and the whole holiday was excellent.

F.A. Suffolk

Rick Curtis and Maureen Ponting worked hard for us during the trip.

R.B. Dorset

A great trip in a great country.

S.F. Sussex

Rick Curtis is an excellent leader who with Maureen Ponting made this holiday... In short, you have another very satisfied customer!

Anon.

...I really enjoyed the tour and have many happy memories of those three weeks in Western Australia. Maureen quickly sorted out the Australian flora and was a mine of information. Rick, the local guide, was good-humoured and drove us safely over long distances.

C.B. Hampshire
Show More Reviews
Show fewer reviews
Dates & Prices
2022
Departures
Availability
Cost
Thu 1st Sep - Sat 17th Sep
SPACES
£6,995
Flights:
Most Naturetrek tours include flight costs ex-UK. If flights are not included, we indicate that here.
Flights are included in the tour cost
Regional Departures:
On certain tours it is possible to depart from a regional airport (rather than London). If a regional departure is possible, we indicate that here.
Regional Departures are available. Call 01962733051
Land only cost:
The "Land Only" cost is the tour price you will pay if you choose to arrange your own flights/transport.
£6,395
Single Room Supplement:
£995
Why Naturetrek?
At Naturetrek we craft expertly-guided group and tailor-made wildlife holidays and cruises to all seven continents. On one of our holidays, you can be assured that our passionate team will enable you to experience and enjoy the best of the world's wildlife and natural spectacles in as comfortable and rewarding a manner as possible, caring as best we can for the environment in the process. We are proud to provide:
The widest choice of wildlife holidays worldwide
Tours managed and led by naturalists, for naturalists
Outstanding value and exceptional customer service
Furthermore, as a Naturetrek client, our office team are always to on hand to help you – so if you have any queries about your holiday, whether before or after you have booked, we will be delighted to answer them on the phone. Please just give our team a call!