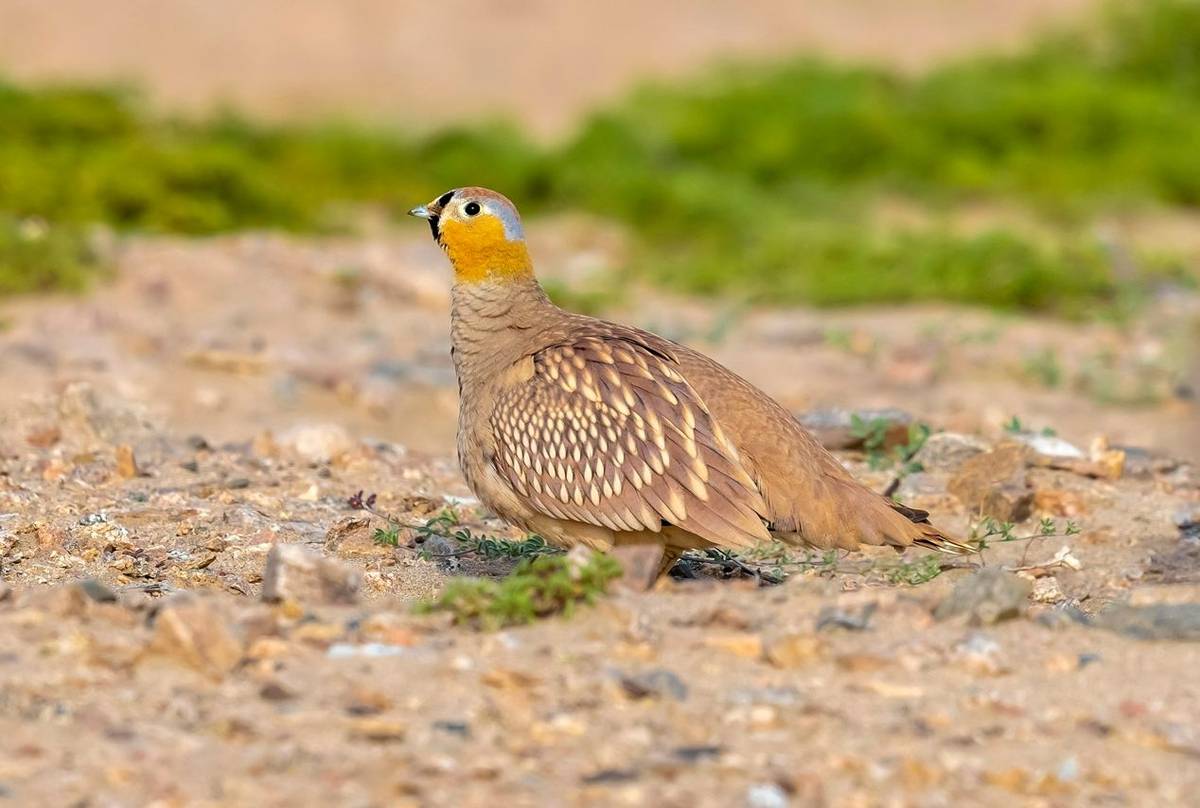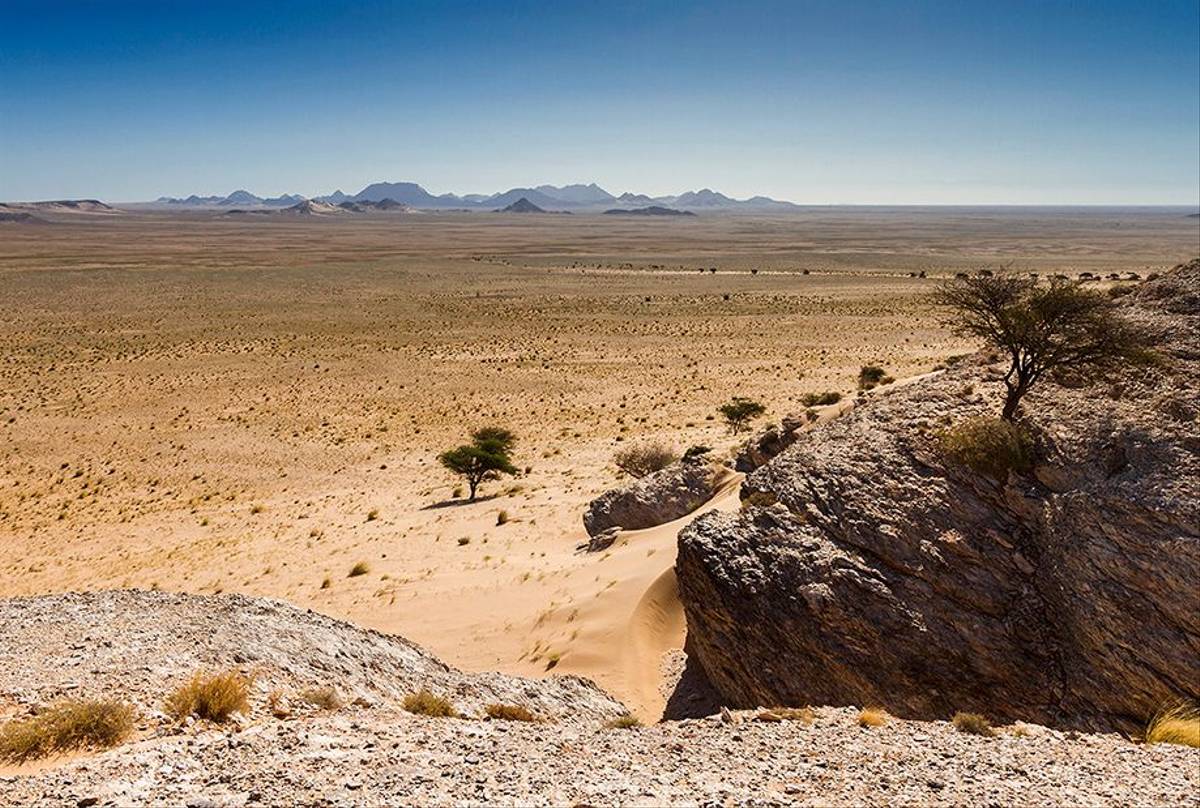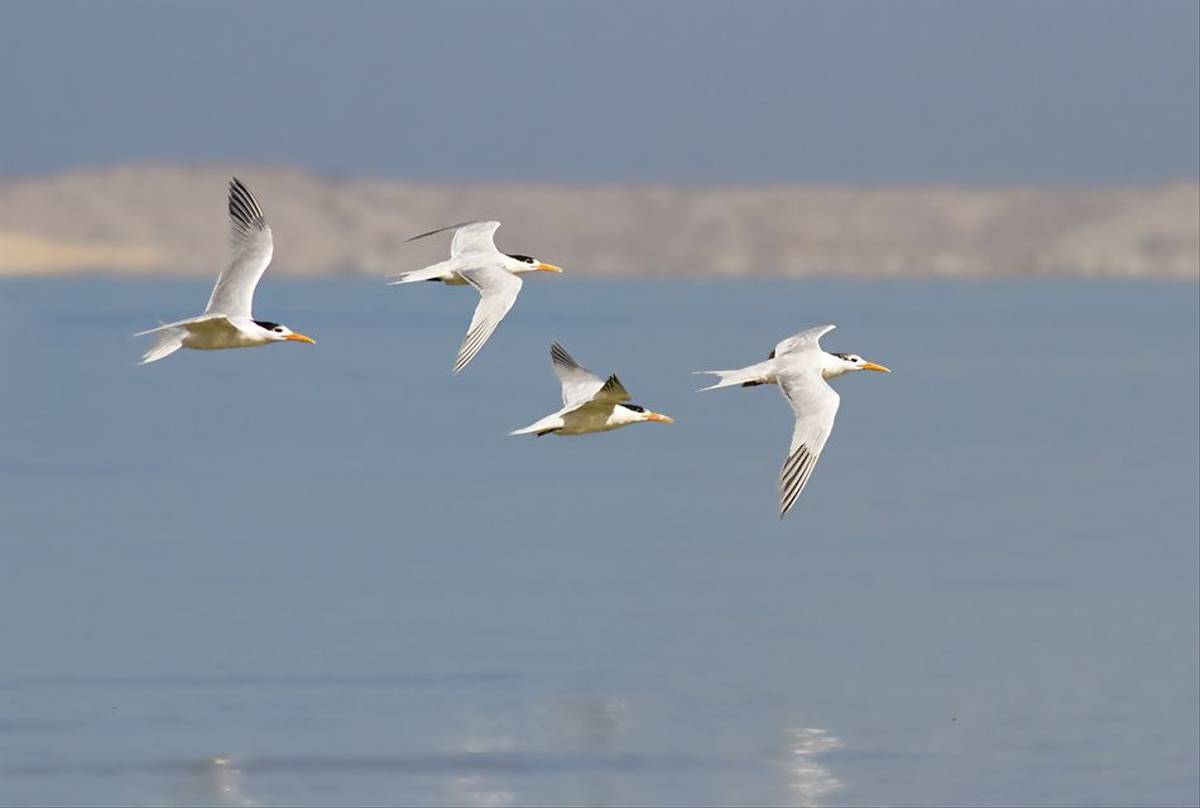 Tour Itinerary and Reports
Western Sahara's Desert Wildlife (Birds)
Tour Code: MAR07
An 8-day adventure in north-west Africa in search of the region's extraordinary desert wildlife, focusing on birds, but with opportunities to look for nocturnal mammals.
8 days from
£2,995 (Inc flights)
Land only price from
£2,695
Add this tour to your saved toursRemove from saved toursstar_border star

Add to Saved Tours
Highlights
Tour Itinerary and Reports
Summary
This tour goes in search of the Western Sahara's fascinating and unique wildlife, much of which is very difficult to see elsewhere. During the day, birding could produce Crowned Sandgrouse, Cricket Warbler, Cream-coloured Courser and Dunn's Lark, while we'll also scour flocks of Desert Sparrows for the gorgeous Sudan Golden Sparrow. At night, we'll hope to find Pharaoh Eagle-Owl and the poorly known Golden Nightjar, which was only recently confirmed as breeding in Western Sahara. In March and April, a wide variety of exciting migrant birds could show up at desert oases - almost anything is possible! On two nights, we'll also undertake spotlighting drives, which will provide an opportunity to see rare mammals such as Sand Cat, African Golden Wolf, Fennec and Ruppell's Foxes, Saharan Striped Polecat, African Wildcat and Desert Hedgehog. The tour will start and end in the coastal town of Dakhla, from where we'll search the nearby coastline for species including West African Crested Tern and Audouin's Gull - with luck, we may also catch a glimpse of the critically endangered Atlantic Humpback Dolphin. 
Search for exciting and unusual desert birdlife.
Chance of Pharaoh Eagle-Owl & Golden Nightjar.
Other desert birds including Crowned Sandgrouse, Cream-coloured Courser, Cricket Warbler & Dunn's Lark.
Flocks of Desert Sparrow sometimes contain the beautiful Sudan Golden Sparrow.
Sand Cat, Fennec Fox, African Golden Wolf, Saharan Striped Polecat & Desert Hedgehog possible during nocturnal spotlighting sessions.
Spectacular starry skies from our remote desert house.
The territory of Western Sahara may have a chequered history, but it is home to a remarkable collection of mouth-watering birds and mammals, many of which are very difficult to see elsewhere, including Golden Nightjar, Pharaoh Eagle-Owl, Sand Cat and Fennec Fox. On this adventurous new tour, we'll venture deep into these windswept north-west African deserts in search of their elusive wildlife.
We'll fly into the coastal town of Dakhla, where we'll stay in a comfortable tourist hotel for two nights. The shores of Dakhla Bay support abundant migrant waders, as well as Audouin's Gull and West African Crested Tern, while the critically endangered Atlantic Humpback Dolphin can occasionally be seen offshore.
Moving inland, we'll scour the deserts for such exciting birds as Crowned Sandgrouse, Cricket Warbler, Cream-coloured Courser and Dunn's Lark, while a flock of Desert Sparrows could contain one or two gorgeous Sudan Golden Sparrows. At night, elusive and exciting nocturnal birds include Pharaoh Eagle-Owl and the near-mythical Golden Nightjar, which was only recently confirmed as breeding in Western Sahara. While mammals are not the main focus of this tour, while in the desert we'll head out with spotlights after dark in an attempt to find some of the Western Palaearctic's most rarely seen animals. Hoped for mammals will include Sand Cat, Ruppell's and Fennec Fox, African Golden Wolf, Saharan Striped Polecat, Desert Hedgehog and African Wildcat.
We'll base ourselves for three nights in a basic but comfortable desert house. While certainly far from luxurious, this is the only permanent accommodation available from which to explore the surrounding area; it will also provide an intimate experience of this vast landscape, and magnificent views of the starry sky at night. Returning to Dakhla for the final two nights of the tour, we'll spend our last full day again exploring Dakhla Bay in search of migrant and resident birds, and potentially for cetaceans.
DETAILED INFORMATION
Outline Itinerary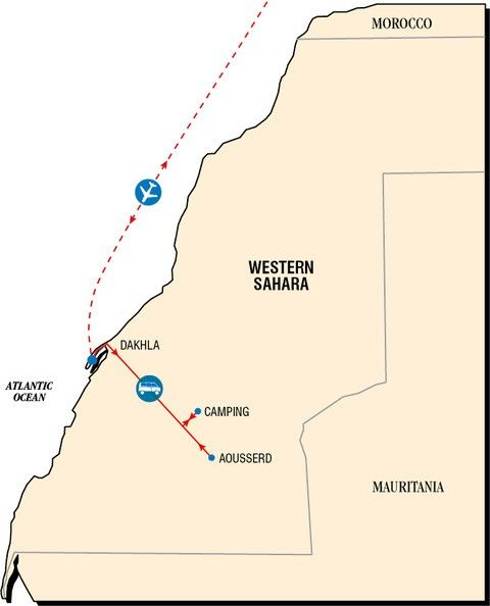 Day 1
Fly London to Dakhla. Night in Dakhla.
Day 8
Depart Dakhla for London
cloud_downloadDownload Full Itinerary
What's Included?
Flights
Accommodation:

In the coastal town of Dakhla, we will stay in a standard tourist hotel. Our desert house will be very basic but perfectly comfortable - this is the only accommodation within the best area for wildlife.

Food:

All food is included in the cost. In Dakhla, we will eat either in the hotel or in a local restaurant. For our time in the desert we will be accompanied by a cook, who will prepare basic but delicious local meals.
Dates & Prices
2020
Departures
Availability
Cost
Wed 18th Mar - Wed 25th Mar
1
£2,995
Flights:
Most Naturetrek tours include flight costs ex-UK. If flights are not included, we indicate that here.
Flights are included in the tour cost
Regional Departures:
On certain tours it is possible to depart from a regional airport (rather than London). If a regional departure is possible, we indicate that here.
Regional Departures are available. Call 01962733051
Land only cost:
The "Land Only" cost is the tour price you will pay if you choose to arrange your own flights/transport.
£2,695
Room sharing options:
If a customer on this departure has already expressed an interest in sharing a room it will be flagged here. We will identify if there are sharing options for male, female or both.
Male sharing available
Single Room Supplement:
£195
Why Naturetrek?
At Naturetrek we craft expertly-guided group and tailor-made wildlife holidays and cruises to all seven continents. On one of our holidays, you can be assured that our passionate team will enable you to experience and enjoy the best of the world's wildlife and natural spectacles in as comfortable and rewarding a manner as possible, caring as best we can for the environment in the process. We are proud to provide:
The widest choice of wildlife holidays worldwide
Tours managed and led by naturalists, for naturalists
Outstanding value and exceptional customer service
Furthermore, as a Naturetrek client, our office team are always to on hand to help you – so if you have any queries about your holiday, whether before or after you have booked, we will be delighted to answer them on the phone. Please just give our team a call!