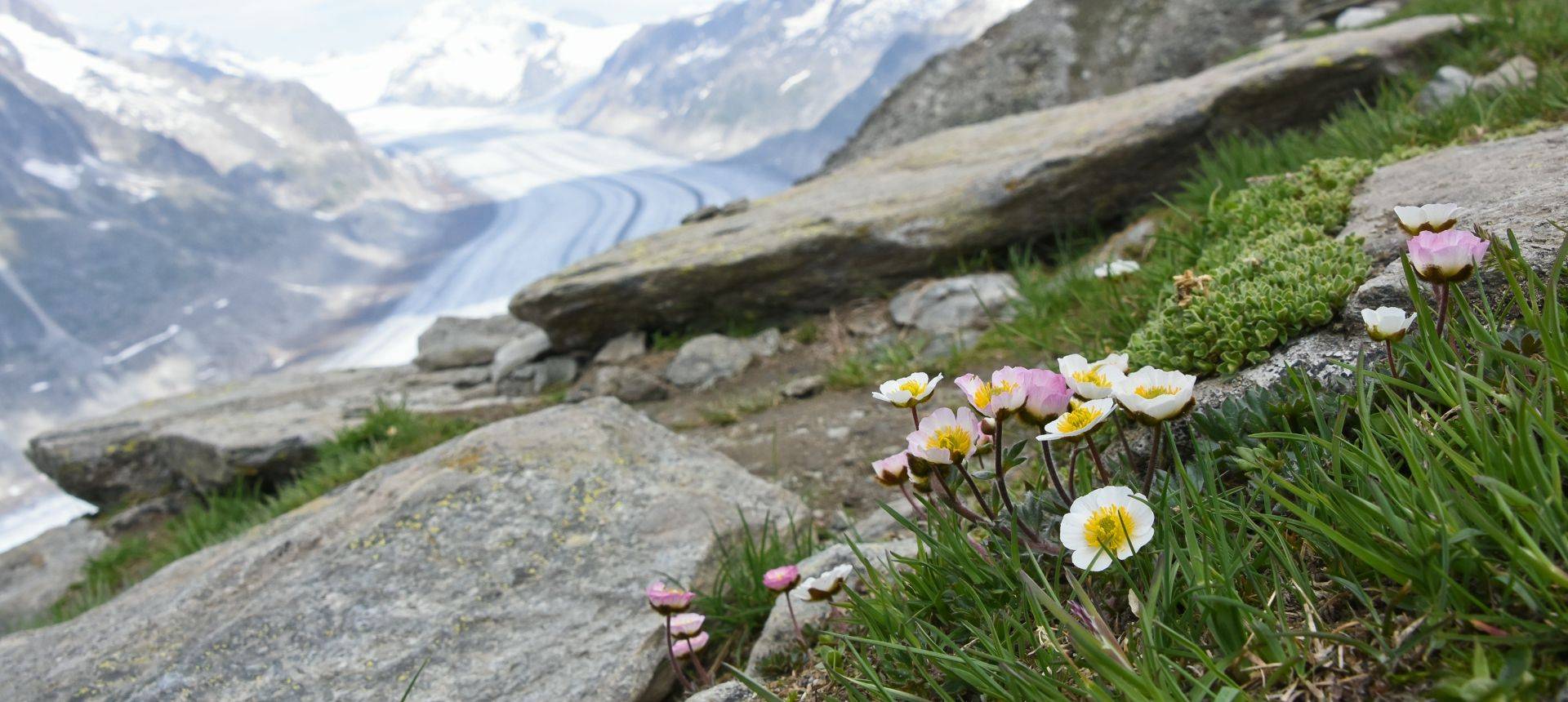 Valais - Highlights of the Swiss Alps
Tour Code: CHE04
An 8-day holiday to the traffic-free village of Bettmeralp, high in the Swiss Alps, in search of the region's varied wildlife and spectacular mountain scenery.
Situated in the canton of Valais, the charming traffic-free village of Bettmeralp is our base for this single-centre holiday. From our family-run hotel we will explore the beautiful forests, valleys and high peaks of the surrounding mountains in search of the region's varied wildlife. We will make daily excursions on foot, and by cable cars and chairlifts, looking for alpine flowers in the meadows above our hotel as well as butterflies such as Alpine Grayling, Mazarine Blue and Titania's Fritillary. We will also take time to enjoy some of the area's special birds, including Black Redstart, Serin and Fieldfare around the village, and high-altitude species such as Ring Ouzel, Citril Finch and Alpine Chough on the mountain slopes above.
Enjoy 7 nights in a family-run hotel in the traffic-free village of Bettmeralp
Spectacular scenery in Jungfrau-Aletsch Protected Area, a UNESCO World Heritage Site
Alpenrose, Mountain Avens & Globeflower, plus Alpine Marmot near our hotel
Varied butterflies including Alpine Grayling, Mazarine Blue & Titania's Fritillary
Look for Alpine Accentor, Snow Finch, Nutcracker & Red-backed Shrike
Follow the famous 'Glacier Express' train line to visit Zermatt & the Matterhorn
Wonderful displays of primulas, orchids & gentians
Led by expert naturalist guides

 
Can I help you?

Outline Itinerary
Day 1
Fly Geneva; transfer by train & cable car to Bettmeralp
Day 2/7
Natural history excursions from Bettmeralp
Day 8
Return Geneva; fly London
All the travel arrangements worked well and the hotel was excellent. The scenery was spectacular and whole group got on well together.

J.R. Hertfordshire
Food & Accommodation
All meals are included in the price.
We stay in a very comfortable, family-run hotel in the delightful Swiss village of Bettmeralp. All rooms are en-suite. Superior rooms with south-facing balconies and fantastic views towards the Matterhorn are available for an additional £140 per person. Two single rooms are available without supplement.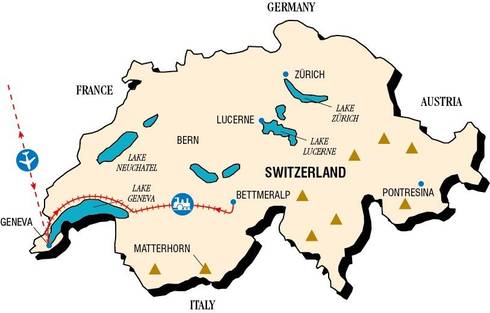 Tour Downloads
Tour leaders
David Morris

Tour leader

Bob Elliot

Tour leader
The Swiss canton of Valais, in the heart of the Alps, is home to some of the most spectacular mountain scenery in Europe and an abundance of natural history. The charming, car-free village of Bettmeralp will be our base for the week, and from our family-run hotel we will explore the beautiful forests, valleys and high peaks in search of the region's varied wildlife. Above the village lies the stunning Aletsch Glacier, and we will enjoy spectacular views of this during our week's stay. The glacier's 27 billion tons of ice slowly flows down into Valais from the dramatic slopes of the Eiger, Mönch and Jungfrau peaks and lies within the 825- square-kilometre UNESCO 'Jungfrau- Aletsch Protected Area', the first World Heritage Site to be designated in the Alps.
After a short flight to Geneva we travel by efficient Swiss rail, following the mighty Rhône along the length of the valley, before completing our journey by cablecar, for this is the only way to reach Bettmeralp. Each of our daily excursions will be on foot, covering up to 6 miles each day, though we will make full use of the efficient network of mountain cablecars and chair lifts to thoroughly explore the area and avoid trekking uphill where possible! At this time of year the meadows above our hotel are not only home to colonies of comical Alpine Marmots, but will also be filled with a stunning array of alpine flowers, and so this is where we will begin our explorations on our first morning in Valais. Species such as Alpenrose (Rhododendron ferrugineum), Mountain Avens (Dryas octopetala), Alpine Clematis (Clematis alpina), Globeflower (Trollius europaeus) and Mountain Houseleek (Sempervivum montanum) are common, and there should be an abundance of Primulas and Campanulas, as well as numerous orchids and gentians. We will also look for some of the rarer alpine specialities, such as Dark Vanilla Orchid and Alpine Rock-jasmine. The sun should bring out a wide variety of butterflies in the meadows, including Common Swallowtail, Alpine Grayling, Alpine Heath and numerous blues and fritillaries. Bird walks around the village may produce Ring Ouzel, Fieldfare, Citril Finch and Cuckoo, whilst a visit to the adjacent Aletsch Forest provides us with the opportunity to look for such highlights as Black Redstart, Firecrest, Common Crossbill, Crested Tit, Nutcracker and Red-backed Shrike.
On at least two days we will use the cablecars to ascend to over 2,600 metres, where the views across the Aletsch Glacier are simply stunning. Whilst taking a moment to appreciate the mountain vista, we can look for Alpine Accentor, Snowfinch and, with a little luck, we might see a Golden Eagle soaring overhead. Walking from the cable-car station we will soon see some of the high-altitude specialist flora which may include Glacier Crowfoot, Ranunculus glacialis, Glacier Mouse-ear, Snowdon Lily and St. Bruno's Lily. On another day we will enjoy a change of scene and make our way down through stands of Larch and Norway Spruce into the picturesque Rhône Valley. Here the hillsides are cloaked in stunning hay meadows, and at this time of year many of the higher fields have not yet been cut, enabling us to find species such as Alpine Thistle, Viper's-bugloss, Bladder Campion, Carthusian Pink, Queen-of-the- Alps and Wood Scabious. In the warm and sunny valley we should also find a different array of butterflies from the higher altitudes, including Dryad and Marbled White.
Having enjoyed views of the mighty Matterhorn from our hotel during the week, on one day we will descend into the valley and join the final section of the famous 'Glacier Express' railway line, taking us up to the opulent mountain resort of Zermatt and the Matterhorn itself. Continuing on the cog-wheel mountain railway up to the Gornergrat at 3,089 metres, we will pause here to appreciate the stunning view across the Gorner Glacier towards the Matterhorn, and the panoramic view of the other twenty-eight 4,000-metre peaks that are visible from this part of the Alps. Once we have had our fill of enjoying the scenery, we will turn our attention back to the flora and fauna. Here the stony turf should be rich in early spring alpines including the brightly coloured Alpine Toadflax, Short-leaved and Alpine Gentians (Gentiana brachyphylla and G. alpina) and Bird's-eye Primrose, whilst the high alpine birds include Snowfinch, Alpine Accentor, Water Pipit and, of course, the characterful Alpine Choughs that are certain to be eager to share our picnic lunch!
Please contact us on 01962 733051 for details on what extensions either pre or post tour are available for this Tour.
All the travel arrangements worked well and the hotel was excellent. The scenery was spectacular and whole group got on well together.

J.R. Hertfordshire
2019
Departures
Availability
Cost
Sun 23rd Jun - Sun 30th Jun
SPACES
£1,995
Flights:
Most Naturetrek tours include flight costs ex-UK. If flights are not included, we indicate that here.
Flights are included in the tour cost
Regional Departures:

On certain tours it is possible to depart from a regional airport (rather than London). If a regional departure is possible, we indicate that here.
Regional Departures are available. Call 01962733051
Land only cost:

The "Land Only" cost is the tour price you will pay if you choose to arrange your own flights/transport.
£1,795