Trinidad & Tobago
Tour Code: TTO01
A 13-day birdwatching and natural history holiday to Trinidad and Tobago, including an 8-night stay at the renowned Asa Wright Nature Centre.
13 days from
£6,295 (Inc flights)
Land only price from
£5,595
Add this tour to your saved toursRemove from saved toursstar_border star

Add to Saved Tours
Highlights
Summary
Watching the tropical forest wake from the veranda of the Asa Wright Centre on our first morning provides a perfect taste of the pleasures in store as we begin a 5-night stay at this legendary place. The ensuing days will provide a non-stop cavalcade of hummingbirds, tanagers, honeycreepers and other exotics, while excursions from the Centre allow us to explore more of Trinidad and see a diverse mix of species from gaudy Scarlet Ibis and shorebirds to raptors, toucans and antbirds. We conclude the tour on neighbouring Tobago where more superlative birdwatching awaits, although the seductive charms of a beach-side hotel may prove a diversion from the wildlife!
5-night stay at the world-famous Asa Wright Centre
Delicious food prepared from locally grown produce
Perfect introduction to Neotropical avifauna
Access to Oilbird Cave
Watch the dusk assembly of Scarlet Ibis on Caroni Swamp
The chance to watch Leatherback Turtles come ashore with a 2-night stay in Grande Riviere
Tropicbirds, boobies & other seabirds on Little Tobago Island
Opportunities to swim over a coral reef
Grading
Grade A. Easy birdwatching walks.
The friendly Caribbean island of Trinidad is only 16 kilometres from the coast of Venezuela and offers an ideal introduction to the colourful avifauna of South America. Its close proximity to the mainland is reflected in a remarkably diverse bird list featuring representatives from most Neotropical families but lacking the proliferation of species that can seem overwhelming elsewhere on the continent. We will stay for eight nights at the supremely comfortable Asa Wright Nature   Centre where the excellence of the service and facilities is matched by the quality and ease of the birdwatching.
This relaxed and easy-paced holiday concludes with a visit to neighbouring Tobago which offers a contrasting mix of rainforest, seabirds and underwater life around a pristine coral reef. Visitors to the Asa Wright Centre, whether human or avian, are always well fed! Hungry birdwatchers are served delicious meals in the gracious old plantation building which is now the headquarters of the centre and are soon introduced to the afternoon ritual of tea on the verandah followed by iced rum punch at sunset.  Sugar solution feeders are replenished at dawn for the various hummingbirds, honeycreepers and Bananaquits and bird tables heaped with fruit to attract a steady stream of forest birds within range of binoculars and cameras. The rather pleasant pastime of birdwatching from the verandah can produce 30 species in as many minutes; White-necked Jacobins and other hummingbirds hover within an arm's length as Chestnut Woodpeckers, tanagers, thrushes and many other birds attack the fruit. This constantly changing scene ensures that the spectators on the verandah always have something to watch; but not all the visitors are birds ...  Trinidad Squirrels, Agoutis and giant Tegu Lizards also emerge to share the spoils! Neither will the more energetic members of our party be disappointed, for a network of trails facilitates access to the forested grounds of the centre where less confiding inhabitants await our discovery. As we explore these trails, trogons, Bearded   Bellbirds, Channel-billed Toucans and manakins are among the resident birds that can be seen with relative ease, but we will need the patience to glimpse the more skulking ant-thrushes and spinetails in the undergrowth. One of the highlights of our stay will be a visit to the world's most accessible Oilbird colony and here we can observe these strange birds from the mouth of their cave, a privilege only granted to Asa Wright guests.  
During our stay, we will also travel by minibus to visit different areas of the island, each change of habitat bringing a fresh selection of new birds. Nariva   Swamp on the Atlantic coast, the central savannah, and the northern Caribbean coast will each occupy a full day and as a splendid finale we will spend the last afternoon in Trinidad witnessing the arrival of Scarlet Ibises at their roost in the heart of Caroni Swamp, the incoming birds gradually turning the mangroves a   fluorescent red as they take their places in the trees. There could hardly be a more appropriate way to end a week enriched by daily encounters with colourful and exotic birds.  
A 20-minute flight will take us to the neighbouring island of Tobago for the last four days of our holiday. This is a beautiful island, still largely unspoilt by tourism, and the Rain Forest Reserve which extends along the central spine of the island is rich in birds, plants and insects. We will stay at the Blue Waters Inn, tucked into a private cove just outside the village of Speyside on the north coast of Tobago. The swimming is excellent here, and a coral reef in the bay invites closer inspection for those interested in snorkelling.  We gain a little insight into this colourful underwater world from a glass-bottomed boat during a morning excursion to Little Tobago Island where many seabirds nest. Red-billed Tropicbirds obligingly fly within metres of photographers, Brown and Red-footed Boobies nest on the cliffs below a vantage point, and all three species run the gauntlet of the Magnificent   Frigatebirds that maintain a constant and menacing presence. Later we will pay several visits to the extensive Tobago Rain Forest Reserve, the oldest in the Caribbean, and should see most of the typical inhabitants including Great Black Hawk, Red-legged Honeycreeper, Whitetailed Sabrewing and Blue-backed Manakin. This short visit to Tobago ideally complements the earlier week on Trinidad and the combination of islands provides an unbeatable Caribbean experience enriched by an abundance of natural history treasures.    
DETAILED INFORMATION
Outline Itinerary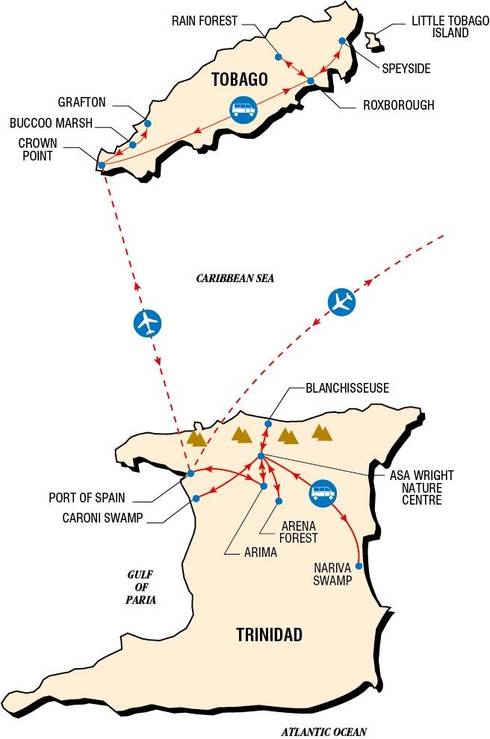 Day 1
Fly Trinidad and transfer to Asa Wright Centre for a 5-night stay.
Day 2/5
Asa Wright Centre. Excursions to Blanchisseuse, Nariva Swamp, Wallerfield, Arena Forest, Oilbird Cave and Caroni Swamp.
Day 6/7
Grande Riviere Beach for a 2-night stay.
Day 8/11
Fly Tobago, Blue Waters Inn for a 4-night stay.
cloud_downloadDownload Full Itinerary
What's Included?
Flights
Accommodation:

Asa Wright Centre in Trinidad and comfortable tourist hotel in Tobago, both with private facilities.

Food:

All included in the price.
Reviews
Absolutely BRILLIANT!

C.C. Nottingham

The excellent arrangements, the enthusiasm and encouragement of our leaders plus their expert knowledge, all added to a memorable holiday.

P.S.H. Essex

Very enjoyable holiday.

S.W. Norfolk

The Centre was lovely and I found the wildlife enchanting, and was please to be able to capture it on my camera encapsulating many happy memories for the days to come.

A.P. Norfolk

Staying at the Asa Wright Centre was a truly wonderful experience. Very relaxing with interesting walking trails. The staff were very helpful and friendly, adding to the enjoyment of the centre. The Blue Waters Inn on Tobago is set in a lovely location and was an ideal setting for the second part of our holiday.

R.W. Kent

We would like to pay tribute to Peter Dunn's outstanding leadership and management of this tour. He led with good humour and with exceptional knowledge of sites and localities, as well as giving us great birds.

M.R. Derbyshire

The travel logistics were excellent as were the choices of accommodation. Ed was a very good leader and the local experts also very good.

J.P. Lancashire

Great vegetarian food at Asa Wright. Nothing was too much trouble. Also there was always someone on the veranda to help identify or spot a bird for us. Especially impressed with Trinidad guides Dave and Rudall who never ceased to find birds. Even en route to the airport, we spotted more.

Mrs & Mr F. Essex

I think having a small group worked well as we could move around quicker and meals were quicker as service slow in Tobago. The flights were at good times. The accommodation was good and food fine. Asa Wright was amazing and staff on the veranda very helpful.

E.W. Dorset

The knowledgeable and enthusiastic local guides were excellent both in Trinidad and Tobago. Rob was a great help in identifying the birds and also the bats etc. Apart from all the hummingbirds the Scarlet Ibis roost was spectacular.

M.C. Dorset
Show More Reviews
Show fewer reviews
Why Naturetrek?
At Naturetrek we craft expertly-guided group and tailor-made wildlife holidays and cruises to all seven continents. On one of our holidays, you can be assured that our passionate team will enable you to experience and enjoy the best of the world's wildlife and natural spectacles in as comfortable and rewarding a manner as possible, caring as best we can for the environment in the process. We are proud to provide:
The widest choice of wildlife holidays worldwide
Tours managed and led by naturalists, for naturalists
Outstanding value and exceptional customer service
Furthermore, as a Naturetrek client, our office team are always to on hand to help you – so if you have any queries about your holiday, whether before or after you have booked, we will be delighted to answer them on the phone. Please just give our team a call!