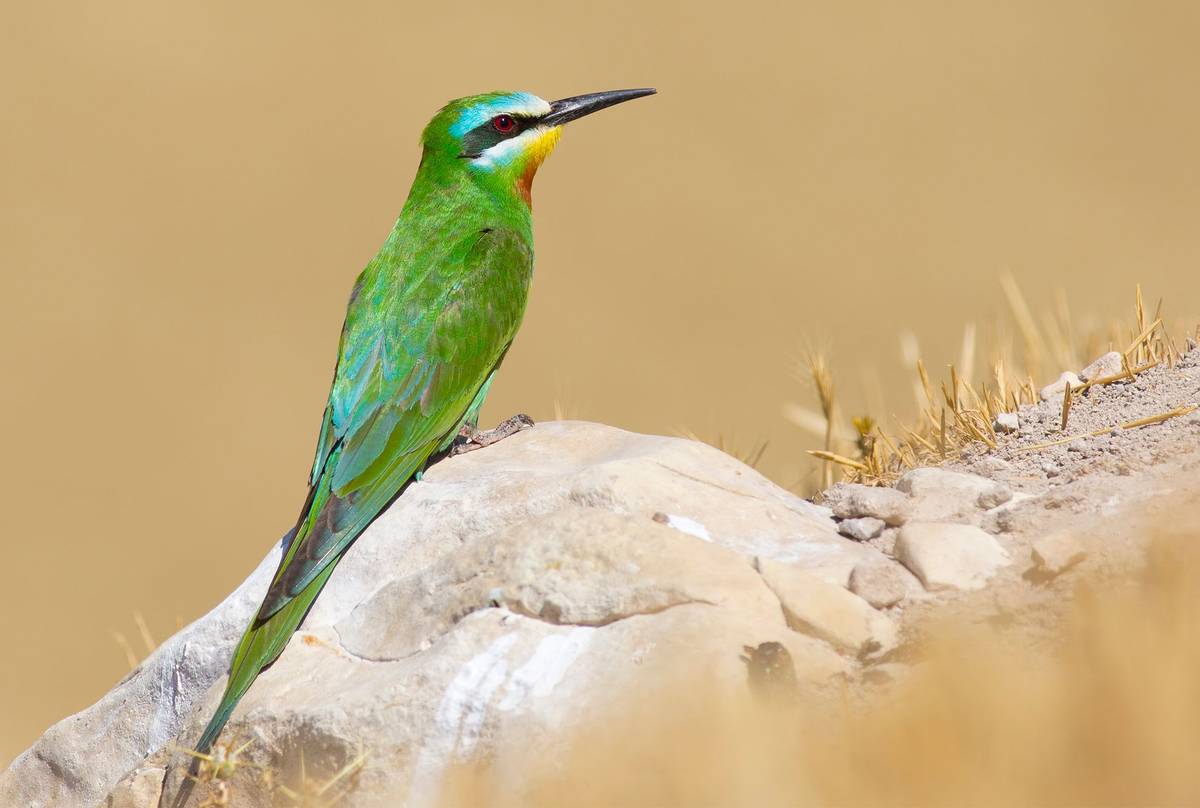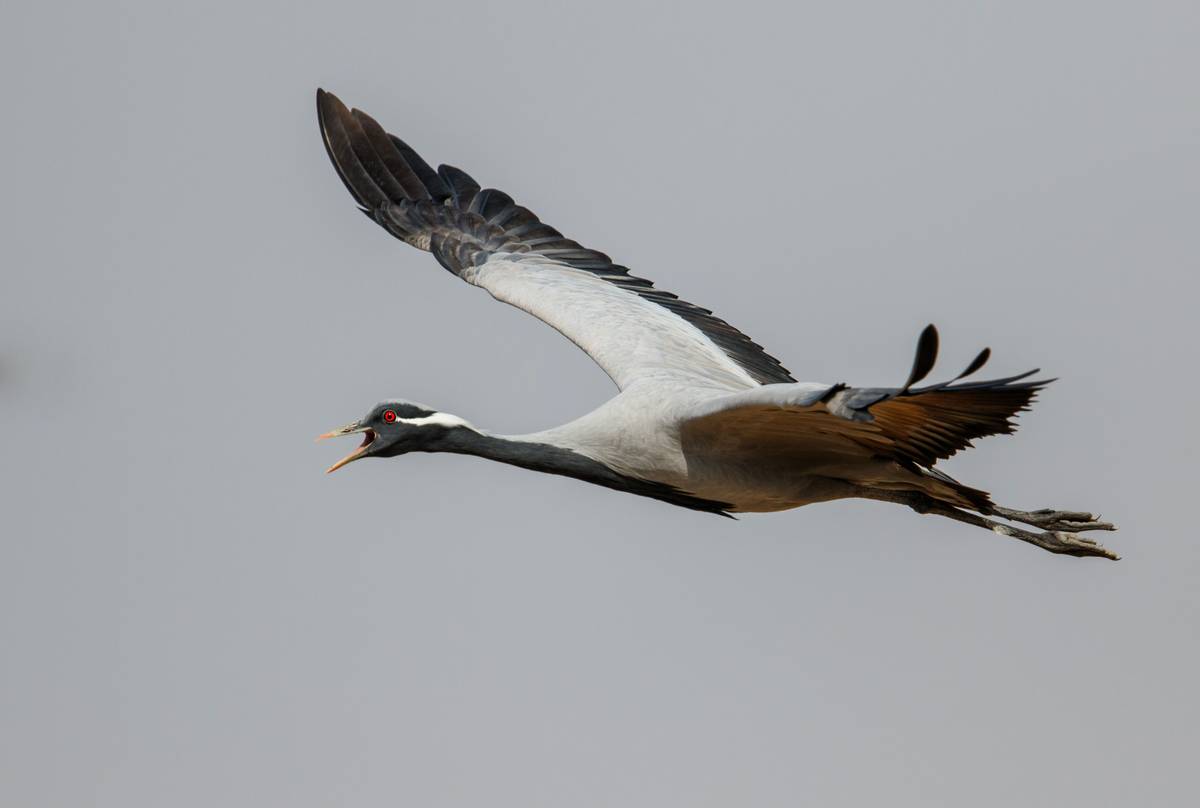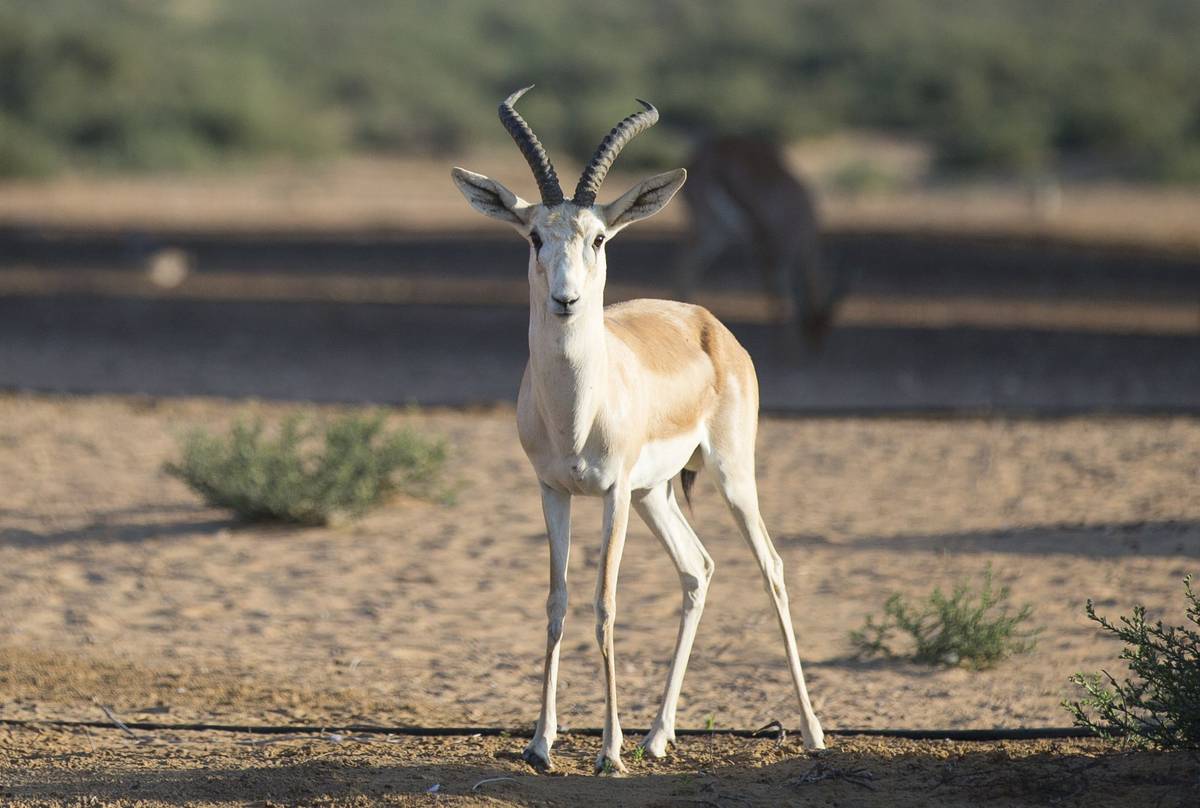 Tour Itinerary and Reports
The Tien Shan Mountains & Deserts of Kazakhstan
Tour Code: KAZ03
A birdwatching holiday to the deserts, steppes and lakes of Kazakhstan, including four days in the spectacular Aksu Dzabagly Nature Reserve high in the Tien Shan Mountains.
We hope to run this tour in the future, but have not yet finalised dates and prices. To be added to a waiting list and be informed when details are confirmed, please click on the register interest button, or phone 01962 733051.
Register Interest
Add this tour to your saved toursRemove from saved toursstar_border star

Add to Saved Tours
Highlights
Tour Itinerary and Reports
Summary
Bigger than Western Europe, Kazakhstan is the largest country in Central Asia, a land of steppe-deserts, high mountains and deep gorges populated by an amazingly diverse flora and fauna. During this holiday we have the opportunity to savour each of these habitats, encountering along the way rare plants such as wild tulips, montane birds including Himalayan Snowcock, and the sandgrouse, larks and bustards adapted to the rigours of desert life. This is a holiday full of contrasts, abundant natural history and breathtaking scenery.
Beautiful, varied landscape of mountains & deserts
Impressive Palearctic avifauna sprinkled with oriental specialities
Demoiselle Crane, Little Bustard, Blue-cheeked Bee-eater & Pallas' Sandgrouse
Abundant flora of over 1,400 plants including many endemics & rarities
Traditional Kazakhstan hospitality
Led by expert naturalist guides
Possibility of rare mammals such as Goitered Gazelle
Grading
Grade B. Moderate day walks only, between 1,830 and 3,660 metres.
Kazakhstan, lying at the heart of Central Asia on the Old Silk Road, is a massive country spanning 2,717,300 square kilometres from the Caspian Sea to western China; an area the size of the whole of western Europe! Yet, with a population of just 17 million mostly living in the cities, this is a land of vast open and unpeopled spaces. Great stone and sand deserts, and wide grassy steppes occupy the great majority of the country, interspersed with such great inland lakes as Lake Balkhash and the Aral Sea. In dramatic contrast, along its south-eastern borders stand the mighty Tien Shan Mountains, the 1,610-kilometre spine of Central Asia and northern extension of the Himalaya which waters flower-filled alpine meadows, lush forests of Tien Shan Spruce and lowland Turanga, and feeds the great lakes and inland deltas to the north.
We reach Kazakhstan's former capital, Almaty, on a scheduled flight from Heathrow. This city, built as a Russian military outpost in the latter part of the 19th century, and formerly known as Verny (meaning Faithful) and more recently Almaata, is today a pleasant and abundantly leafy modern capital with a fabulous backdrop, nestling as it does beneath the peaks of the Tien Shan Mountains. From our hotel we overlook city parkland, and the towering and fabulously ornate wooden cathedral of the Russian Orthodox Church which stands before snowbound summits.
We begin the tour by taking an overnight train to Aksu Dzabagly Nature Reserve, the oldest reserve in Central Asia having been established in 1927. The reserve protects some of the finest habitats of the Tien Shan Mountains, and to best explore it we will base ourselves for three nights in a simple guesthouse from which we will take day walks and optional pony rides into the reserve. This part of the holiday will be particularly rewarding, for Aksu Dzabagly is a botanical paradise with over 1,400 species, many of which are rare or endemic to the western Tien Shan, and include a wide variety of primulas, tulips, saxifrages, alliums and Astragalus, plus such fine endemic trees as Betula talassica and Populus talassicus. A rich selection of birds includes a number of raptor species and nearby steppe lakes promise such attractions as Little Bustard, Demoiselle Crane and Collared Pratincole.
Returning to Almaty by train, we then begin our exploration of the area that lies between the spectacular red sandstone gorges of Charyn Red Canyon and the riverine Ash forest of Charyn Yellow Canyon. The Charyn Canyons are east of Almaty, close to China's border, and between them span wide green steppes where stately Demoiselle Cranes and Goitered Gazelles may be seen, together with huge breeding colonies of Rose-coloured Starlings, a dashing Saker Falcon perhaps, or even the elusive Pallas's Sandgrouse. En route eastwards from Almaty we will pass agricultural lands where telegraph wires are decorated with Bee-eaters, Rollers, Isabelline Wheatears, Lesser Grey Shrikes and Red-headed Buntings, and we will stop to explore the rocky gullies of the Tien Shan's outlying hills hoping to find Long-legged Buzzards, Pied Wheatears, and White-capped and Grey-necked Buntings.
We next focus our attentions on the Turanga forest. Turanga is an endemic species of poplar tree — Populus diversifolia — found along the banks of Kazakhstan's rivers and in the inland deltas. The broad swathes of green that this riverine forest creates through an otherwise desert landscape provide habitat for such special birds as White-winged Woodpecker, the declining Eversmann's Stock Dove, and Azure and Turkestan Tits, whilst in the associated Saxaul bushes lives the attractive Saxaul Sparrow. Such forests are found along the Ili River and we visit several areas of Turanga forest in search of these specialised residents. We also spend time exploring remote steppes and deserts that are home to numerous larks and wheatears, Macqueen's Bustard, Blackbellied and the much rarer Pallas's Sandgrouse, Blue-cheeked Bee-eaters, and the delightful Desert Warbler. Amongst the wayside plants we may find Nanophyton erinaceum, Convolvulus fruticosus and the endemic Limonium michelsonii, plus Haloxylon aphyllum, Halimodendron hallodendron, Eremurus anisopterus and Berberis iliensis in the more sandy areas.
We complete our circuit of the deserts and steppes with a visit to Tamgaly, where some fine rock engravings dating from the early Bronze Age are to be found, together with abundant Bimaculated Larks, Eastern Rock Nuthatches and Desert Finches and a number of interesting plants, including Juno kuschakeviczii, Gagea iliense, Iris alberti, Euphorbia jaroslavii and Eremurus altaicus.
On completion of our exploration of the Tien Shan we must reluctantly return to Almaty for our flight home. However, one final ornithological highlight awaits with a visit to the mountains above Almaty, where the splendid montane birdlife includes White-browed Tit-warbler, Ibisbill, Himalayan Rubythroat and many other exciting species inhabiting the flower-filled mountain valleys.
DETAILED INFORMATION
Outline Itinerary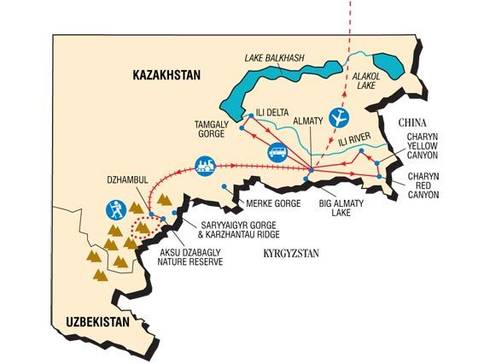 Day 2
Overnight train to Aksu Dzabagly
Day 3/5
Aksu Dzabagly Nature Reserve, Tien Shan Mountains
Day 6
Overnight train to Almaty
Day 7/8
Charyn Red and Yellow Canyons
Day 10/12
Turanga Forest, Tamgaly and Taukum Desert
Day 13/15
Tien Shan Mountains
cloud_downloadDownload Full Itinerary
What's Included?
Flights
Accommodation:

We stay in a comfortable hotel of international standard in Almaty; simple guesthouses in Aksu Dzabagly and the Tien Shan Mountains. Fully serviced camping elsewhere.

Food:

All meals are included in the price.
Reviews
I cannot praise the leader, Peter Clement, highly enough. A superb leader.

M.S. West Yorkshire

Overall this was a very enjoyable successful trip... just great.

C.R. Cumbria

Many thanks must also go to the staff... who worked exceptionally hard to provide us with a superb trip and who were also exceedingly pleasant and helpful people. Tony Smith must also be the epitome of a great group leader. Superb birding ability and knowledge, coupled with excellent people skills. Life doesn't get much better than this!

A.P. Hampshire
Why Naturetrek?
At Naturetrek we craft expertly-guided group and tailor-made wildlife holidays and cruises to all seven continents. On one of our holidays, you can be assured that our passionate team will enable you to experience and enjoy the best of the world's wildlife and natural spectacles in as comfortable and rewarding a manner as possible, caring as best we can for the environment in the process. We are proud to provide:
The widest choice of wildlife holidays worldwide
Tours managed and led by naturalists, for naturalists
Outstanding value and exceptional customer service
Furthermore, as a Naturetrek client, our office team are always to on hand to help you – so if you have any queries about your holiday, whether before or after you have booked, we will be delighted to answer them on the phone. Please just give our team a call!
×
We've been nominated 'Best Safari, Wildlife & Nature Holiday Company' in the prestigious 2020 British Travel Awards. All voters will be entered into an official prize draw to win a Rhine or Danube cruise! Please click here to vote.