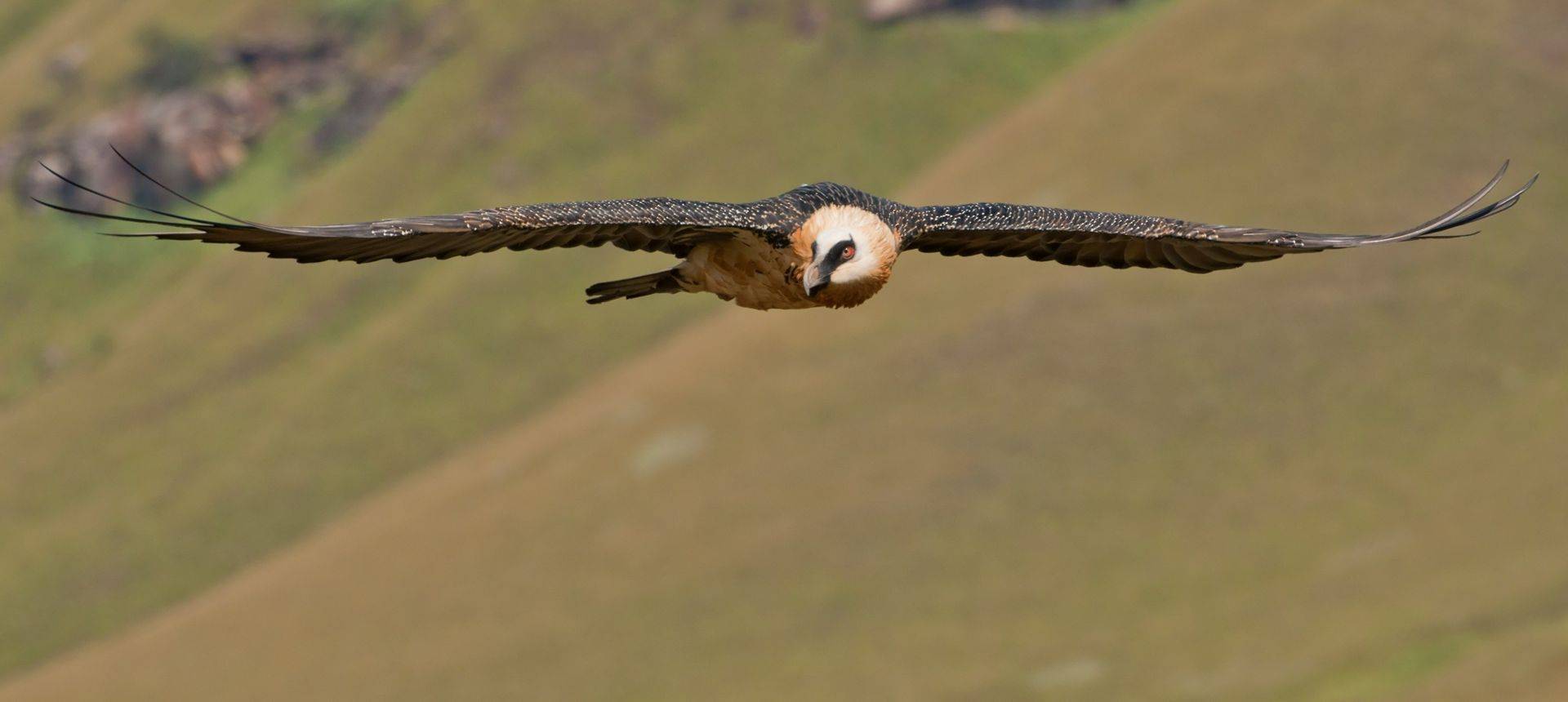 The Spanish Pyrenees
Tour Code: ESP16
An 8-day holiday of birdwatching and botanical walks in the Spanish Pyrenees.
Wilder and less manicured than the Alps, the Pyrenees is a naturalist's paradise. Based for the week in very comfortable, refurbished accommodation around a courtyard setting in the quaint and historic village of Berdun, we explore the region on daily wildlife walks, enjoying the scrub, maquis, cliffs, canyons and stunning limestone formations which are home to a wealth of birds, flowers, butterflies and mammals. At the time of our visit, in late May, the high peaks are still snow-capped and the uncut hay meadows are filled with flowers and butterflies. We'll explore, on foot, the spectacular Aisa and Hecho Valleys, looking skywards for Lammergeier and at our feet for carpets of gentians, Pyrenean Buttercups and other wildflowers.
An ideal mountain holiday for the all-round naturalist
Birds, butterflies & alpine flowers galore!
Spectacular Pyrenean scenery & delicious picnics in flower-filled meadows
Look out for Marmots & Chamois 
Golden Eagles, Lammergeiers & Griffon Vultures
Wallcreeper, Snowfinch, Alpine Accentor & Citril Finch
A wealth of butterfly species (50+), including Pyrenean specialities
Guided by British Naturetrek ornithologist & botanist leaders
Can I help you?


X
Tom Mabbett
Tom
Tom has been fascinated by wildlife and the natural world since childhood. At primary school he learnt all the British bird species, and he's been watching and enjoying them ever since! Trips to the Wildfowl and Wetlands Trust (WWT) Slimbridge further fuelled his passion for birds and, when Tom's family bought 10 acres of land, he created his very own nature reserve on it! After gaining a degree in Biology from Exeter University, Tom set off in search of some of the planet's incredible wildlife, first travelling slowly around the world, and then returning to Australia. As well as seeing a wonderful variety of the world's birds on his travels, he also spent a lot of time beneath the surface of the ocean, scuba diving in Thailand, Australia and Fiji. Two of Tom's many highlights were diving with mighty Bull Sharks and swimming alongside gigantic Whale Sharks. Since returning to the UK Tom has worked in school wildlife clubs and also worked at WWT Slimbridge. Having grown up in the Cotswolds, a lot of Tom's spare time has been spent recording the birds and reptiles of this area's commons and wetlands. He also travels in search of overseas wildlife as often as he can, and amongst the European destinations that Tom and his brother have explored have been Hungary, France, Spain, Holland and, most recently, snow-clad Poland in the depths of winter to focus on mammal-tracking. Tom has now lead and co-led over 20 Naturetrek tours in France, Spain, Italy, Portugal, Finland, Belgium, Greenland, Guyana, La Palma and Scotland as well as short UK breaks including the Somerset Levels and Forest of Dean. Tom remains a very popular leader with our groups and when not out in the field works within our busy operations team at our new office in Chawton. Please feel free to contact Tom on 01962 733051 or email tom@naturetrek.co.uk with any questions or to discuss a future tour.
Outline Itinerary
Day 1
Fly to Zaragoza and transfer to Berdún
This Naturetrek holiday was an introduction, for me, to the Spanish Pyrenees. The flight was met by our Local Spanish Guide and we were accompanied by the tour guide from London. The family run hotel was delightful and we travelled in two new minibuses, driven by our guides. We had a good living room to hold meetings in and a friendly atmosphere was immediately established with all guests adding to the knowledge of the guides. As a beginner, I really appreciated the immense amount of knowledge that was available. As a single traveller, I enjoyed the communal meals and made some good friends.

K.E. West Glamorgan, May 18
Food & Accommodation
All included in the price.
A charming guesthouse situated beneath the pretty hilltop village of Berdun. All rooms have private facilities except for two singles.
This week-long holiday complements our 'French Pyrenees's week which has proved so popular and successful over the years. In a similar manner, it is our aim to enjoy the rich variety of birds and plants in the Spanish Pyrenees during a series of gentle walks from our base. We will be staying in a delightful 300-year-old property situated in the pretty hilltop village of Berdun, with its fine views of the Pyrenees, surrounding foothills, and valleys of the Veral and Aragon Rivers. Here, our hosts make us most welcome, keeping us well fed on wholesome local cuisine, and providing a mine of information that would not be available on a hotel stay in the region. This holiday focuses on both birds and botany, and we will also endeavour to look at and identify some of the wonderful butterflies and moths of this region.
The Spanish Pyrenees, the southern slopes of the spectacular 450-kilometre barrier between France and Spain, could not be more different from their northern, French, counterparts. Whilst the French Pyrenees are wet, green and thickly forested, the Spanish side is dry, arid and generally more Mediterranean, as clearly indicated by its very different list of plant and bird species. Whilst the Spanish side also supports good beech and conifer forests, it is the variety of scrub, maquis, arable farmland, wide river valleys, and the sheer spectacle of the cliffs, canyons and stunning limestone erosions, that so characterise these sunny southern slopes.
This will be a single-centre holiday based at Berdun, the most spectacular and traditional of villages, situated between the Aragon and Veral Valleys, in the southern foothills of the central Pyrenees. Just to the east is the small, historic town of Jaca with its 15th century fort and an interesting 11th century Romanesque cathedral — the first, indeed, to be built in that style. Berdun occupies a truly prime position, for it is so close to so many wonderful and varied birding and botanical sites, many of them within walking distance. During our stay, we will explore the area around Berdun, where the Aragon and Veral Valleys, and the spectacular Binies Gorge, are home to an excellent variety of low-level birds and plants. Bee-eaters, Golden Orioles, Woodchat Shrikes, Crested Larks, Tawny Pipits, Penduline Tits, Spotless Starlings, Rock Sparrows and Ortolan Buntings may all be seen, whilst birds of prey may include Griffon and Egyptian Vultures, Red and Black Kites, and Booted and Short-toed Eagles. We will visit the beautiful Hecho Valley, enjoying the displays of flowers and their attendant butterflies, and hopefully birds such as Alpine and Red-billed Chough, Lammergeier and Citril Finch will be seen; there is even a chance of the elusive Wallcreeper here! We will also explore the hills and limestone outcrops to the south, looking for vultures, Black Wheatear and Blue Rock Thrush at the spectacular red pinnacles at Riglos, and for Crested Tit, Rock Bunting and Hoopoe amongst the wonderful scenery around the Castillo de Loarre. We will head to the French border and visit the flower-rich meadows around Portalet, an area good for raptors, Water Pipit and Rock Thrush too. At all these sites we will also be enjoying the wealth of flowers and butterflies that this area provides.
We will end our holiday with a visit to the beautiful Aisa Valley, situated to the north-west of Jaca. On a gentle walk up the valley amongst some of the finest Pyrenean scenery, we will concentrate on the birds and plants. Lammergeier, Golden Eagle and Rock Bunting are amongst the bird species most typical of the area, and the botanists in our party will additionally find carpets of gentians and Pyrenean Buttercups in the valley bottom, and numerous saxifrages and other rock-dwelling plants on the scree slopes above. The Pyrenean race of Chamois also occurs here, together with Alpine Marmot and Wild Boar, though being rather shy the latter are only seen with a little luck.
Please contact us on 01962 733051 for details on what extensions either pre or post tour are available for this Tour.
This Naturetrek holiday was an introduction, for me, to the Spanish Pyrenees. The flight was met by our Local Spanish Guide and we were accompanied by the tour guide from London. The family run hotel was delightful and we travelled in two new minibuses, driven by our guides. We had a good living room to hold meetings in and a friendly atmosphere was immediately established with all guests adding to the knowledge of the guides. As a beginner, I really appreciated the immense amount of knowledge that was available. As a single traveller, I enjoyed the communal meals and made some good friends.

K.E. West Glamorgan, May 18

Dawn and Toby made an excellent team, because Toby's more extrovert and lighthearted approach blended well with Dawn's more serious attitude.

M.E. West Sussex

The two leaders complemented each other extremely well - a mix of lightheartedness and purposeful organisation ensured that a varied clientele were always well catered for.

B.D. Hertfordshire

Gerald was superb and held the tour together with his strong personality and excellent knowledge.

P.C. South Yorkshire

Both Gerald and Philip appeared confident, very approachable and provided excellent advice on identification of birds, butterflies and plants - both are obviously experts in their fields and fully complemented each other. Although I am not particularly interested in plants, Philip's obvious enthusiasm did rub off occasionally on me! Traditional Spanish meals at Emilio's were very good, with pleasant, helpful staff and waitresses.

B.F. Buckinghamshire

The accommodation, food and hospitality were outstanding!

Mr D. Norfolk

The trip leaders, Phil and Byron, worked extremely well together. Their driving was excellent at all times, in addition to their good awareness, patience, knowledge and ability to enthuse in all different spheres. They both have a great sense on humour which makes all the difference to this sort of holiday with such a mixed bag of punters! Accommodation was great too - Melanie and Peter are excellent hosts and made sure we were comfortable and well catered for at every meal, with a great variety of fresh food with a good Spanish/English mix.

Miss S. Norfolk

I came on this birds and flowers holiday with only a basic knowledge of European birds and little more on flora. The interest grew and grew with the excellence of our guides. The whole trip was way above my expectations. I will definitely do another Naturetrek holiday in the future. The accommodation was extremely good and going out each day through beautiful valleys and gorges was a most enjoyable experience in great company. Thanks a lot.

Mrs G. Norfolk

This is the third nature holiday I have taken with Naturetrek and have nothing but praise for their professionalism in organising a truly wonderful experience every time. We travelled through northern Spain to the Spanish Pyrenees and enjoyed the various areas shown to us. The accommodation was first class, and the guide was very friendly and knowledgeable. I look forward to receiving the [next] Naturetrek brochure so that I can book my next excellent holiday with them. Thanks to all the people behind the scenes who organise these remarkable holidays.

R.M. Leicestershire

Knowledgeable leaders - Phil knew the area and where to go for good spotting. Lovely, friendly hotel, it was particularly nice that the group filled the hotel and the owners supported us well. Fantastic landscape, scenery and flowers etc.

E.P. Hertfordshire

Thank you once again Naturetrek for providing an excellent holiday. I know that as a person travelling alone, I can book with total confidence - you provide the rare combination of efficiency and fun. A perfect holiday for anyone who wants to experience being 7 years old again and enjoying a treat. From the moment I see the Naturetrek guide, I know that everything will be taken care of - no worries about driving, accommodation, eating, etc. - all I have to do is enjoy myself. Also, a holiday which can be enjoyed by all levels of knowledge and everyone is encouraged to participate. Both guides showed great knowledge, love and respect for all wildlife.

Mrs B. Hampshire
2019
Departures
Availability
Cost
Sun 26th May - Sun 2nd Jun
FULL
£1,695
Flights:
Most Naturetrek tours include flight costs ex-UK. If flights are not included, we indicate that here.
Flights are included in the tour cost
Land only cost:

The "Land Only" cost is the tour price you will pay if you choose to arrange your own flights/transport.
£1,375
Single Room Supplement:
£180