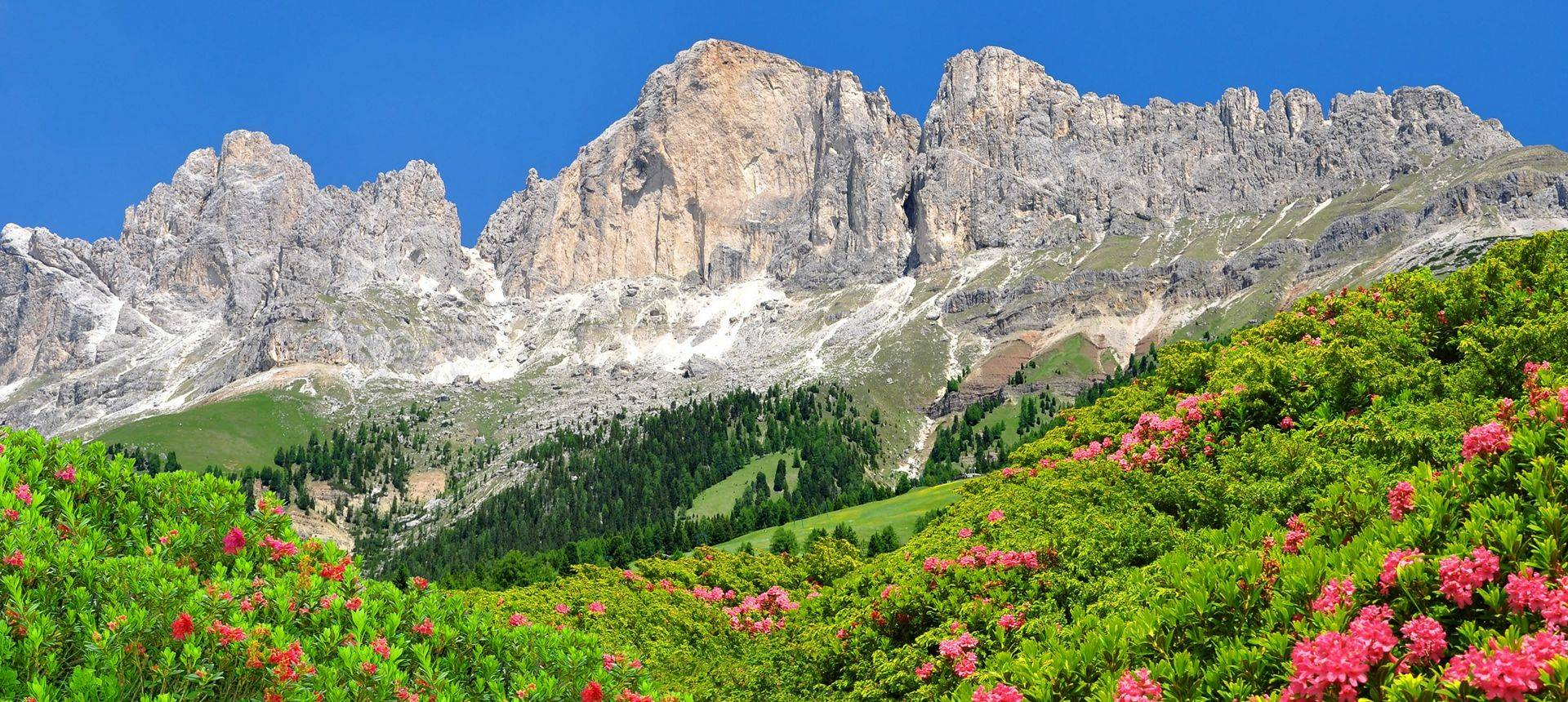 The Italian Dolomites
Tour Code: ITA08
An 8-day botanical holiday exploring the Dolomites Mountains of north-eastern Italy.
As well as a fabulous flora, the Italian Dolomites have a unique scenic beauty and distinctive character, all at their best during the latter part of June when we hope, also, to benefit from long days, sunshine and clear skies. We will stay in a wonderfully friendly, family-run hotel, blessed with exceptional mountain views. From this delightful base amongst the mountains, we will spend each day on foot, enjoying gentle walks as we explore rich meadows and high pastures and their spectacular displays of alpine flora. This is an enjoyable and very popular single-centre holiday, packed with wonderful botanical walks amongst some of the most spectacular scenery in Europe!
Explore in the Footsteps of Farrer
Enjoy walking in search of some of Europe's rarer alpine plants
Discover Tyrolean Primrose, Pink Cinquefoil, Bluish Paederota, amongst others
Search for the King of the Alps, Eritrichium nanum
Enjoy a special family-run mountain hotel, and its delicious cuisine
Learn from our expert botanical tour leaders
Encounter a wealth of Alpine butterflies and birds too
Can I help you?


X
Andy Tucker
Andy is an Aquatic Biology graduate (Aberystwyth) and worked in fisheries consultancy for a year after graduation before travelling to south-east Peru to work as a guide in the Amazon rainforest. During his year there he balanced guiding with his fisheries research and, after a brief spell back in England, returned to a full-time guiding post at Sacha Lodge in the Ecuadorian Amazon. Andy has travelled widely in Central and South America and his fluent Spanish is a huge advantage during our tours both across the Atlantic and in Spain. Andy has birdwatched for as long as he can remember and counts himself lucky to have seen so many fantastic bird and wildlife spectacles around the globe. He joined the Naturetrek team in 1998 and, while now kept busy as General Manager, is involved in the operations of a wide variety of tours in Latin America, Western Europe and North Africa.
Outline Itinerary
Day 1
Fly to Venice and transfer to the Fassa Valley
Day 2/7
A programme of botanical day walks from our base in the Fassa Valley
Su is an excellent leader, very well organised, extremely knowledgeable, patient and good company. We saw so much and the holiday exceeded (already high) expectations. The hotel was very good, quiet, friendly and with excellent meals.

R.C. Midlands
Food & Accommodation
All food included in the price.
A friendly and comfortable family-run hotel (with private facilities), with fine views over the Fassa Valley.
Many believe the landscape of the Italian Dolomites to be amongst the most beautiful in the country. Situated in north-eastern Italy, it is a mountainous region of the eastern Alps with a particularly unique scenic beauty and distinctive character. The mountains take their name from the predominant mineral — dolomite — from which they are formed, a type of crystalline magnesium limestone. Although these mountains are not as high as those in the central Alps, they are very dramatic, characterised by their towering pinnacles and castellations, and constant changes in rock colour as the crystals catch and reflect the light. The colours of the dolomite rocks stem from their formation as coral colonies and sedimentary deposits. The sediments were laid over non-calcareous primary rocks (granite) which have been exposed by tectonic movement and now present dark rounded mountain slopes with acidic conditions, that contrast markedly with the neighbouring, needle-like, limestone formations.
This holiday will take the turn-of-the-century alpine botanist, Reginald Farrer's book 'The Dolomites' as its pivot. Following in Farrer's footsteps, we will have opportunities to explore both the limestone and the granitic mountains which present both dramatic scenery as well as fascinating habitats for alpine plants. We have been operating this holiday in the Dolomites since 1997, focusing on the abundant and varied flora which is representative of the eastern Alps but further enriched by several species considered to be endemic to the Dolomites. Although snow has fallen in the month of June in this region, we hope that by visiting during the latter part of June we will enjoy fine, sunny weather, with long days and clear skies.
We begin our holiday with a flight from London to Venice, and in privately hired minibuses drive north to the Fassa Valley where we will be based throughout the week in a wonderfully friendly, family-run hotel, blessed with exceptional mountain views. Our drive north from the airport will take us into the province of Trentino and the Dolomites Mountains, and during the initial part of this journey the vegetation will reflect the influence of the Mediterranean climate, before we get further north into the Adige Valley, where vineyards and low altitude mountain vegetation will appear. This relaxing week is set amongst the mountains but does not involve any strenuous mountaineering. There will be ample opportunity to slowly explore the rich meadows of the valleys with their spectacular flora of orchids — including the Military, Dwarf, Marsh and Scented Orchids — fine Pedicularis species, Pulsatillas, Lilium bulbiferum var. croceum and other flowering herbs.
The Fassa Valley itself lies midway along Farrer's circuitous route, and within reach of the renowned Marmolada and the Catinaccio ranges on which the different habitats, each with its own characteristic flora, are to be found. Spectacular amongst the walks on limestone will be our exploration of the Catinaccio group (also known as the Rosengarten range), where pinnacles rise up above precipices and screes, on which the fragrant tufts of Thlaspi rotundifolium are abundant, compact and robust. Here we can also hope to find Potentilla nitida, Valeriana supina and Valeriana saliunca, Campanula zoysii, Soldanella alpina, Ranunculus seguieri, Anemone baldensis as well as creeping willows, Mountain Avens and Edelweiss in the rocks. Other limestone-loving plants will be seen elsewhere, for example, in the region of the Pordoi Pass, Androsace obtusifolia (chamaejasme), Androsace hausmannii and Androsace helvetica have all been reported, as well as Ranunculus keupferi, and on the slopes of the Marmolada itself, we hope to locate the rare Primula tyrolensis.
During two days of the holiday we will concentrate our explorations on the National Park of Panevéggio. Here, on the lower slopes, magnificent spruce forests shelter Daphne striata, Anemone trifolia and Cypripedium calceolus, whilst above the forest lies the high Rolle Pass, and views of the magical Cimon della Pala, described by Farrer as 'the mountain of mountains'. We will spend time on the limestone Castelláz, and on the screes beneath the Cimon della Pala, where amongst the rich limestone flora we can expect to find Carlina acanthifolia, Primula halleri and hopefully Campanula morettiana, as well as many other species particular to this habitat.
On the nearby granite mountain of Cavallazza, south of Rolle Pass, Farrer was sure Eritrichium nanum would be found. We will look! The flora on this acid substrate will be less rich than that on the limestone but nonetheless we can expect to find such species as Rhododendron ferrugineum, Loiseleuria procumbens, the erect Huperzia selago, Fir Clubmoss, Soldanella pusilla, Primula glutinosa and Primula minima. Above all, we will enjoy a week of wonderful botanical walks amongst some of the most spectacular scenery in Italy.
Please contact us on 01962 733051 for details on what extensions either pre or post tour are available for this Tour.
Su is an excellent leader, very well organised, extremely knowledgeable, patient and good company. We saw so much and the holiday exceeded (already high) expectations. The hotel was very good, quiet, friendly and with excellent meals.

R.C. Midlands

The holiday was absolutely splendid and I loved every minute of it.

M.R. Cambridgeshire

This was one of the best holidays we have ever enjoyed and could hardly have been improved on.

Mr & Mrs G. Gloucestershire

Invigorating days spent seeking high altitude plants with knowledgeable guides in a group small that shares the passion. Naturetrek has selected superb, remote trails among jagged peaks, inspiring us with their familiarity of botanical, ornithological, and lepidopterological discoveries along the way. On top of all that, the food and accommodations were outstanding. I'd love to head back tomorrow.

T.H. New York

From start to finish everything went smoothly with regard to planning and organisation by the Naturetrek team. The holiday location was beautiful with wonderful views surrounding the hotel. The three Naturetrek tour leaders were excellent, nothing was too much trouble, their patience was incredible, their knowledge of all subjects studied in the 'field' I'm not sure could be bettered. They all worked very hard to ensure it was a great holiday. We have already started looking at venues covered by Naturetrek for our next holiday. The scenery and walks were stunning, there was something of interest to be seen and studied even when it rained on the first two days. As you can guess, yes it was a successful holiday and would thoroughly recommend to anybody who has an interest in Plants, Butterflies, Moths and Birds. My husband and I learnt so much over one week.

V.R. West Midlands, July 18

The scenery, plants and hotel were all superb, and all the leaders worked tirelessly, somehow managing to please everyone's differing wishes every day. Jessica in particular looked after us in a wonderfully caring way at all times.

P.V. Surrey

I had no problem going on my own. It was a lovely holiday with a friendly group and top class leaders. The days were packed with so much choice, bird watching, wild flowers, butterflies and moths. The Italian Dolomite's were amazing.

E.S.B. Hampshire, June 18

From the time of planning the holiday with the Naturetrek office to the travelling there and back and the seven days enjoying the itinerary, I felt comfortable and reassured that all would go well and there would be no hitches or disappointments. I was right, as usual! The flowers and butterflies in these upland areas were wonderful and gave me great happiness and enjoyment, especially the day walking with new made friends in the upland meadows with the cows and their bells ringing. The mountain scenery was a highlight.

M.C. Buckinghamshire, June 18

The hotels were all good. I did not expect the Great Bear Lodge (3 night stay) to be as good (because of the situation!) but the standard was just as high and the cooking was superb! The staff there deserve a special mention. They were very caring and hardworking and were a most efficient team.

E.W. Cheshire

Paul and Chris deserve the highest price for their skills, and the effort they put in to ensure we all had a magnificent holiday.

C.W. Cheshire

This is my third holiday with Naturetrek and it was excellent. Both guides were very knowledgeable and helpful. Nothing was rushed and I saw plants I had not seen before. I am particularly interested in high alpine plants and was delighted to see so many.

S.J. West Midlands

Paul and Jessica are startlingly good botanists (and birds, butterflies too!), easy going and very personable. The staff at Hotel Lwga were charming and very helpful/attentive. The food was really exceptionally creative and delicious. The Dolomites themselves are stunning as are the plants and animal life they harbour. Our last hike through high alpine meadows with cowbells and running water for accompaniment was priceless. Bravissimo!

C.S. Northamptonshire

We had a fabulous holiday which did which did include 3 nights in Venice prior and a further 5 nights, with a car, in the Dolomites, doing our own thing. The hotel Gran Mugon was fantastic. Stefano and his family were attentive and friendly. The atmosphere was relaxed. The food was good everyday but at times it was excellent. Our team leader, Jessica Turner was brilliant. Her knowledge and enthusiasm was infectious. She had patience for these two novices. The picnics were memorable, all thanks to her. She worked hard and constant throughout our stay. She carried a selection of books etc on long walks to help our knowledge. The rest of the group were stimulating and great company. What a holiday!

Mr & Mrs L. Cumbria

The Hotel Gran Mugon in Tamion was superlative - accommodation, meals and personal treatment by the owners and staff. Lovely! We were pleased that the itinerary contained a decent amount of walking.

Dr & Mrs H. Surrey

A really excellent trip - tuition, leaders, hotel were all superb. Jessica Turner in particular took time to cater for all levels of knowledge/ interest - she was a fantastic leader! Her co-leader Byron Palacios was also superb, both are very knowledgeable and superb and nothing was too much trouble! I will certainly book again!

Ms H. Switzerland

I was particularly impressed with the three leaders who were so helpful and enthusiastic with their knowledge and organisation.

P.S. Nottinghamshire

Leaders were excellent. Endlessly patient and so enthusiastic about the plants and birds. Very conscientious. Leaders made for such a marvellous holiday.

M.K. Yorkshire

The trip was obviously well planned and organised but it was the leader, whose confidence and flexibility, personality and knowledge, enthusiasm, care and concern, who brought it all to fruition so successfully. The beautiful rugged environment and its social and natural history did the rest! Excellent!

V.S. New Zealand
2019
Departures
Availability
Cost
Wed 19th Jun - Wed 26th Jun
SPACES
£1,595
Flights:
Most Naturetrek tours include flight costs ex-UK. If flights are not included, we indicate that here.
Flights are included in the tour cost
Regional Departures:

On certain tours it is possible to depart from a regional airport (rather than London). If a regional departure is possible, we indicate that here.
Regional Departures are available. Call 01962733051
Land only cost:

The "Land Only" cost is the tour price you will pay if you choose to arrange your own flights/transport.
£1,475
Single Room Supplement:
£180