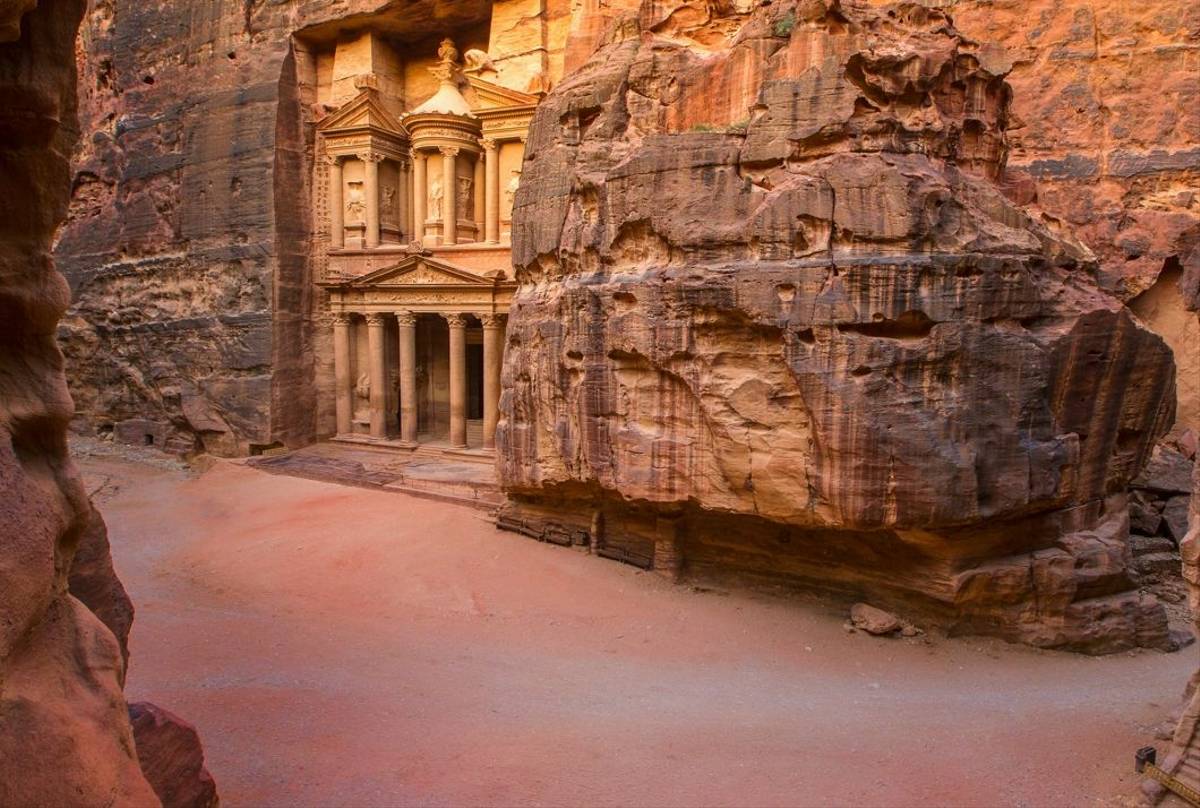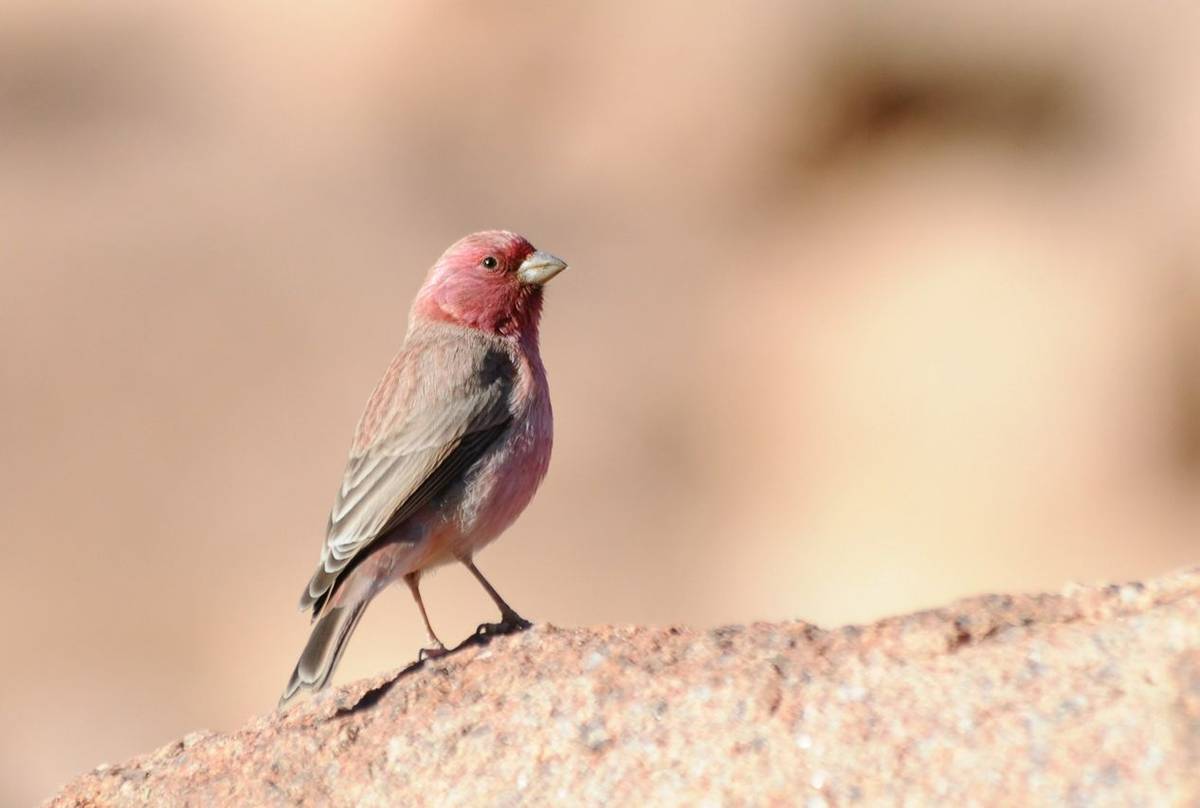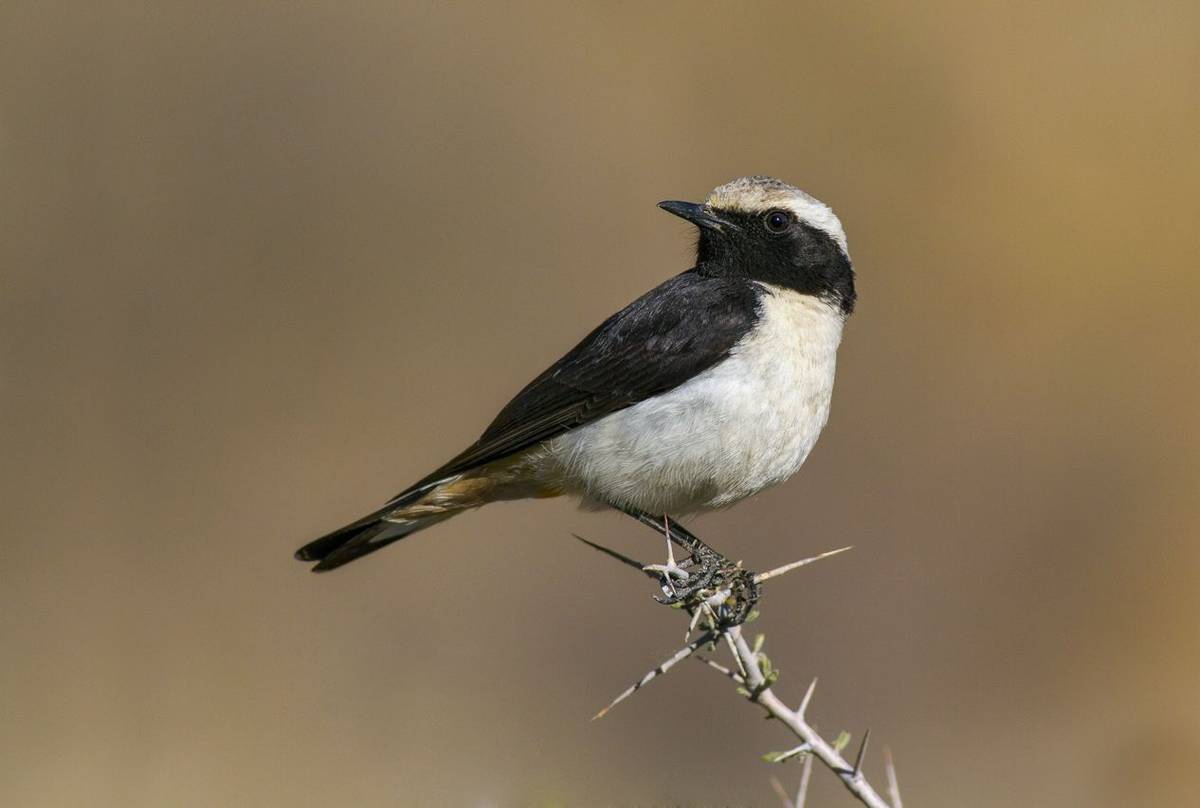 The Best of Jordan
Tour Code: JOR02
A 10-day holiday in search of the specialist mountain birds and migrants to be found amongst some of the country's most dramatic landscapes, plus a visit to the country's most famous archaeological site, Petra.
10 days from
£2,795 (Inc flights)
Land only price from
£2,495
Add this tour to your saved toursRemove from saved toursstar_border star

Add to Saved Tours
Highlights
Summary
This autumn birdwatching tour also visits historic Petra, the world-famous ancient city hewn from red sandstone. October is an exciting month when not only the late-breeding Sooty Falcon and other desert specialities may be seen, but when late passage migrants add an unpredictable element to each excursion. We visit the Shaumari Wildlife Reserve at Azraq, and the Wadi Dana Wildlife Reserve where we may see Sinai Rosefinch, Tristram's Serin and Desert Owl. Then we also visit Wadi Rum and Aqaba, on the Red Sea Coast, where unexpected seabirds and an anticipated mix of sandgrouse, wheatears and south-bound migrants may be encountered.
Visit world-famous Petra
Explore Azraq, and Shaumari and Wadi Dana Wildlife Reserves
Look for Sooty Falcons and other specialist desert species
Enjoy the excitement of autumn bird migration
Visit Wadi Rum
Sample the Red Sea Coast at Aqaba
Grading
Grade A/B. Mostly easy walks, with longer - but fairly gentle - day walks in the Petra and Wadi Dana areas.
Jordan is a small country at the boundary of the Levant and Arabian faunal areas, and is one of the most easily reached and welcoming of Middle Eastern countries. It has a predominantly Muslim population but its monarch and particularly his late father, King Hussein, have pursued strong links with the West as well as neighbouring Arab countries.
This wonderful itinerary concentrates mainly on the south-west corner of Jordan, an area that holds some of the most dramatic mountain scenery of the Middle East. Here, the varied wildlife habitats are controlled by a variety of rock types. The highland plateau reaches 1,736 metres, and is cut by deeply incised wadis that provide routes down to the plains of Wadi Araba below. In between lie dramatic sandstone mountains, their gorges and red mesas capped by white domes. It is against this backdrop that we will go in search of birds — some unique to this region, others visiting from other climes. We will also have ample time to explore the coast at Aqaba — a resort which lies on one of the world's main bird migration routes.
In October, after six months of drought, many birds are concentrated in areas of water and springs, especially the beautiful Sinai Rosefinch. Some of our sightings will be familiar European species in unfamiliar settings, whilst others such as the resident Sand Partridge and Pharaoh Eagle Owl may attract more attention. Our visit coincides with autumn migration when anything could turn up, from raptors and waders to warblers and shrikes: Levant Sparrowhawk, Spur-winged Plover, Little Crake and Masked Shrike are among a wide variety of scarce migrants that have been sighted at the Aqaba Bird Observatory in recent years.
Our tour begins with a flight to Amman, from where we will drive to Azraq. Here we will explore the Shaumari Wildlife Reserve before heading into the boulder-strewn, lunar landscape of the black Basalt Desert. Moving south we reach Dana, for many one of the chief highlights of the holiday. From this ancient hilltop conservation village we will visit Wadi Dana, a spectacular wildlife reserve of Jordan's Royal Society for the Conservation of Nature and home to some of the country's most attractive and unique birds. Tristram's (Syrian) Serins breed here, as do resident Sinai Rosefinch, Bonelli's Eagle, Griffon Vulture, Pharaoh Eagle Owl, Desert Tawny Owl, Rock Martin, Long-billed Pipit and three species of raven, including Brown-necked and Fan-tailed. Our overnight stay at Dana will give us time to explore the high ground at the head of the wadi, as well as nearby woodland and a very productive drinking pool.
Next we head into the Petra mountains, bound for Jordan's most famous site. Petra is renowned for its antiquities; it was a city built by the Nabataean people as a trading capital, was later occupied by the Romans but ultimately by-passed by new trade routes and subsequently fell into oblivion... until, that is, it was rediscovered in 1812. The Nabataean and Roman cultures left an awe-inspiring array of rock carved monuments, which we will have plenty of time to appreciate. However, the natural wonders of Petra are only marginally less stunning, with colour-banded sandstones displaying extraordinary forms of natural art. Here we will walk away from the main tourist trails, hoping to encounter such birds as Desert Lark, Scrub Warbler, Orange-tufted Sunbird, Striolated Bunting and the elusive Sooty Falcon.
Journeying south from Petra to Aqaba, we now climb up to the high steppe country of the Sharra Highland Plateau, before descending to our next destination — Wadi Rum. Immortalised by Lawrence of Arabia (and the film that followed) this famous site is an excellent place in which to search for Jordan's desert birds. White-crowned Black and Mourning Wheatears feed at the base of the rocky slopes, over which Long-legged Buzzards and Barbary Falcons fly, while round the fort of Jordan's Desert Patrol, Tristram's Grackle and Sinai Rosefinch are frequent visitors. As evening approaches, we will make our way to our desert campsite, an excellent location for some evening stargazing. The following morning, we will continue south to Aqaba along a road that drops through barren granite hills towards the coast.
Aqaba is Jordan's southernmost town, lying at the head of the Gulf of Aqaba, at the confluence of the Jordan Rift Valley and the Red Sea. Sea-watching can be productive during any season, as can exploration of the town's sewage works. This site provides a vitally important focus for visiting birds but, despite this, is rarely visited by anyone except our Naturetrek groups! Each visit is something of an adventure of discovery and, with a daily turnover of birds, we hope to see a varied selection of interesting visitors during our stay.
Finally, we must drive north to Amman. The journey initially takes us through the broad plains of Wadi Araba, where we will make a further search for desert birds before reaching the Dead Sea and ultimately the capital.
DETAILED INFORMATION
Outline Itinerary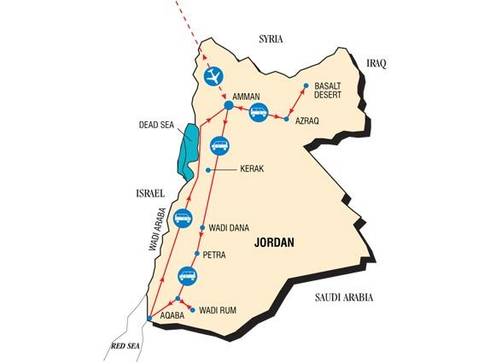 cloud_downloadDownload Full Itinerary
What's Included?
Flights
Accommodation:

Standard tourist class hotels and guesthouses, most with private facilities, plus two nights of fully serviced camping at desert camps in Dana and Wadi Rum.

Food:

All meals included in the price.
Reviews
Ian was fantastic.

W.B. Oxfordshire

Ian Andrews was an excellent leader and if he is leading other trips to other parts of Jordan we would be interested.

B. & G.B. West Yorkshire

An excellent trip and well organised.

F.W. Ireland

Trip leader was very competent and excellent at explaining identification features of birds.

H.C. Gwent

Andy was a first class leader, displaying an excellent knowledge of the areas visited... his organisational skills served us well and contributed to a relaxed and informative trip.

W.C. West Midlands

Andrew Wilson as leader was excellent... His abilities as a birder are exceptional, at times astounding.

R.D.W Dunbartonshire

Thanks for arranging a most memorable holiday and my thanks particularly to Marcus for all that he did to ensure we got the most from our trip - he was a most able leader, enthusiastic and indefatigable in sharing his knowledge and experience as ornithologist.

P.D. Derbyshire

Dana Guesthouse was best accommodation from location and food point of view - both excellent.

B.D. Gloucestershire

Gerald was an excellent leader, a very knowledgeable birder and had a good rapport with the group.

S.C. Norfolk

We were very grateful Cliff Waller was able to guide the tour so well at short notice. We also thought that Ghaith was an excellent local guide for history, culture and birds. Ghaith was also very helpful each day checking which food was gluten free.

Mr & Mrs F Worcestershire

Nice variety of hotels from posh to wonderful views to the charmingly eccentric! Birdwatching content excellent.

S.A. London
Show More Reviews
Show fewer reviews
Dates & Prices
2021
Departures
Availability
Cost
Fri 19th Nov - Sun 28th Nov
SPACES
£2,795
Flights:
Most Naturetrek tours include flight costs ex-UK. If flights are not included, we indicate that here.
Flights are included in the tour cost
Regional Departures:
On certain tours it is possible to depart from a regional airport (rather than London). If a regional departure is possible, we indicate that here.
Regional Departures are available. Call 01962733051
Land only cost:
The "Land Only" cost is the tour price you will pay if you choose to arrange your own flights/transport.
£2,495
Single Room Supplement:
£295
Tour Leader:
Please note that, whilst we assign leaders to particular tours well in advance, we reserve the right to make changes if necessary
Chris Murphy

Originally from Liverpool, Chris now lives on the Lecale coast in County Down where the beam of St John's Point lighthouse sweeps over his garden. He crossed the sea in the 1980s to work for the RSPB, partly in penance for his Irish forefathers - dealers in game and poultry. He now combines running an ecology and travel consultancy with writing for the Irish News. A 12-month overland trip to India and Nepal culminated in meeting Doris, his future wife, on a fabulous sewage farm in Munich! Co-founder of more than a dozen nature conservation bodies including the Oriental Bird Club, Northern Ireland Bat Group and Lecale Conservationists, and a long-serving member of the NI Records Committee, Chris is a world authority on Irish woodpeckers. He leads trips to Europe, North Africa, the Middle East and Asia.
2022
Departures
Availability
Cost
Sat 8th Oct - Mon 17th Oct
SPACES
£2,895
Flights:
Most Naturetrek tours include flight costs ex-UK. If flights are not included, we indicate that here.
Flights are included in the tour cost
Regional Departures:
On certain tours it is possible to depart from a regional airport (rather than London). If a regional departure is possible, we indicate that here.
Regional Departures are available. Call 01962733051
Land only cost:
The "Land Only" cost is the tour price you will pay if you choose to arrange your own flights/transport.
£2,595
Single Room Supplement:
£295
Why Naturetrek?
At Naturetrek we craft expertly-guided group and tailor-made wildlife holidays and cruises to all seven continents. On one of our holidays, you can be assured that our passionate team will enable you to experience and enjoy the best of the world's wildlife and natural spectacles in as comfortable and rewarding a manner as possible, caring as best we can for the environment in the process. We are proud to provide:
The widest choice of wildlife holidays worldwide
Tours managed and led by naturalists, for naturalists
Outstanding value and exceptional customer service
Furthermore, as a Naturetrek client, our office team are always to on hand to help you – so if you have any queries about your holiday, whether before or after you have booked, we will be delighted to answer them on the phone. Please just give our team a call!