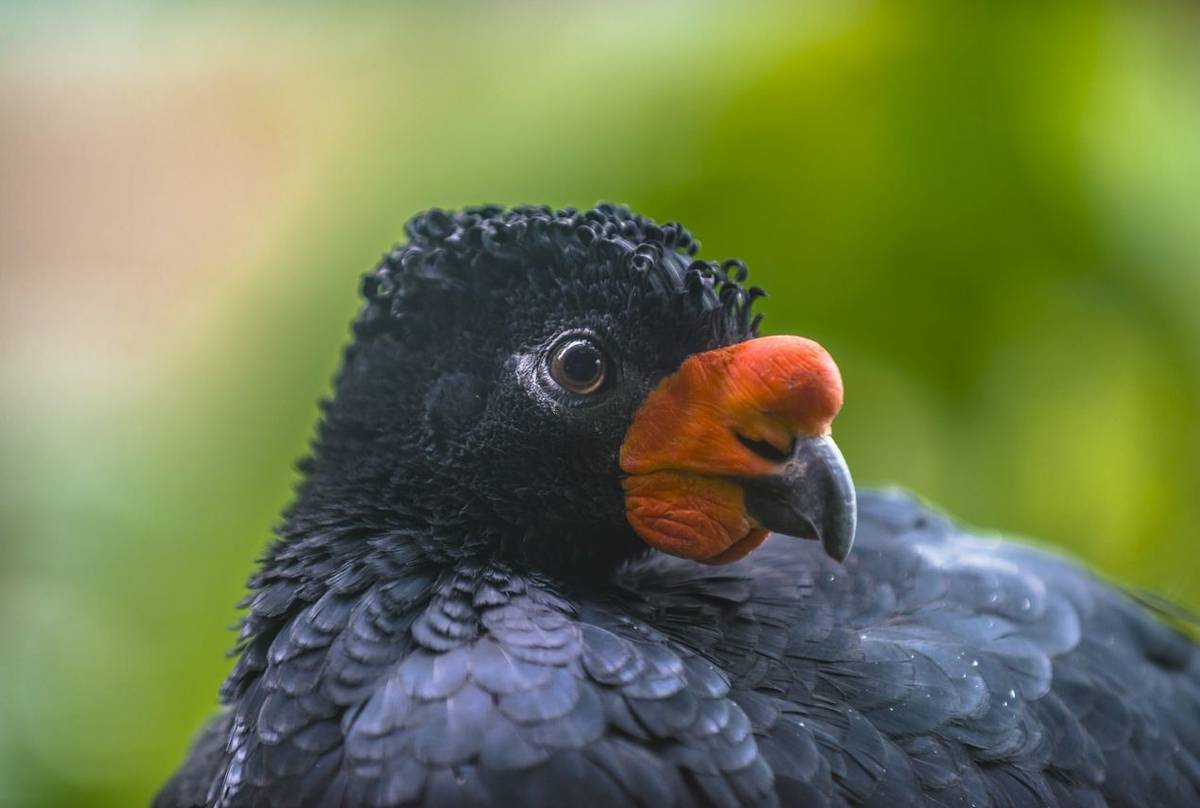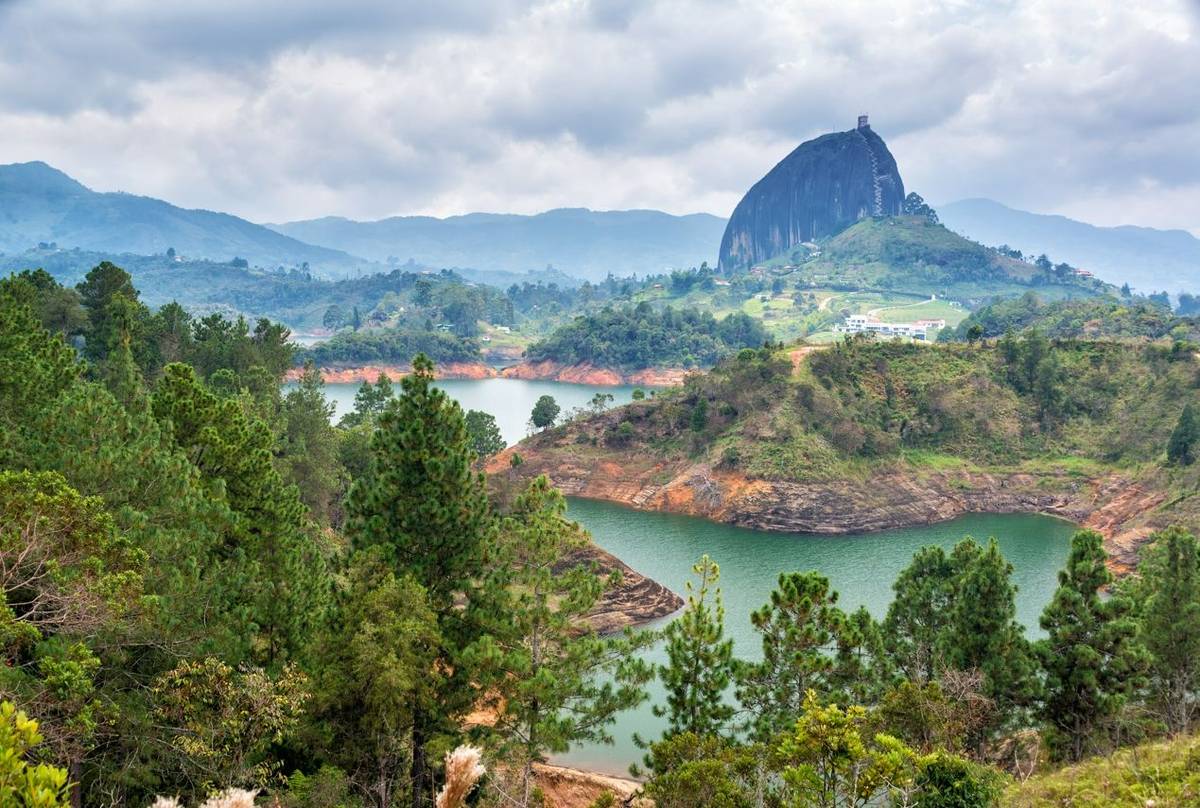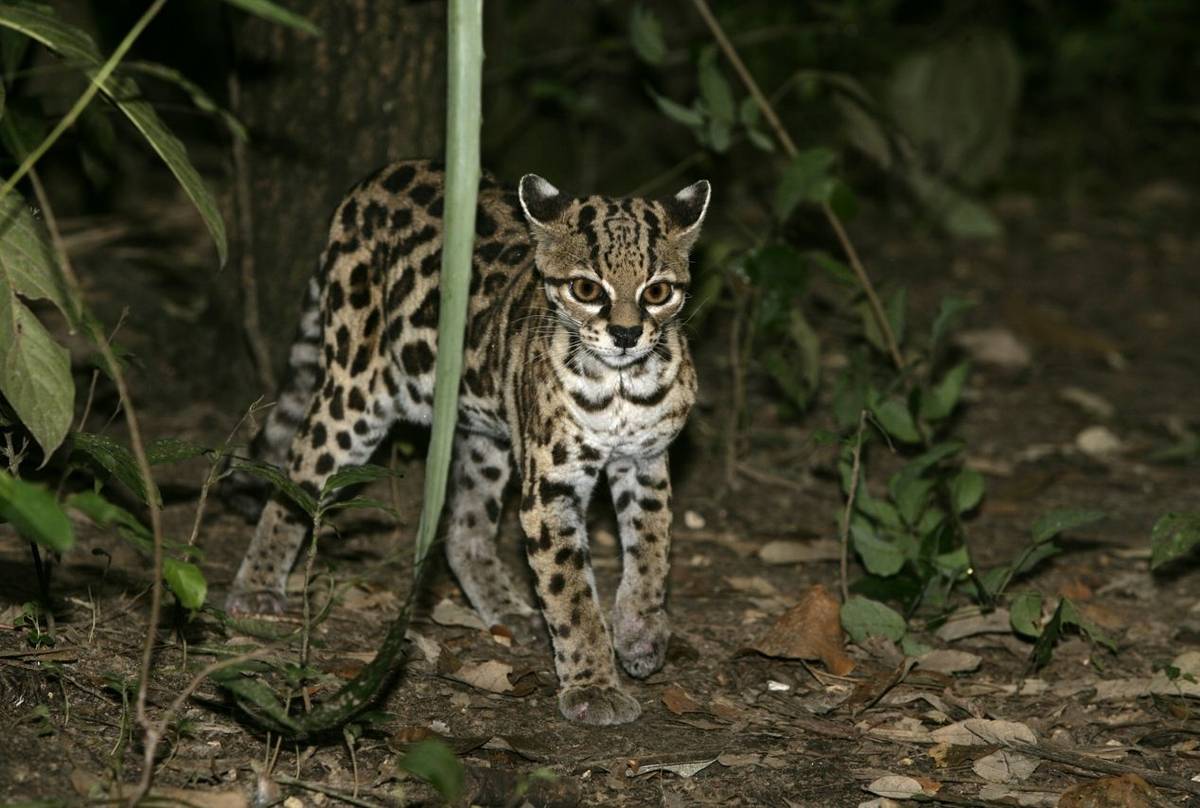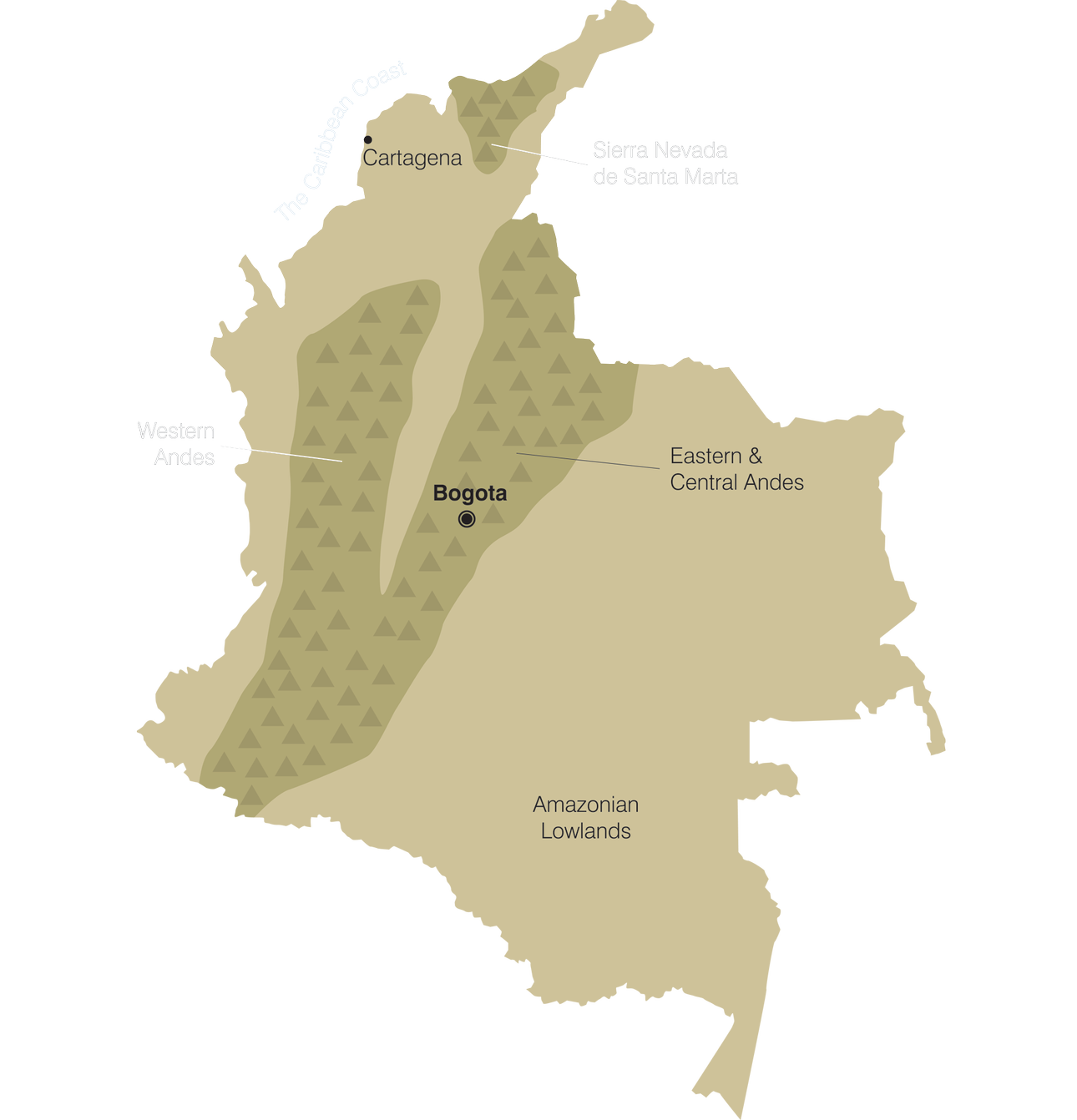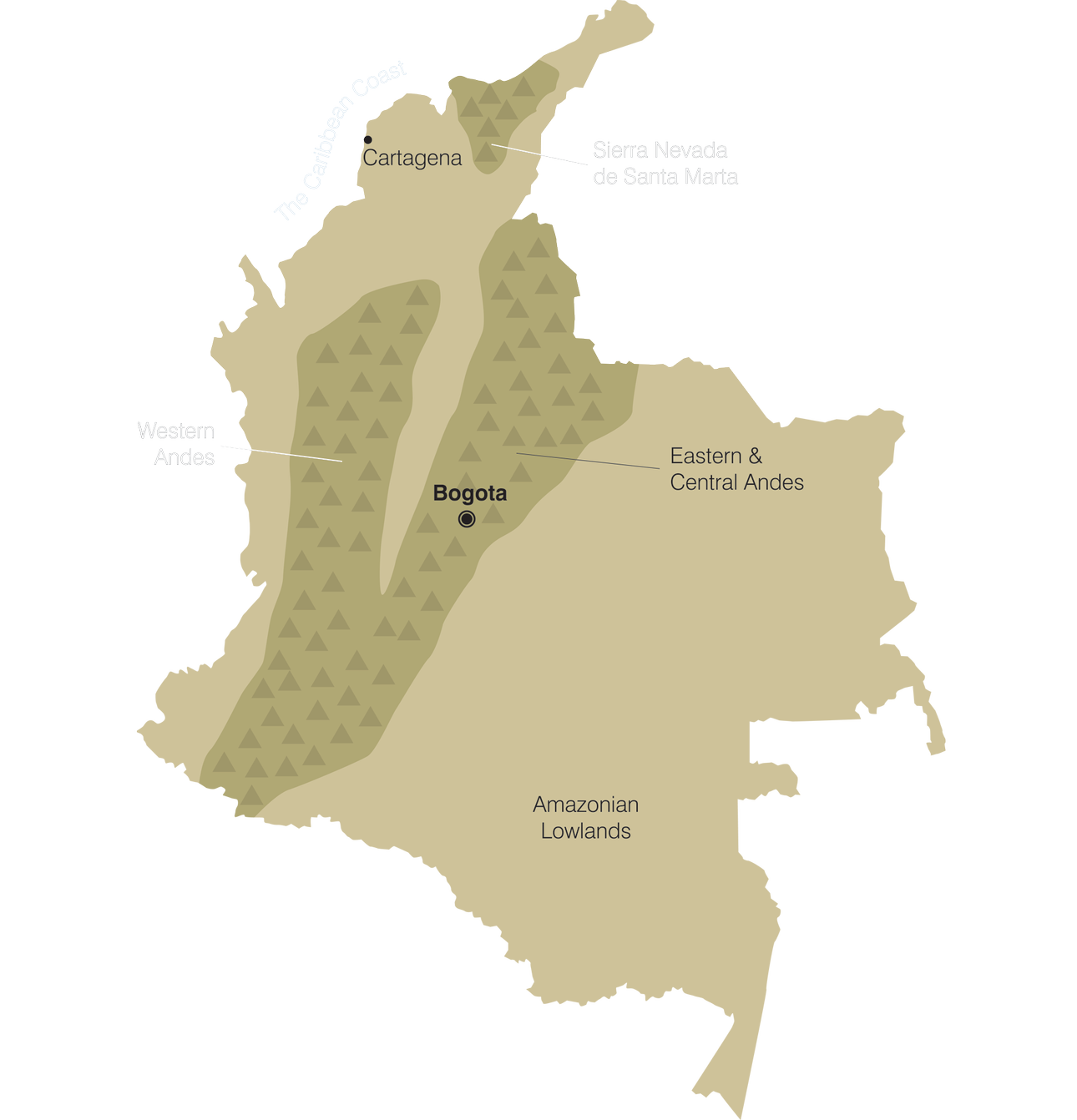 Tailormade Colombia
Tailormade
|
Tour Code: TCOL
Create your own Tailormade holiday to Colombia with dates and an itinerary to suit you.
When to Visit
| | | | | | | | | | | | |
| --- | --- | --- | --- | --- | --- | --- | --- | --- | --- | --- | --- |
| J | F | M | A | M | J | J | A | S | O | N | D |
| YY | YY | YY | YY | - | - | Y | Y | Y | Y | YY | YY |
SAMPLE HOLIDAY: Colombia - Birds and Culture
14 days from £4,395 (Flight Inclusive)
This fantastic 14-day itinerary combines the very best of Colombia's iconic heritage with some spectacular Andean birding.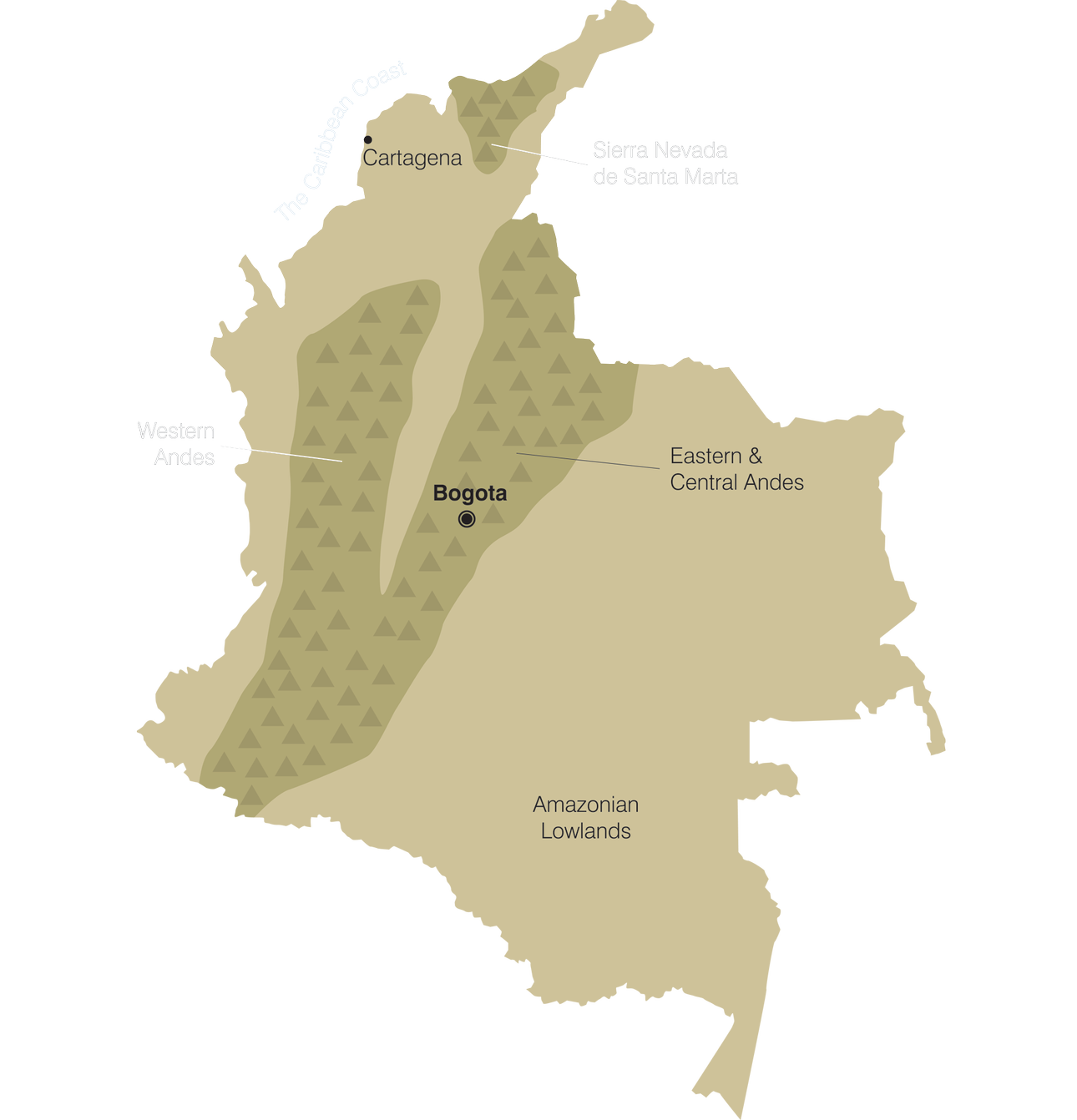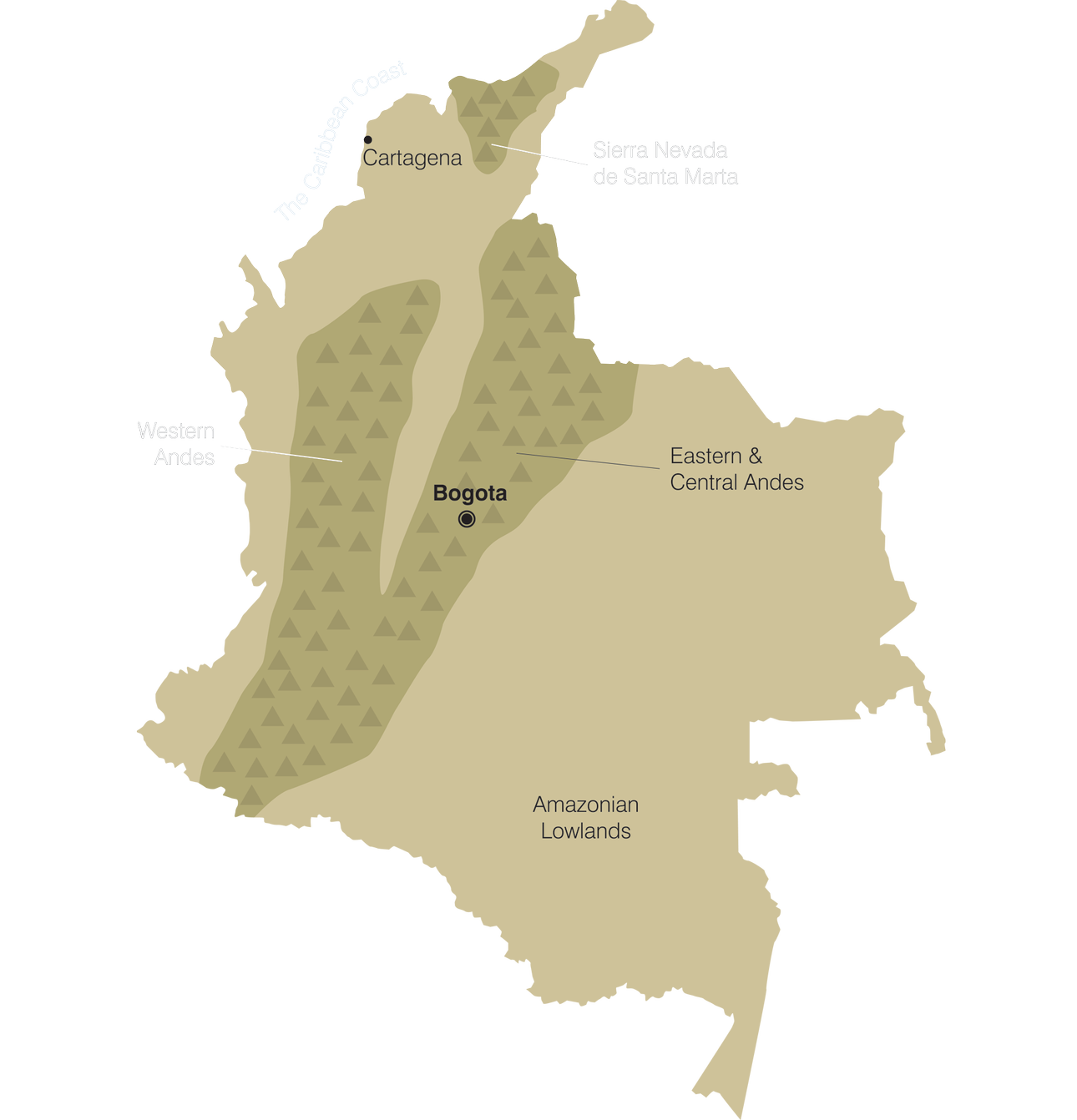 Summary
Colombia's ecological diversity is astonishing, holding close to 10% of the planet's biodiversity, including over 1,900 species of bird – the highest of any country on Earth! Despite its troubled past, Colombia has embraced a bright new future and is welcoming tourists back to enjoy its breathtaking scenery, fascinating culture, exceptional lodges, world-class coffee, and unrivalled birding and wildlife treasures.
Throughout the astonishing range of habitats, birds are the most conspicuous form of wildlife in Colombia, and with around 80 endemic species and over 100 near endemics, it is truly a birder's paradise! Star species can be found in every corner of the country; however, several 'birding meccas' stand out, such as the endemic-rich Sierra Nevada de Santa Marta mountains, and the two distinct Andean mountain ranges, each with its own unique suite of dazzling species. The rich Pacific 'Choco' coastal forests and the incredibly diverse Amazon region both also harbour a delectable array of star attractions. Colombia also boasts a good variety of mammals, including sought-after species such as Jaguar, Puma, Spectacled Bear, Mountain Tapir, Giant Anteater and Amazonian Manatee, not to mention endemics such as the marvellous Cotton-top Tamarin and the elusive Caquetá Titi Monkey, the latter only discovered as recently as 2008. The country is also a botanist's paradise, with over 4,000 species of orchid, not to mention countless other fascinating plants, with new species being discovered all the time. It is worth considering combining Colombia's birding and wildlife with the famous coffee region, the history, culture and museums of Bogota, and the historic port of Cartagena which provide all the ingredients for a varied and exciting wildlife and cultural holiday.
Our Destinations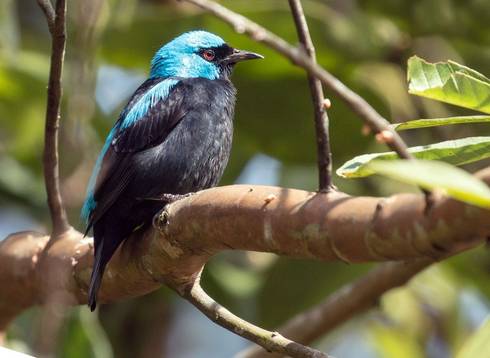 From Colombia's southern border, the Andes fan out creating a unique topography and an incredible diversity of habitats, including high altitude páramo (Andean bogs), sub-páramo, subtropical montane forests, and both dry and humid tropical lowland forests. The wide Eastern Andean range supports its own suite of special birds including Green-bearded Helmetcrest, Turquoise Dacnis, Black Inca and Recurve-billed Bushbirds. The area also offers the chance of elusive mammals such as Margay and Spectacled Bear. The wide Magdalena Valley, which itself offers many star birds including White-mantled Barbet and Beautiful Woodpecker, separates the eastern range from Colombia's Central Andes. Here another suite of stunning birds occurs in such special reserves as Rio Blanco, where no fewer than five species of antpitta can be seen in a single morning's birding! Here too, it's possible to enjoy a few days in a traditional coffee 'finca', enjoying gentle birding, coffee-tasting tours and perhaps a little relaxation by the pool. Further up the Andean slope, cloudforests give way to páramo, where dazzling birds such as Bearded Helmetcrest and Rainbow-bearded Thornbill vie for your attention. Having enjoyed a thrilling day's birding, piping-hot thermal springs offer the perfect way to relax and soothe sore muscles!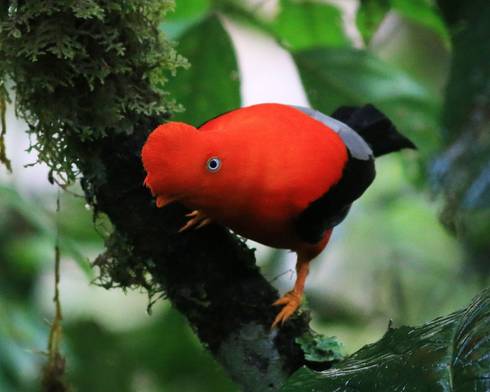 Traversing the narrow Cauca Valley we arrive at the doorstep of Colombia's Western Andes. Here it is possible to visit one of South America's most accessible and active Andean Cock-of-the-rock leks, and go in search of star species such as Ornate Hawk-eagle, Multicoloured Tanager, Dusky Starfrontlet, Yellow-eared Parrot and Gold-ringed Tanager, all against a backdrop of magnificent mountain vistas! The far western slope drops all the way down to the Pacific coast, and traverses the special 'Choco' habitat, where legendary species such as Scarlet-and-white Tanager, Rose-faced Parrot, Oscellated Antbird, Lita Woodpecker and Long-wattled Umbrellabird are all possible.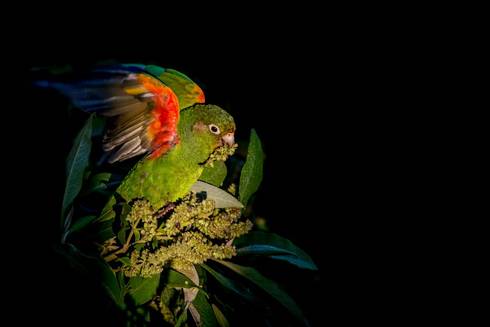 The Sierra Nevada de Santa Marta is a beautiful, isolated mountain range, which overlooks the warm tropical waters of Colombia's Caribbean coast. Despite its isolated position the range boasts the tallest peaks in Colombia and offers some of the country's most scenic vistas. This isolation has led to the evolution of around 20 endemic species of birds, as well as more than 70 sub-species which may well be raised to species level in future. Time in the Sierra Nevada area is usually spent covering all the elevations accessible by road. The higher elevations may offer Santa Marta Parakeet, Yellow-crowned Redstart, Santa Marta Warbler, Brown-rumped Tapaculo and Santa Marta Antpitta, while the lower ranges offer White-tailed Starfrontlet, Streak-capped Spinetail and Black-cheeked Mountain Tanager, amongst many others!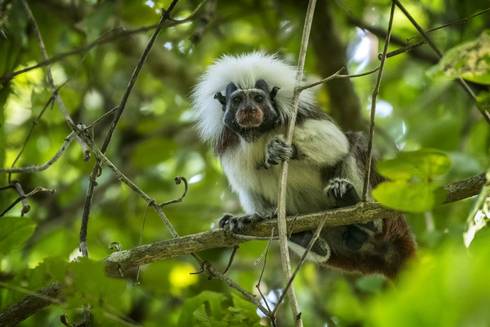 It is worth spending a night or two on the Caribbean coast, exploring the tropical dry forests and coastal lagoons, where further exciting species occur, including the striking White-whiskered Spinetail and the dazzling Vermillion Cardinal. A little further along the coast lie the slightly more humid forests of Tayrona National Park where, in addition to the striking endemic Cotton-top Tamarins, more outstanding birds can be found such as Northern Royal Flycatcher, Golden-winged Sparrow and Southern Bentbill. This special region, with its unique and contrasting habitats, is undoubtedly one of the very finest birding locations in Colombia! It is also a perfect location should you want to put your feet up and relax in one of the many excellent beach lodges at the end of your tailormade holiday; or alternatively, a few additional days in the historic port city of Cartagena is highly recommended.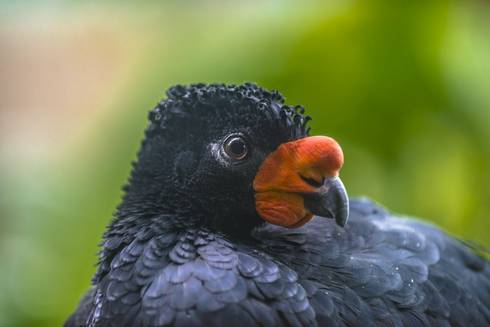 A vast swathe of Amazonian lowland forest covers the entire south-eastern portion of the country, and offers a veritable treasure-trove of natural wonders to the visitor. Several key areas stand out, however, and your choice of destination will depend on your specific interests. The southernmost town of Letica sits on the banks of the Amazon River, and is a gateway to Colombia's Amazon Rainforest. Here a number of excellent riverside lodges allow guests the opportunity to experience 'classic' Amazonas. Both Grey and Pink River Dolphins occur here and are relatively easy to locate, whilst in the forest canopy Two-toed Sloths and several species of monkey are frequently sighted. The birding is also good, with standout species including Wattled Curassow and Amazonian Umbrellabird. However, dedicated birders might well choose the remote town of Mitu as their Amazonian birding base. Here white-sand tropical rainforest habitat holds many sought-after and range-restricted species such as Fiery Topaz, Orinoco Piculet, Bar-bellied and Lineated Woodcreepers, Tawny-tufted Toucanet, and Chestnut-crested Antbird to name but a few. All birding here takes place with friendly local indigenous guides whilst staying in one of the simple lodges in the sleepy town of Mitu itself. Quite simply, this is one of the finest birding locations in the entire Amazon basin!
Sample Itineraries
This fantastic 14-day itinerary combines the very best of Colombia's iconic heritage with some spectacular Andean birding.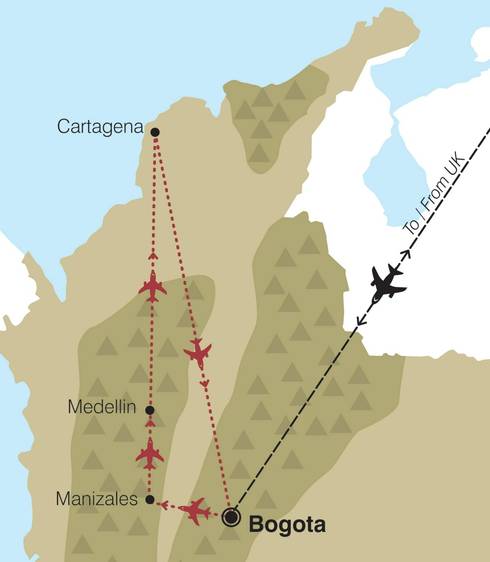 SAMPLE ITINERARY
COST (PER ADULT)
Colombia - Birds and Culture
from £4,395 (Flight Inclusive)
Enquire Now
This exciting itinerary visits both the eastern and western Andean slopes, the endemic-rich Sierra Nevada de Santa Marta region and the Amazon lowlands, taking in some of the most bird-rich locations on earth.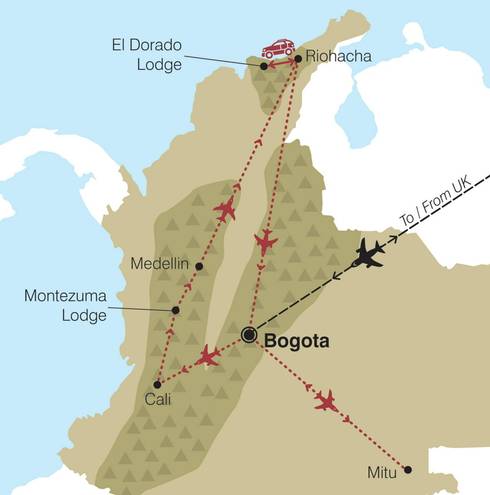 Day 6/8
Sierra Nevada de Santa Marta
Day 13/16
Amazonian Lowlands
SAMPLE ITINERARY
COST (PER ADULT)
Colombia - Andes and Amazon
from £5,295 (Flight Inclusive)
Enquire Now
The Essentials
Wildlife Guides: Superb local naturalists are available, as well as specialist ornithologist guides. All are bilingual.
When to Visit: Colombia has a high degree of altitudinal variation. As such, climatic conditions vary from place to place, and most itineraries will visit both warm low-lying locations as well as higher cooler climes. Colombia can be considered a year-round destination, although the period from November to the end of March is an excellent time to combine the Andean region and Santa Marta, when rainfall is generally at its lowest. The climate of the vast Amazon region varies from place to place. Around Letica the period from July until November is usually very good, whereas around Mitu the months from November to April are most favourable.

| | | | | | | | | | | | |
| --- | --- | --- | --- | --- | --- | --- | --- | --- | --- | --- | --- |
| J | F | M | A | M | J | J | A | S | O | N | D |
| YY | YY | YY | YY | - | - | Y | Y | Y | Y | YY | YY |

Getting Around: Colombia is a vast country, so one or two domestic flights are often necessary. A few remote locations require the use of 4WD vehicles to access, but we employ well-maintained vehicles and excellent drivers throughout the country.
Why Naturetrek Tailormade?
'A Naturetrek Tailormade holiday allows you, with the benefit of our wildlife travel expertise and destination experience, to enjoy the perfect private wildlife holiday – one that truly matches your requirements, expectations and ambitions. We will ensure the most competitive prices, superb naturalist guides and seamless ground services.
Some of the benefits of Naturetrek Tailormade travel include:
• A bespoke itinerary which is crafted by experts and designed specifically for you
• Private guiding by the very best local naturalists 
• Travel with people you know, at your own pace
• Incorporate as much culture, history or relaxation time as you wish
• Choose dates to suit you
• Select your preferred style of accommodation
• Travel with families and children of any age
Furthermore, our Tailormade team are always on hand to help and guide you along the way, with friendly advice, first-hand knowledge and inside information specific to your destination of choice. So if you have any queries about your holiday, we will be delighted to answer them. Please just give us a call!'
Similar Trips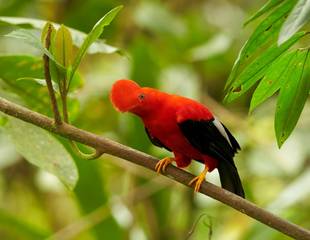 Add this tour to your favouritesRemove from Favouritesstar_border star
Create your own Tailormade holiday to Ecuador & the Galápagos with dates and an itinerary to suit you.
16 days
£6,295 (inc flights)
Jan

Feb

Mar

Apr

May

Jun

Jul

Aug

Sep

Oct

Nov

Dec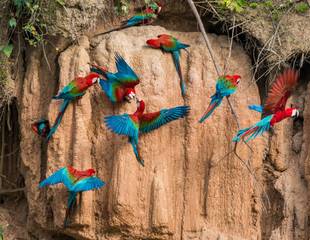 Add this tour to your favouritesRemove from Favouritesstar_border star
Create your own Tailormade holiday to Peru with dates and an itinerary to suit you.
15 days
£5,595 (inc flights)
Jan

Feb

Mar

Apr

May

Jun

Jul

Aug

Sep

Oct

Nov

Dec