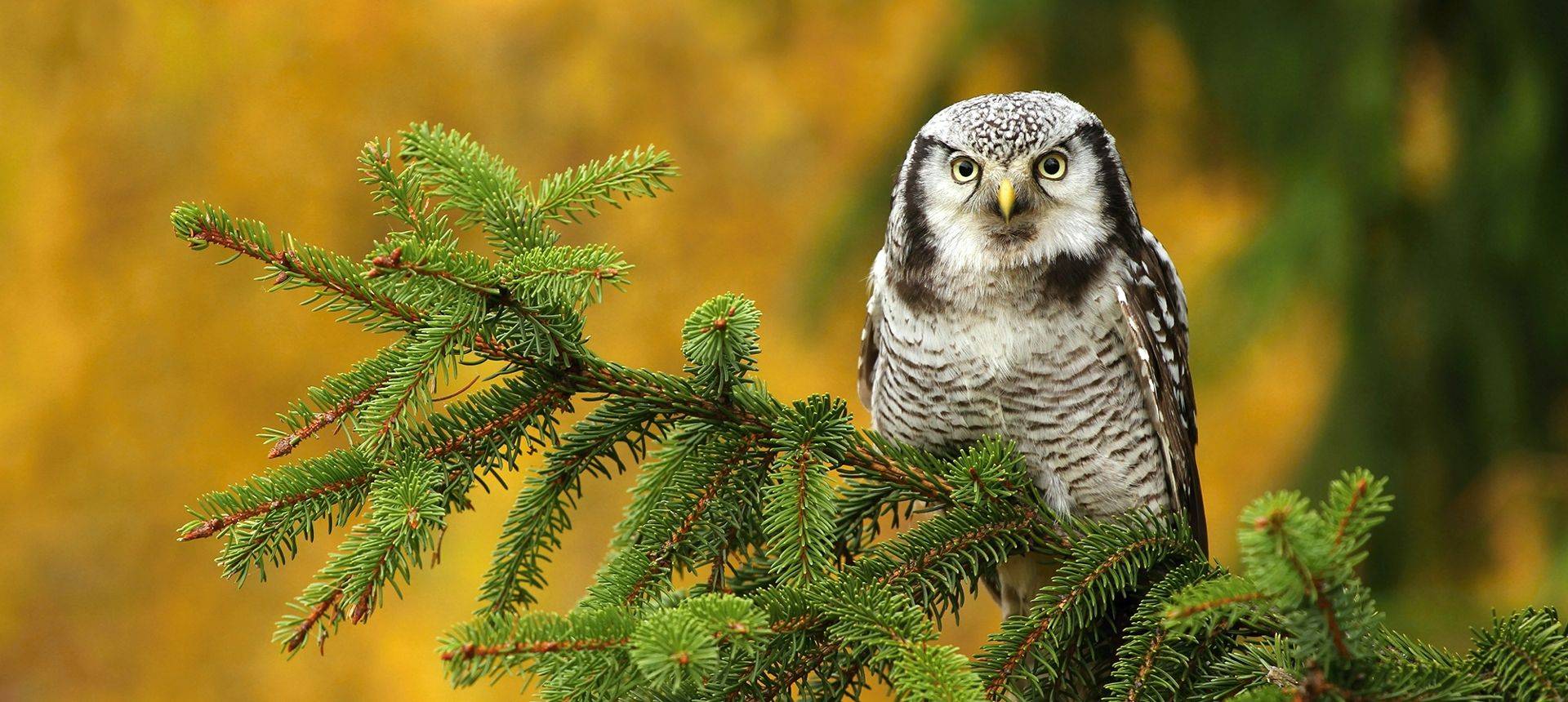 Sweden's Upland Birds
Tour Code: SWE07
An 8-day holiday to Vastmanland and southern Lapland in search of lowland forest and wetland birds, plus the charismatic avifauna of the magnificent upland and wilderness regions of Sweden.
Beginning in the lowlands of central Sweden, we travel north to Lapland, a wild, untamed landscape and home of the nomadic Saami people. As we travel, we will explore taiga forest, lakes, wetlands, mountain and tundra habitats in search of a comprehensive range of Swedish birds that includes owls, seven woodpecker species, grouse such as Hazel and Willow Grouse, and mountain specialities of Lapland, as well as summer visitors capitalising on the seasonal abundance of insect life. The fresh air, wonderful quality of light and spectacular scenery are among the additional pleasures of birding at these latitudes – Slavonian Grebes in full summer plumage, Bluethroats singing day and night, or the whisper of Great Grey Owl wings through the forest … this is an unforgettable place!
Great Grey, Pygmy, Tengmalm's, Hawk & Ural Owls all possible
Beautiful upland scenery of Fulufjallet National Park
Dotterel, plus Lapland Bunting & Long-tailed Skua on the high plateaux
Explore the vast Taiga Forests in search of grouse and woodpeckers
Raptors include Gyr Falcon, Goshawk, Honey Buzzard & White-tailed Eagle
Breeding Black-throated Diver, Long-tailed Duck & Red-necked Phalarope
Enjoy watching lekking Great Snipe
Can I help you?

Outline Itinerary
Day 1
Fly Västerås (Stockholm); transfer Svartedalen
Day 2
Svartådalen and Dalarna; overnight Tallberg
Day 3/5
Fulufjället National Park, then Flatruet plateau; overnight Tännäs, Funäsdalen
Day 6
Taiga forest, Nipfjället; overnight Alvdalen
Day 8
Transfer Västerås (Stockholm) and fly London
This was a search for many of the elusive birds and animals to be found in central Sweden, including Elk, Great Grey Owl and Three-toed Woodpecker. We travelled widely visiting a wide variety of habitats and experiencing every kind of weather from sunny evenings to mountain blizzards. We saw just about everything we were hoping for and many things besides. People were friendly, welcoming and extremely helpful. A great holiday!

N.M. Kent
Food & Accommodation
All food is included in the price.
We stay in comfortable hotels and guesthouses, where all rooms have private facilities.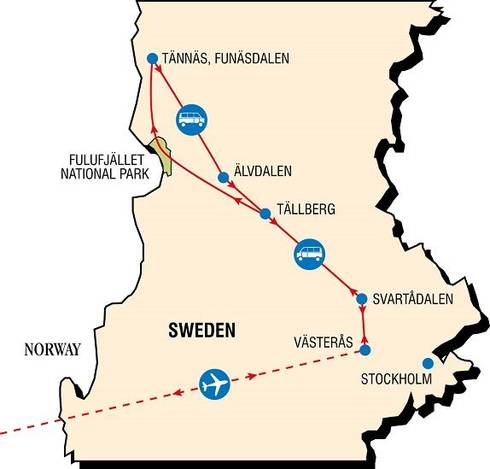 Tour leaders
Daniel Green

Daniel has been a keen birdwatcher since his early childhood. With the Svartadalen, or Black River Valley as it is known in English, as his local turf, Daniel is able to pursue his lifelong fascination with the cranes which gather there every Autumn in huge flocks before flying south for the winter. As well as birds, Daniel is also interested in butterflies, moths and dragonflies. He is driven by the joy of sharing experiences in nature with other people and he has been one of the pioneers of Swedish birding tourism since 2002; he's also been in charge of most British birding trips to central Sweden since then. Along with his interest in wildlife, Daniel also enjoys cooking and writing. His CV includes 12 years as a gourmet chef, a career as a newspaper journalist/photographer and, lately, serving as editor for the second biggest Bird Magazine in Sweden, Fagelvannen.

Ed Drewitt

Ed's been a naturalist for over 25 years with a special interest in birds and marine mammals. He studied Zoology at the University of Bristol and worked for seven years as a museum learning officer at Bristol's Museums, Galleries and Archives, and then four years on the Bristol Dinosaur Project at the University of Bristol, enabling people to learn more about the city's own dinosaur! Ed is now a full time freelance naturalist, broadcaster and wildlife detective. He leads bird song and bird identification courses, gives various wildlife presentations, provides wildlife commentary on boat trips, writes for BBC magazines and gets involved with bird ringing studies, with his own bird ringing site on the Severn Estuary. He also runs a project that puts colour rings on Peregrine chicks so they can be tracked later in life. Ed has previously worked for the RSPB in Bristol and still does the commentary on their Avocet Cruises on the Exe Estuary. Ed leads on researching the diet of urban-dwelling peregrines in the UK and his findings have been published in British Birds, BBC Wildlife magazine and across the national media. He has just had a book published, the first of its kind, titled 'Urban Peregrines'. Ed is often involved with broadcasting on TV and radio, ranging from appearances on the BBC's One Show, Springwatch and Autumnwatch, Radio 4 Natural History radio, and BBC Radio Bristol. Ed loves watching wildlife around the Severn Estuary, Somerset Levels, Forest of Dean, Ashtead Common and the Chew Valley, while his adventures have taken him all around Europe, New Zealand, Australia, Canada, the Azores, the Caribbean, Madagascar, the Arctic, and the Gambia. Ed is a regular tour leader for Naturetrek throughout the year, leading exciting holidays both in the UK and abroad.
Lapland must surely be the most evocative, exciting and intriguing region of Scandinavia. Home to the nomadic, reindeer-herding Saami people, it is synonymous with inhospitable wilderness — a wild, untamed yet spectacular upland landscape, accessible only in high summer, outside winter's long and icy grip. It is the high summer, too, when the region's avian visitors move in to breed, capitalising on a phenomenal abundance of insect-life during a short season. It is these charismatic birds, and the magnificent scenery, that epitomise this holiday and, in combination with the taiga and wetland birds that we also hope to see, our itinerary offers a comprehensive range of Swedish bird specialities that includes owls, woodpeckers, grouse and the mountain specialities of Lapland.
We begin, and end, in the lowlands of central Sweden: in Svartådalen and Berslagen. Here, attractive farmland is surrounded by lush oak forests, and lakes and wetlands lie amongst meadows and pasturelands, grazed by cattle and sheep in time-honoured fashion. Colourful, summer-plumaged Slavonian Grebes, Common Cranes, White-tailed Eagles, Ospreys and Black Terns characterise the wetlands, whilst Honey Buzzards and Goshawks, seven species of woodpecker (including Three-toed, Grey-headed and Black) and such passerines as Redbacked Shrike, Icterine Warbler, Thrush Nightingale, Common Rosefinch and Ortolan Bunting breed commonly. Here also lives the Great Grey Owl, that enigmatic taiga species more often associated with the landscape, dominated by coniferous forest, into which we will shortly be heading. This most sought-after and spectacular of birds can seem remarkably oblivious to human presence, and we will pray for a calm night and memorable views! We will also look for Pygmy Owl, plus both Tengmalm's and Ural Owls whose owlets we will hope to see ringed when we visit their nesting sites.
Next we drive north towards the southern part of Lapland and the Scandinavian mountain range known as 'the Scands', passing through the farmland valleys of Dalarna and up towards scenic Lake Siljan. This is a culturally rich region of Sweden, endowed with traditional architecture, craft industries and folklore. The landscape now begins to change dramatically and our first stop amongst the mountains will be in Fulufjället National Park. Here, a walk that takes us to a dramatic gorge with a high waterfall may produce our first Rough-legged Buzzards, Siberian Jays and Siberian Tits, whilst Greenshanks breed beside the park's visitors' centre. On Nipfjället, the first of the truly barren mountains, we will look for Whimbrel, Ptarmigan and Snow Bunting, whilst Golden Eagles are always likely above the rocky slopes. Lower down, we will drive through valleys where Redthroated and Black-throated Divers, Velvet and Common Scoters, Long-tailed Ducks, Wood Sandpipers and Common Cranes all breed on the small lakes and pools by the roadside. Here we are also likely to encounter our first Reindeer, though a great many more will be seen in the mountains.
The Funäsdalen region, the southern outpost of Lapland's special avifauna, will be the highpoint of our tour. We will spend three days here amongst its fresh air, beautiful scenery and northern birdlife, based in a mountainside hotel around which Bluethroats sing during both day and night. Climbing above the birch forest to the open tundra, we will enjoy a day's walk on Flatruet. This is a high mountain plateau with an interesting high alpine flora and fauna, where confiding Willow Grouse, Ptarmigan, Dotterels, Red-necked Phalaropes, Temminck's Stints, Long-tailed Skuas and both Snow and Lapland Buntings, all resplendent in full breeding attire, are amongst the many breeding species. Above, Golden Eagles, Roughlegged Buzzards, Hen Harriers and Merlins command the skies ... and, where the mountains rise dramatically to form steep cliffs, we will look out for majestic Gyr Falcons which sometimes breed in the area, as do both Short-eared and Hawk Owls during good Lemming years. At the foot of the mountains we will explore the taiga forest — home to Hazel Grouse, Hawk Owls, Three-toed Woodpeckers, Siberian Jays and Parrot Crossbills — and we may cross the border into Norway to enhance our chances of a Gyr Falcon. Finally, at night (although darkness never descends on these latitudes at this season!), we will enjoy one of Scandinavia's finest shows ... at the lek of the Great Snipe. Here, on an alpine meadow at the foot of a great mountain, they perform their peculiar song and dance display, seemingly unaware of our human presence.
After a wonderful time in this magical alpine environment, we must reluctantly return south, perhaps stopping to look for Eagle Owl and Blyth's Reed Warbler en route. Back in Svartådalen (the Black River Valley) for our final night, we have a chance to catch up with any of the owls, woodpeckers or wetland birds that we may have missed on our initial visit, and an option to enjoy some night-time birding in search of such species as Corncrake, Spotted Crake and Marsh Warbler!
Please contact us on 01962 733051 for details on what extensions either pre or post tour are available for this Tour.
This was a search for many of the elusive birds and animals to be found in central Sweden, including Elk, Great Grey Owl and Three-toed Woodpecker. We travelled widely visiting a wide variety of habitats and experiencing every kind of weather from sunny evenings to mountain blizzards. We saw just about everything we were hoping for and many things besides. People were friendly, welcoming and extremely helpful. A great holiday!

N.M. Kent

As an American retiree I travel often and spend a fair amount of time researching areas and providers before making a decision. With the advent of the internet researching a trip is easy, but unreliable. Marketing and websites are so good today that a person really doesn't know if the holiday will live up to. Testimonials and photography often don't tell the true story. I have to say not only was Sweden itself far more charming than I expected but the level of service and quality of the local quide made me recommend this company and this itinerary to several friends. The Swedish countryside and it's wildlife is wonderful. And the lodging and accommodations were far better than I anticipated. I'm already planning another holiday with Naturetrek next Spring.

R.C. California

It was a tour manly looking out for resident and non resident birds which we were able to do quite easily with the tour guide and with the aid of additional local guides with local knowledge who were invaluable. The tour was also able to adapt to local butterflies, dragonflies and wildflowers and the knowledge of tour guides and people on the trip identification was made easy.

J.M. Kent

There seemed to be nothing (the leaders) didn't know about and they made the week extremely enjoyable.

J.C. Norfolk

The knowledge, enthusiasm and local contacts of the tour leader, Daniel Green, really made this holiday special. We were able to see all the major species at close quarters and yet get a feel for their habitat and breeding behaviour. An outstanding holiday and experience.

L.B. Surrey

Alan and Paul were good humoured, hard working and dedicated to the comfort and well being of all of us clients. They were both extremely well informed and drove well and safely on difficult roads. The picnics were wonderful.

G.H. Cheshire

The quality of the picnic lunches was outstanding - the best I've experienced. If you ever have a Naturetrek Picnic competition, Daniel would win it.

Mrs L. Yorkshire

Daniel and Mike are first class guides, they worked really well together. The best Naturetrek trip I've been on.

J.R. West Midlands

Our guide Mike's, enthusiasm, kindness and sense of humour made it a special trip, not to speak of his expertise in finding the birds.

K.L. Fife

Wonderful holiday that would be difficult to fault in any way. Daniel and Rob were excellent leaders who were able to cater for a variety of bird watching experience. They worked so hard to make sure the trip was so enjoyable and successful.

E.F. Surrey
2019
Departures
Availability
Cost
Wed 22nd May - Wed 29th May
1
£2,295
Flights:
Most Naturetrek tours include flight costs ex-UK. If flights are not included, we indicate that here.
Flights are included in the tour cost
Land only cost:

The "Land Only" cost is the tour price you will pay if you choose to arrange your own flights/transport.
£2,045
Room sharing options:
If a customer on this departure has already expressed an interest in sharing a room it will be flagged here. We will identify if there are sharing options for male, female or both.
Female sharing available
Single Room Supplement:
£195
2020
Departures
Availability
Cost
Wed 20th May - Wed 27th May
SPACES
£2,295
Flights:
Most Naturetrek tours include flight costs ex-UK. If flights are not included, we indicate that here.
Flights are included in the tour cost
Regional Departures:

On certain tours it is possible to depart from a regional airport (rather than London). If a regional departure is possible, we indicate that here.
Regional Departures are available. Call 01962733051
Land only cost:

The "Land Only" cost is the tour price you will pay if you choose to arrange your own flights/transport.
£2,045
Single Room Supplement:
£195