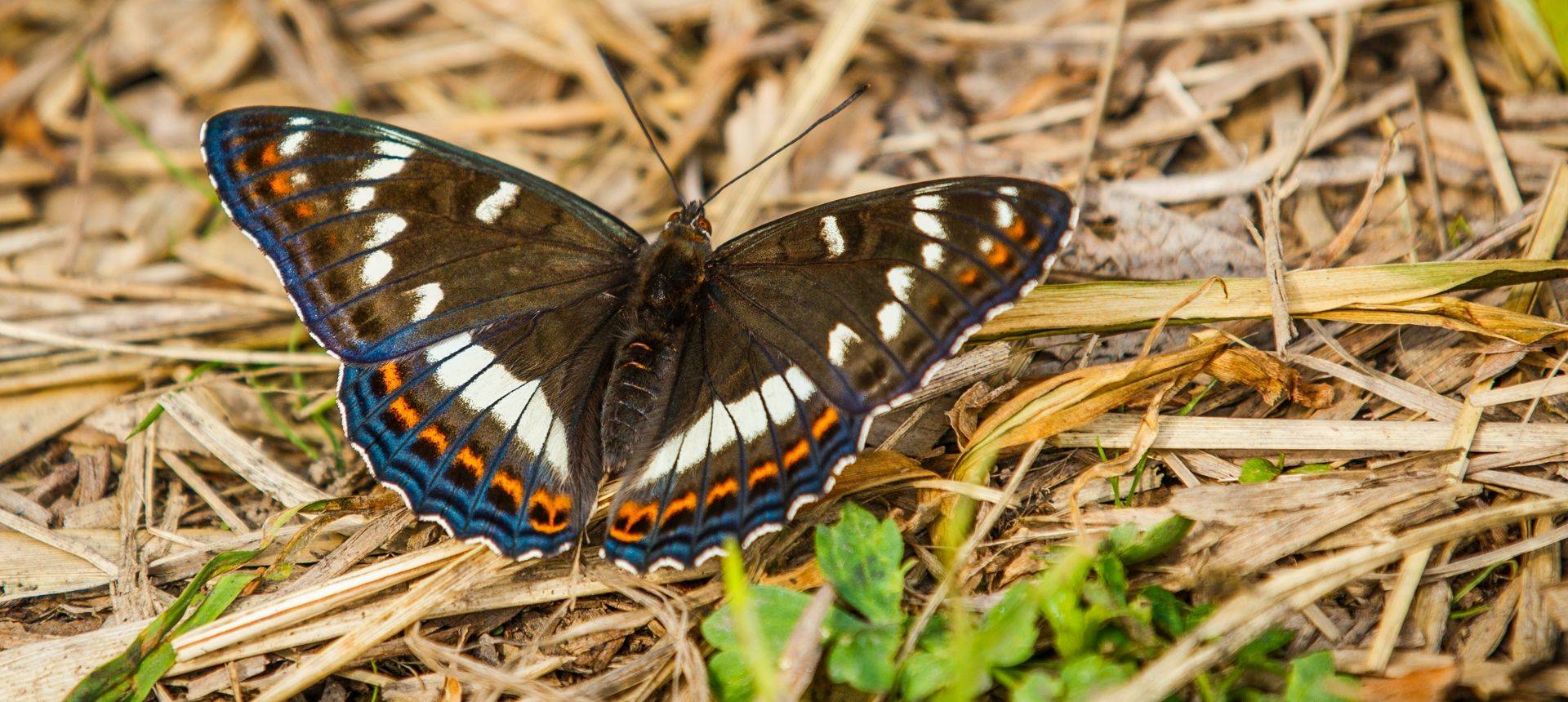 Sweden's Butterflies & Dragonflies
Tour Code: SWE05
A 6-day tour of central Sweden in search of a superb selection of butterflies, dragonflies, moths and other wildlife in a peaceful and relaxing rural environment.
During the high summer months, Sweden is home to a fascinating mix of Scandinavian and Eastern European butterfly species. This holiday is based in the area around Svartadalen, north-east of Stockholm and we will make daily excursions in search of species such as Purple-edged Copper and Northern Wall Brown; nearby forests are home to a variety of fritillaries, skippers and blues as well as some interesting dragonflies. We'll look for the iconic (and recently recorded) Large Blue on an island in Lake Malaren; on another day we'll visit a site known as 'Butterfly Road' on the Baltic coast where Silvery Argus and Large Grizzled Skipper will be among our target species. On our final day we'll head to pine forests to look for Sweden's rarest butterfly, Assmann's Fritillary, plus Bog and Cranberry Fritillaries, and Northern Grizzled Skipper among other species, as well as birds including Black Grouse and Crested Tit.
Possibility of new discoveries to butterfly fauna still!
Mix of Scandinavian & Eastern European butterfly species
Up to 11 species of blue possible
Black-veined White & Clouded Apollo, Poplar Admiral & Scarce Copper
Scarce Fritillary, Cranberry Blue & Northern Chequered Skipper just south of Svartadalen
Large & Green-underside Blues plus Queen of Spain Fritillary, islands in Lake Malaren
Common Goldenring, Bog Hawker, Small Pincertail & Common Clubtail among dragonflies
Day-flying moths such as Broad-bordered Bee Hawk-moth
We will (weather permitting) run a moth-trap near our guesthouse
Capercaillie, Pied Flycatcher, Spotted Crake & Black Tern among special birdlife
Led by expert naturalist
Can I help you?

Outline Itinerary
Day 1
Fly Stockholm; transfer Oregrund.
Day 2
Transfer Svartådalen.
Day 3/5
Daily excursions from Svartådalen.
We had a very good tour leader who took us to some wonderful sites for Sweden's special butterflies. The weather was unseasonably cool but in spite of this we saw several non UK species and had excellent photo opportunities. Our base hotel was comfortable run by a most welcoming couple.

B.H. Lancashire
Food & Accommodation
All food is included in the price.
We stay in comfortable guesthouses, where all rooms have private facilities.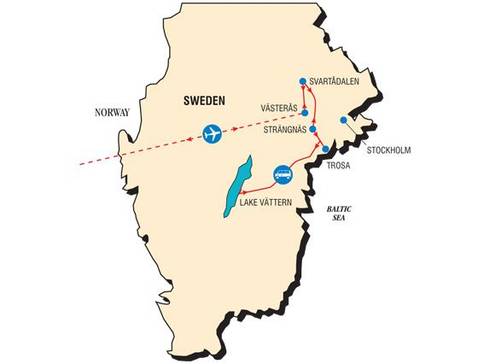 Tour leaders
Daniel Green

Daniel has been a keen birdwatcher since his early childhood. With the Svartadalen, or Black River Valley as it is known in English, as his local turf, Daniel is able to pursue his lifelong fascination with the cranes which gather there every Autumn in huge flocks before flying south for the winter. As well as birds, Daniel is also interested in butterflies, moths and dragonflies. He is driven by the joy of sharing experiences in nature with other people and he has been one of the pioneers of Swedish birding tourism since 2002; he's also been in charge of most British birding trips to central Sweden since then. Along with his interest in wildlife, Daniel also enjoys cooking and writing. His CV includes 12 years as a gourmet chef, a career as a newspaper journalist/photographer and, lately, serving as editor for the second biggest Bird Magazine in Sweden, Fagelvannen.
During the high summer months, central Sweden is home to a fascinating mix of Scandinavian and Eastern European butterfly species. Several of these are found here at the southernmost limits of their ranges and in this part of Scandinavia, where north meets south, there might even be a few new discoveries to make, for only recently have populations of Large Blue, Chequered Blue and Duke of Burgundy been discovered. The peaceful patchwork of wetlands, mixed woodlands and flower-filled water-meadows that we will explore are home to a wonderful diversity of butterflies and dragonflies, and amongst the well established species, highlights should include such charismatic butterflies as Clouded Apollo, Poplar Admiral and Scarce Copper. We also hope to see an abundance of blues — up to 11 species are possible! As this is also such a fantastic area for birds, we will be sure to take time to enjoy morning and late afternoon birding excursions around Lake Fläcksjön in search of such species as Black Tern, Spotted Crake, White-tailed Eagle, Thrush Nightingale and Common Rosefinch.
We begin our holiday with a direct flight to Stockholm, and a drive north to the picturesque town of Öregrund on the Baltic Coast, where we will spend the first night of our tour. Here we will search for the rare Clouded Apollo which has a stronghold in a nearby protected area, and then take the ferry out to the island of Gräsö, where we have a good chance of finding Glanville Fritillary, Geranium and Northern Brown Argus and Purple-edged Coppers, and, depending on the season, Butterfly Orchids and Lady's Slipper Orchids.
The next morning, we will travel a little further north along the coast, to pay a visit to a site Swedish lepidopterists call the 'Butterfly Road' — an unassuming gravel track through a seemingly ordinary patch of pine forest. Here, not only do an interesting variety of orchids grow on the rich chalk soils but, as its name suggests, this is a great spot for butterflies such as Black-veined White, Silvery Argus and Large Grizzled Skipper, plus a variety of day-flying moths including Broad-bordered and Narrow-bordered Bee Hawk-moths. If time permits, we may also head to the coast to look for Caspian Terns, Little Gulls, and perhaps some of the first waders returning from the north, such as Spotted Redshank, Ruff and Wood Sandpiper. After a full day on the coast we will journey inland to Svartådalen in the county of Västmanland, where we will be based for the remainder of the holiday.
A little to the north of our new base is an area where vast pine forests, lakes and mires dominate the landscape. This is the home of the rare Baltic Grayling, although, since this species has only one generation every couple of years, it's not a butterfly we will see on every tour! We will spend the day exploring this area, as other species to look out for include Bog and Cranberry Fritillaries, Moorland Clouded Yellow, Northern Grizzled Skipper and, if fortunate, perhaps the striking Assmann's Fritillary, Sweden's rarest butterfly, and the tiny Sedgling (I>Nehelennia speciosa/I>), one of the smallest and most localised damselflies in Europe!
On another day, we will visit a canal which has been allowed to develop into a natural habitat very rich in dragonflies. Here we will enjoy a morning boat trip, during which we will be looking especially for Lilypad Whiteface along with Yellow-spotted Whiteface, Scarce Chaser and perhaps even Eurasian Baskettail, which is seen here annually, though would still be a very rare find indeed.
We will also explore a little further to the south of Svartådalen, in search of the beautiful Poplar Admiral. At this time of year these butterflies are likely to be newly emerged and in pristine condition, and we hope to watch them descending from the canopy to take salts from wayside puddles. Common Swallowtail, Purple-edged Copper, Amanda's Blue and, possibly, Northern Wall Brown can also be seen here. Later in the day we will visit a forest lake where Black-throated Divers are known to breed, and around which we can look for Scarce Fritillary, Cranberry Blue, Northern Chequered Skipper and dragonflies such as Common Goldenring and Common Clubtail. After lunch, we will explore the island and nature reserve of Ängsö, where Heath Fritillary, Queen of Spain, High Brown, and Dark Green Fritillary are all possible.
We should have time on our final morning to further explore the meadows, mires and forests around Svartådalen before returning to Stockholm in time to catch our flight home.
Please contact us on 01962 733051 for details on what extensions either pre or post tour are available for this Tour.
We had a very good tour leader who took us to some wonderful sites for Sweden's special butterflies. The weather was unseasonably cool but in spite of this we saw several non UK species and had excellent photo opportunities. Our base hotel was comfortable run by a most welcoming couple.

B.H. Lancashire
2019
Departures
Availability
Cost
Sat 15th Jun - Thu 20th Jun
6
£1,895
Flights:
Most Naturetrek tours include flight costs ex-UK. If flights are not included, we indicate that here.
Flights are included in the tour cost
Regional Departures:

On certain tours it is possible to depart from a regional airport (rather than London). If a regional departure is possible, we indicate that here.
Regional Departures are available. Call 01962733051
Land only cost:

The "Land Only" cost is the tour price you will pay if you choose to arrange your own flights/transport.
£1,725
Single Room Supplement:
£170