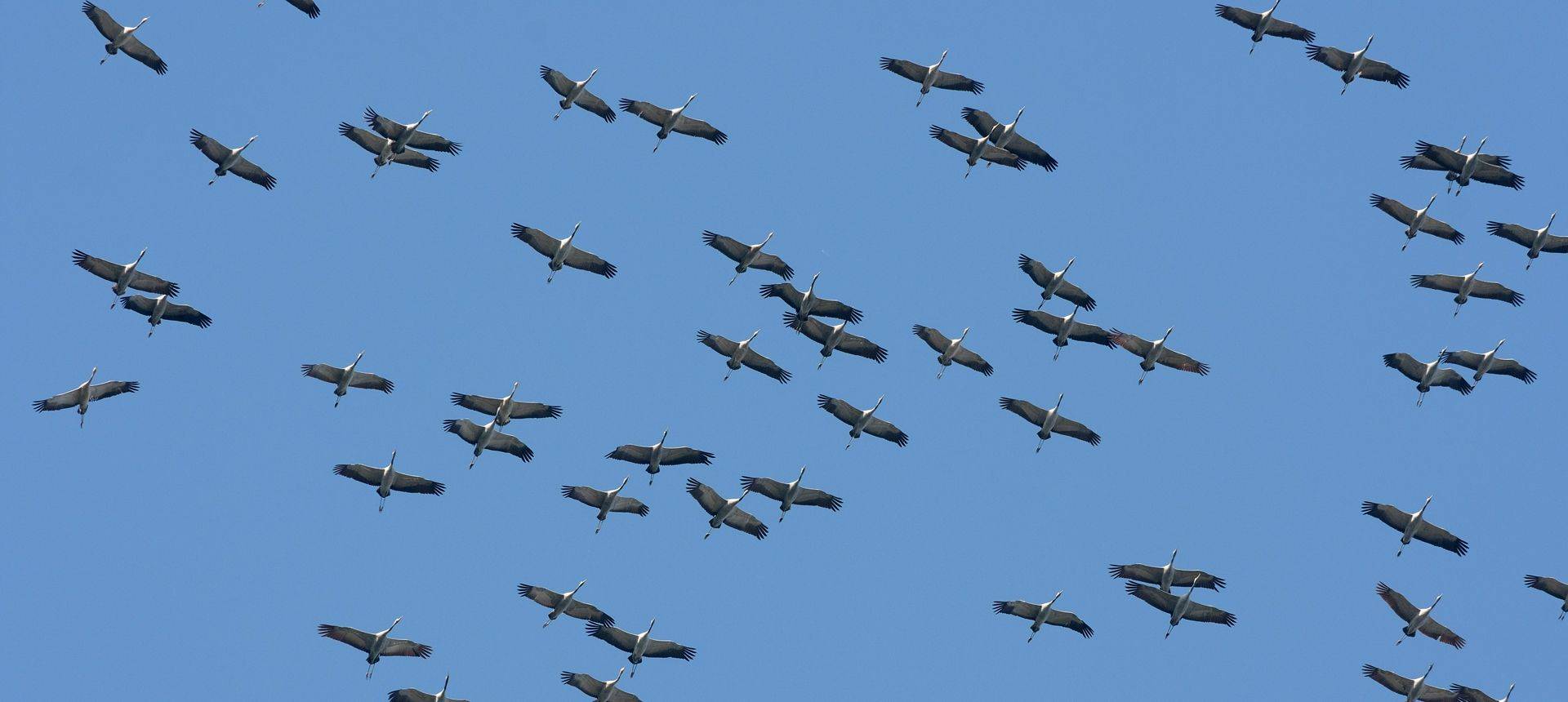 Sweden in Autumn
Tour Code: SWE10
A 5-day natural history holiday to central Sweden in search of migrating Common Cranes, geese, Bluethroats and other birds ... plus mammals, dragonflies, butterflies and moths.
In autumn, the meadows of central Sweden act as a magnet for migrating birds. On this holiday, we'll look for a wide variety of species such as (red-spotted) Bluethroat, up to a dozen species of raptor, and resident forest species such as woodpeckers, tits and Nutcracker. In the meadows, forests and wetlands of the Black River Valley we'll be hoping to see Pygmy Owl and Capercaille, as well as flocks of Taiga Bean Geese. Next we transfer to the Kvismare Valley, where we'll search for mixed flocks of geese during the day, then position ourselves by a lake at dusk to watch (and hear!) thousands of Common Cranes flying to their night-times roosts.
Watch up to 20,000 Common Crane fly to roost at dusk, Kvismare Valley
Migrating flocks of geese include Tundra, Bean, Barnacle & Lesser White-fronted
Join staff ringing migrant Bluethroats, plus a variety of pipits, warblers &buntings
Pygmy Owl, Capercaille & Black Grouse in Svartadalen
Evening excursion to look for El... & the rutt will be in full swing!
Dragonflies such as hawkers & butterflies including  Camberwell Beauty
Led by expert naturalist & photographer guide, Daniel Green
Can I help you?

Outline Itinerary
Day 1
Fly Västerås; transfer Svartådalen
The arrangements and accommodation were excellent and the guide was superb, with a broad range of knowledge on many subjects. We saw a wide range of birds in several different habitats. Overall, a really enjoyable experience.

J. & L.F. Northumberland
Food & Accommodation
All included in the price.
Comfortable hotels and guesthouses; all rooms have private facilities.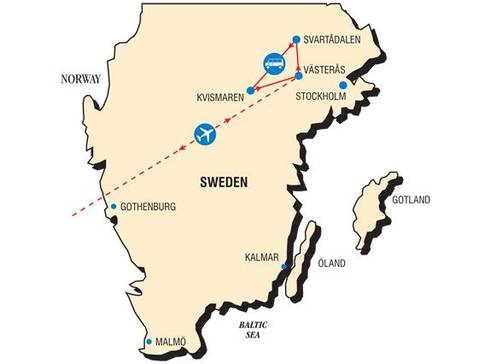 Tour leaders
Daniel Green

Daniel has been a keen birdwatcher since his early childhood. With the Svartadalen, or Black River Valley as it is known in English, as his local turf, Daniel is able to pursue his lifelong fascination with the cranes which gather there every Autumn in huge flocks before flying south for the winter. As well as birds, Daniel is also interested in butterflies, moths and dragonflies. He is driven by the joy of sharing experiences in nature with other people and he has been one of the pioneers of Swedish birding tourism since 2002; he's also been in charge of most British birding trips to central Sweden since then. Along with his interest in wildlife, Daniel also enjoys cooking and writing. His CV includes 12 years as a gourmet chef, a career as a newspaper journalist/photographer and, lately, serving as editor for the second biggest Bird Magazine in Sweden, Fagelvannen.
As the summer draws to a close, the peaceful forests, lakes and water meadows of central Sweden act as a magnet for thousands of migrating birds as they head south through Scandinavia to warmer climes. Huge flocks of Bean Geese and Common Cranes gather in the farmland, while up to a dozen species of raptors hunt overhead, from the diminutive Merlin to the huge White-tailed Eagle. Bluethroat numbers also peak in early September; these attractive birds spend a couple of weeks in central Sweden fattening up before continuing east towards their Asian winter haunts. In addition to an abundance of migrants, the many resident birds will be active and busily putting on weight to see them through the snowy months ahead. Pygmy Owls are at their most vocal in the autumn, and up to six species of woodpecker are possible in the forests, along with Capercaillie, Hazel Grouse, Nutcracker and Crested Tit. To add variety to this new tour, we will not only focus on the birdlife, but also enjoy such dragonfly species as Baltic, Azure and Green Hawkers, and several interesting butterflies and moths — among them the Camberwell Beauty and Light Crimson Underwing. Mammals, too, will be on the cards, including the mighty Elk, the bulls of which will be in prime condition and ready for the autumn rut with a full rack of antlers!
We begin with a short flight to Västerås, an hour to the west of Sweden's capital, Stockholm. From here we transfer to the peaceful meadows, wetlands and forests of nearby Svartådalen (the Black River Valley) for a 2-night stay. Flocks of Taiga Bean Geese are commonly seen feeding in the roadside fields along with parties of Common Cranes. Hen and Marsh Harrier, Rough-legged Buzzard, White-tailed Eagle, Hobby, Merlin and Peregrine are all possible overhead, while in the forests nearby we will look for Nutcrackers, Willow and Crested Tits, Parrot Crossbill, Pygmy Owl, grouse and woodpeckers. The highlight of our time in Svartådalen, however, will be the evenings at Lake Fläcksjön where hundreds of Common Cranes gather to roost each evening. The sight and sound of these spectacular birds flying overhead backed by the setting sun is sure to remain in the memory long after we return to the UK.
We next drive on peaceful, empty roads for around 150 kilometres to Kvismaren, where we spend two nights. En route we will stop at an excellent area of forest to look for the carpenters of the bird world, the woodpeckers. Up to six species can be seen in this part of Sweden including Black, Grey-headed and the elusive Three-toed Woodpecker. The wetlands here are also home to a variety of dragonflies including Keeled Skimmer and Bog Hawker, while the forest edges are an excellent place to search for Elk.
The Kvismare Valley — a patchwork of farmland, lakes and restored wetland — attracts up to 20,000 Taiga Bean Geese. Mixed in amongst this mass are small flocks of Tundra Bean, Barnacle, White-fronted and Pink-footed Geese and even the odd Lesser White-fronted Goose. Overhead we must keep a careful watch for a variety of raptors including many of the species already outlined above, but also Osprey, Honey Buzzard and for the fortunate perhaps even a Pallid Harrier, a rare species but one that does move through the valley in small numbers at this time of year.
On one morning we will join staff from the Kvismare bird observatory to watch the ringing of Bluethroats and other passerines. These beautiful but elusive little chats (of the red-spotted Scandinavian race) spend a couple of weeks in central Sweden fattening up before continuing on to their wintering grounds. In addition to Bluethroats, Bearded Tit, Reed Bunting, Red-backed Shrike, Redstart, and a variety of warblers, pipits and other species are often caught.
The grand finale to our holiday awaits at dusk, for the sight of the Crane roost at Lake Fläcksjön was only a mere taster for the main crane event! Nearly, 20,000 Common Cranes congregate in the Kvismare Valley each September and we will position ourselves under their flight path at sunset to watch them fly to roost. Backed by the setting sun, the sight of flock after flock of trumpeting cranes passing overhead, joined by equally large numbers of geese and other waterfowl, must be one of the most breathtaking wildlife spectacles Europe has to offer, and a fitting end to our autumnal exploration of Sweden before we must head back to Västerås to catch our return flight home.

Please contact us on 01962 733051 for details on what extensions either pre or post tour are available for this Tour.
The arrangements and accommodation were excellent and the guide was superb, with a broad range of knowledge on many subjects. We saw a wide range of birds in several different habitats. Overall, a really enjoyable experience.

J. & L.F. Northumberland

I will always remember the thousands of geese calling as they flew over us in their rugged V-formations on the second day, and how could I forget the enormous number of cranes coming into the fields in the evening.

P.B. Hertfordshire